Texas Rangers:

2013 10 spring issues
February, 11, 2013
2/11/13
11:30
PM CT
By
Richard Durrett
| ESPNDallas.com
Editor's Note: This is the final installment of our spring issue series as the Texas Rangers prepare to open camp in Surprise, Arizona.
[+] Enlarge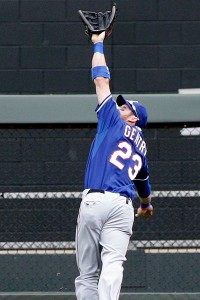 AP Photo/Paul BattagliaCraig Gentry has good range in the outfield and hit .343 against lefties in 2012.
Today's issue:
What happens in center field?
As soon as
Josh Hamilton
signed his five-year, $125 million contract with the
Los Angeles Angels
, the center field competition in Texas really took center stage. Even if Hamilton had signed, the club would have wanted to keep him in left field as often as possible, something they tried to do the past few years. But Hamilton's presence meant that he could play center when needed, not to mention give the club some key power in the outfield.
But after Texas was unable to get
Justin Upton
in a trade, things seemed to really focus on an internal battle for the center field spot.
Michael Bourn
has now signed with the Cleveland Indians, meaning it looks like the center field position will come down to
Craig Gentry
and
Leonys Martin
.
Coming off a solid 2012 season, the 29-year-old Gentry is focused on earning that spot. He played in a career-high 122 games, though only 66 of those were starts. Gentry was frequently inserted late in games by manager Ron Washington as a defensive replacement. He batted .304 with a homer and 26 RBIs in 240 at-bats. During a stretch in June, Gentry was as hot as any hitter in the big leagues, hitting .455 (24-for-40). He stole 13 bases in 2012, has good speed and plays solid defense.
[+] Enlarge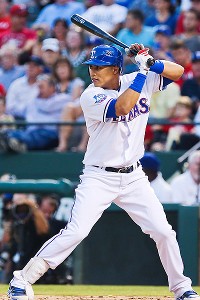 Kevin Jairaj/USA TODAY SportsLeonys Martin has a .204 average in 32 big league games.
"I just want to have a healthy spring," Gentry said a few weeks ago. "I didn't have the spring I wanted last year, but I ended up having a good season and felt really good about it. I'm trying to keep it going and get strong over the offseason and try to repeat."
Gentry, a right-handed hitter, hit .343 against lefties in 2012. It's possible that Gentry could be in a platoon situation with Martin with Gentry hitting against lefties and Martin against righties.
Martin, who turns 25 next month, has a .204 average in 32 big league games, though he's never been given a regular job in the majors. The Rangers invested $15.5 million as part of a five-year deal in 2011 (included a $5 million signing bonus) for Martin, hoping he'd eventually become the club's center fielder. Is that time now?
Martin played in 55 games with Triple-A Round Rock last year and hit .329 with 12 homers and 42 RBIs with a 1.033 OPS. He played winter ball and batted .253 with four homers and 19 RBIs in 146 at-bats (37 games).
PODCAST
What does Josh Hamilton leaving the Rangers have to do with the Rat Underground Railroad? Find out with Ben & Skin.

Listen

"We've got to make sure that we make him understand situations out there on the defensive end -- throwing to the right bag, hitting the cut-off man, replaying things before they happen," manager Ron Washington said. "These are all jobs that we have to make sure we instill in him and get him ready to perform not only athletically, but also the parts of the game that people take for granted. I do believe that he has come a long way. He had an opportunity to be up here and see how the big leagues work. Now he's going to get a chance to see where his ability takes him and us."
The question is whether one of these two players can seize the spot on a full-time basis with their play in spring training. That will take not only showing speed and skill on the bases and in the field, but an ability to hit pitchers from both sides. The two could split time if one doesn't stake his claim to the position in spring.
"We all would like to have a guy that you can pencil in every day, but if that's not the case here, we won't have any problem with a platoon," Washington said. "But right now, on Feb. 11, we'll let them come in and play and see what happens, and then we'll cross that bridge as we get further along in spring training. But you'd always like to have players you can depend on daily."
We'll be keeping an eye on center field. It's a key position up the middle and it will be interesting to see what decision Washington and the staff end up making.
February, 10, 2013
2/10/13
11:30
PM CT
By
Richard Durrett
| ESPNDallas.com
Editor's Note: We complete our spring issues series over the next couple of days as pitchers and catchers prepare to report in Surprise, Ariz., for spring training.
[+] Enlarge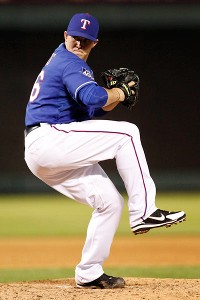 Jim Cowsert/US PresswireRobbie Ross flourished as a reliever last season but could transition into a starter.
Today's issue:
Who is the fifth starter?
SURPRISE, Ariz. -- This is clearly one of the biggest questions of the spring. The
Texas Rangers
come into camp with
Yu Darvish
,
Matt Harrison
,
Derek Holland
and
Alexi Ogando
in the rotation. They have one more spot to fill and, at this point, are set to allow some younger pitchers to compete for that job.
There are a handful of candidates, but we'll highlight a few of them here. Let's start with
Robbie Ross
, the 23-year-old who made a big impression in 2012. He came into spring training as a relative long shot to earn a spot on the club, but he just kept getting outs and pitched with a maturity well beyond his years. By the time camp had finished, Ross was the most consistent left-handed reliever and won a job and stayed in the big leagues the entire season.
Ross posted a 9-4 record and 2.26 ERA with 98 strikeouts and 28 walks in 21 games (20 starts) at Class A Myrtle Beach in 2011 and then moved up to Double-A Frisco and was 1-1 with a 2.61 ERA in six starts (36 strikeouts, five walks). He rode that momentum into the 2012 regular season, going 6-0 with a 0.95 ERA in the first half. He had more than a few teammates saying they felt he was an All-Star. He ended up with a 2.22 ERA in 65 innings (58 appearances) last year.
Now it's time to see if Ross can come in and win another competition, for the last spot in the rotation. It won't be a difficult transition for Ross, who was a starter his entire minor league career (which wasn't very long) before making the big leagues. He pitched in 69 games and started 68. So he'll be stretched out and ready to go.
PODCAST
What does Josh Hamilton leaving the Rangers have to do with the Rat Underground Railroad? Find out with Ben & Skin.

Listen

But earning the fifth spot won't be easy for Ross. A few other youngsters are hoping to seize the spot, too.
Martin Perez
, long considered one of the club's top pitching prospects, hopes to break through in 2013. He turns 22 in April and was 1-3 with a 5.88 ERA in six starts for Texas last season. He came up to the big leagues after
Colby Lewis
went on the disabled list in June 26 and made his debut the following night. When Perez wasn't pitching in Texas, he was in Triple-A Round Rock. He went 7-6 with a 4.25 ERA in 22 games (21 starts) in 127 innings. He had 69 strikeouts and 56 walks. Perez was inconsistent and will need to show he can put solid innings together and stay consistent this spring.
Justin Grimm
, 24, started twice for the Rangers in 2012. His debut was a good one, but he struggled in his second start and spent most of the rest of the season in Triple-A. He ended up 1-1 with a 9.00 ERA in 14 innings with Texas (five total appearances). He was 9-3 with a 1.72 ERA with 73 strikeouts and 14 walks in Double-A Frisco, earning him Texas League South Division All-Star honors. He was 2-3 with a 4.59 ERA in nine starts (51 innings) at Triple-A.
Kyle McClellan
, 28, comes to camp healthy and focused on earning a spot on the club. He wants to start, but was quick to admit on Sunday when he arrived that he just wants to make the club and doesn't honestly care if that's as a reliever or starter. In other words: He didn't take the offer from the Rangers because he thought he might have the best shot at making the rotation. He took it because he felt like he could make the team in some capacity.
He's dealt with shoulder issues the past two seasons, but feels good after surgery last July.
There are other pitchers who will arrive stretched out to start, including Cody Buckel, Nick Tepesch and
Randy Wells
. Others could join the chase as well.
Pitching coach Mike Maddux and bullpen coach Andy Hawkins will have a plan to ramp all of them up and with 38 spring games, not to mention any "B" games or intrasquad games.
But the Rangers must find another starter before camp ends in late March, and all eyes will be on those candidates as they compete for that job.
February, 7, 2013
2/07/13
11:30
PM CT
By
Richard Durrett
| ESPNDallas.com
Editor's Note: We continue our look at 10 issues facing the club as it approaches the start of spring training.
Today's issue:
What does
Elvis Andrus
' future hold?
This latest spring issue won't necessarily be decided while the club is in Surprise. But it's something the front office must consider going forward.
[+] Enlarge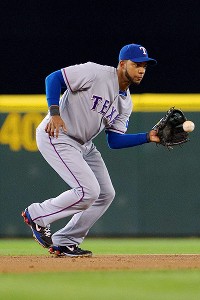 Steven Bisig/US PresswireElvis Andrus has been a key cog for the Rangers, but his long-term future with the club is up in the air.
Andrus has two years left on his contract before he becomes a free agent. He's a Scott Boras client, meaning the odds are good that he'll want to at least test the free-agent market. He was a guest on The Ben & Skin Show on ESPN Dallas 103.3 FM this week and it sure seemed like he was
headed toward seeing what his value was on the open market
. If his production stays at its current levels -- despite a lack of power -- Andrus could command top dollar in that 2014 free agent class. And with
Jurickson Profar
waiting in the wings at a bargain until he hits arbitration and then free agency, the Rangers aren't likely to get into any bidding wars with Boras on Andrus.
That's not to say the club doesn't want him back. They do. But they're in a position where it needs to be a hometown discount of sorts to do it. Now is the time to find out if that's at all possible. How badly does Andrus want to stay? If he wants to be a Ranger, now is the time to start discussing it. If he doesn't, he could certainly be an important trade piece for the club.
Andrus will arrive in Surprise fresh off playing 40 games in winter ball in Venezuela and will participate in the World Baseball Classic. He played 158 games last season, the most of his career, and hit .286 with three homers and 62 RBIs. He was a versatile No. 2 hitter, tying for the league-lead with 17 sacrifice bunts, and had 21 stolen bases (the fewest of his career). Andrus hit .350 with runners in scoring position, fifth-best in the AL.
PODCAST
ESPN Insider Jim Bowden joins Ben and Skin to discuss Elvis Andrus' comments about "Pujols money" and look at various options for the Rangers and Jurickson Profar.

Listen

He made his usual assortment of highlight-reel plays in the field but did a better job on the routine stuff, too. He was seventh among AL qualifiers with a .976 fielding percentage and had just three errors in 150 starts at shortstop, nine fewer errors than the previous season. He even had a 54-game errorless streak from mid-August 2011 through April 2012.
It's Andrus' complete game that makes him so valuable, and he and
Adrian Beltre
make up one of the best left sides of any infield in the big leagues. But what to do with him long-term is a decision that will face the Rangers soon. They weren't willing to part with him for just anyone -- not even
Justin Upton
-- this offseason. But if there's a team that needs a top-flight shortstop at the deadline, perhaps the timing will be right to get good value for Andrus. That, of course, is if the Rangers are in position to trade Andrus. If they're contending, they may not want to part with him at all. But the issue could come up again after the 2013 season, too.
How well Profar performs this spring and then how he does either at Triple-A Round Rock or in the big leagues this season can impact that decision. How the infield lines up and Andrus' future in it will be a discussion point all season.
February, 6, 2013
2/06/13
11:30
PM CT
By
Richard Durrett
| ESPNDallas.com
Editor's Note: This is part of a series of issues that face the Texas Rangers as they head to Surprise, Ariz., for spring training.
Today's issue:
Replacing
Josh Hamilton's
production at the plate.
[+] Enlarge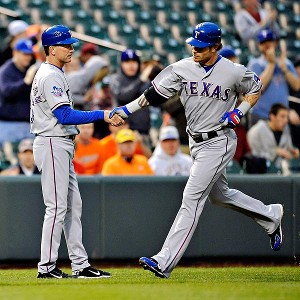 Joy R. Absalon/US PresswireReplacing Josh Hamilton's production at the plate will be no easy task for the Rangers.
Obviously, replacing Hamilton is not an easy job. And it's certainly not a job for one person in the Rangers lineup. You don't just plug someone into the No. 3 spot and expect 43 home runs and 128 RBIs. That's why Hamilton got $125 million over five years from the
Los Angeles Angels
, a price the Rangers weren't willing to pay.
But replacing most of that production is key to the club's offensive success in 2013. Hamilton provided power and production in a key spot in the lineup. As spring training gets set to begin, that spot belongs to
Lance Berkman
, who was signed this offseason.
"It's an interesting spot in the lineup because it's the spot that makes the world go around in the lineup," Berkman said earlier this offseason. "You need contributions up and down the lineup, I'm just saying that of all the lineup spots it's the most critical. You've got to have someone hitting third that can get on base, drive guys in."
PODCAST
Ben and Skin discuss the value of Jurickson Profar vs. David Price and Giancarlo Stanton and what the Rangers need to do.

Listen

Berkman, who missed most of 2012 with a knee injury, had 31 homers and 94 RBIs in 145 games in 2011. That's the Berkman that Rangers need to help fill some of the production hole left by Hamilton's departure. Berkman has more at-bats in the 3-hole than any other spot in the lineup, so it won't bother him to be there. He's a career .286 hitter batting third.
"I'm not sitting here with my chest out saying I'm a 3-hole hitter. I think I can do the job, and certainly if I'm healthy and things are going well I think I have a skill set that is suited for that spot," Berkman said. "But by the same token, there are other guys on this team that could easily hit there and if they're doing a better job, then that's where they need to be."
It will take more than Berkman, even if he repeats his 2011 season. Another newcomer could help him.
A.J. Pierzynski
is the club's starting catcher on a one-year deal. He's coming off a season in which he had 27 homers and 77 RBIs. With
Mike Napoli
out of Texas -- and despite not hitting well for most of the season, he still had 24 homers -- Pierzynski could make up for that production. So it will take others to help collect Hamilton's numbers.
Nelson Cruz
, in need of a bounce-back season, would be on that list. But after the report by the Miami New Times, we'll see if MLB's investigation results in some sort of punishment for Cruz.
This lineup remains deep.
Adrian Beltre
, the club's MVP last season, returns and has put together two strong seasons in Texas already. Perhaps
Mike Olt
gets more time and helps that production. Maybe
Mitch Moreland
increases his homer and RBI totals, as well.
But making up for Hamilton's production at the plate can't rest with one player alone. It must be a group effort. Maybe spring training will give us a sense of which of those players look primed to do that.
February, 5, 2013
2/05/13
11:30
PM CT
By
Richard Durrett
| ESPNDallas.com
Editor's Note: We continue our spring training preview with 10 spring issues.
Today's issue:
Improving situational hitting.
As the Rangers went through their evaluation of the 2012 season, a number of issues popped up. They weren't quite as aggressive on the bases as they would have liked. They seemed tired down the stretch. And they didn't deliver in the clutch as they had in previous years.
[+] Enlarge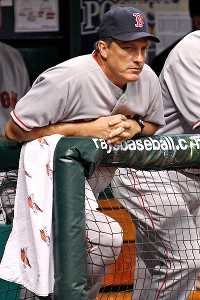 AP Photo/Chris O'MearaNew hitting coach Dave Magadan will be focused on getting the Rangers' offense to be more consistent.
That last point was about situational hitting. Sure, the club scored a bunch of runs, as it always seems to. They led the majors with 808 runs, tied for the lead with 1,526 hits, and were second in total bases (2,493) and slugging percentage (.446).
But the Rangers didn't convert in key situations as consistently as necessary. The offense was great in April and May and then dipped in June and July. They scored the fewest runs in the AL in July and the most in August. But at the end of September, the offense went on a swoon again. Texas averaged just 4.3 runs per game in the final nine games and hit .241 as a team, going 2-7. The Rangers were just 12-for-48 (.250) with runners in scoring position in that span.
Situational hitting isn't just batting average with runners in scoring position. It's how well the club moves runners over and scores a runner from third with less than two outs. In fact, the Rangers were 16th in that category in 2012, showing you there's plenty of room for improvement. They converted 51 percent of those chances. The AL average was 52 percent. The hitters know they can do better. And nearly everyone is to blame.
The up-and-down nature of the offense last season is a big reason that
Dave Magadan
was brought in as the hitting coach. His job is to make this club more consistent in those situational at-bats. That doesn't mean just getting a hit. It means doing what the game asks, something manager Ron Washington constantly preaches. Hit a ground ball to the right side to move a runner. Hit a ball hard to the outfield to score one from third.
"In those situations, you've got to know if the infield is in, then you have to get something you can drive to the outfield," Magadan said earlier this offseason. "But what I've seen, and it's not only with Texas but it's throughout baseball, not understanding that the team is giving you an RBI.
"When the infield is back and you got a guy on third with one out, they're giving you the RBI. You don't have to do anything special except hit a groundball the other way. Certainly, you're going up there looking for something to drive, but understand that a ground ball to second is going to get me an RBI and it's going to get us a run. A lot of that happens early in the game that can set the tone on your way to score six or seven runs."
That tone must be set in spring training and carry over into the regular season. Magadan will be preaching it throughout the club's stay in Arizona.
General manager Jon Daniels talked about the situational hitting and doing more on the bases in a conference call with reporters on Tuesday.
"Wash and I have talked about that some, just the idea of getting back to that aggressive approach," Daniels said. "That's a mental thing but it's also the way we play the game. It's about making the opponent react to what we're doing which was something that was a huge part of our game. It was still last year, but I think to a lesser degree. I think personnel-wise with some of the athletes and the versatility and the young players we've got in camp, there's a real opportunity to get back to what Wash and the staff is great at, and that's teaching. I do think that's something we're going to talk about and you're going to see."
February, 4, 2013
2/04/13
11:30
PM CT
By
Richard Durrett
| ESPNDallas.com
Editor's Note: This is part of a series looking at 10 issues that face the Texas Rangers as they head into spring training.
Today's issue:
Ian Kinsler
can set tone with bounce-back season.
[+] Enlarge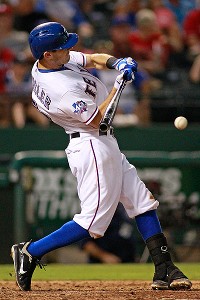 Paul Moseley/Fort Worth Star-Telegram/MCT/Getty ImagesThe Rangers need more out of Ian Kinsler after a down season in 2012.
It was not the 2012 that Ian Kinsler envisioned. His batting average was similar to what it was in 2011 -- he hit .255 in 2011 and .256 in 2012 -- but his home runs and stolen bases went down while his errors went up. Kinsler hit 19 home runs (he hit 32 in 2011) and had 21 stolen bases (30 in 2011). His on-base percentage was .326, a drop from .355 from the previous year. The difference? Walks. Kinsler had 89 walks in 2011 and dropped that total by 29 last season.
Add it up and Kinsler wasn't as productive as he'd like to be from the leadoff spot. Considering the numbers, it's impressive to note that Kinsler still had 105 runs scored, one of the top marks in the league.
But Kinsler knows he needs to improve.
"I want to provide more energy for this club," Kinsler said earlier this offseason. "I think I need to show more emotion. I think our team as a whole needs to show more emotion, more energy. That's obviously one of my responsibilities as a player. It's what I'm good at, so I need to get back to that. As far as numbers are concerned, I think every player has up and down seasons throughout their career. It's something you go through, and there's a lot of reasons why it happened."
PODCAST
ESPN Dallas 103.3 FM's Randy Galloway joins Ben and Skin to talk about the latest on the Cowboys and Rangers.

Listen

Kinsler's focus is on having a better 2012. He enters spring still on top of the lineup, though nothing is set in stone. Manager Ron Washington likes the versatility that Kinsler provides at that spot. As we've talked about this offseason, I'd like to see what
Elvis Andrus
can do in the leadoff role. But then the question becomes who hits behind Andrus and where does Kinsler go in the lineup? So Washington is committed to sticking with Kinsler at No. 1 and Andrus at No. 2. Washington likes the way Andrus can make things happen with Kinsler on base, whether that's bunting or putting even more pressure on the opponent if he also gets on base.
The bottom line: Kinsler has to get on base more and make more happen. If he does that, good things follow. Kinsler is the spark plug of this offense. That's been the case the past few seasons, in my opinion. He wasn't able to hit like he's capable last season. He wasn't able to steal as many bases, in large part because opponents paid better attention. And he wasn't quite as clutch at the plate as he has been in the past. Kinsler hit just .226 with runners in scoring position. He hit .254 with RISP in 2011.
The 30-year-old veteran met with some members of the club's brass this offseason and told them he wanted to stay at second base. Initially, Kinsler said he'd do whatever the team wanted and was open to a move to first, but he had second thoughts after pondering the move for a week or two. At this time, the Rangers have agreed to leave him at second. But the decision has ripple effects, in that
Jurickson Profar
doesn't have an everyday spot right now. Profar can certainly benefit from at-bats at Triple-A, but he is clearly close and isn't likely to stay in the minors for long.
What it means is that Kinsler is also putting more pressure on himself to produce, arguing that he's more valuable to this club at second base. That's true if he gets back to doing what he did in 2011. He knows that and has said he's hungry this offseason to make sure he does all he can to get better offensively and defensively. The Rangers need him. If he is hitting and running and playing well, it seems to have a trickle-down effect on this offense. Texas needs the Kinsler that makes things happen. That starts with a solid -- and healthy -- spring. He feels the best he has in years. Watch how he responds as the weeks go along.
How do you think Kinsler will do in 2013?
February, 3, 2013
2/03/13
11:30
PM CT
By
Richard Durrett
| ESPNDallas.com
Editor's Note: We continue our spring issues series this week as we move closer to pitchers and catchers reporting for spring training.
Today's issue:
What should the club do with
Jurickson Profar
?
[+] Enlarge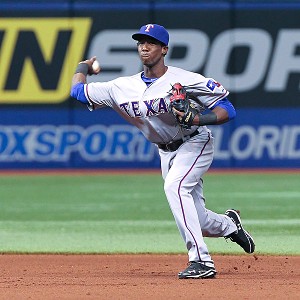 Kim Klement/US PresswireJurickson Profar is likely to start the season in Triple-A, but he is a player to keep an eye on.
Heading into spring training, general manager Jon Daniels has said that the team has no plans right now to move
Ian Kinsler
from second base, meaning it's likely that Profar starts the 2013 season at Triple-A Round Rock. Kinsler's desire to stay where he is means Profar doesn't have an everyday spot. At least not yet.
But that doesn't mean that's the end of the Profar questions this spring. Everything in this game is subject to change. Something unexpected seems to happen every spring, usually in the form of injuries. The Miami New Times report that linked Nelson Cruz to a clinic that sold performance-enhancing drugs could have an impact if an MLB investigation warrants a suspension for Cruz. Perhaps that alters Profar's fate if Ian Kinsler is moved to right field, for instance. But that's one of many options depending on what happens.
For now, though, let's say that things remain unchanged and that everyone is healthy (and no one is traded) and that Kinsler doesn't move to right field if something happens to Cruz. The Rangers have to weigh a few things. First, what's more beneficial to the club and to Profar: Starting him in the majors in a bench role or playing every day? I think they've already telegraphed how they feel about that. For someone as young as Profar, everyday at-bats are important. Profar got a taste of the big leagues last September, and surely at some point in 2013 he will get even more chances to play in the majors. But if no changes are made, he should start in the minors. It would be his first chance to face Triple-A pitching and see if he can have the same success he did against Double-A pitching in 2012 (.281 batting average with 14 homers, 62 RBIs and 16 stolen bases in 480 at-bats).
This spring is also a chance for everyone in camp to see Profar up close. They did some of that last spring, but it was different. Profar hadn't been in the big leagues yet. He hadn't debuted with a home run in his first major league at-bat or won another game with a big double late. Now he's the top prospect in the game, according to a few publications (ESPN.com's Keith Law has him No. 1 in his
2013 Top 100 prospects list
), and all eyes will be on him. If Profar wields a hot bat under the pressure of having everyone -- media, scouts, teammates -- watching his every move, does that change things? And with
Elvis Andrus
playing in the WBC, Profar could get some more time at short this spring.
A month ago, there was no talk about Kinsler heading to spring to play some first base. But why not do that? Have him get a first base glove and take some reps over there. Yes, most of his work should be at second. But what's the harm in having him start to learn another position just in case Profar is ready? Maybe it's not March 31. But if Profar is hitting well in Triple-A the first two months and the Rangers need a spark, perhaps a move could be made then.
It certainly won't hurt Profar to get some at-bats in Triple-A. But it's clear he's knocking on the door to the big leagues and he could be ready at any time. While Texas wouldn't worry about saving a year of service time with Profar when it comes to roster decisions, having him stay the first six weeks or so in the minors would have the added advantage of preventing him from accruing enough time for one full year of service. He would end up hitting that in 2014 instead of 2013, backing up when he'd become a free agent.
But that's only a secondary issue. How well Profar does this spring and how the rest of the team is looking could create more questions. As it stands now, Profar seems headed to Triple-A to start 2013. That won't keep all of us from watching is every move this spring and talking about his situation, of course. That's what happens when you're one of the best prospects in the game.
How do you see the spring and the 2013 season playing out for Profar?
January, 31, 2013
1/31/13
11:30
PM CT
By
Richard Durrett
| ESPNDallas.com
Editor's Note: We continue our look at 10 issues facing the club as it approaches the start of spring training.
Today's issue:
Can
Derek Holland
rebound?
It may seem odd to say that a No. 3 starter holds the key to the rotation, but how Holland performs this season could determine the strength of the staff from top to bottom.
[+] Enlarge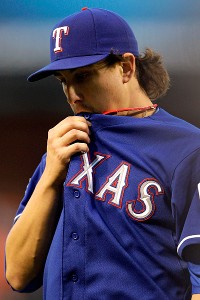 AP Photo/Patrick SemanskyDerek Holland struggled with the home run ball last season but remains a key to the rotation.
Yu Darvish
and
Matt Harrison
were All-Star pitchers in 2012. Darvish pitched like an ace down the stretch. Harrison was the Rangers' most consistent pitcher and won 18 games. His performance earned him a contract extension (five-year, $55 million deal).
Holland's performance in the second half of 2011, including in Game 4 of the World Series (nearly a complete-game shutout when the Rangers needed it most), earned him an extension before 2012. That was a five-year, $28.5 million deal with two club options before the 2012 season began. And then he struggled mightily. Holland was 12-7 with a 4.67 ERA in 29 games (27 starts) in 175 1/3 innings pitched last season. He dealt with arm fatigue and never really got into a groove. Rather than take another step forward after a successful finish to the 2011 season, Holland went the other way.
This is a
big spring
for him. He's competing in the World Baseball Classic, getting a chance to get the adrenaline going early and put him in a competitive mood from the get-go. He spoke with Hall of Famer and Rangers CEO Nolan Ryan this offseason and is focused on attacking hitters and finding a consistent location.
"He said I've got to stay focused out there and not do too much to over-think things," Holland said in December. "Just go out there and grind it out. He agreed with me on working on location, which is something I asked him about. The only time I got beat was missing spots. And if I got beat, too, it would be a home run. I gave up too many. It's not that I was trying to pitch like I did in the minor leagues where I could blow a fastball by you anywhere and not have to worry about location, it was that I missed spots."
Holland knows he must step up in 2013. He's signed up as a part of the core of this team and is one of four starters who are under club control for the long haul. He's said that he plans to use Harrison as a blueprint. Not a bad idea. Harrison has put together two consistent seasons by decreasing his walks and staying aggressive, but he's also getting stronger mentally.
Holland wants to do the same. He's one of the hardest workers on the team, so it won't be for lack of trying. The other area of focus: cutting down on home runs. Holland allowed 32 homers in his 175 1/3 innings. That was 10 more than he allowed in 198 innings in 2011.
Everyone knows what Holland is capable of doing after seeing it in the back half of 2011. Now he needs to show it.
January, 30, 2013
1/30/13
11:30
PM CT
By
Richard Durrett
| ESPNDallas.com
Editor's Note: We continue our look at 10 issues facing the club as it approaches the start of spring training.
Today's issue:
Who will take over the setup role in the bullpen?
There's one question the Rangers don't have to answer this spring: Who's going to close? The answer to that is clearly veteran
Joe Nathan
, who had an All-Star season in 2012.
But just about everything else involving the Rangers bullpen is a question mark. Who's the long reliever? Who becomes the primary eighth-inning setup man? How will the bullpen spots line up between the starter and Nathan?
[+] Enlarge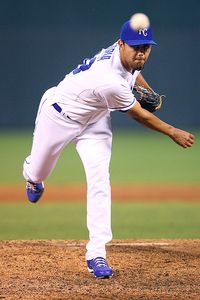 Scott Sewell/Icon SMIJoakim Soria is coming off an injury and likely won't be ready until late May or June.
There are plenty of candidates for those jobs. One major candidate won't be ready to go for Opening Day.
Joakim Soria
, who would likely be the primary eighth-inning setup man if he were healthy, won't be ready until late May or early June (if the timetable holds). Soria was an All-Star in 2008 and has 160 saves in his career, including 28 in his last season (2011). So if he returns healthy and ready, he could be a real boost in that eighth-inning spot. And he's more than willing to handle that role. It would also give the Rangers some insurance on the back end knowing they've got a guy who can close if Nathan needs or break or gets injured.
In the meantime,
Jason Frasor
has the most experience of those in the running. He had a 4.12 ERA in 43 2/3 innings last season, but has a 3.77 ERA in his career. Frasor has played most of his career (nine seasons) in Toronto, though he appeared in 20 games for the Chicago White Sox in 2011. Frasor provides a veteran presence and is someone who understands a setup role.
But others could work their way into the discussion.
Josh Lindblom
, 25, was acquired in the
Michael Young
trade and has some upside. He knows he needs to reduce his walks and lower his home-run rate, but he pitched very well early in 2012 with the Dodgers and looks capable.
Maybe
Tanner Scheppers
comes to spring ready to show his stuff. The 26-year-old did improve his strikeout-to-walk ratio (had four walks to 31 strikeouts in Triple-A Round Rock) and appears healthy. Watch for him this spring. He could be a pleasant surprise for the Rangers.
But it's more than finding the late-inning guys. The club also needs long relief. If
Kyle McClellan
doesn't force his way into the fifth starter mix, maybe he becomes the guy that takes the role that
Scott Feldman
once had. The Rangers believe McClellan is versatile enough to handle a variety of roles, but Feldman was able to spot start at times and handle some long relief. That's an important part of any bullpen.
Maybe
Neal Cotts
gets a chance to be one of the team's left-handed relievers. He was in the running late in camp last year before an injury ended his bid. We'll see how Coty Woods,
Cory Burns
and
Jeff Beliveau
do in spring training, as well.
Remember that this is a bullpen that lost
Mike Adams
,
Koji Uehara
and Feldman from a year ago.
Roy Oswalt
isn't coming back, either.
Robbie Ross
could end up as a reliever, but he's also competing for the fifth spot in the rotation.
Alexi Ogando
, a big piece of the bullpen late in 2011 and all of 2012, is back in the rotation.
So it's going to be a completely different bullpen. How it all shakes out is
something to watch this spring
.
January, 29, 2013
1/29/13
11:30
PM CT
By
Richard Durrett
| ESPNDallas.com
Editor's Note: With spring training rapidly approaching, let's take a look at 10 issues facing the club as it arrives in Surprise, Arizona.
Today's issue:
It's time for
Mitch Moreland
to fully seize the first base job.
[+] Enlarge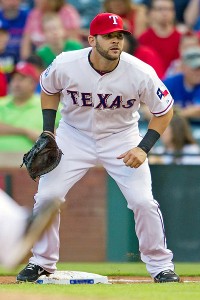 Andrew Woolley/Four Seam Images/AP ImagesMitch Moreland is out to prove that he can be an everyday first baseman.
NORTH RICHLAND HILLS, Texas -- The
Texas Rangers
have too many infielders and not enough spots for them. It's a problem most teams would love to have heading into spring training. As things sit now, the Rangers plan to have Moreland at first,
Ian Kinsler
at second,
Adrian Beltre
at third and
Elvis Andrus
at shortstop. That leaves, at least for now, highly-touted prospects
Jurickson Profar
and
Mike Olt
on the outside and likely starting the season in Triple-A to get every day at-bats.
Of course, the news of the Miami New Times report that involved Nelson Cruz's name in a notebook of those that purchased "products" from a Miami clinic that deals in PEDs could change things. If Cruz is suspended, that could alter what the club does with Moreland in that maybe he's in a rotation in right field or something.
"I'll do whatever I need to do to help the team win," Moreland said Tuesday night at a Rangers Winter Caravan stop in North Richland Hills.
But for the purposes of this blog entry, let's assume he's at first base. And as of right now, that's where he is anyway.
Moreland is getting another shot to seize the first base job and insist that it doesn't go to anyone else. It might be his last shot. Moreland is 27 years old. He had one of his better seasons as a professional last year, hitting .275 with 15 homers and 50 RBIs. But with Profar waiting for his chance to play every day and Olt getting chances to play some first base, Moreland needs to show something now. Just because Kinsler wasn't ready to move to first base to start the season doesn't mean it can't happen at some point.
"I feel like every day I go out and try to prove that," Moreland said. "I have since I've been here. It might have had different results than I wanted, but I go out every day and try to prove I can be the best player I can."
One of Moreland's main goal: Start hitting left-handed pitching better when given the chance.
Lance Berkman
, a switch-hitter, won't be ready to play first when the season begins as he continues to rehab his knee. That's why Moreland has spent time working with a left-handed batting practice pitcher this offseason. He knows he must get better against lefties. Olt continues to learn the position, but if the club wants him to play every day, a trip to the minors makes more sense. So Moreland should get some more chances against lefties, and it's an opportunity for him to show that he can take an even bigger step from last season.
In his career, Moreland is a .232 hitter against left-handed pitchers. In 2012, he hit .239 against lefties.
"I felt like since I hadn't really seen them a whole lot the last couple of years, I needed to work on it and get to where I felt really comfortable in there with them," Moreland said.
Moreland's glove work has been solid enough that manager Ron Washington hasn't hesitated to insert him into games late. He had a .996 fielding percentage in 2012, the best mark of his career (and fourth-best in the AL among those that played at least 90 games at first). Overall, his WAR was just 0.2 (Wins Above Replacement), one of the lower marks for any regular first baseman.
At his age and with the other prospects in the system, now is the time for Moreland to force the Rangers to make other choices. If he plays well, perhaps they look at other options to get Profar in the lineup (or even delay getting him in the lineup). If he doesn't, they could look again at making changes at first base that could result in either Olt or Profar getting some more time or perhaps Moreland ending up in right field.
So we'll be keeping an eye on Moreland, who has shown flashes when healthy. If he can show power and hit better against lefties, he could become a critical contributor in the lineup. If he doesn't, the club isn't likely to be extremely patient.