Texas Rangers:

2013 Offseason questions
November, 4, 2013
11/04/13
7:00
AM CT
By
Richard Durrett
| ESPNDallas.com
FORT WORTH, Texas -- Former
Texas Rangers
closer
Joe Nathan
is thankful he got a chance to play for two seasons at Rangers Ballpark in Arlington, but believes that the teams calling him to consider two-year deals won't include the Rangers.
Nathan heaped praise on the Rangers' fans and talked about how much he enjoyed closing games in Texas.
"Baseball in Texas was great," Nathan said Sunday. "The organization treats the player second to none. They do it right. The city and the fans always showed up. It was loud crowds, and that was fun to come to the ballpark as a player and know we were going to have a good atmosphere. There are some places where you have to find your own energy, and Texas wasn't one of those places. If you felt sluggish at all, the crowd would pick you up."
Texas picked up the option on Nathan's contract, but the 38-year-old closer had the right to decline the $9 million option and did so Friday, making him a free agent. He said he wants a two-year deal and was "hoping" the Rangers would be interested, but understands they have other priorities.
"I'm sure ... they could use this money to better strengthen themselves and use it for holes they can fill," Nathan said. "The bullpen is one area they feel they can afford to lose a guy or two and pick up some cash for something else. I get that. To me, it seems that other clubs are going to call and I don't think Texas will be one of them."
Nathan has 341 saves, good enough for 10th all time. He was an All-Star in both of his seasons in Texas.
November, 1, 2013
11/01/13
5:23
PM CT
By
Richard Durrett
| ESPNDallas.com
It wasn't surprising that
Joe Nathan
became a free agent today
. The
Texas Rangers
did, in fact, exercise the option on the 38-year-old Nathan's contract for 2014, but they were honest about the bullpen situation with him and he opted to seek a multiyear deal in free agency rather than risk getting traded. The move also allows the Rangers to avoid paying the $750,000 buyout.
[+] Enlarge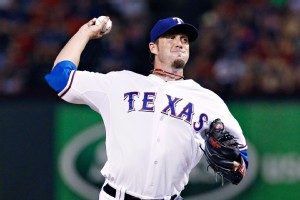 AP Photo/Jim CowsertThe Rangers have several options already on the roster to close after Joe Nathan opted to become a free agent.
It means a financial savings for 2014 too, since the internal candidates won't make anything close to the $9 million the Rangers would have paid Nathan had he not declined the option. So what about those internal options? General manager Jon Daniels talked about three of them Friday, noting that the club has priorities at other positions and that at this time it makes sense to keep that closer job in-house.
There are three clear options (in alphabetical order):
Neftali Feliz. Remember him? He came back from Tommy John surgery and appeared in just six games -- all losses -- in September. But the 25-year-old is working out and getting ready for the season and will pitch at winter ball at some point as part of a conditioning program planned by the team. Feliz had two years of closing experience for the Rangers before the signing of Nathan prior to the 2012 season allowed the club to shift Feliz to the rotation. If he's healthy, he certainly has a shot to reclaim that job.


Tanner Scheppers. He emerged as a solid, reliable eighth-inning setup man in 2013, a stepping stone for many closers. Scheppers, who turns 27 in January, had 27 holds and a 1.88 ERA in 76 appearances (76 2/3 innings pitched) last season. Scheppers struggled some in August but rebounded with a strong September. He'll head into spring training with a lot of confidence.

"With Scheppers, it was a big breakout performance for us," Daniels said. "He's always had that ability, but from a consistency standpoint, he took a big step forward."

Daniels credits Nathan for helping Scheppers take that step.


Joakim Soria. Like Feliz, Soria also has closing experience. His last visit to the All-Star Game came in 2010, a season in which he had 43 saves and a 1.78 ERA. Soria had Tommy John surgery in 2012 and returned to the big leagues in July. He had a 3.80 ERA in 23 2/2 innings pitched.

"He's a guy that at the time was one of the best closers in the game in Kansas City and at times [in 2013] looked like a guy a year off from Tommy John surgery," Daniels said. "We talk about guys coming back in 12 months [from Tommy John], but a lot of times it's not until the second year that you see them at 100 percent. You saw that at times this year."

Daniels said that he's hoping Soria follows a path similar to Nathan, in that it took Nathan a little time following surgery before he started to dominate again.

But Friday's move gives the Rangers some financial flexibility to worry about their other needs, like finding a catcher, another outfielder and figuring out what they want to do at first base.
October, 31, 2013
10/31/13
12:33
PM CT
By
Richard Durrett
| ESPNDallas.com
Closer
Joe Nathan
ran through the
Texas Rangers
' offseason shopping list Thursday like a member of the front office. He knows they need catchers, an outfielder, more power and he knows they must sort out the rotation and bullpen.
Nathan accepts that in "sorting out" that pen, financial considerations are involved.
"I know they have a surplus of arms in the bullpen and I know the business side of it," Nathan said. "You're trying to get as much money as you can to strengthen your club, so they may want to spend that money somewhere else. They have some work to do to piece some holes together."
Nathan, who turns 39 on Nov. 22, said
he's looking for a two-year deal
and believes he's earned it after two solid seasons in Texas. But with a budget that general manager Jon Daniels said isn't going up from last year, do the Rangers want to risk Nathan accepting a $9 million option (he has the right to decline it after finishing 55 games in 2013)? Do they want to sign a 39-year-old reliever to a two-year deal?
This club has holes, as Nathan mentioned, and they'd likely want to stay as financially flexible as they can. Tying up that money in two years of Nathan or even one at $9 million seems doubtful, with cheaper options like
Joakim Soria
and
Tanner Scheppers
on the roster.
Nathan made it clear he wants to stay in Texas. He wants to be on a winner and knows the organization is doing what it can to continue to win and reach the next level. But he also knows they've got tough decisions to make and that going younger and more inexpensive at the closer's position may be one of those.
October, 31, 2013
10/31/13
7:40
AM CT
By
Richard Durrett
| ESPNDallas.com
Now that the World Series is over and October baseball gives way to November Hot Stove, the
Texas Rangers
will immediately get busy. Among the decisions that need to be made soon (before the Winter Meetings begin at Disney World in early December):
*
Nelson Cruz
. It should come as no surprise that
the Rangers will make a qualifying offer to the outfielder.
That offer of $14.1 million makes sense because if Cruz takes it, the club has its top power hitter back in 2014. If not and he signs somewhere else, the club would get draft pick compensation. It's an easy call, frankly. Cruz, 33, is expected to decline the offer and try to get a multi-year deal.
That's the second part of the equation. Do the Rangers offer Cruz a two- or three-year deal that could eat a decent chunk of their available money within a budget that Daniels has said won't change much from last year? He's not exactly a young player anymore, so it's a difficult choice.
*
Joe Nathan
. The club has three days to decide whether to offer Nathan a chance to accept the option on his contract. Nathan's deal includes a $9 million club option, but because the nearly 39-year-old (his birthday is Nov. 22) finished 55 games in 2013, he has the right to void that option. The Rangers must choose if they want to bring him back at that number based on their budget and the fact that they have some options at closer (like
Joakim Soria
or
Tanner Scheppers
). They could also just buy Nathan out for $750,000. If the Rangers do offer the option and Nathan refuses it, they don't have to pay the buyout.
Nathan, by the way, has talked about wanting a two-year deal. But if the Rangers choose to exercise the option, Nathan would have 48 hours to decide. (My bet is they won't exercise the option at that price. But we'll see.)
* Other teams can not negotiate with the Rangers' free agents until the sixth day after the World Series. So Texas has a brief exclusive window to talk to guys who could seek deals elsewhere. Cruz is the biggest name, but
Matt Garza
,
David Murphy
and catchers
A.J. Pierzynski
and
Geovany Soto
join Nathan on that list as well.
* Early shopping. The Rangers waited a while last year before signing Pierzynski and
Lance Berkman
late in the offseason, because they had to wait and see what
Josh Hamilton
and
Zack Greinke
would do. But they've shown a willingness to jump in early if it makes sense. That's how they got Nathan two years ago, and that signing has certainly worked out. We'll see if they decide to shop and buy a little earlier this offseason as opposed to the last one based on their needs and budget.
* Arbitration. Some of these don't look too difficult.
Neal Cotts
proved he was a valuable member of the bullpen and could be a guy the Rangers look at signing for more than one year (getting through his final year of arbitration and one of his free agent years).
Neftali Feliz
,
Alexi Ogando
and
Craig Gentry
should be back. The toughest call might be
Mitch Moreland
. MLB Trade Rumors, which does a good job of forecasting arbitration numbers, has Moreland coming in around $2.7 million. The club must decide if they want to retain him at that number or use that money elsewhere.
* Lance Berkman. This is another decision that really isn't a decision. Berkman couldn't stay healthy after the team signed him to an $10 million contract in the offseason. The club won't be exercising the option on Berkman, but it's still on the "to do" list. The buyout will cost them $1 million.
October, 18, 2013
10/18/13
8:00
AM CT
By
Todd Wills
| ESPNDallas.com
Editor's Note: This is the last in a 10-part series that focused on questions the Texas Rangers must answer this offseason. These questions are in no particular order.
Today's question:
Do the Texas Rangers have enough rotation depth?
[+] Enlarge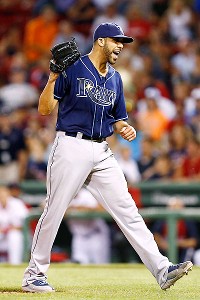 Mark L. Baer/USA TODAY SportsMight the Rangers be able to pull off an offseason trade for David Price?
Here's what we know about the Rangers' 2014 rotation --
Yu Darvish
,
Derek Holland
,
Martin Perez
and
Matt Harrison
will be in it.
That's provided general manager Jon Daniels doesn't pull a stunner and trade either Holland and Perez -- that seems highly unlikely -- and that Harrison is 100 percent recovered from two back surgeries that limited him to only only two starts in 2013.
That leaves the Rangers needing a fifth starter. Is that guy
Alexi Ogando
? We've already discussed Ogando's situation in this series. The mere fact that Ogando was on the disabled list three times last season should make the Rangers pause and put the lanky right-hander back in the bullpen where he belongs.
Which means the Rangers are back to needing a fifth starter. Does that pitcher come from within the system, via trade or in free agency?
Let's start with the system. The Rangers are likely to bring back their own free agent,
Colby Lewis
, who spent all of last season trying to recover from elbow surgery and other ailments. Lewis is 34, the Rangers' best postseason pitcher of all time and deserves another chance with the team. But he can't be counted on in any way. If he makes it, that's a bonus.
October, 10, 2013
10/10/13
8:00
AM CT
By
Todd Wills
| ESPNDallas.com
Editor's Note: This is the fourth in a 10-part series over the next two weeks that will focus on questions the Texas Rangers must answer this offseason. These questions are in no particular order.
Today's question:
Should the Rangers keep
Alexi Ogando
in the starting rotation or move him back to the bullpen?
[+] Enlarge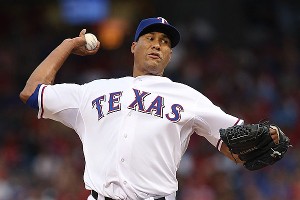 Rick Yeatts/Getty ImagesThe Rangers need to decide -- again -- if Alexi Ogando is best suited for the rotation or bullpen.
Even years mean Alexi Ogando will be a reliever. Odd years mean he'll be a starter.
The next time the Rangers play a game will be in 2014, which means Ogando will return to the bullpen. Right? Oh, not so fast.
Yes, the the record says that Ogando worked as a reliever in 2010 and was an emergency switch to the rotation -- where he pitched well -- in 2011. He was back in the bullpen in 2012, only to go back to the rotation this season. It feels like a rally in tennis. Will it ever end?
At this point, the Rangers aren't saying -- at least publicly.
Ogando wants to start. The Rangers enter the offseason in need of a starting pitcher, knowing that right now they have
Yu Darvish
,
Derek Holland
,
Martin Perez
and hopefully a healthy
Matt Harrison
as four of their five starting pitchers. If the Rangers don't sign another starter, Ogando will begin next spring training in the rotation.
But consider that a pretty big "if."
October, 9, 2013
10/09/13
8:00
AM CT
By
Richard Durrett
| ESPNDallas.com
Editor's Note: This is the third in a 10-part series over the next two weeks that will focus on questions the Texas Rangers must answer this offseason. These questions are in no particular order.
Today's question:
What should Rangers do at first base?
What might have
Mitch Moreland
's season looked like if he hadn't gotten hurt just as he was starting to smoke the ball?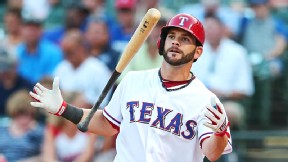 Kevin Jairaj/USA TODAY SportsMitch Moreland was batting .288 in early June, when he strained his hamstring. After that, he wasn't the same, including a .177 average in September.
It sure seems that first base has created more questions than answers for the Rangers in recent years. If we're honest, the Rangers haven't had a consistent, power-producing first baseman since
Mark Teixeira
departed. That trade, of course, altered the franchise. But in the process, the Rangers have run through a list of young (and at times older) first baseman in an effort to find a solution.
I can hear some of you now lamenting that
Chris Davis
isn't still here. But the reality is that he had numerous chances to seize the first-base job in Texas and couldn't do it.
Justin Smoak
had the job for a little while, but was needed as the key trade piece to acquire
Cliff Lee
.
So it's been Moreland's job the last few seasons. He finished 2013 with a .232 batting average with 23 homers and 60 RBIs. Moreland came into the season vying that he would be better against left-handed pitching. He was actually about the same, with his average ticking up a bit to .241. Where he struggled was against righties. Moreland batted just .227 against right-handed hitters in 2013. He hit just .185 with runners in scoring position.
"We need to improve our offense. We have to look at it across the board and evaluate it as a whole for the team but also as a spot by spot," said general manager Jon Daniels, shortly after the season ended. "Mitch was relative to the rest of the club one of the more productive guys. But that's not a great qualifier because we weren't as productive as we needed to be. I do think we need more run production out of first base than we had. Our question is and a conversation we'll have with Mitch is can he provide that production? We don't want to give up on him but it's an area we'd like to see improvement."
Moreland was batting .288 in early June, when he strained his hamstring. After that, he just wasn't the same, including a .177 average in September, when the Rangers started the month 5-15 and lost the AL West. Of course, Moreland was just one of many offensive players that couldn't get things going in that final month.
The Rangers' scored 69 runs from the first-base position. That was 10th in the AL and only Tampa Bay was worse and made the postseason. Texas' first-base batting average of .223 was the worst in the AL.
First base is supposed to be a power position that produces runs. It hasn't done that consistently enough for the Rangers. The problem: There may not be some terrific options that are better than Moreland, who still managed a decent OPS.
"We need to be more balanced in general and power was something we were lacking," Daniels said. "That's going to be challenging because there's not a lot of power available. We're not the only team looking for it. We have a lot of potential for power in our system but it's young. Guys that have that ability are not going to play for us next year more than likely. So we're going to have to be more creative and find them."
So what are the Rangers' options at first?
One is going after Jose Dariel Abreu, the right-handed hitting slugger out of Cuba. The question will be price, and with the success of
Yasiel Puig
and
Yoenis Cespedes
, Abreu should benefit with his value increasing. Is that in the $8 to $10 million per year range (or a bit higher)? Maybe. Some of you have asked me about James Loney, especially after he played well in Game 163 in Texas. But Loney wouldn't give you much power, so the Rangers would have to be sure they had more of that elsewhere. Don't rule out a trade, either. We know this front office will attempt to do something from all angles.
Are there some internal options? Well, if the club wants to get
Elvis Andrus
,
Ian Kinsler
and
Jurickson Profar
on the field at the same time, perhaps the Rangers could move Kinsler to first base. But I'm not sure that's a better option than Moreland, whose defense is solid as well.
One thing is clear: First base is a priority for the Rangers in 2014. They've got to get more out of that position offensively.
October, 7, 2013
10/07/13
8:00
AM CT
By
Richard Durrett
| ESPNDallas.com
Editor's note: This is the first in a 10-part series over the next two weeks that will focus on questions the Texas Rangers must answer this offseason. These questions are in no particular order.
Today's question:
Should the Rangers re-sign
Nelson Cruz
?
For some folks, this question isn't a difficult one. We all know the trouble the Rangers had to consistently score runs. And you could make the argument that Cruz's value actually increased while he was suspended for 50 games because his team struggled to do much without him in the middle of the lineup in September.
[+] Enlarge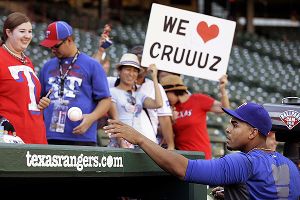 AP Photo/Tony GutierrezNelson Cruz is popular with Rangers fans and in the clubhouse, but will the price be right to re-sign him?
When Cruz departed on Aug. 5 to serve his penalty, he led the club in home runs and RBIs. He's averaged 27 homers per year since 2009, so he has a track record of power and production. This team had a power shortage with him out of the lineup and adding bats is clearly an offseason priority. So does making a qualifying offer to Cruz (probably just under $14 million) makes sense? I think it does. Even though that's a high price to pay if he accepts it for a player that's more likely to DH than anything else, he gives the club power that it needs. And he isn't likely to accept that offer anyway as he tests the free-agent market. If he signs elsewhere, by offering arbitration, the club would receive a first-round pick.
The other reason to do it: It makes teams think twice about signing Cruz because they have to give up that pick. We saw last year that with certain players, the loss of that draft pick hurt their free-agent market. Cruz will be in pretty high demand, but a qualifying offer only increases the price for him for other clubs.
Assuming Cruz rejects it, he would be open to sign a multi-year deal with any team, including the Rangers. The question is what is fair for Cruz. His numbers this season (before the suspension) are something just about any team would want. He had 27 homers and 76 RBIs in 109 games. He batted .266, but had a .833 OPS. He was and remains a feared hitter. And with
Alex Rios
back for another season, Cruz could be a DH and not have to play the field unless necessary (the club could stick with
Leonys Martin
and
Craig Gentry
in the OF with Rios).
But he's also 33 years old. We've seen the Rangers be very careful about how long they sign players up, not wanting to be in a situation like the Angels where they have too much money tied up in players at an advanced age, which could limit their ability to do other things. How badly does Cruz want to stay in Texas? Would he take a two-year deal, for instance, to stay where he's comfortable? I can't think the Rangers would want to go more than three on a long-term deal and even then, with the budget, it seems questionable.
There's no question that the Rangers need a bat. Cruz fits in well in the clubhouse and his teammates like him, even after he left them for 50 games. He's comfortable in Texas and that has to help the Rangers' chances. They need a big bat. Why not get one they know (as long as the price is right)?