Texas Rangers:

2013 Regular Season
November, 4, 2013
11/04/13
7:00
AM CT
By
Richard Durrett
| ESPNDallas.com
FORT WORTH, Texas -- Former
Texas Rangers
closer
Joe Nathan
is thankful he got a chance to play for two seasons at Rangers Ballpark in Arlington, but believes that the teams calling him to consider two-year deals won't include the Rangers.
Nathan heaped praise on the Rangers' fans and talked about how much he enjoyed closing games in Texas.
"Baseball in Texas was great," Nathan said Sunday. "The organization treats the player second to none. They do it right. The city and the fans always showed up. It was loud crowds, and that was fun to come to the ballpark as a player and know we were going to have a good atmosphere. There are some places where you have to find your own energy, and Texas wasn't one of those places. If you felt sluggish at all, the crowd would pick you up."
Texas picked up the option on Nathan's contract, but the 38-year-old closer had the right to decline the $9 million option and did so Friday, making him a free agent. He said he wants a two-year deal and was "hoping" the Rangers would be interested, but understands they have other priorities.
"I'm sure ... they could use this money to better strengthen themselves and use it for holes they can fill," Nathan said. "The bullpen is one area they feel they can afford to lose a guy or two and pick up some cash for something else. I get that. To me, it seems that other clubs are going to call and I don't think Texas will be one of them."
Nathan has 341 saves, good enough for 10th all time. He was an All-Star in both of his seasons in Texas.
September, 28, 2013
9/28/13
5:40
PM CT
By
Richard Durrett
| ESPNDallas.com
ARLINGTON, Texas -- The Rangers' win Saturday coupled with Tampa Bay's loss in Toronto means that for the first time this week, the Rangers control their own destiny. A win tomorrow guarantees them at least one more game in this 2013 season. They are tied with the Rays, one game back of the Indians. Here are the possible scenarios heading into Sunday:

* If the Rangers win Sunday and the Rays lose, the Rangers will be in the AL wild-card game on Wednesday. They would play the Indians in Cleveland on Wednesday at 7:07 p.m. CT on TBS/ESPN Dallas 103.3 FM.

* If the Rangers win, the Rays win and the Indians win, the Rangers and Rays would play on Monday to determine which team went to Cleveland for the wild-card game Wednesday. Since the Rangers won the season series with Tampa Bay, the game would be in Arlington at 7:07 p.m. CT on TBS/ESPN Dallas 103.3 FM.

* If the Rangers win, the Rays win and the Indians lose, there's a three-way tie for the wild card. That's where things get fun. Tampa would play the Indians in Cleveland on Monday. The winner would get one of the wild-card spots, while the loser would head to Texas to play the Rangers on Tuesday at 3:07 p.m. CT on TBS/ESPN Dallas 103.3 FM. The winner of that game would be the other wild-card team. If the Rangers end up playing Tampa Bay in Wednesday's wild-card game, it would be in Texas. If they play the Indians, it would be in Cleveland.

* If the Rangers lose and the Rays win, the Rangers are out of the playoffs and the Rays would play Cleveland in the wild-card game.

* If the Rangers lose and the Rays lose, the two teams would play on Monday in Arlington.

Make sense? Well, we'll know more Sunday. But the bottom line is a Rangers win means they will definitely be playing past Sunday. Cleveland's win over the Twins on Saturday guarantees that no matter what they do Sunday, they'll be playing another game, as well.
September, 28, 2013
9/28/13
3:23
PM CT
By
Richard Durrett
| ESPNDallas.com
ARLINGTON, Texas – Sunday is a chance for
Yu Darvish
to shut up the critics. It's also his chance to keep the
Texas Rangers
' season alive.
[+] Enlarge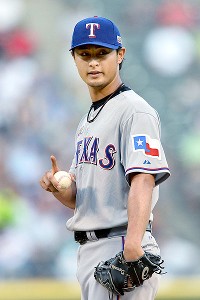 Brian D. Kersey/Getty ImagesYu Darvish has a chance to silence his critics in Sunday's regular-season finale.
Darvish can silence those who have questioned his status as an ace in the American League, thanks to his inability to hold leads late in meaningful games the past month. Four times in his last seven starts, the Rangers have given Darvish a lead, only to watch him surrender it back in the opponent's very next at-bat. It hasn't helped that the Rangers' offense has nearly disappeared when Darvish is on the mound. After all, he's lost four 1-0 games this season.
Is that nit-picking a pitcher that has some of the best numbers in the AL this year? Yep. But that's the standard that Darvish has set. That's what comes with the label of "ace." Darvish is supposed to hold leads, especially as the game progresses. He hasn't done that consistently.
Now, though, none of that matters. Darvish can erase those memories if he can pitch his team past game No. 162. The playoffs may not have officially started in other cities, but in Arlington, they've been chugging along for a week now. And the Rangers don't look like the same team that started September with a huge thud, dropping them right out of contention in the AL West.
September, 25, 2013
9/25/13
10:46
PM CT
By
Todd Wills
| ESPNDallas.com
ARLINGTON, Texas -- The
Texas Rangers
have reassigned senior director of player development Tim Purpura within the organization, multiple sources confirmed Wednesday night.
Purpura's reassignment was first reported by the Fort Worth Star-Telegram.
Purpura was hired in 2011 to replace farm director
Scott Servais
, who left for the
Los Angeles Angels
. Purpura had been the general manager of the
Houston Astros
from 2004 to '07 and an Executive Vice President of Minor League Baseball before being brought on by the Rangers.
Rangers general manager Jon Daniels declined to comment at this time.
September, 13, 2013
9/13/13
8:00
AM CT
By
Richard Durrett
| ESPNDallas.com
There was a time, about a month ago, when it appeared the
Texas Rangers
' offense could survive
Nelson Cruz
's 50-game absence. They immediately stressed versatility by putting all kinds of pressure on the opponents by running wild on the bases. They got some key hits, found a way to drive in runs with less than two outs with a runner at third and took advantage of opposition mistakes.
PODCAST
Jayson Stark joins Richard Durrett to give his thoughts on the AL West race, Matt Garza's struggles, the wild-card race and more.

Listen

When Cruz accepted MLB's punishment for his role in the Biogenesis mess, he was hitting .269 with 27 homers and 76 RBIs. He led the team in homers and runs scored and the Rangers won six of the final seven games in which he played. Cruz even hit a home run in his final game (and three in his final five).
For a while, the Rangers kept things going. In fact, they sustained a decent clip through most of August, going 16-5 in the first 21 games after Cruz exited. They hit .278 as a team and stole 34 bases in that span. Texas had 10 games of at least 10 hits in that stretch and on Aug. 29, the Rangers were three games up on the Oakland A's in the AL West. The offense had 6.4 runs per game in those 21 games without Cruz. They were steaming along. It helped that they were playing teams that were struggling, too. But they were doing the job.
But in the 12 games since that point, things have totally flipped in the AL West. The Rangers' offense is scoring just 3.2 runs per game. The starting pitching has faltered in September, and the defense hasn't been as crisp. The normally reliable bullpen couldn't even get the job done Wednesday in the final game of a three-game sweep at the hands of the Pirates.
Where Cruz is missed is with those bats, which aren't delivering in the clutch and just don't have any power right now. The Rangers are 3-9 in the last 12 games and have turned a three-game lead into a three-and-half-game deficit. They have only 11 homers in those games.That's one fewer than the number of ground-ball double plays they've hit into. The Rangers have just 30 walks while striking out 90 times.
Not having Cruz in the middle of that lineup is clearly an issue now. And in the process, I wonder if his value isn't actually increasing as he sits out. Every MLB team can see what he means to this Texas lineup because he's not in there providing some pop. Cruz is getting himself ready to play for the postseason, but he'll have to jump into the playoff fire without having played in a regular season game in the days and weeks leading up to it (and at this point, that would be a one-game AL wild-card game to determine if they advance to the divisional series).
Cruz left his team at the worst possible time and they managed to get along without him for a few weeks. But right now he's sorely missed. And there's nothing he can do about it. This current group has to find a way to score some more runs to make sure Cruz gets another opportunity to help his club in 2013.
September, 4, 2013
9/04/13
2:45
PM CT
By
Eric Gilmore
| Special to ESPNDallas.com
OAKLAND, Calif. -- Rangers shortstop
Elvis Andrus
will have to wait until at least Friday before he returns to the starting lineup.
Andrus has missed the past three games because of back spasms and will be out of the starting lineup again Wednesday afternoon when the Rangers play the
Oakland Athletics
in the finale of their three-game series. But for the first time during this stretch, Andrus will be "available" off the bench, Rangers manager Ron Washington said.
The Rangers have a day off Thursday before opening a three-game series Friday night at Anaheim against the
Los Angeles Angels
.
"He'll get another day today and another day tomorrow, and hopefully he'll be ready to go in Anaheim, Washington said.
Andrus said he thought he would be in the lineup Wednesday at designated hitter, but Washington said Tuesday that he wouldn't return to lineup until he's ready to play shortstop.
"I feel good today," Andrus said. "I feel pretty great. I feel at least I can DH today, but I guess they want to give me an extra day off plus we're off tomorrow, so it's going to be two days off in a row. I'm sure I'll be 100 percent Friday."
Andrus tweaked his back Friday then left Saturday's game against Minnesota in the first inning after running from first to third. He hasn't taken ground balls since Saturday, but he said his back felt "almost 100 percent" when he tested it Wednesday by bending over and stretching.
"We were supposed to take some (ground balls) today, but it's an early game," Andrus said. "But I feel great. I feel really good right now. I know that I can play, the way I feel right now. It's their choice, too. For them to give me an extra day off if I need it is going to be better for my health."
Good matchup for Moreland:
There's something about facing the A's that brings out the best in Rangers first baseman
Mitch Moreland
. He hit his 10th career home run against Oakland on Tuesday night in the Rangers' 5-1 win. He has more home runs against the A's than any other team.
Moreland said he can't explain why he's hit so many home runs against the pitching-deep A's.
"I don't really feel any different," Moreland said. "I try to go up there and just try to get a good pitch to hit. I guess maybe I've squared up a few more against them. I'm not real sure what the numbers are. I try to go up there and hit something hard."
Moreland has hit seven of those 10 home runs at the cavernous O.co Coliseum, which will never be confused with a hitter's park.
"You just try to go up there and simplify it the best you can," Moreland said. "You don' really focus on the park, the team you're facing. It's just kind of you and the pitcher. You can't really control the results. You try to go up there and make something happen to help your team."
Moreland has been giving the Rangers plenty of home run help lately. He has five homers in his past 11 games and has gone 3-for-8 with two home runs in his past three games. For the season, he has a career high 22 home runs and 57 RBIs, another career high.
"I feel all right," Moreland said. "Going up there with my plan, just trying to get a good pitch to hit and see some pitches and kind of work the count a little bit. It's been going all right there lately."
Another start for Adduci:
Three days after making his major-league debut against Minnesota and getting his first major-league hit, rookie
Jim Adduci
is back in the starting lineup. He started in left field on Sunday. This time he'll be the designated hitter.
"Giving him a chance," Washington said. "He can swing the bat. He can do some things. Just giving him a chance to contribute. It might be a couple days before you see him again, but I'm going to give him a chance to contribute."
Adduci singled in his first major-league at-bat. At 28 years and 109 days, Adduci was the oldest Rangers position player to make his big-league debut sine
Kevin Richardson
on Aug. 17, 2009.
"Overall it's still the same game that I've played for so long," Adduci said. "It's just the same approach that I'm going to go with at home plate. It was nice to be able to get in right away and also get that hit right away. Definitely enjoyable."
Short hops:
Left fielder
David Murphy
is out of the lineup Wednesday but will start Friday night against the Angels, Washington said.
Craig Gentry
, coming off a two-hit game Tuesday against the A's, will start in left. ... Washington won his 600th game as Rangers manager Tuesday, extending his franchise record. ... Left-hander
Martin Perez
, who improved to 9-3 Tuesday night, leads all American League rookies in wins. Dodgers rookie Hyun-Jim Ryu has 13 wins, the most by a rookie in the major-leagues. ... According to Washington, switch-hitter
Lance Berkman
is limited from the right side because of a nagging left hip injury that had him on the disabled list from July 7 to Sept. 1. "If he had to hit right-handed, he could," Washington said.
September, 3, 2013
9/03/13
5:18
PM CT
By
Eric Gilmore
| Special to ESPNDallas.com
September, 2, 2013
9/02/13
3:38
PM CT
By
Eric Gilmore
| Special to ESPNDallas.com
OAKLAND, Calif. -- Rangers veteran
Lance Berkman
was at his locker in the visiting clubhouse Monday morning when word spread that he was in the starting lineup for the first time since July 6.
"You're playing?" second baseman
Ian Kinsler
said, feigning amazement. "You nervous?"
Not exactly.
At age 37 and with 1,874 games of major-league experience, Berkman said he's "beyond the point of getting too hyped up" over almost anything on the baseball field.
"I think the main thing is just to go out there and compete," Berkman said. "I'll do the best I can."
Berkman was activated from the disabled list Sunday after a long battle with hip and knee injuries.
"Physically I feel OK," said Berkman, who will hit eighth in the lineup as the designated hitter.
As for how he expects to do in his first game back, Berkman said he'd need a "crystal ball" to know that answer, but he does expect to be able to contribute during the stretch run.
"I don't know how I'm going to be right at first, but if I get enough opportunities I'll be sufficient in that role if they need me," Berkman said.
Berkman is batting .254 with six home runs and 34 RBIs this season. For his career he's hitting .294 with 366 home runs and 1,234 RBIs.
"He's ready to go," Rangers manager Ron Washington said. "We're going to get him in there and let him see some pitches and see how he feels. ... Lot of experience there. He'll make it work. He's been around a long time.
"I'm not placing any expectations on him. I'll just watch and judge and listen to him."
If Berkman feels fine physically after Monday's game, then he'll be back in the starting lineup again Tuesday against the A's, Washington said.
In four rehab games with Triple-A Round Rock (Aug. 10-11) and Double-A Frisco (Aug. 13-14), Berkman hit .364 with a home run and three RBIs.
Andrus update:
Shortstop
Elvis Andrus
is out of the starting lineup for the second straight day as he continues to rest his sore back.
"He's getting better, but he's not ready for me to put him on the field," Washington said. "We want to make sure. We can't afford to have him go down again. The back is finicky, real finicky."
Andrus tweaked his back Friday then left Saturday's game against Minnesota in the first inning after running from first to third. He has battled back problems throughout the season.
Jurickson Profar
is in the lineup again at shortstop.
Ogando making progress:
Right-hander
Alexi Ogando
, who has been on the disabled list since Aug. 20 with right shoulder inflammation, threw another bullpen session before Monday's game. Before his session, Ogando said he has been feeling "strong" and making good progress. The next step in his recovery will likely be pitching some "live batting practice" in Anaheim later this week, Washington said. "Then we'll make a decision from there."
Left-hander
Travis Blackley
is "penciled in" to make another start Saturday in Ogando's place against Anaheim, Washington said. Washington, though, said he "reserved my right to change my mind."
Ogando is not an option that day, but lefty
Michael Kirkman
and righty
Nick Tepesch
are. With the Rangers having a day off Thursday, there's also a chance that they skip Blackley's spot in the rotation and have left-hander
Derek Holland
start Saturday on regular rest, Washington said.
Mind games:
Rangers right-hander
Yu Darvish
, who'll make his next start Wednesday against the A's, has been hurt by late-game home runs in his past two starts, losses to the White Sox and Twins. After giving up two home runs in a 3-2 loss to Minnesota, Darvish said some "negative thoughts" about giving up so many homers had entered into his mind during the game, affecting his typical aggressiveness.
"I try to be aggressive physically and mentally all the time, but some negative thoughts enter my mind sometimes, but you have to always fight against those negative thoughts. But we only had a one-run lead so I tried to keep the game close as much as possible. I was trying not to dwell on it and keep working."
Short hops:
The Rangers own a one-game lead over the A's in the American League West entering this series, and Washington said he expects the race "to go all the way down to the end. Those are the division champs over there. I don't expect them to go away. I don' t expect us to go away. Everything goes through Oakland." ... A's rookie outfielder
Michael Choice
, a product of Arlington's Timberview High School and the University of Texas-Arlington, will make his major-league debut Monday and start as the designated hitter. Choice, the 10th overall draft choice in 2010, was called up from Triple-A Sacramento on Sunday.
August, 28, 2013
8/28/13
5:53
PM CT
By
Gregg Bell
| Special to ESPNDallas.com
SEATTLE --
Leonys Martin
had a three-run home run, part of the leadoff man's career-high four RBIs, and the
Texas Rangers
pounded
Seattle Mariners
' All-Star ace
Felix Hernandez
for nine runs in a 12-4 runaway win Wednesday afternoon at Safeco Field.
Eight of the Rangers' runs off Hernandez were earned, a career-high for the 2010 AL Cy Young Award winner. Eleven of the Rangers' 17 hits came in the first three-plus innings.
Martin Perez
(8-3) allowed five hits and two runs in six innings to set Rangers rookie pitching records with his fifth victory this month and his fifth consecutive start with a win. Relievers
Robbie Ross
and
Ross Wolf
completed this three-game sweep. It ended a 4-2 trip for Texas that began with the
Chicago White Sox
.
Keeping up:
The easy win put the Rangers, for now, three games ahead of Oakland atop the American League West heading into their Thursday off day and weekend home series against the
Minnesota Twins
. The A's were playing at Detroit later Wednesday.
He's more than fine:
Martin's huge day came in his second game back from an ankle injury that sidelined him Sunday and Monday. He sent Hernandez's split-fingered fastball (which stayed high in the strike zone) onto the roof of Seattle's bullpen far beyond left-center field in the second inning for his seventh home run.
Geovany Soto
added a two-run single off Hernandez (12-8) in the third.
Elvis Andrus
had a two-run double, and
Ian Kinsler
singled him home to make it 8-0 in the fourth and chase the not-so-King-like Hernandez.
Adrian Beltre
then greeted
Brandon Maurer
by crushing his 28th home run to make it 10-0. The Rangers are now 23-3 when he homers. Beltre also singled for his AL-leading 51st multihit game.
Mitch Moreland
added his 20th home run to lead off the seventh.
Checkmate:
Hernandez is now 0-4 against the Rangers this season, and his 20 career losses against Texas are his most against any opponent.
The eight earned runs were the most Hernandez had allowed in any of his previous 266 major league starts dating to his 2005 debut with the Mariners. The nine total runs is one off his career high from May 16, 2006, at Oakland.
Hernandez lasted just 78 pitches, the fewest he's thrown in any of his 28 starts this season. As he left, he tossed his gum into the dirt in front of the dugout, his glove into the corner of the dugout and his cap dismissively onto the bench.
Up next:
Yu Darvish
(12-5, 2.68 ERA), the major leagues strikeout leader with 225, begins the Rangers' brief, three-game homestand Friday night against Minnesota right-hander
Liam Hendriks
(0-2, 6.20 ERA). Darvish is 7-3 in 14 home starts this season. First pitch is scheduled for 7:05 p.m. CT on Channel 21 in the Dallas-Fort Worth area and ESPN Dallas 103.3 FM.
August, 28, 2013
8/28/13
4:28
PM CT
By
Gregg Bell
| Special to ESPNDallas.com
SEATTLE -- Ron Washington isn't taking time to put his
Texas Rangers
' reviving August into perspective.
He's too focused on getting through Wednesday, this weekend against the
Minnesota Twins
-- and September.
Asked before the road trip finale against the
Seattle Mariners
if he has taken stock of his team going 18-6 through the first 24 games this month -- second in the major leagues only to the
Los Angeles Dodgers
' 20-6 entering Wednesday -- the Rangers manager said: "No, because at this point in the year it's about the day to day going down the stretch.
"I know we're playing well," Washington said. "To be in the hunt we needed to play well. And we did."
Big time. The Rangers entered Wednesday winners of six of their last eight, and their 21-6 record since the morning of July 29 is the best in baseball.
Texas was six games back of Oakland in the American League West on July 29. The Rangers entered Wednesday 2½ games ahead of the A's atop the division, the same margin they'd had since Saturday.
The 19-4 stretch from July 23 through last Friday matched the 1977 team for the best 23-game run in Rangers history. Their 77-55 record entering Wednesday was the franchise's third-best 132-game record, one game off 2012's start and two games behind 1999's.
As for the cynics who point out the Rangers haven't faced a team with a winning record since Oakland on Aug. 4, 22 games ago, Washington doesn't have time for them, either.
"Hey, (they're) on the schedule," the manager said. "You've still got to play the games."
Reloading for September:
The Rangers are about to get an influx of three veteran pitchers returning for the stretch run.
Washington reiterated that the Rangers plan to activate
Neftali Feliz
on Sunday, when rosters expand. That will be 13 months to the day after the 25-year-old right-hander had Tommy John ligament-replacement surgery in his pitching elbow.
The manager also said the team is likely to active
Nick Tepesch
from the disabled list. And Washington said there is a chance right-hander
Alexi Ogando
, on the disabled list since Aug. 20 with inflammation in his pitching shoulder, may be ready to join Texas' bullpen next week, too
Feliz was the Rangers' closer in 2010 and 2011, then a starter to begin last year. He hasn't pitched for Texas since May 18, 2012.
Feliz was scheduled to throw two or three innings Wednesday in another minor-league rehabilitation assignment for Triple-A Round Rock. Sunday at Round Rock was the first time this year he had thrown two innings.
Washington said Feliz won't be throwing multiple innings in any September games for the Rangers.
"The purpose to do that (at Round Rock) is instead of him going back-to-back days there. It's for building arm strength," Washington said. "It has nothing to do with him throwing two innings when he gets here."
Ogando is a different matter. He could be a multiple-innings pitcher and perhaps even be a spot fifth starter -- though
Travis Blackley
, Sunday's starter against Minnesota, has been good so far in that role for Texas since arriving in a minor-league trade from Houston Aug. 14.
Ogando, a 2011 All-Star, threw in the Safeco Field outfield Wednesday morning, his fifth consecutive day of long toss. He is likely to throw a bullpen session Saturday in Arlington.
Tepesch, on the disabled list since July 7 with right elbow inflammation, pitched two innings plus two batters Tuesday in his first rehabilitation outing for Double-A Frisco. He allowed three hits and an earned run, walking one in 41 pitches. The Rangers said he felt fine following the routine outing.
Tepesch could also be an innings eater, if the Rangers decide to go that route.
"He could pitch out of the bullpen (in September). We haven't decided that," Washington said. "The way things are going he might be out of the bullpen."
That way is far better for Washington than it was this time last year, when the Rangers struggled without many choices for a fifth starter while Oakland rallied past them to win the division.
"It gives us length," he said of the pending additions to the pitching staff. "That's what you want in September. And we got it. We have options."
Darvish for September:
Yu Darvish
(12-5, 2.68 ERA) starts on Friday when the Rangers begin a mini three-game homestand by hosting the Minnesota Twins.
Darvish said his goal is to focus on not changing anything entering the final month of the regular season.
"The most important thing is to not think this is a special month," he said through an interpreter after a pregame workout Wednesday. "I think I'm going to approach it like April, May or any other month."
August, 24, 2013
8/24/13
12:14
AM CT
A.J. Pierzynski
returned to U.S. Cellular field on Friday for the first time since leaving as a free agent after the 2012 season, and he got a standing ovation and four-minute video tribute from his former team. The veteran catcher went 1-for-5 on the evening with a sac fly and an RBI. The always confident Pierzynski was frozen in emotion while helping to warm up starter
Martin Perez
; he watched the video board in center field as the highlights of his eight-year Sox career were shown between the top and bottom of the first inning.
[+] Enlarge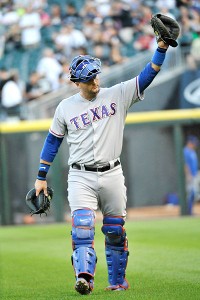 David Banks/Getty ImagesFormer White Sox catcher A.J. Pierzynski of the Texas Rangers acknowledges the crowd before Friday's game.
"I was trying to look," he said. "I know they had some wrestling clips which I know the guys liked. The parts I saw I thought were awesome."
The 36-year-old catcher admitted to being almost lost in emotion for the first time in his career on the field. "It was great," he said. "From the time I ran out to warm up the pitcher, the fans were cheering. After that -- well, it is something I will never forget. When I look back, I will say that was one of the best moments of my career."
Pierzynski shared a few moments with close friend
Paul Konerko
at the plate and when Pierzynski got his lone hit of the game, a single in the eighth inning. "Paul is Paul, and I love him to death," he said. "He is not having the year he wants to have. I talk to Paul all of the time, and when he came up, he said, 'it is still weird seeing you in that uniform.' He is one of my best friends. Any time I get to talk to him, it is always entertaining and enlightening."
The
Texas Rangers
increased their lead in the American League West with the 11-5 victory. They have won 19 of the their past 23 games.
"We thought from the start of the season we had a pretty good team," Pierzynski said. "It took a while for things to happen. We were pretty banged up, which is not an excuse, but we finally have got guys settled in and we made some moves. We started to play better, and it is fun. We have five starters that we know can give us a chance. Our bullpen is as good as anyone has. I think we will be OK."
August, 23, 2013
8/23/13
10:42
PM CT
CHICAGO -- Former
Chicago White Sox
catcher
A.J. Pierzynski
returned to the South Side of Chicago Friday night for the first time since leaving as a free agent after the 2012 season.
Now with the first-place
Texas Rangers
, Pierzynski, who spent eight seasons with Chicago beginning in 2005, will always be associated with that world championship White Sox team.
"This was home for a long time for me," Pierzynski said. "Both of my children were born here. It is unfortunate that things happen, but I ended up in a pretty darn good place."