Texas Rangers:

2014 All-Star Game
July, 15, 2014
7/15/14
10:18
PM CT
MINNEAPOLIS –
Yu Darvish
trots out an eephus pitch a few times a year, but to do so to the major league batting leader in front of millions of people watching the All-Star Game on TV took a bit of gall.
[+] Enlarge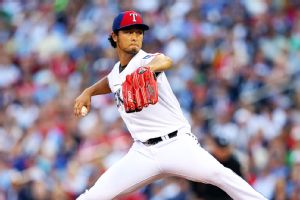 Jesse Johnson/USA TODAY SportsYu Darvish saw his first All-Star Game action in his third appearance, throwing a 1-2-3 third inning.
"It's my strength," Darvish joked through an interpreter.
Of course, Darvish has a few more "strengths" besides a 57-mph lob to take a batter by surprise, but he's certainly willing to do whatever it takes to get somebody out.
He told reporters Monday he would throw one if he got in the game. He threw a slider for a ball, then pumped in a couple of 92-mph fastballs before breaking out the eephus to
Troy Tulowitzki
in the third inning. Tulowitzki took it for a ball and, two pitches later, lined to left for an out.
Darvish pitched a 1-2-3 inning, handing Dodgers outfielder
Yasiel Puig
one of his three strikeouts and inducing
Paul Goldschmidt
to line out as well. It was Darvish's third All-Star bid, but his first time pitching in one. He was injured last season and available only to pitch in extra innings in 2012.
"I felt very honored," Darvish said. "It ranks right up there. There are many great pitchers and I was able to pitch in the third spot."
The Rangers' second representative,
Adrian Beltre
, entered as a defensive replacement in the top of the sixth and walked in his only at-bat in the bottom of the inning.
July, 14, 2014
7/14/14
5:03
PM CT
MINNEAPOLIS --
Yu Darvish
is on his third All-Star team, with a realistic chance of appearing in the All-Star Game for the first time on Tuesday night at Target Field. Is that enough to make the right-hander change his indifference about pitching in the game?
"Not really," Darvish said through an interpreter on Monday.
[+] Enlarge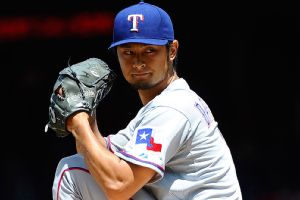 Brad Mills/USA TODAY SportsYu Darvish is an All-Star for the third time, but did not make an appearance in his first two games.
The Japanese right-hander, who missed last year's game because of injury and was only available to pitch in extra innings in the 2012 game, made his final first-half start last Wednesday, putting him in line to appear in the All-Star Game. Rangers manager Ron Washington said last week he planned to tell Red Sox manager John Farrell -- who is managing the American League team -– that Darvish would be available for an inning or 20 pitches, adding he hoped Darvish would want to play in the game.
But even for a contest that will be broadcast to over 200 countries, Darvish doesn't feel any special urgency to appear.
"Of course, I feel very honored (to be selected)," Darvish said. "I could pitch, but I haven't been told (whether I will)."
The 2013 Cy Young Award runner-up is fourth in the American League with 142 strikeouts, but a Rangers team beset by injuries has baseball's worst record, a year after losing a one-game playoff for the second AL wild-card spot. Darvish said it can be hard to persevere in a season like this one, adding "people lack focus sometimes" when losses mount.
"I don't tell my teammates anything (to get them focused)," he said. "They're professional baseball players. They have to figure it out. In the midst of that, I just have to focus on what I'm doing."
He said he wants to pitch deeper into games in the second half of the season, repeating a goal he stated in spring training. He threw eight shutout innings against Minnesota on June 28, but hasn't reached the seventh inning in any of his other four starts in the last month. Still, he's been better about relying on his fastball this season, like the Rangers wanted. He's throwing it 55 percent of the time -- up from 38 percent last year -- and if he's able to use the pitch to get quick contact, it should help keep his pitch counts down and enable him to work further into games.
But if he considers the All-Star Game any kind of special reward in a frustrating season, Darvish wasn't admitting it on Monday.
"If I go to two more All-Star Games and not pitch at all, it'll be a record," he joked.
July, 6, 2014
7/06/14
8:00
PM CT
We've reached the most fun part of the All-Star Game: Arguing about the final rosters.
The starters and reserves were named on Sunday and it was interesting to note the different philosophies of managers John Farrell and
Mike Matheny
in filling out their rosters. As expected, some worthy American League players were excluded and there were a couple surprising choices in the National League.
Some quick thoughts:
Worst American League starter: Derek Jeter, Yankees.
While I actually don't have that big of an issue with Jeter starting -- there is no
Troy Tulowitzki
in the AL that he's keeping out of the lineup -- he's probably the worst starter we've had in a long time, hitting an empty .273 with mediocre defense and no power, worth 0.5 WAR so far.
Matt Wieters
was inexplicably voted in by the fans at catcher, but since he's out for the season,
Salvador Perez
will rightfully start in his place.
Worst National League starter: Aramis Ramirez, Brewers.
Cincinnati's
Todd Frazier
is clearly the deserving starter at third base based on 2014 numbers while Ramirez is hitting .287 with 11 home runs. Considering Frazier,
Matt Carpenter
of the Cardinals and
Anthony Rendon
of the Nationals are better all-around players than Ramirez, his selection cost somebody an All-Star spot (Rendon is on the final player ballot).
Best ballot stuffing: Orioles and Brewers fans.
Who says you need to play for the Yankees, Red Sox or Dodgers to have an edge in fan balloting?
Adam Jones
was never in the top three among outfielders until passing
Yoenis Cespedes
at the wire. He's a fine selection, however, and has come on strong after a slow April. Orioles fans also voted in Wieters and
Nelson Cruz
in that crowded DH slot that included
Victor Martinez
,
Edwin Encarnacion
,
Brandon Moss
and
David Ortiz
. Likewise,
Carlos Gomez
passed
Giancarlo Stanton
for the third outfield spot in the NL behind
Yasiel Puig
and
Andrew McCutchen
. Stanton clearly should be starting but Gomez is arguably one of the top three outfielders in the NL. Brewers fans, however, couldn't get
Jonathan Lucroy
voted in over
Yadier Molina
, so Lucroy will be the backup.
National League DH should be: Stanton.
Pretty each choice here for Matheny. Heck, start him and let him play the entire game. A nation that never watches Marlins games should see this guy get four at-bats.
Jeff Samardzija, almost an All-Star.
The players had actually voted for Samardzija as one of the five best starters in the NL, along with
Johnny Cueto
,
Adam Wainwright
,
Clayton Kershaw
and
Madison Bumgarner
. Samardzija had a 1.68 ERA through May, so you can see why he fared well in the balloting. His ERA had since climbed to 2.83 with some bad outings and he was replaced by
Julio Teheran
of the Braves.
Worst player selection: Charlie Blackmon, Rockies.
The players actually did a much better job than they usually do and Blackmon's selection was the only dubious choice, a guy who had a monster April but is down to .295/.341/.463, mediocre numbers for a guy who plays in Colorado. To be fair, the NL lacked obvious choices for the fifth and sixth outfielders, but they somehow came up with a player ranked 21st among NL outfielders in FanGraphs WAR.
Justin Upton
,
Ryan Braun
,
Billy Hamilton
or even Rockies teammate
Corey Dickerson
(hitting .340) would have been better selections.
The AL crunch:
Farrell had some tough choices in filling out his squad. His manager selections were
Jon Lester
(deserving and the only Red Sox rep),
David Price
(deserving and the only Rays rep),
Glen Perkins
of the Twins,
Max Scherzer
of the Tigers,
Kurt Suzuki
of the Twins (a third catcher), Encarnacion and Moss. I guess you have to carry three catchers and I don't have a problem with the Scherzer selection. Encarnacion was a lock with his big numbers so the final choice probably came down to Moss or another player.
Biggest snubs: Ian Kinsler, Tigers; Kyle Seager, Mariners.
And that led to Kinser and Seager being this year's biggest snubs. Entering Sunday, Kinsler ranked third among AL position players in fWAR and Seager seventh. In Baseball-Reference WAR, they ranked third and sixth, so by either measure two of the AL's top 10 players didn't make it. It's not that an undeserving player made it -- the players voted in
Jose Altuve
and
Adrian Beltre
as the backups at second and third -- just that there were too many good players and not enough spots (unless you want to knock out a third catcher). You can debate the Moss selection, but I can see the desire to have the left-handed power off the bench if needed late in the game. (Remember, it counts!)
Matt Carpenter and Pat Neshek are good selections:
Matheny picked two of his own players -- third baseman Carpenter and righty reliever Neshek. I'm sure both picks will be criticized but when you dig into the numbers, both are worthy choices. Carpenter isn't having as good a season as last year, but he's still 10th among NL position players in fWAR and 15th in bWAR. Please, I don't want to hear that
Casey McGehee
is more deserving.
As for Neshek, his numbers are outstanding: 0.78 ERA, 35 strikeouts, four walks and a .134 average allowed. He has been as dominant as any reliever in the game, even if he's not a closer. He's also a great story, once one of the game's top set-up guys with the Twins in 2007 but suffering years of injuries since. On the day the A's clinched the AL West on the final day of the 2012 season, his infant son died after just 23 hours. The Cardinals signed him in February to a minor league deal with an invite to spring training, so Neshek certainly qualifies as this year's most improbable All-Star (along with
Dellin Betances
of the Yankees).
I suspect Matheny also picked Neshek for late-game strategic purposes -- his sidearm delivery is killer on right-handed batters (although he has been just as effective against lefties this year), so you can see him matching up against Encarnacion or
Jose Abreu
if there's a big moment late in the game. Similarly, Matheny picked Pirates lefty reliever
Tony Watson
, a good strategic move since he had only three other lefties on the team.
Strangest selection:
That picking reserves for strategic reasons also led to the selection of Pirates utility man
Josh Harrison
. I get it: He's having a nice season and can play multiple positions, but it's a little odd to pick a guy who doesn't even start regularly for his own team (reminiscent of the
Omar Infante
choice a few years ago). Rendon -- who has played second and third -- is the better player and Matheny already had versatility with Carpenter and
Dee Gordon
.
Best AL final man: Chris Sale, White Sox.
Farrell went with five pitchers -- Sale,
Dallas Keuchel
,
Corey Kluber
,
Garrett Richards
and
Rick Porcello
. I wrote the other day that four of these guys would be battling for a spot or two (along with
Scott Kazmir
, who got voted on by the players). All are worthy but the best choice is pretty easy since Sale is one of the top starters in the game and would have otherwise already made the team if not missing some time with an injury.
Best NL final man: Anthony Rizzo, Cubs.
Torn here between Rizzo and Rendon, but since Matheny has already loaded up with third basemen and second basemen, let's go with Rizzo in case you need to swing for the fences late in the game.
Suggested AL lineup: Jeter better hit ninth.
Mike Trout
, CF;
Robinson Cano
, 2B;
Jose Bautista
, RF;
Miguel Cabrera
, 1B; Nelson Cruz, DH; Adam Jones, LF;
Josh Donaldson
, 3B; Salvador Perez, C; Derek Jeter, SS. With
Felix Hernandez
on the mound.
Suggested NL lineup.
Yasiel Puig, RF; Andrew McCutchen, CF; Troy Tulowitzki, SS; Giancarlo Stanton, DH;
Paul Goldschmidt
, 1B; Carlos Gomez, LF; Aramis Ramirez, 3B;
Chase Utley
, 2B; Yadier Molina, C. With Clayton Kershaw on the bump.