October, 29, 2013
10/29/13
7:40
PM CT
By
Richard Durrett
| ESPNDallas.com
Adrian Beltre
's bid for a third straight Rawlings Gold Glove Award fell short on Tuesday.
Manny Machado
's memorable season for the Orioles was enough to beat Beltre out.
The numbers, including some key defensive metrics, show why Machado earned the award. His UZR (Ultimate Zone Rating) led all AL third baseman (31.8). He led all AL fielders in defensive WAR (wins above replacement), DRS (defensive runs saved), total zone rating and range factor. He was at or near the top in some of the traditional categories too, like fielding percentage.
Beltre lagged behind Machado and the other finalist,
Evan Longoria
, in some of those key defensive statistics. And this year, for the first time, the Gold Glove Award wasn't simply the voting of managers and coaches. They accounted for about 75 percent of the total. The other 25 percent or so was from SABR, a group of defensive metric experts designed to incorporate sabermetrics into determining the Gold Glove winner.
Beltre has five Gold Gloves on his resume, including two as a member of the Rangers. He continues to show why he's one of the best third baseman in the big leagues and is coming off another solid offensive season as well. Beltre finished fourth in the AL in batting at .315 and led the Rangers in the key offensive categories, including homers (30), RBIs (92) and OBP (.371).
June, 14, 2012
6/14/12
10:58
PM CT
By
Richard Durrett
| ESPNDallas.com
ARLINGTON, Texas --
Texas Rangers
first baseman
Mitch Moreland
didn't make any excuses for his error in the third inning of Thursday's 11-3 loss to the
Arizona Diamondbacks
.
Moreland couldn't get to a chopper down the line off hte bat of
Miguel Montero
, allowing the inning to continue. The next batter,
Lyle Overbay
, whacked a double to score two unearned runs and turn a 2-1 game into a 4-1 Arizona lead.
"I just missed it," Moreland said. "It had a lot of top spin on it, but it stayed down on me. I was up and I should have been down on the ball and read the hop. That's the way it goes. I should have been ready."
Moreland was disappointed that it came with two outs and ended up proving to be costly.
"You don't ever want to make an error, especially in that situation," Moreland said. "It did lead to other things, unfortunately, but it's going to happen. It's the way the game goes. If I get that same ball tomorrow, I'll block it up and make the play. You just go out tomorrow and play again and make the plays."
September, 9, 2011
9/09/11
8:00
AM CT
By
Richard Durrett
| ESPNDallas.com
ST. PETERSBURG, Fla. --
Ian Kinsler
's defense is so good these days that when the second baseman makes a mistake, it comes as a shock.
In Wednesday's loss to Tampa Bay, Kinsler charged a ball and made a nice play to glove it. But his throw to first was off-balance and rolled toward the Rays dugout, allowing an unearned run to score. Manager Ron Washington wasn't upset his second baseman threw the ball.
"He had a chance to get him, he just didn't quite do it," Washington said.
That's clearly the exception and not the rule. Kinsler has been tremendous at second base this season. He has the arm to throw out runners from a variety of spots, including behind the bag. He turns a double play better than most second baseman in the league and the routine plays, ones that used to give him some trouble earlier in his career, have become, well, routine.
"I try to improve my range and my ability to make plays at different angles," Kinsler said. "A lot of it is just experience and getting comfortable playing second base. You continue to try to grow and get better."
You can measure Kinsler's defense in many ways beyond just errors and fielding percentage. He has 12 defensive runs saved, third-most by any second baseman in the majors and the second-most on the team behind
Adrian Beltre
(15). To put in perspective how improved that is from last year, Kinsler had 8 defensive runs saved in 2010.
In Ultimate Zone Rating (or UZR), Kinsler has the fourth-best mark of any big league second baseman. BTW, for an explanation of all that's involved in UZR,
click here
(courtesy of our friends at FanGraphs).
But the best way to see how Kinsler is doing is just watch him. Watch how he sprints to second base, receives a throw, quickly transfers it into his hands and makes a throw to first for a double play. His manager believes no one in the game does it better. And his coaches marvel at his athleticism around the bag.
"He's very quick on double plays," infield coach Dave Anderson said. "Some guys are quick because they have to make up for lack of arm strength. He is quick and has the arm strength."
Kinsler said it's matter of getting to the bag in time and getting the ball out of his glove quickly.
"And you have to protect yourself, but you can't be scared to take a hit," Kinsler said. "You have to be able to stand in there and take a hit and make the throw."
Washington and Anderson said Kinsler does a better job of positioning, putting himself in the proper spots to make more plays. And when he gets to a ball, it's usually an out.
"He's had a chance to play the same position for a while and is talented and athletic and you can see how great he is defensively,"
Michael Young
said. "He works at it and he'll only get better."
August, 23, 2011
8/23/11
8:00
AM CT
By
Richard Durrett
| ESPNDallas.com
ARLINGTON, Texas -- The Rangers put together one of their best defensive games of the season Monday, helping them to a 4-0 win over Boston.
"Defense is important every night, but especially when you have a guy like C.J. [Wilson] on the mound who uses all his pitches to keep guys off-balance,"
Ian Kinsler
said. "There's going to be balls that are put in play in-between, with ground balls to different sides. So it's important to be ready and make those plays."
Nearly every playable ball in the infield and outfield was made. And that included the pitcher's mound, where Wilson put on a clinic. He made two great plays, getting his glove down to stab a hard ground ball up the middle off the bat of
Carl Crawford
in the second and hustling off the mound to get to
Darnell McDonald
's chopper in the sixth. Wilson established a career high with five chances and tied a career high with four assists.
Josh Hamilton
had a diving catch to rob
Marco Scutaro
of a hit to start the sixth inning, preventing a Red Sox rally from getting started.
And Kinsler had the play of the night to end the game. He sprinted to his right toward the second base bag, backhanded the ball and threw to first from his knees to get Crawford for the final out of the ninth.
"It's a reaction play," Kinsler said. "It's a hard-hit ball. You don't have time to think about it on a one-hop line drive. You just kind of go. You stick your glove out there and the ball goes in there and you hope to get enough time to throw a guy out at first. Carl runs well, so I knew I had to hurry up a little bit.
"Right when the ball was in my glove, I was going down to the ground and I could see I had it. At that point, I know I need to turn and throw and I just did it."
July, 7, 2011
7/07/11
4:52
PM CT
By
Richard Durrett
| ESPNDallas.com
ARLINGTON, Texas -- The error charged to Elvis Andrus in the eighth inning Sunday against Florida, which caused manager Ron Washington to publicly address Andrus' defensive issues, was overturned Thursday by MLB and called a hit.

It was scored as an error after Andrus charged the chopper over the mound, but then couldn't get the ball out of his glove cleanly to make a throw to first. The error -- and now hit by Hanley Ramirez -- tied the score and the Marlins ended up adding two more runs for a come-from-behind, 6-4 win over the Rangers.

Washington felt like Andrus should have made the play and said after the game that he expected more from his shortstop.

"This is the big leagues," Washington said after Sunday's game. "That's a chance for a major league shortstop to make and he didn't make the play. There's no excuses. He didn't make the play."

Andrus was told of the scoring change on Thursday and did feel like it was a tough play.

"It was a hit," Andrus said. "It was a tough play, but I should have made that play. If I get that out, it changes the game. But it was a pretty tough ball."

The change means that the unearned runs that inning charged to the Rangers' pitchers that eighth inning now become earned runs. That includes one to C.J. Wilson, which increases his ERA from 3.02 to 3.09.
July, 6, 2011
7/06/11
8:00
AM CT
By
Richard Durrett
| ESPNDallas.com
ARLINGTON, Texas -- The Rangers know they have to do a better job on defense. They don't need the traditional numbers -- or even the sabermetric ones -- to tell them they could shore things up with the gloves.
[+] Enlarge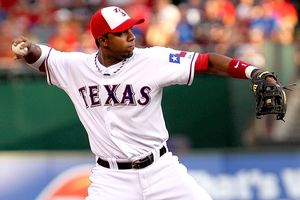 Kevin Jairaj/US PresswireElvis Andrus didn't commit an error Monday but had a mental mishap Tuesday against the Orioles.
"We have a lot of talented guys all over the field," designated hitter
Michael Young
said. "It's just a matter of getting into a bit of a groove, getting into a rhythm. Sometimes defensively you can get into a bit of a rut just like on offense. Once we kind of settle in, we'll be a great defensive team."
After an error-free game Monday, a mental mistake popped up for
Elvis Andrus
on Tuesday. The Rangers' shortstop fielded a routine ground ball by
Nolan Reimold
and took his time to make the throw in the fourth inning. Because of that, it was late and Reimold got an infield hit when it should have been an out. To Andrus' credit, he bounced back in an impressive way with two great plays in the seventh inning, including turning a tough double play, leaping over a runner at second base. He also drew a big walk in the bottom half to help the Rangers make a comeback.
You can read about Andrus' game here.
The skipper addressed the club's defense in a team meeting prior to Monday's game. He stressed focus and taking care of the fundamental things to improve fielding. The Rangers have an American League-high 72 errors through the first 87 games of the season. They have allowed 48 unearned runs. This time last year, the Rangers had 55 errors and gave up 30 unearned runs.
"The amount of errors you make doesn't always tell the story," second baseman
Ian Kinsler
said. "There are definitely errors that we made that we should have made the play. But there's also errors that we made that are balls that we get to that a lot of people don't get to. We're a very athletic team and we make plays on a lot of balls that normally there wouldn't be a play.
"I do think we definitely need to tighten up defensively. We can have a big advantage if we can make the plays we can get to because some teams won't get to those plays. So we have to do better. We have to continue to play our game and find our groove."
Kinsler's point is a good one. Before Tuesday's game, the Rangers fielders accounted for 24 defensive runs saved as a team, according to ESPN Stats & Information. That's second best in all of baseball behind only the
Tampa Bay Rays
. Last year, the Rangers had a zero for total defensive runs saved, tied for 18th best in the majors. So they've improved in that category. The DRS stat is useful in that it takes into account range, arm, defending bunts and converting double plays (among other things). So the Rangers aren't making all the plays they could, but they are getting to more balls and giving themselves a chance to make up for the errors. It shows that if they could limit the errors, they'd add to their advantage.
But the bottom line: The defense hasn't been as consistent as it was overall last year. And Washington knows it.
"We have to do better," Washington said. "I wish there was a perfect message, but there isn't. We just have to get it done. They know. We're going to keep working and we feel like pretty soon it will get there. It's no secret. We've just got to catch the ball."
Washington said some of it is focus and some of it is players physically not getting to certain plays.
"You don't play this game without making mistakes, it's just that we're too good to make as many of them as we've made," Washington said.
Some of it happens on the ball getting to the glove, other times it's on errant throws. Washington was upset enough on Sunday to call out Andrus about an error he had on a tough play late that helped the Marlins tie the score. Florida eventually won the game.
Andrus said before Tuesday's game that he knows he has to get better.
"I take pride in my defense and I know I have to make more plays," Andrus said. "Sometimes you get too worried about making a mistake and you don't get that aggressive. I don't want to do that. I want to keep pushing and keep working hard. I'm taking my ground balls early and I'll do that. Errors are a part of the game. I have to learn from them, forget about them and go on."
Andrus has 16 errors in 2011, the same number he had all of 2010. But Tuesday's "infield hit" is an example that the error totals don't tell the whole story. So is the fact that Andrus has accounted for eight defensive runs saved, tops on the team and seventh among all major league shortstops. BTW, the worst DRS position on the Rangers is first base, which is minus-8 and 24th in MLB.
Several players noted that it's a very similar team in the field to 2010, so they know what they are capable of. It's a matter of playing to that level.
"Every season is different and there are different challenges that you have to overcome," Kinsler said. "Right now, we have to play better defensively. And we will."
June, 18, 2011
6/18/11
7:00
AM CT
By
Richard Durrett
| ESPNDallas.com
ATLANTA --
Ian Kinsler
was animated as he described the three memorable defensive plays of Friday's 6-2 win over the Braves.
"We're the Texas Globetrotters," Kinsler said. "As long as we get the outs, we can live with that [nickname]."
[+] Enlarge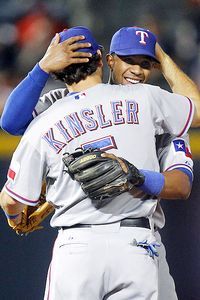 AP Photo/John BazemoreThe Rangers executed three highlight-worthy plays on defense Friday.
All three plays happened in successive innings, starting with "The Flip" in the fifth.
Colby Lewis
knew he had no shot to get
Jason Heyward
unless he took a swipe at the ball and tried to fling it toward first baseman
Michael Young
. Lewis didn't even squeeze his glove, just sweeping the ball off the grass and into the air. Young was able to reach out and grab it.
"That was a crazy, crazy play," Kinsler said. "He's got a big pitcher's glove. It's not like the ball is coming out very easy. He just flung it right at Mike pretty easy looking. He played it off like it was no big dealb too."
Lewis said he had a play like that a few years ago in Japan, so it wasn't the first time he tried it. (Of course, he wasn't doing that during PFP -- pitcher's fielding practice -- in spring training.)
"I knew if I missed that nobody was going to advance because nobody was on base," Lewis said. "It was only of those shots you take and it worked out."
One inning later,
Adrian Beltre
got in the mix. With one on and one out in a 5-2 game,
Eric Hinske
hit a fly ball in shallow right field down the line. Beltre made an all-out sprint for the ball (as fast as he can go playing through some nicks and bruises) and caught it on a full run over his shoulder just as he stepped in foul territory.
"I didn't think he had a chance," Kinsler said. "When it's hit, I'm thinking to myself, 'Dang, baserunner. It's going to drop in.' Then I'm watching it and thinking, 'Maybe it will go foul. I don't know why he's even running after it.' But somehow he got under it and was able to make a catch right there. That's impressive."
With two outs in the seventh, Beltre got to a sharply hit ground ball and immediately threw it to second in hopes of getting a force out to end the inning. But Kinsler caught the ball and wasn't close enough to the bag to get
Jordan Schafer
. So he threw to first instead and still managed to get the speedy Heyward. It's scored as a 5-4-3 putout -- something you usually see when a double play is made.
"He's supposed to go first or throw it to Elvis," Kinsler said. "Honestly, we all should have communicated that before the play. But we know each other pretty well and normally that's something that's not going to happen. That was a fluke play.
"There was no way I could beat the guy to second. I knew that. I knew I had to get rid of it. It's my first and only chance at an out. I thought I'd give it a go and it beat him there. ... A lot of things went right tonight and went in the right direction and hopefully this turns things around and we can kind of get back on track."