Texas Rangers:

Offseason questions (after 2013)
November, 12, 2013
11/12/13
1:21
PM CT
By
Richard Durrett
| ESPNDallas.com
I'll admit that I never considered Bengie Molina a candidate for the
Texas Rangers
' first-base coaching job. Then again, I didn't think he'd leave his brother and the World Series team in St. Louis to come to Arlington.
But for Molina, who aspires to one day manage in the big leagues, returning to the Rangers is a chance for career advancement and to test his versatility as a coach. At first blush, you may find it odd that one of the slower runners to put on a Rangers uniform is coaching first base. But remember: Molina is the catching instructor and can help in the batting cages if needed, too. Gary Pettis is still in charge of the Rangers' running game.
"I think he can help with the pitching," manager Ron Washington said. "I think he can help with the hitting. I don't think he wants to help with the baserunning."
The line drew a bit of a chuckle on the media conference call. But Washington is quick to point out that Molina can help in a lot of areas. As Molina himself pointed out, most of his work is done in the dugout as he talks things over with the coaching staff and aids in the game plan that day. From his 13 years as a catcher, Molina can help runners anticipate certain pitches, perhaps giving them an opportunity to swipe a base. He was the assistant hitting coach in St. Louis, so if Dave Magadan and Bobby Jones need some help in the cages, Molina can provide that. And he'll be working with the Rangers' catchers every day to help them improve.
"He's a guy who stands out as a winner," assistant general manager Thad Levine said.
Molina's hiring completes the Rangers' coaching staff. There are some new faces, but even some of those new faces are familiar ones. Molina played in Texas for four months in 2010 -- and they were memorable. Bobby Jones, now the assistant hitting coach, has been in the organization for 27 years. Tim Bogar has known Washington and Washington on Tuesday called Bogar "a trusted friend" and said he's excited about what he's going to do.
"These are all professionals," Washington said. "We know each other. I'm very pleased [with this staff]."
Here's a list of the staff for 2014:
Manager:
Ron Washington
Bench/infield:
Tim Bogar
Bullpen:
Andy Hawkins
Assistant hitting:
Bobby Jones
Pitching:
Mike Maddux
Hitting:
Dave Magadan
First base/catching:
Bengie Molina
Third base/outfield/baserunning:
Gary Pettis
November, 11, 2013
11/11/13
7:30
AM CT
By
Richard Durrett
| ESPNDallas.com
ARLINGTON, Texas -- The first "meeting" of the MLB offseason begins today as the owners and general managers gather in Orlando to talk about issues surrounding the game and begin to toss around trade possibilities. They'll be some agents there, too, checking out the early market for their clients.
Jon Daniels' focus: helping his team score runs.
The Rangers scored 730 runs in 163 games in 2013, their lowest average per game (4.48) since they moved into Rangers Ballpark in Arlington. They scored 78 fewer runs than in 2012. Since Daniels became GM, the Rangers scored at least 784 runs before 2013. So it was quite a drop-off.
"More or less we've been telling clubs our short-term needs are more on the offensive side," Daniels said late last week. "We have some depth in a couple of areas organizationally and at the big league level. We're open to different ideas."
Daniels knows his team needs more production at first base. They need another outfielder, assuming
Nelson Cruz
declines the club's qualifying offer as expected Monday afternoon, and they've got to figure out what they're doing at designated hitter.
One position the Rangers will get calls about: middle infield. They've got a surplus there at the major league level with
Ian Kinsler
,
Elvis Andrus
and
Jurickson Profar
ready for every day play with just two spots available. The Rangers will consider any and all options to alleviate that logjam, including trading one of those players. What about having someone change positions? Logically, that would be Kinsler, something the club broached last offseason, but didn't act on.
"It's something we have not discussed with the players yet," Daniels said. "It's premature. We don't know 100 percent what options may present themselves. I think obviously if we get to that point, we'll talk to the players first. We're not there yet."
Of course, Daniels won't rule out another pitcher. Despite having four of the club's five starters --
Yu Darvish
,
Matt Harrison
,
Derek Holland
and
Martin Perez
-- under contract through at least 2016, Daniels knows pitching depth can be tested in a hurry (as evidenced by injuries last year).
"If the right pitcher is there, I'd never rule that out either," Daniels said, knowing offense is the priority. "It's about adding impact players where you can."
Daniels has stressed that he's not out to "win" the offseason. He won't allow a disappointing season to force him to react too strongly and get into contract situations that risk handcuffing the club in the future. But it's a big opportunity to improve the club with some resources in the minor leagues to dangle in potential trades.
Stay tuned. It should be another interesting offseason to watch.
October, 18, 2013
10/18/13
8:00
AM CT
By
Todd Wills
| ESPNDallas.com
Editor's Note: This is the last in a 10-part series that focused on questions the Texas Rangers must answer this offseason. These questions are in no particular order.
Today's question:
Do the Texas Rangers have enough rotation depth?
[+] Enlarge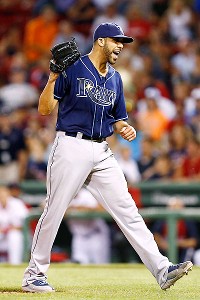 Mark L. Baer/USA TODAY SportsMight the Rangers be able to pull off an offseason trade for David Price?
Here's what we know about the Rangers' 2014 rotation --
Yu Darvish
,
Derek Holland
,
Martin Perez
and
Matt Harrison
will be in it.
That's provided general manager Jon Daniels doesn't pull a stunner and trade either Holland and Perez -- that seems highly unlikely -- and that Harrison is 100 percent recovered from two back surgeries that limited him to only only two starts in 2013.
That leaves the Rangers needing a fifth starter. Is that guy
Alexi Ogando
? We've already discussed Ogando's situation in this series. The mere fact that Ogando was on the disabled list three times last season should make the Rangers pause and put the lanky right-hander back in the bullpen where he belongs.
Which means the Rangers are back to needing a fifth starter. Does that pitcher come from within the system, via trade or in free agency?
Let's start with the system. The Rangers are likely to bring back their own free agent,
Colby Lewis
, who spent all of last season trying to recover from elbow surgery and other ailments. Lewis is 34, the Rangers' best postseason pitcher of all time and deserves another chance with the team. But he can't be counted on in any way. If he makes it, that's a bonus.
October, 17, 2013
10/17/13
8:00
AM CT
By
Todd Wills
| ESPNDallas.com
Editor's note: This is the ninth in a 10-part series that will focus on questions the Texas Rangers must answer this offseason. These questions are in no particular order.
Today's question:
What can the Rangers do to fix their power outage?
The Rangers have many issues to resolve for 2014 regarding who will be their closer, what will happen with infielder
Jurickson Profar
and whether general manager Jon Daniels should pursue
Tampa Bay Rays
ace
David Price
.
But nothing will boost the Rangers' chances to win back the American League West more than adding power to the lineup. And a lot of it. It's the Rangers' No. 1 issue, hands down.
[+] Enlarge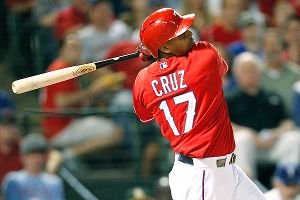 AP Photo/Tim Sharp
Re-signing Nelson Cruz must be the Rangers' first priority to ignite their home-run potential. (And putting him in left field would address a major shortcoming at an important corner outfield spot.)
Remember this is the American League. And while building a club on pitching and defense is essential to winning championships and the Rangers' running game is flashy and can make an impact when the offense as a whole is struggling, the AL still digs the long ball.
"We're going to need corner run production," Daniels said of first base and left field. "We're going to need some power."
So what do the numbers say about the Rangers' power problem? Well, they're compelling.
The two teams playing in the American League Championship Series -- the
Boston Red Sox
and
Detroit Tigers
-- were fifth and tied for sixth in the AL in home runs. The Red Sox had 178 homers. The Tigers were tied with the Rangers, of all teams, at 176 homers. On the surface, the Rangers are where they need to be, right?
Wrong.
Based on the eyeball test, which of these teams was more dangerous over the whole season, especially during the second half? The Red Sox and Tigers. And Boston and Detroit were first and second in OPS -- combined on-base percentage and slugging percentage -- at .795 and .780, respectively. The Rangers were eighth in the AL at .735.
Also, don't forget that
Nelson Cruz
missed the final 50 games of the regular season, which meant his power to generate 27 homers -- which led the club at the time -- was absent from the lineup. Only third baseman
Adrian Beltre
was a true power threat on a daily basis for those final 50 games, and Beltre hit only seven homers in that span, including two in September.
Mitch Moreland
was third on the team with 23 homers, but his long balls were hit in spurts.
There's no denying this is an issue, and the front office is aware of it.
"We need to be more balanced, in general, and power was something we were lacking," Daniels said. "That's going to be challenging because there's not a lot of power available. We're not the only team looking for it. We have a lot of potential for power in our system, but it's young.
"Guys that have that ability are not going to play for us next year, more than likely. So we're going to have to be more creative and find them."
So what can the Rangers do to address adding power to the lineup?
It starts with re-signing Cruz. The 33-year-old is a proven power commodity with at least 22 home runs in five straight seasons. Bring back Cruz and put him in left field, which would address a glaring weakness at an important corner outfield spot.
Or the Rangers can make Cruz the designated hitter. They had only 19 homers out of the DH position, a paltry total for a power spot in the lineup.
The Rangers had 26 home runs from their catchers,
A.J. Pierzynski
and
Geovany Soto
, and could bring that tandem back. Or stay in the neighborhood of 25 homers from a catcher by signing a free agent, say the
Atlanta Braves
'
Brian McCann
or Boston's
Jarrod Saltalamacchia
.
There's potential free-agent help at first base with another former Ranger,
Mike Napoli
. That's assuming the Rangers don't believe Moreland can provide consistent power.
A name like
St. Louis Cardinals
outfielder
Carlos Beltran
will pop up. A blockbuster trade for Florida's
Giancarlo Stanton
will certainly be talked about over the forum pages of Hot Stove Baseball.
Whatever the Rangers come up with, the end result should give them a chance to solve a big problem: Turn the power back on in Arlington.
October, 16, 2013
10/16/13
9:00
AM CT
By
Richard Durrett
| ESPNDallas.com
Editor's Note: This is the eighth in a 10-part series that will focus on questions the Texas Rangers must answer this offseason. These questions are in no particular order.
Today's question:
Who closes for the Rangers in 2014?
[+] Enlarge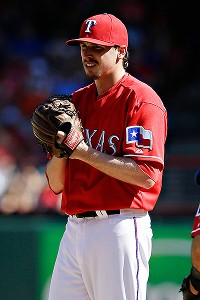 AP Photo/Tony GutierrezTanner Scheppers could take over closing duties for the Rangers next season.
Give the Rangers credit. They seem to find quality pieces for their bullpen every offseason. Two years ago, general manager Jon Daniels jumped in and snatched
Joe Nathan
up early in the free-agent season, grabbing the closer that the club felt was the best one left on the market. It was a smart decision. Nathan had 37 saves in 2012 and 43 more this past season at the age of 38. He made $7 million each season.
Nathan was a reliable and steady closer. He was even better last year than he was in 2011. Nathan posted a 1.39 ERA and was 43 of 46 in save opportunities. Opponents hit just .162 against him, fourth-lowest among AL relievers.
The Rangers have an option on that contract at $9.5 million for 2014, but Nathan has the right to void the option thanks to games finished this past season. He's expected to do that since he wants a multi-year deal. The question is whether the Rangers want to pay Nathan on more than a one-year deal at this point, based on his age.
Nathan certainly didn't look like he was slowing down. But the club does have some internal options for that spot.
Tanner Scheppers
had a solid season and despite a rough start to the second half, did come back stronger near the end of the season. He's got the stuff to do it.
Joakim Soria
, who will make $5.5 million in 2014, has closing experience. So does
Neftali Feliz
, who was moved to the rotation when Nathan was signed prior to 2012 and was the club's closer during both of the World Series years.
Daniels was asked a few days after the season about spending big bucks on a closer.
"It's never been our preference," Daniels said. "Nathan's one of the few guys we've invested big dollars in for the bullpen on a multi-year deal, and I'm glad we did. There are a couple of things that are different with Joe. One thing: He's Joe Nathan. We were able to get him at the time because he was recovering from Tommy John surgery at the time. Secondly, we wanted to start Feliz at the time. We looked at the time that we were buying a closer but also enabling ourselves to look at a young starter. We have a lot of areas to address. We're going to continue to talk about that."
It's obviously a critical position and one that has been a consistently good one for the Rangers the past few years with Nathan there. But this club has many needs and they've got to determine how much money to allocate at closer. It's a big offseason question that the club will have to answer.
October, 15, 2013
10/15/13
8:00
AM CT
By
Todd Wills
| ESPNDallas.com
Editor's Note: This is the seventh in a 10-part series that will focus on questions the Texas Rangers must answer this offseason. These questions are in no particular order.
Today's question:
What do the Rangers do to address left field?
[+] Enlarge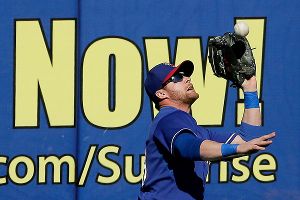 AP Photo/Charlie RiedelMight Craig Gentry get a chance to be the Rangers' everyday left fielder?
Left field was a black hole for the Rangers in 2013. There's nothing about the team that needs to be addressed more than the lack of production from this important corner outfield spot.
The Rangers are in a position to upgrade things because
David Murphy
, who was given every chance to to be an everyday producer in left field is a free agent. Murphy will be missed as a respected and member of the ball club. But it's almost certain he'll try to bounce back from a painful 2013 with another team, maybe hometown Houston.
So what do the Rangers do?
The first option is to bring back
Nelson Cruz
and let him try left field with
Alex Rios
back to play right field. Rangers general manager Jon Daniels said last week that he expects the club to offer Cruz a qualifying offer of $14 million for 2014. Cruz can take the deal or test the free-agent market for a multi-year contract. Either way, expect the Rangers to be involved.

There's also the final portion of
Craig Gentry
's season to consider. Gentry was the Rangers' player of the month for September after batting .354. He did most of his damage starting 11 of the Rangers' last 12 games, batting .462 with four RBIs, nine runs and 10 stolen bases.
It's no coincidence that the Rangers won seven straight games to end the season before the wild-card tiebreaker loss to Tampa Bay. Gentry solidified left field for the first time all season. He's an exciting player that gives the Rangers another a speed dimension. Has he earned a chance for a increased role?
October, 14, 2013
10/14/13
8:00
AM CT
By
Richard Durrett
| ESPNDallas.com
Editor's note: This is the sixth in a 10-part series that will focus on questions the Texas Rangers must answer this offseason. These questions are in no particular order.
Today's question:
How do the Rangers make
Jurickson Profar
an everyday player?
The 2013 Texas Rangers couldn't really find a suitable spot for highly-touted prospect Jurickson Profar. He was all over the place as a utility-type guy and even ended up as the DH at times, a spot that clearly doesn't play to his skill set. Some will make the argument that Profar's value diminished after he hit .234 in 85 games for the Rangers last season. He had six homers and 26 RBIs with 63 strikeouts and 26 walks. His OPS was .644. No, it wasn't a "wow" year.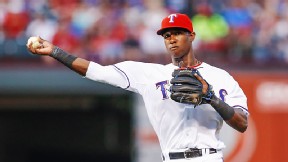 Kevin Jairaj/USA TODAY SportsTo get the most out of Jurickson Profar, the Rangers need to find a position he can stay at for a while.
But scouts understand Profar moved around a lot. He was getting used to major-league pitching and he still has terrific infield defensive skills. None of the scouts I talked to seemed to think Profar's value was hurt by his season at all. He has a high ceiling.
If the Rangers are to get the most out of Profar, however, they need him to play more. They need him to find a position, work hard at it and stay there. With
Ian Kinsler
at second base and
Elvis Andrus
at shortstop, there wasn't that possibility this season (he filled in when needed).
"In an ideal situation, he would not be (in the utility role) next year, even though he would be able to handle it better next year," Rangers general manager Jon Daniels said shortly after the season ended. "In a perfect world, he won't be. A lot of that's going to depend on what we do with the club this winter and we're a long way from being able to answer that."
It seems doubtful the Rangers would decide to let Profar go back to the minors and develop more. I'm not sure that would do him a ton of good, honestly, either. What he does need is a steady spot that's predictable. So where could that be? A few options:
* He could play second base and Kinsler could move to first base. If you'll remember, the club broached the topic with Kinsler last offseason and at first,
he said he would consider moving
. But after considering it further, Kinsler decided
he'd rather stay at second base
and the club agreed. But this is a new year and a new opportunity. Kinsler is athletic enough to handle the spot, but it would also mean figuring out what to do with
Mitch Moreland
.
* Kinsler could move to the outfield, allowing Profar to play second. Left field was an issue for the Rangers in 2013 as
David Murphy
struggled. The best outfield alignment happened late in the season with
Craig Gentry
and
Leonys Martin
both in the OF. Traditionally, corner outfield spots (like first base) are supposed to be power positions. That's not necessarily Kinsler's game. But I'm not sure that actually matters. It would be interesting to see if he could handle it. If he could, the club could also keep Moreland at first.
* Trade Profar. He still has value and could front a package to bring back a top hitter or pitcher.
* Trade Andrus. I can't see this one happening after Andrus got a new contract and has become one of the club's leaders. But there's no reason to close any doors. You never know what Andrus could attract in terms of offers, so you have to listen.
* Trade Kinsler. Again, not sure this makes sense. I think all three players can be on the same team and help this club. It's up to the Rangers to get creative.
What would you do with Profar?
October, 11, 2013
10/11/13
8:00
AM CT
By
Richard Durrett
| ESPNDallas.com
Editor's Note: This is the fifth in a 10-part series over the next two weeks that will focus on questions the Texas Rangers must answer this offseason. These questions are in no particular order.
Today's question:
Who catches for the Rangers in 2014?
It seems as if that's an annual question for the Rangers. It was something they had to address last season and did so by signing
A.J. Pierzynski
and re-signing
Geovany Soto
to be the backup.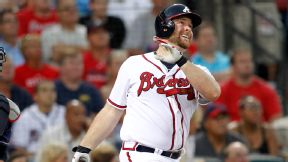 Brett Davis/USA TODAY SportsSigning Brian McCann could finally answer the Rangers' catching question for longer than a one or two-year period.
Those contracts were one-year deals and now the Rangers must figure out what they want to do. The top free agent is clearly
Brian McCann
. He turns 30 years old in February and has a track record of consistency at the plate. McCann has hit at least 20 home runs in each of the last six seasons and seven of his eight full seasons in the big leagues. He drove in 57 runs in 102 games this season, but played in at least 121 in each of his previous full seasons. McCann has a career .277 average and .823 OPS.
McCann's 2013 numbers don't look too different from Pierzynski, who hit 17 homers and drove in 70 runs in 134 games. Pierzynski had 10 fewer home runs in 2013 than he did in 2012, but only seven fewer runs driven in. But McCann has a longer track record of consistent power and production and you're talking about a 7-year difference in age, not to mention the defensive edge that goes in McCann's favor. Signing McCann would finally answer the catching question for longer than a one or two-year period. But it likely comes with a hefty price. We could be talking as much as $15 million a season. Is that an investment worth making? If I'm dumping that much money into a player, McCann is a good one to do it with based on his age, position and history.
If the bidding, though, gets out of hand for McCann, does the club once again go with a stop-gap method and re-sign Pierzynski and Soto? Frankly, I would think Soto makes sense either way. He's a very capable backup, does a nice job with
Yu Darvish
and for a guy who hit just .245, it sure seemed like nearly every time he got a hit, it was a big one. If the Rangers look elsewhere, one possibility could be
Carlos Ruiz
. The 34-year-old has spent his entire career with the Phillies. He'd be an upgrade defensively, but doesn't have great power numbers with the bat (he's been in double-digits in homers just once, hitting 16 in 2012). He had a hamstring issue combined with a 25-game suspension (for taking a banned substance) that slowed his first half. But he was stronger in the second half of 2013, hitting all five of his homers and collecting 27 RBIs after the break.
Watch the McCann sweepstakes. Expect the Rangers to be involved. But where that goes and how it ends up could have ripple effects for the rest of the offseason and how this team approaches it.
October, 10, 2013
10/10/13
8:00
AM CT
By
Todd Wills
| ESPNDallas.com
Editor's Note: This is the fourth in a 10-part series over the next two weeks that will focus on questions the Texas Rangers must answer this offseason. These questions are in no particular order.
Today's question:
Should the Rangers keep
Alexi Ogando
in the starting rotation or move him back to the bullpen?
[+] Enlarge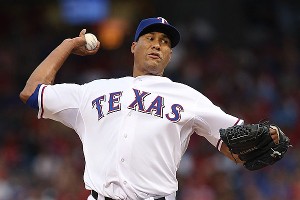 Rick Yeatts/Getty ImagesThe Rangers need to decide -- again -- if Alexi Ogando is best suited for the rotation or bullpen.
Even years mean Alexi Ogando will be a reliever. Odd years mean he'll be a starter.
The next time the Rangers play a game will be in 2014, which means Ogando will return to the bullpen. Right? Oh, not so fast.
Yes, the the record says that Ogando worked as a reliever in 2010 and was an emergency switch to the rotation -- where he pitched well -- in 2011. He was back in the bullpen in 2012, only to go back to the rotation this season. It feels like a rally in tennis. Will it ever end?
At this point, the Rangers aren't saying -- at least publicly.
Ogando wants to start. The Rangers enter the offseason in need of a starting pitcher, knowing that right now they have
Yu Darvish
,
Derek Holland
,
Martin Perez
and hopefully a healthy
Matt Harrison
as four of their five starting pitchers. If the Rangers don't sign another starter, Ogando will begin next spring training in the rotation.
But consider that a pretty big "if."
October, 8, 2013
10/08/13
8:00
AM CT
By
Todd Wills
| ESPNDallas.com
Editor's note: This is the second in a 10-part series over the next two weeks that will focus on questions the Texas Rangers must answer this offseason. These questions are in no particular order.
Today's question: Should the Rangers bring back
Matt Garza
?
The automatic assumption is that Garza, a free agent, won't be re-signed by the Rangers. In a 45-minute news conference with general manager Jon Daniels and manager Ron Washington on Thursday, not one question came up about the right-hander.
[+] Enlarge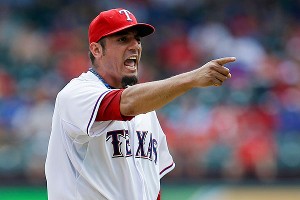 AP Photo/Tony GutierrezBased on the high price Jon Daniels paid for Matt Garza, will the Rangers GM feel obligated to re-sign Garza this winter?
In fact, the only mention of Garza came from Daniels himself, who coupled the acquisition of the pitcher in July for four players with the free-agent signing bust that was designated hitter
Lance Berkman
, who gave the Rangers one good month. That's about all Garza, who was 4-5 with a 4.38 ERA for 13 starts, gave the Rangers, too.
Hey, almost all of us who cover the Rangers praised the trade at the time. The Rangers needed a starting pitcher to contend, and Garza was the best available on the market. He just didn't live up to expectations, and given the way that the top prospect in the deal, C.J. Edwards, pitched for the
Chicago Cubs
in the minor leagues, this one could go down as a heartbreaker.
"The Garza deal, we believed in the team and wanted to take it a step forward," Daniels said. "You look up in two years and three guys are in the big leagues for the Cubs. That's what I expect to happen, honestly. There were some good ones; C.J. Edwards is good. Those are the risks we take."
The Rangers could overreact and, to protect themselves from the possibility of Edwards plus one of
Mike Olt
,
Justin Grimm
and Neil Ramirez becoming a star in the major leagues, compensate by keeping Garza around. Who knows, Garza might just produce in a three- or four-year deal to make it worth it.
The Rangers say Garza was a good fit in the clubhouse. That was hard to tell. He embarrassed the organization with his reaction to Oakland's
Eric Sogard
bunting on him by taking to Twitter and tweeting to Sogard and his wife. His reputation as a competitor didn't show up for the Rangers as much as the team would have liked, though he did come up big in a late-season start at Kansas City.
Matt Harrison
will be back.
Colby Lewis
could be back. The Rangers have some starting pitching options and are better off appreciating the two-plus months they had for Garza instead of lamenting how it didn't turn out exactly how they hoped it would.