Texas Rangers:

Ron Washington
February, 23, 2014
Feb 23
6:41
PM CT
By
Richard Durrett
| ESPNDallas.com
SURPRISE, Ariz. -- You want to get
Texas Rangers
manager Ron Washington fired up on an early spring training morning? Ask him why he bunts so much.
The skipper put on a full-throated defense (in Washington's colorful style) of his use of the sacrifice bunt to a jury of media members on Sunday morning, sounding a lot like a passionate preacher and a convincing attorney.
[+] Enlarge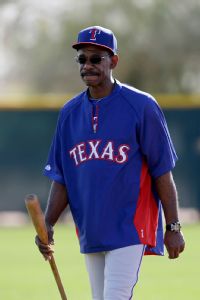 AP Photo/Tony GutierrezWashington and his staff are harping on situational hitting this spring in hope that the Rangers will improve with runners on base in 2014.
The Rangers have 307 successful sacrifice bunts since Washington became manager in 2007. No team in the American League has more.
Washington is well aware there are critics to his bunting approach. Heck, I'll admit that I think Washington bunts a little too often. But a difference of opinion is to be expected when you try to weave analytics into tried-and-true baseball methods.
So when will he bunt?
"When I feel it's necessary, not when the analytics feel it's necessary, not when you guys feel it's necessary, not when somebody else feels it's necessary," Washington said. "It's when Ron Washington feels it's necessary."
And the manager has his reasons, which he went about explaining on Sunday.
This isn't a case, however, of Washington ignoring the numbers. He knows the numbers. From Baseball Prospectus:
• Expected runs with no outs, runner at first: 0.83
• Expected runs with one out, runner at second: 0.64
• Expected runs with no outs, runner at second: 1.0
• Expected runs with one out, runner at third: 0.89
Those numbers are hollow without context, and for a manager like Washington, who goes on feel and gut more than most, context is everything.
The bottom line:
Prince Fielder
and
Adrian Beltre
are paid to drive in runs. So the manager is going to do all he can to put them in position to do that, even if it means sacrificing an out to get a runner one base closer to home.
December, 18, 2013
12/18/13
11:12
AM CT
By
Todd Wills
| ESPNDallas.com
ARLINGTON -- Ron Washington isn't spending his holidays sitting around the house filling out potential lineup cards for the 2014 season.
There's still much to figure out as far the roster goes. Will the Rangers sign free agent outfielder
Shin-Soo Choo
, who would likely slide into the leadoff spot? Will
Nelson Cruz
re-sign with the Rangers?
It's fruitless to delve too deep into the potential lineup until the rest of the offseason plays out. But as of today, the Rangers are prepared to have center fielder
Leonys Martin
be their leadoff hitter if Choo goes elsewhere.
"It's up in the air," Washington said Tuesday night at the Rangers' annual toy drive at the ballpark. "Right now we're trying to fill out our roster and look at our options."
As for Martin as a potential leadoff hitter? Washington was quick to point out Martin batted leadoff 31 times last season, so he's still unproven there.
"We'll have to get him to spring training and try to train him," Washington said.
The Rangers also have traded for outfield prospect
Michael Choice
this offseason and he could potentially be the club's starting left fielder. Washington said he has spoken with Choice on the phone and will sit down with him after the New Year.
"He'll come in and show what he can do," Washington said. "Obviously he's a talented player. We're not going to put any pressure on him."
October, 22, 2013
10/22/13
10:00
AM CT
By
Richard Durrett
| ESPNDallas.com
Count
Texas Rangers
manager Ron Washington among those who will miss retiring
Detroit Tigers
manager Jim Leyland. For Washington, as with so many current managers and coaches in the game, Leyland has been a mentor.
"I just sit back and hope and wish that my managing career in the game can match all that Jim has," Washington told Dallas reporters Monday. "We just lost a tremendous baseball man, an excellent manager, and I know the organization in Detroit is going to miss him. I think Jim made that decision for what was best for he and his family, and I wish him the best."
It was Leyland that looked out for Washington when the Rangers' skipper first got the Texas job, asking him before Washington's first spring training was even over if he'd join Leyland's coaching staff at the All-Star Game. It was a moment that Washington never forgot and he's been able to follow suit by asking some managers who have never coached in an All-Star Game to join him, since he's managed the game twice following consecutive World Series appearances a few years ago.
"He gave me a lesson on how to treat people," Washington said. "Jim has always been a teacher and he never stopped teaching and that was something he taught me as a young manager."
Washington asked Manny Acta to join him on the staff of the 2011 All-Star Game. It was Acta's first All-Star coaching assignment. He also tabbed John Farrell that year, in part because Farrell was new to the managing fraternity.
August, 12, 2013
8/12/13
8:00
AM CT
By
Richard Durrett
| ESPNDallas.com
The
Texas Rangers
head into Monday's action one game ahead in the AL West despite a rash of injuries and the suspension of
Nelson Cruz
. The fact that manager Ron Washington has managed to keep his team together and in contention with everything going on around him is one of the top jobs done by anyone this season and should have him in contention for AL manager of the year.
But is it the best job he's done since becoming skipper prior to the 2007 season? Let's look at some of the choices:

2008:
Washington's team started 7-16, and it sure appeared that his days could be numbered. Nolan Ryan had just taken over as team president, and Washington was not his hire. But Washington never changed his approach or attitude with his team, and his steadiness amid the pressure impressed everyone, including Ryan. More importantly, Washington's team improved. The Rangers were over .500 for the rest of the season. Considering how young the team was and how they started, it was a terrific managerial job.
2010:
In the middle of spring training, Washington had to get up and apologize to his team once news of a failed drug test became public. Washington then held a news conference and his entire team showed up in support. The skipper handled that situation as well as he could have, and his team rallied behind him. But that wasn't the only obstacle he dealt with that season. The team was facing financial troubles once former owner Tom Hicks was forced to sell, and the future of the Rangers ended up in court. Washington would not allow his club to lose focus from what it could control on the field, even when he had to make an appearance in bankruptcy court himself. While the team went through an auction that eventually resulted in an ownership group of Ray Davis, Bob Simpson, Nolan Ryan and Chuck Greenberg -- who is no longer with the organization -- the Rangers just kept winning. Washington navigated his squad through the AL in the playoffs, too, resulting in the first World Series appearance for the franchise.
PODCAST
ESPN Dallas' Todd Wills joins Fitzsimmons and Durrett to react to the Rangers' trade for Alex Rios and discuss how it impacts the team down the stretch.

Listen

2013:
Shortly after the season began, the Rangers lost 2012 18-game winner
Matt Harrison
to injury. He still hasn't returned.
Colby Lewis
, thought to be coming back in June, will not return in 2013. Texas went into the offseason with high hopes but watched as
Zack Greinke
spurned the team to sign with the
Los Angeles Dodgers
and
Josh Hamilton
and
Mike Napoli
departed. The Rangers were left to fill one of those spots with
Lance Berkman
, who is currently rehabbing and hoping his knees hold up. Perhaps for some teams, the possibility of losing a slugger like Cruz to a suspension would loom over the club, but not this one. Cruz played well before the suspension and Washington's team hasn't lost since Cruz sat down starting last Monday. This season's club, more than any other since 2010, is playing in Washington's mold. The Rangers have become the versatile offense he was hoping for. They can hit the home run but don't rely on it. Texas, after starting the season slowly in this department, is having productive outs, utilizing its speed and putting pressure on the opponent. The skipper has also picked the perfect time to call team meetings. Twice this season, the Rangers have responded after getting together and talking things out.
To me, this is Washington's best season, considering everything that's gone on. This was a team many didn't expect to stay as competitive as it has. What do you think? Which season of the three above is Washington's best?
August, 4, 2013
8/04/13
6:28
PM CT
By
Richard Durrett
| ESPNDallas.com
Sunday's win provides tangible proof of what is already clear: Ron Washington is the greatest manager in
Texas Rangers
history.
No one has more wins in club history than Washington, who passed Bobby Valentine with the Rangers' series win in Oakland. It was a fitting place for Washington to earn the mark, since he spent more than a decade with the A's as one of the top instructors in baseball.
[+] Enlarge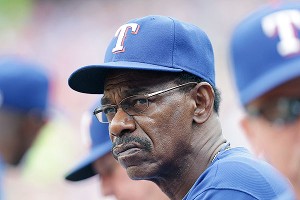 AP Photo/LM Otero
Ron Washington picked up his 582nd victory with the Rangers on Sunday, further validating he is the finest manager in the history of the franchise.
But Washington was the greatest Rangers manager before he claimed win No. 582 as the skipper.
Some of you will argue that the total number of wins doesn't make Washington a great manager. He bunts too much. He goes with his gut too much. He needs a quicker hook. He's too loyal and slow to change at times. He benefits from a smart front office and a wealth of young talent.
Some of those points are certainly valid. But couldn't you make that case about nearly every manager in baseball? What gets lost in the second-guessing of late-inning pitching changes or pinch-hitting opportunities is why Washington was hired in the first place.
General manager Jon Daniels knew he wasn't getting a shrewd statistician who would play the percentages. He knew he wasn't getting someone who would make all the right moves.
Daniels hired someone who could teach a young team and an organization about how to win games and create a culture in which teammates relied on one another. He tabbed Washington because he saw in him a terrific motivator and someone who would, no matter how hard it might become, demand that pitching and defense become the hallmark of a contending team, instead of relying too much on a hard-hitting offense.
That's what makes Washington great. He has helped mold this organization into a consistent winner. The front office has used shrewd trades, solid investment in international markets and money from the current ownership group to provide Washington with a solid team. He then structured the clubhouse in a way where the players act as willing accomplices to his message, forging a bond that is one of the best in the big leagues. The result is an annual contender that racks up wins.
When you're as confused as I am when Washington inserts
Robbie Ross
, who's struggling to get lefties out, against
Josh Hamilton
late in a tight game and the move backfires, remember he also moved
Leonys Martin
to the leadoff spot and
Ian Kinsler
to the 3-hole and it helped spark the offense. And how many thought that was going to work? This team has been littered with injuries, yet Washington has found a way to mix and match and keep his team right in the thick of the pennant race.
To this day, Washington makes moves or does things I don't understand or would make if I were in his spot. But he also tries things that others wouldn't dare. And he's right a whole lot more than he's wrong (only reminding me and any other "Monday morning managers" of why he's got the job and we don't).
I remember during his first season as manager, Washington repeatedly passed up logical opportunities to use his bench late in games. The team would be in a one- or two-run game and he would opt to stick with his starters -- some of them young -- instead of using a more experienced hitter to try to spark a rally. Or he wouldn't make some defensive changes late when they seemed warranted. A few times, I felt it cost them some games.
Finally, after watching this for a while, I asked Washington what he was doing. His answer was, essentially: I'm worried about the big picture and building this team into a title contender. I have to know if these young guys can do it and, more importantly, they have to know they can do it.
So Washington would stick with them. The fact that the game was close gave him the opportunity, while the team was clearly in a growing phase, to learn from mistakes or gain confidence from the success in a higher-stress situation late in a game. Other managers might have been worried simply about winning, period. Washington was worried about helping build a contender. And when he desperately needed his club to grind games out, as he likes to say, with his job on the line after a rocky start to the 2008 season, they did.
The lessons that Washington preached seeped throughout the organization. It built trust among Washington and his team and was a building block for the group that has brought this franchise its greatest years. Few teams in the majors play harder for their manager than the Rangers do for Washington.
And we know what a tremendous motivator he is -- through not only his ability to speak to his team and utilize the well-timed team meeting, but how he treats his players in an honest, up-front way without losing faith in them. Don't discount how important all of that is in when they have to dig deep and fight to come back in a game or have to deal with postseason pressure.
It helps, too, that Washington doesn't worry about his critics. He believes in what he's doing and in that clubhouse, and that's all the matters to him. What you or I say is meaningless, as it should be. All he has done is collect more wins than any other manager in club history and has those two World Series appearances on his resume. No other Texas manager can say that.
So congrats to Ron Washington. He is the greatest manager in Rangers history, period. And now no one has won more games, either.