Texas Rangers:

Seattle Mariners
July, 6, 2014
7/06/14
8:00
PM CT
We've reached the most fun part of the All-Star Game: Arguing about the final rosters.
The starters and reserves were named on Sunday and it was interesting to note the different philosophies of managers John Farrell and
Mike Matheny
in filling out their rosters. As expected, some worthy American League players were excluded and there were a couple surprising choices in the National League.
Some quick thoughts:
Worst American League starter: Derek Jeter, Yankees.
While I actually don't have that big of an issue with Jeter starting -- there is no
Troy Tulowitzki
in the AL that he's keeping out of the lineup -- he's probably the worst starter we've had in a long time, hitting an empty .273 with mediocre defense and no power, worth 0.5 WAR so far.
Matt Wieters
was inexplicably voted in by the fans at catcher, but since he's out for the season,
Salvador Perez
will rightfully start in his place.
Worst National League starter: Aramis Ramirez, Brewers.
Cincinnati's
Todd Frazier
is clearly the deserving starter at third base based on 2014 numbers while Ramirez is hitting .287 with 11 home runs. Considering Frazier,
Matt Carpenter
of the Cardinals and
Anthony Rendon
of the Nationals are better all-around players than Ramirez, his selection cost somebody an All-Star spot (Rendon is on the final player ballot).
Best ballot stuffing: Orioles and Brewers fans.
Who says you need to play for the Yankees, Red Sox or Dodgers to have an edge in fan balloting?
Adam Jones
was never in the top three among outfielders until passing
Yoenis Cespedes
at the wire. He's a fine selection, however, and has come on strong after a slow April. Orioles fans also voted in Wieters and
Nelson Cruz
in that crowded DH slot that included
Victor Martinez
,
Edwin Encarnacion
,
Brandon Moss
and
David Ortiz
. Likewise,
Carlos Gomez
passed
Giancarlo Stanton
for the third outfield spot in the NL behind
Yasiel Puig
and
Andrew McCutchen
. Stanton clearly should be starting but Gomez is arguably one of the top three outfielders in the NL. Brewers fans, however, couldn't get
Jonathan Lucroy
voted in over
Yadier Molina
, so Lucroy will be the backup.
National League DH should be: Stanton.
Pretty each choice here for Matheny. Heck, start him and let him play the entire game. A nation that never watches Marlins games should see this guy get four at-bats.
Jeff Samardzija, almost an All-Star.
The players had actually voted for Samardzija as one of the five best starters in the NL, along with
Johnny Cueto
,
Adam Wainwright
,
Clayton Kershaw
and
Madison Bumgarner
. Samardzija had a 1.68 ERA through May, so you can see why he fared well in the balloting. His ERA had since climbed to 2.83 with some bad outings and he was replaced by
Julio Teheran
of the Braves.
Worst player selection: Charlie Blackmon, Rockies.
The players actually did a much better job than they usually do and Blackmon's selection was the only dubious choice, a guy who had a monster April but is down to .295/.341/.463, mediocre numbers for a guy who plays in Colorado. To be fair, the NL lacked obvious choices for the fifth and sixth outfielders, but they somehow came up with a player ranked 21st among NL outfielders in FanGraphs WAR.
Justin Upton
,
Ryan Braun
,
Billy Hamilton
or even Rockies teammate
Corey Dickerson
(hitting .340) would have been better selections.
The AL crunch:
Farrell had some tough choices in filling out his squad. His manager selections were
Jon Lester
(deserving and the only Red Sox rep),
David Price
(deserving and the only Rays rep),
Glen Perkins
of the Twins,
Max Scherzer
of the Tigers,
Kurt Suzuki
of the Twins (a third catcher), Encarnacion and Moss. I guess you have to carry three catchers and I don't have a problem with the Scherzer selection. Encarnacion was a lock with his big numbers so the final choice probably came down to Moss or another player.
Biggest snubs: Ian Kinsler, Tigers; Kyle Seager, Mariners.
And that led to Kinser and Seager being this year's biggest snubs. Entering Sunday, Kinsler ranked third among AL position players in fWAR and Seager seventh. In Baseball-Reference WAR, they ranked third and sixth, so by either measure two of the AL's top 10 players didn't make it. It's not that an undeserving player made it -- the players voted in
Jose Altuve
and
Adrian Beltre
as the backups at second and third -- just that there were too many good players and not enough spots (unless you want to knock out a third catcher). You can debate the Moss selection, but I can see the desire to have the left-handed power off the bench if needed late in the game. (Remember, it counts!)
Matt Carpenter and Pat Neshek are good selections:
Matheny picked two of his own players -- third baseman Carpenter and righty reliever Neshek. I'm sure both picks will be criticized but when you dig into the numbers, both are worthy choices. Carpenter isn't having as good a season as last year, but he's still 10th among NL position players in fWAR and 15th in bWAR. Please, I don't want to hear that
Casey McGehee
is more deserving.
As for Neshek, his numbers are outstanding: 0.78 ERA, 35 strikeouts, four walks and a .134 average allowed. He has been as dominant as any reliever in the game, even if he's not a closer. He's also a great story, once one of the game's top set-up guys with the Twins in 2007 but suffering years of injuries since. On the day the A's clinched the AL West on the final day of the 2012 season, his infant son died after just 23 hours. The Cardinals signed him in February to a minor league deal with an invite to spring training, so Neshek certainly qualifies as this year's most improbable All-Star (along with
Dellin Betances
of the Yankees).
I suspect Matheny also picked Neshek for late-game strategic purposes -- his sidearm delivery is killer on right-handed batters (although he has been just as effective against lefties this year), so you can see him matching up against Encarnacion or
Jose Abreu
if there's a big moment late in the game. Similarly, Matheny picked Pirates lefty reliever
Tony Watson
, a good strategic move since he had only three other lefties on the team.
Strangest selection:
That picking reserves for strategic reasons also led to the selection of Pirates utility man
Josh Harrison
. I get it: He's having a nice season and can play multiple positions, but it's a little odd to pick a guy who doesn't even start regularly for his own team (reminiscent of the
Omar Infante
choice a few years ago). Rendon -- who has played second and third -- is the better player and Matheny already had versatility with Carpenter and
Dee Gordon
.
Best AL final man: Chris Sale, White Sox.
Farrell went with five pitchers -- Sale,
Dallas Keuchel
,
Corey Kluber
,
Garrett Richards
and
Rick Porcello
. I wrote the other day that four of these guys would be battling for a spot or two (along with
Scott Kazmir
, who got voted on by the players). All are worthy but the best choice is pretty easy since Sale is one of the top starters in the game and would have otherwise already made the team if not missing some time with an injury.
Best NL final man: Anthony Rizzo, Cubs.
Torn here between Rizzo and Rendon, but since Matheny has already loaded up with third basemen and second basemen, let's go with Rizzo in case you need to swing for the fences late in the game.
Suggested AL lineup: Jeter better hit ninth.
Mike Trout
, CF;
Robinson Cano
, 2B;
Jose Bautista
, RF;
Miguel Cabrera
, 1B; Nelson Cruz, DH; Adam Jones, LF;
Josh Donaldson
, 3B; Salvador Perez, C; Derek Jeter, SS. With
Felix Hernandez
on the mound.
Suggested NL lineup.
Yasiel Puig, RF; Andrew McCutchen, CF; Troy Tulowitzki, SS; Giancarlo Stanton, DH;
Paul Goldschmidt
, 1B; Carlos Gomez, LF; Aramis Ramirez, 3B;
Chase Utley
, 2B; Yadier Molina, C. With Clayton Kershaw on the bump.
April, 16, 2014
4/16/14
11:44
PM CT
By
ESPN Stats & Information
The
Texas Rangers
are living a charmed life in the early part of the 2014 season.
They're 8-7 this season despite being outscored by nine runs, and they've already managed a majors-best four walk-off wins, the latest being a bizarre 3-2 victory over the
Seattle Mariners
.
The game lived up to its billing as a great pitcher's duel between aces
Yu Darvish
and
Felix Hernandez
.
The Mariners lost on a combination of mishaps, the first being the inability of
Brad Miller
to convert a potential forceout for the final out of the game. Miller entered the day with solid defensive numbers -- three defensive runs saved for the season.
The next was a wild pitch by closer
Fernando Rodney
, who has averaged a wild pitch about every 19 innings for his career. His wild pitch Wednesday allowed the tying run to score.
Leonys Martin
then won the game with his third walk-off hit in the past eight months, a bloop single to left field that gave reliever
Pedro Figueroa
his first big league win.
The Rangers went from having two outs and nobody on, a situation in which their win probability was about 4 percent, to an unlikely victory.
The Rangers continue to win despite not hitting home runs. They entered the day with only seven, which ranked 14th in the American League, and did not add to that total on Wednesday.
For the Mariners, it was another in a long line of wasted starts by their starting pitchers.
Last season, they lost 12 games in which a starter went at least seven innings and allowed one run or fewer (the most in the majors since the 1986 Montreal Expos lost 13). It was their first such defeat in 2014.
Hernandez has now made 17 starts in the last five seasons in which he went at least seven innings and allowed one run or fewer. That's the most in the majors in that span. Ex-Mariner
Cliff Lee
kept pace with his 13th on Wednesday for the
Philadelphia Phillies
, tying him with
Jered Weaver
for the second-most such starts.
Elias Sports Bureau Stat of the Day
The Rangers are the first team with four walk-off wins by April 16 since the 2000 Kansas City Royals.
April, 16, 2014
4/16/14
11:18
PM CT
We don't see these matchups as often you may expect, ace versus ace, best in the game versus best in the game. For the third time in their careers,
Felix Hernandez
faced
Yu Darvish
. The first two battles, both in 2012, went to King Felix: He allowed one run in eight innings and then pitched a three-hit, 12-strikeout gem, as Darvish struggled in both outings.
Let's follow along with a running diary of the Texas Rangers' 3-2 victory over the Seattle Mariners.
First inning
You certainly have to expect a low-scoring game. Darvish hasn't allowed a run in his first two starts and faces a Seattle lineup that has been shut out in three of its past six games. Hernandez has allowed six runs in his three starts with an impressive 30-to-2 strikeout-to-walk ratio.
[+] Enlarge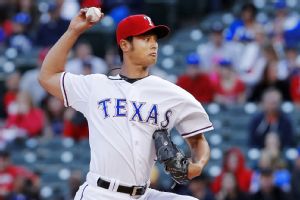 AP Photo/Brandon Wade
I don't know if there's such a thing as a perfect pitcher's build, but if I could sculpt a pitcher out of Italian marble, he would look like Darvish -- tall and lean with a regal appearance, his uniform tailored perfectly. It's a small data sample, but Darvish may be making one major change to his approach from last season, throwing more four-seam fastballs and fewer cutters. According to ESPN Stats & Information research, Darvish threw 35 percent fastballs last year and 16 percent cutters. Through his first two starts, those numbers were 61 and 4. This makes sense; the cutter was his weakest pitch last year as opponents hit .271/.357/.500 against it. If he can command the four-seamer, he can ditch the cutter considering he still has his slider and curveball as wipeout pitches (plus an occasional splitter and even a big slow curve).
After a scoreless top of the inning, Hernandez takes the mound, top two buttons undone, pants legs down over the top of his shoelaces, his upper lip unshaven and a scraggly fluff of hair sprouting from his chin. Hernandez's best weapon has been his changeup; batters are 2-for-27 against it with 18 strikeouts. It has been so good that he's thrown it 28 percent of the time, up from 19 percent in 2013.
* * * *
Sandy Koufax and Juan Marichal faced each other just four times, which seems odd to me. Marichal and Koufax were both starters from 1961 to 1966 and the Dodgers and Giants played each other 18 times a season back then, so you'd think they would have matched up more often. You'd maybe even expect the managers to
purposely
arrange their rotations for their aces to square off. Koufax pitched 26 times against the Giants over those six seasons and Marichal faced the Dodgers 30 times (remarkably, he never allowed more than four runs in those starts), so odds were they should have faced each other a few more times.
In the four games they did pitch against each other, Marichal didn't even get an official plate appearance in two of them. Once, Koufax got knocked out in the first inning before Marichal hit. Another game -- the last time the two started against each other -- was Aug. 22, 1965, the infamous game when Marichal attacked Dodgers catcher Johnny Roseboro.
Koufax faced Bob Gibson five times, and
they
had some great duels. Twice, Koufax beat Gibson 1-0. He pitched a third shutout in another game.
Second inning
Nick Franklin
, just called up from Tacoma, lines a first-pitch cutter into right-center for a one-out triple. Darvish strikes out
Justin Smoak
on a 1-2 fastball out of the strike zone but then works carefully to
Dustin Ackley
, walking him to face the right-handed
Mike Zunino
. Darvish starts out with a 94-mph fastball that Zunino takes for a strike, but the 0-1 pitch is a hanging slider in the middle of the plate and Zunino lines a soft single to center. Right pitch, bad execution.
Abraham Almonte
then plates Ackley, lining a 1-1 fastball into left field to make it 2-0.
Fourth inning
While Hernandez is sailing along through three innings (he started eight of the first nine batters with strikes), Darvish finds himself in a jam, thanks to some shaky defense. Justin Smoak singles past the statuesque
Prince Fielder
and then Zunino reaches when outfielders
Leonys Martin
and
Shin-Soo Choo
miscommunicate on a fly ball. Almonte strikes out.
Brad Miller
gets ahead in the count 2-1, Darvish gets a gift call on a 2-1 curve that looks outside and then appears to strike out Miller on a good heater on the inside corner. But plate ump Ted Barrett calls it a ball to the displeasure of Darvish. The 3-2 pitch is a slider that Miller sends routinely to right field.
* * * *
Roger Clemens
reached the majors in 1984,
Randy Johnson
in 1988. They were both in the American League through 1998 and in the National League in 2004, but they faced each other only twice, in 1992 and 1994.
Greg Maddux
and
Pedro Martinez
started just three times against each other, once in 1994 and twice in 1995, during Maddux's apex. He tossed shutouts in two of those games.
According to research by
RetroSheet
researcher Tom Ruane, the two pitchers who faced off most often in their careers were Jim McCormick and Mickey Welch, who battled 40 times between 1880 and 1887. Since 1900, the most common matchup was between Hall of Famers Christy Mathewson and Three-Finger Brown, with 23. Brown's Cubs beat Mathewson's Giants 12 times to 11. Since World War II, it's Warren Spahn and Bob Friend, with 21 games.
Two other Hall of Famers who pitched regularly against each other were Tom Seaver and Steve Carlton, with 17 duels between 1970 and 1983. And duel they did. On Sept. 24, 1972 -- the year Carlton went 27-10 with an awful Phillies team -- Seaver beat Carlton 2-1, the game decided in the eighth on an unearned run. On Opening Day 1973, Seaver won 3-0 with 7 2/3 scoreless innings. On Opening Day 1975, Seaver beat him 2-1, the winning scoring in the bottom of the ninth. In September of 1976, Seaver won 1-0 with a four-hit shutout.
If you're getting the idea that Seaver had Carlton's number, it's kind of true. Or he had the Phillies' number. The first nine times they faced each other, Seaver went 8-0 with a no-decision. Carlton always pitched well, but Seaver seemed to bring his best stuff. Carlton did finally beat him three times, but overall Seaver went 11-3 with a 2.74 ERA while Carlton went 3-12 with a 2.77 ERA (Seaver had two blow-up starts that raised his ERA). The last time they met was Opening Day 1983. Seaver had returned to the Mets after his exile to Cincinnati, where he had gone 5-13 with a 5.50 ERA in 1982. But the game was at Shea Stadium. Of course Seaver had to start. He tossed six scoreless innings. The Mets won 2-0.
Sixth inning
Darvish has settled down after some early issues with baserunners but he also ran up his pitch count. Meanwhile, the King is dealing, with eight strikeouts and three hits through six. While Darvish has thrown 98 pitches through six, Felix is at 79 (55 for strikes).
If you want a good lesson on what makes Hernandez so good -- and especially so good early on this year -- is that he can throw all four of his pitches on any count. So what has Hernandez done Wednesday night? All eight of his strikeouts have come on fastballs, at least according to MLB.com -- five four-seamers and three two-seamers. The guy is amazing.
(The MLB GameDay system I'm checking could be misidentifying some of his changeups as two-seam sinkers -- you know, because who else throws a changeup that's only a couple miles per hour slower than his fastball. Readers on Twitter say several of the strikeouts were changeups, which is probably the case. We'll see what the data says after the game.)
Seventh inning
In what's probably his final inning, Darvish cruises with a 1-2-3 frame, including his eighth strikeout. Solid effort for Darvish on a night he didn't appear to have his A stuff. The one pitch he'd like to have back was that slider to Zunino.
Hernandez racks up his ninth strikeout, getting
Kevin Kouzmanoff
on another fastball, although at 88 mph it may have been another changeup.
Eighth inning
Darvish is done, and so is Hernandez after giving up a leadoff triple to Martin. I'm a little surprised at the hook since Hernandez is only at 96 pitches and has kept the Rangers off-balance all night. Felix did not look too happy when Mariners manager Lloyd McClendon took the ball from him, that's for sure. You know this is the kind of game he at least wants to get the ball into the hands of closer
Fernando Rodney
.
The Rangers score a run on a sacrifice fly but
Charlie Furbush
and
Yoervis Medina
escape without further damage.
* * * *
In 1959, Lew Burdette and Robin Roberts faced off seven times, the last time two pitchers started that many times against each other in one season. Only one of them was much of a deal, Roberts winning 2-1 on July 4 as he scattered eight hits in a complete game. Another fun piece of data from Tom Ruane: Babe Ruth faced Walter Johnson five times in 1916. There were just 18 runs scored in those five games. How would you like to find a time machine and go watch one those matchups?
Ninth inning
Stop reading, Mariners fans. Rodney on for the save. Two quick outs. Kouzmanoff with a grounder to Miller's left that he dives for but can't corral it. He was shaded way in the hole and had a long ways to go, so it was not an easy play. Rodney falls behind
Mitch Moreland
with two balls, sending McClendon out to the mound (probably telling him to be careful with Moreland since light-hitting
Josh Wilson
is on deck). Moreland walks on a 3-2 pitch.
Donnie Murphy
bats for Wilson and hits a routine grounder right to Miller, who tosses the ball high to
Robinson Cano
at second base, pulling him off the bag. Everybody safe. Wild pitch. Game tied. Martin with a soft single to left. Game over.
What can I say? In what should have been a final sentence exclaiming the brilliance of Felix Hernandez we're instead left saying poor Felix.