Texas Rangers:

Silver Boot Series
June, 17, 2012
6/17/12
12:55
PM CT
By
Randy Jennings
| ESPNDallas.com
June, 30, 2011
6/30/11
5:10
PM CT
HOUSTON -- With
Elvis Andrus
returning to the Rangers' lineup tonight and batting second behind
Ian Kinsler
, manager Ron Washington made another change: He sat
Nelson Cruz
for
David Murphy
.
Murphy, playing right field, is batting sixth.
Craig Gentry
moves to center field and bats eighth.
"No particular reason, just felt like he needed a day," Washington said regarding his reasons for giving Cruz the night off. "It gives Murphy a chance. Hopefully against this lefty, he will lock him in."
The lefty Murphy is facing is Houston's
Wandy Rodriguez
(5-4, 3.21 ERA). On the season, Murphy is hitting .169 against left-handed pitching with 11 strikeouts in 59 at-bats.
Overall, Murphy is struggling. He came in as a defensive replacement in Wednesday night's victory, but he has just one hit in his last 15 at-bats.
While Washington didn't give out specific reasons for sitting Cruz, the slugger is just 4-for-21 in the last five games. Cruz went 0-for-4 on Wednesday night.
June, 28, 2011
6/28/11
11:12
PM CT
HOUSTON -- Tuesday night was not about Rangers ace
C.J. Wilson
's pitching.
PODCAST
Rangers lefty C.J. Wilson joins Ben and Skin to discuss his first career major league hit and his recent success on the mound.

Listen

Though he did earn his eighth win of the season and first since June 10 in the 7-3 victory over the
Houston Astros
, it was his hitting that stole the show.
For the record, Wilson allowed two runs -- both earned -- on seven hits in seven innings of work. He walked two and struck out three while throwing 104 pitches.
Afterward, there were more discussions about Wilson's bat.
He got the Rangers offense going with a leadoff triple in the third inning. It was Wilson's first career hit, and the ball went into the deepest part of Minute Maid Park, right-center field.
Before the game, Wilson told slugger
Josh Hamilton
he was going to get a hit and if he did, he was doing the claw.
So after Wilson reached third base with his triple, his teammates yelled at him for the signature claw and antlers hand signs, made famous during the Rangers' postseason run last year.
Surprisingly, Wilson was being shown on the huge video board in right-center field when he displayed the claw sign toward the Rangers dugout, followed up by the antlers sign.
At first, the contingent of Rangers fans started cheering, but then the majority of fans, cheering for the Astros we assume, started to boo.
"That's cool. You're going to get animosity on the road," Wilson said. "That's part of baseball. You're not going to get love everywhere."
It was a pretty physical night for Wilson. In the second inning, he got hit on the top of the foot while trying to prevent a ball from going past the mound on a grounder from
Chris Johnson
.
Wilson said the foot was hurting a little as he ran around the bases in the third inning.
However in the fourth inning,
Jeff Keppinger
hit a bouncer past the mound that Wilson reached out for with his left hand. The ball hit his left index finger. Wilson appeared to be OK, but he threw one pitch, a sinker, that was called a ball. Wilson was looked at by manager Ron Washington, pitching coach Mike Maddox and head trainer Jamie Reed after throwing one pitch.
Wilson threw three warmup pitches and was fine. But the damage was done. His index finger was numb for the majority of the game, giving him problems when he tried to throw his sinker.
"I had to adjust after I got hit by a ball in the finger," Wilson said. "I couldn't throw a sinker the rest of the game pretty much, so it's a huge pitch for me, and to take it out of the equation puts me behind in a lot of ways."
Wilson said the finger got better around the seventh.
As for the triple, Wilson said the ball he hit will go in a vault.
"The highlight of my baseball career, I think," he said.
June, 28, 2011
6/28/11
10:05
PM CT
HOUSTON -- Well the Silver Boot or the Lone Star series, whatever you want to call it, continued on Tuesday night. The Rangers, as expected, took care of things with a 7-3 victory over the Astros to end a two-game losing streak.
Maybe getting away from steamy and windy Rangers Ballpark in Arlington was exactly what the Rangers needed. Staff ace
C.J. Wilson
pitched seven strong innings and got his first career triple,
Josh Hamilton
homered and made a terrific diving catch in right center and leadoff man
Ian Kinsler
reached base four times and drove in three runs.
The Astros (28-52) have the worse record in baseball and played like it most of the night. After the Rangers (42-38) made the third out in the top of the eighth inning, some of the crowd, announced at 29,132, began to leave.
That kind of night for the Astros.
C.J. Wilson pitches well:
Wilson moved to 8-3 on the season by throwing 104 pitches in an excellent performance. Wilson allowed two runs on seven hits. He walked two and struck out three. Wilson picked up two firsts: first career win at Minute Maid Park and first career victory against Houston. Wilson got into major trouble twice Tuesday night.
In the fifth, leading 3-1, Wilson allowed a leadoff double to
Clint Barmes
. Barmes was held up at third as
Carlos Corporan
singled to right. It set up pitcher
Jordan Lyles
, who was asked to bunt and failed to move anybody over as he struck out while fouling off a bunt for the third strike. Still, the Astros had a chance with the top of the order next.
Jason Bourgeois
hit into a 5-4-3 double play to end the inning. Wilson found some more trouble in the sixth after he gave up a run on sac fly from
Carlos Lee
. With a man on and one out,
Jeff Keppinger
bounced into a 6-4-3 double play to end the inning. Replays showed Keppinger beat Ian Kinsler's throw to first, but first base umpire Bob Davidson called him out and after arguing a little, Astros manager
Brad Mills
was tossed.
Josh Hamilton dives and hits:
After sitting out Sunday afternoon with his well-documented daytime struggles, Josh Hamilton returned to the lineup and had two hits and a wonderful play in right-center field. Hamilton tied the score at 1-1 with a homer to left center in the third, his eighth of the season. Later, it was Hamilton making a diving play in the seventh inning on a long drive by Barmes. Hamilton, playing center field, ran to his left and made a diving catch on the warning track, landing on his left hip. In the fifth inning, Hamilton came up short on a dive for a hit in left center. Hamilton didn't stretch out enough with his right arm -- the same arm that cost him to miss nearly two months of the season. Hamilton broke a bone in his shoulder while diving head first into home plate back in April. There has always been concern about Hamilton injuring himself because of how hard he plays. Ron Washington has said you can't protect players on the field because they're going hard on almost every play, especially his players.
News and notes:
Wilson tripled to dead center field in the third inning for the first time in his career. It was the first triple by a Rangers pitcher since
Kenny Rogers
did the deed on June 11, 2005 at the
Florida Marlins
. After Wilson got to the bag at third, he did the claw and antlers hand sign. Some of the Rangers fans cheered, but they were drowned out when the Astros fans started to boo. ...
Michael Young
's third inning single extended his hitting streak to 13 games. ... Despite making the catches, right fielder
Mitch Moreland
appeared to have problems catching two fly balls. ... The Rangers are 35-15 when Wilson pitches. ... In the four games played between the teams this season, the Rangers have outscored the Astros, 23-14.
June, 28, 2011
6/28/11
6:54
PM CT
June, 21, 2011
6/21/11
12:25
AM CT
By
Randy Jennings
| ESPNDallas.com
ARLINGTON, Texas -- The Rangers' offense, quiet for much of a 10-game road trip that ended Sunday, came to life in Monday's 8-3 win over Houston.

Cleanup hitter Adrian Beltre had three hits and two RBIs. Josh Hamilton, hitting in front of Beltre, added two hits and batted in a pair of runs.

The Rangers also got production from the bottom of the order.

Craig Gentry, hitting ninth, raised his batting average to .271 with three hits and stole three bases.

"I'm just going up there with confidence and have fun,'' Gentry said. "That's what the coaches have talked to me about and that's what I'm trying to do.''

First baseman Mitch Moreland, hitless until the eighth inning, cranked a 455-foot home run as an exclamation mark.

Moreland's home run distance has been surpassed at Rangers Ballpark this season only by a Nelson Cruz blast measured at 459 feet and ranks tied for eighth all-time at the stadium.

"It was a 3-1 count and I was looking dead red,'' Moreland said. "It was good to get one like that because a few of my at-bats recently have not been what I wanted them to be.''

Moreland said, yes, this homestand could be a good time for the Rangers to put together a winning streak and open more daylight on their AL West lead.
June, 20, 2011
6/20/11
11:14
PM CT
By
Randy Jennings
| ESPNDallas.com
ARLINGTON, Texas -- Derek Holland's philosophy of pitching with a big lead is to ignore it.
[+] Enlarge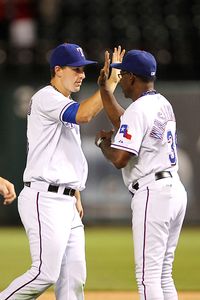 Matthew Emmons/US PresswireRangers lefty Derek Holland lowered his home ERA with a solid effort against the Astros.
"I don't think about it,'' Holland said. "I pitch like it's nothing-nothing. I always do it the same way no matter the situation. I take it inning by inning and try not to get ahead of myself.''
Holland improved to 6-2 by holding Houston to six hits and three runs in 7 1/3 innings of an 8-3 Rangers victory Monday night at Rangers Ballpark.
The 24-year-old left-hander threw 113 pitches, 74 for strikes. He walked three and struck out four. Nine outs came on fly balls.
Holland helped get the Rangers off on the right foot in a stretch in which the team will play 16 of its next 19 at home.
His ERA before Monday in six previous starts at home was 6.68.
"I have a lot of room to improve,'' Holland said. "I need to continue to locate my pitches and use my off-speed pitch more.''
First baseman Mitch Moreland noticed good vibes from his pitcher from the start.
"It seemed like Derek was in control tonight from the first pitch,'' Moreland said.
June, 20, 2011
6/20/11
9:56
PM CT
By
Randy Jennings
| ESPNDallas.com


ARLINGTON, Texas -- Returning home after a disappointing 3-7 road trip, the Rangers jumped on Houston for seven runs in the first three innings and coasted to an 8-3 victory Monday night with 40,205 in attendance at Rangers Ballpark.

With its lead in the AL West trimmed to a half game, the Rangers climbed all over a Houston team that entered with the worst record in the major leagues.

The win allowed the Rangers to take a 1-0 lead in the Lone Star Series, one Texas has won four straight seasons. The Rangers have now beaten their state rival in 11 of the last 13 meetings.

*Derek Holland has had ERA issues at Rangers Ballpark this season (6.68) and in his career (5.92), but the 24-year-old left-hander was sharp Monday.

In 7 1/3 innings, Holland (6-2), held Houston to six hits and three runs. He walked three and struck out four.

Pitching with a big lead, often a problem for a young pitcher, was not an issue.

Holland had just one bad inning, the fourth, in which Houston scored both of its runs. Michael Bourn dropped a bunt single and Jeff Keppinger doubled down the right-field line. Carols Lee's sacrifice fly and a Jason Michaels single accounted for the runs

*Nobody hits better in interleague games than Josh Hamilton.

At least, that's what the numbers say.

The Rangers left fielder entered Monday's game with the best all-time interleague batting average (minimum 200 at-bats) of .374 and did nothing to hurt that average, going 2-for-4 with a triple and two RBIs.

Hamilton's interleague batting average of .374 coming into Monday's game was 10 points better than No. 2 Dustin Pedroia.

Since 2010, Hamilton in interleague games was batting .485 with five homers and 18 RBIs before tonight.

*Mitch Moreland gave the Rangers a reason to touch off the fireworks in the eighth inning when he hit his ninth home run of the season, a mammoth 455-foot blast, the second-longest at Rangers Ballpark this season, tied for eighth for all-time distance at the stadium. Nelson Cruz has the longest this season at 459 feet.

*Center fielder Craig Gentry narrowly missed colliding with right fielder Nelson Cruz on Carlos Lee's sacrifice fly in the fourth inning. Gentry, on the dead run, swerved behind Cruz at the last moment. Cruz stood his ground and made the catch.

*The speedy Gentry stole second and third base in the second inning. His steal of second was made more difficult because he appeared to be picked off first, but beat the throw of first baseman Brett Wallace to second.

Gentry finished with a career-high three hits, scored a run and drove in one.

*Ian Kinsler provided the Rangers' defensive play of the night when he raced into right field to chase down Jason Bourgeois' pop-up. In one motion, Kinsler made a spinning throw to first base to double up Carlos Corporan, who must have thought the ball was going to fall in for a hit.

*Elvis Andrus ended the game with a nice play, ranging behind second to throw out pinch hitter Angel Sanchez.

*Holland executed a last second head bob to avoid the barrel end of Brett Wallace's broken bat in the second inning. Holland's attention was on the baseball, which was in a similar path with the bat. The ball rolled to shortstop Elvis Andrus and he turned it into an easy out at first.

Holland alertly speared a line drive off the bat Chris Johnson, spoiling his bid for a leadoff single in the seventh inning.

*The Rangers made Houston pay dearly for third baseman Chris Johnson's error which led to three runs, only one of which was earned. Johnson dropped Ian Kinsler's ground ball to lead off the Rangers' first and by the time he retrieved the ball, he had no play. Singles by Josh Hamilton and Adrian Beltre produced a run, Michael Young doubled out of the diving grasp of Michael Bourn for a second run and Nelson Cruz added a sacrifice fly.
June, 20, 2011
6/20/11
5:57
PM CT
By
Randy Jennings
| ESPNDallas.com
ARLINGTON, Texas -- Tonight's Rangers-Astros game at Rangers Ballpark begins the 11th Lone Star Series.

The prize is the Silver Boot Trophy, a prize the Rangers have won seven times -- including the last four.

The Silver Boot, which really does exist, is on display at Vandergriff Plaza for all three games of this series.

The Lone Star Series consists of games at Rangers Ballpark tonight, Tuesday and Wednesday and three more June 28-30 at Minute Maid Park in Houston.

The Rangers on four occasions have won the series outright with Houston in 2005, 2007, 2009 and 2010 and three times (2001, 2004 and 2008) claimed the Boot by a tiebreaker of most total runs in the series after splitting the six games.

Houston managed to win only one game against the Rangers in each of the last two seasons and trails in the series, 33-27.
June, 20, 2011
6/20/11
5:30
PM CT
By
Randy Jennings
| ESPNDallas.com
ARLINGTON, Texas -- The Rangers play in heat all the time.
PODCAST
Rangers president Nolan Ryan tells Galloway & Company he's not sweating over his Texas Rangers, even in this summer heat.

Listen

The humidity of Atlanta on Sunday proved to be a challenge, however.
Pitcher Alexi Ogando and catcher Yorvit Torrealba needed intravenous therapy after Sunday's game in Atlanta. Torrealba was replaced by Taylor Teagarden in the bottom of fourth and Ogando left for a pinch hitter an inning later.
Said Rangers manager Ron Washington: "I wish you could have gotten a close-up look at at the uniform hanging on Ogando.''
The pitcher said his uniform was soaked, even his pants.
"I didn't have enough liquids before the game,'' Ogando said. "That was my mistake.''
Torrealba initially felt something was wrong in the second inning. He walked to the mound and told Ogando he was feeling kind of weird.
Later, he felt a cramp in his right leg when running to first on a base hit.
But the catcher said he didn't want to use heat-related problems as excuses for two errors he committed in Atlanta's 3-run third inning.
Torrealba and Michael Young collided going after what appeared to be an easy pop up about 30 feet from home plate.
"I didn't hear Michael call at all,'' said Torrealba, who received an error. "That was his ball all the way, but I knew I could catch it.''
Earlier in the inning, Torrealba received an error for committing catcher's interference.
Washington said he considered resting Torrealba even before Sunday's game. "I didn't want to play him, but Teagarden wasn't ready to go. But he had to go.''
The manager hinted that in addition to sitting out tonight, Torrealba might be rested for Game 2 of the Astros series on Tuesday.
Both Torrealba and Ogando reported they felt much better today.