Texas Rangers pitcher Brandon McCarthy chatted with me by phone Thursday night about his 2009 season, his offseason plans and goals for 2010. Take a look:
Q: Are you staying in Arlington this offseason?
A: I am. I usually go to Arizona, but I'm staying here this time. It's a good situation to be in here with the ballpark and working out there. There's a good little group that's out there. We go in and get our stuff done and we'll keep adding thing in. Jose has us all under a program. (Note: That group includes Chris Davis, Craig Gentry, Scott Feldman, Tommy Hunter, Kevin Millwood, Michael Young and Ian Kinsler. McCarthy said Josh Hamilton has been out there a lot this last week.)
Q: Talk about your 2009 season and what you liked and didn't like.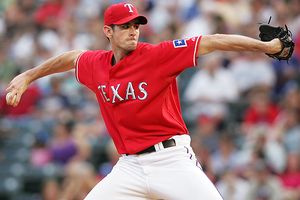 Tim Heitman/US Presswire
Brandon McCarthy had a 7-4 record with a 4.62 ERA last season, but a stress fracture in his shoulder blade kept him on the disabled list for the bulk of the season.
A: Looking back on it, it's a weird season to wrap my head around. It started out pretty well. I felt early on I was inconsistent and had some work to do, but from May on I got some good stuff accomplished. I was going deeper in games and showing I could get into the seventh and eighth. I thought I was coming along. The injury threw everything off and I felt like it was hurting me again. But I made some mechanical changes and refocused myself and came back better. I felt like when I came back, for the most part, I pitched really well. I don't know that the results show it, but that was more my end as not finishing, but I feel like I really started to make some big strides toward the end of the season. It just wasn't quite complete. If I had another month or hadn't missed that three-month chunk, it could have been a big season.
Q: Were the mechanical changes to avoid the shoulder injury?
A: The end goal is to start avoiding that stress fracture injury, but it was to make a delivery that's must more mechanically sound and efficient and less stressful on me. It should lessen the odds of being hurt. I was researching everyone that had done some work on mechanics and getting their input and talking to Mike [Maddux] about it.
Q: Who did you talk to about mechanics?
A: It was a lot of people. If you have anything written about mechanics on the internet, I tried to find you and see what your thoughts were and philosophy on proper mechanics. It was trainers, coaches and players. In the end, the changes are more major than they looked. But I found my consistency and came back a better pitcher. There's still work to be done.
Q: What would fans notice about your changes?
A: The easiest thing to see is my glove arm is much more compact. It goes back with my pitching hands when it breaks and stays close to my body. Before, it was further out there and it would pull my body in different directions and created timing issues. I wanted to correct things in my arm so it wasn't so inefficient. I wanted it to be like a style of Nolan Ryan, Greg Maddux, Randy Johnson and others -- guys that were durable and threw high innings or still do. All of those guys hit the same point in their delivery and arm action. That was harder than I thought it would be, so that's still in progress.
Q: What pitches do you have in your repertoire now?
A: We went slider over the curveball in the spring and we went back to the curve in addition to the slider after the season started. I threw both of them evenly from that point on. When I throw the slider, it feels different, but if anyone was watching on TV, the pitches look the same except for the speed. That was part of the development. I got big outs and quality outs on mixing those pitches. Toward the end of the year, I worked on throwing a cutter. I saw the success Scott and Tommy had with that and tried it. My last couple of starts was mixing those in. The early returns on that were really good. I was able to change a do a lot of things much easier than I was in the past. I got some easier outs that I was accustomed to.
Q: You go into spring training having to win a spot in the rotation. What are your goals?
A: That's the reality of it. I have to win a job. There's a lot of talent that's competing for not very many positions. I have to do everything in my power to come to spring fully healthy and prepare to lock down one of those spots as my own. I want to win that spot and leave no doubt. Health is No.1 and No. 2 is to keep improving. I want to hopefully start to really come together as an accomplished major league pitcher.