David Murphy ready to eat $26 hot dog?
March, 24, 2012
3/24/12
11:24
AM CT
By
Richard Durrett
| ESPNDallas.com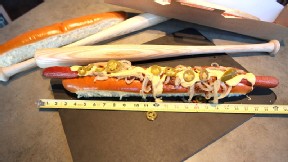 Courtesy of Texas RangersNoted eater David Murphy says he could down the Rangers' new $26 hot dog if it were plain, but it would be a challenge with the toppings.
SURPRISE, Ariz. --
Texas Rangers
CEO Nolan Ryan believes that outfielder
David Murphy
is probably the only player in the clubhouse that could take up the challenge of consuming
the club's new one-pound, nearly two-foot long hot dog.
Murphy's teammates agreed. So does Murphy think he could do it?
"If it's plain, I think I could definitely do it," Murphy said. "I'm not a big topping guy. Usually when I eat my hot dog, it's with cheese. If I tried to do it by adding the chili, that would be a challenge. Even with the toppings, I'd be close."
Murphy, who participated in a food challenge as part of a Rangers' TV broadcast in recent years, notes that he's had a one-pound hamburger, though to finish off this dog, he'd have to eat a lot more bread.
"I have trouble keeping weight on," Murphy said. "I don't think I have a tape worm or anything."
So is this ability to consume vast amounts of food without gaining weight a gift or a curse for Murphy?
PODCAST
Nolan Ryan shares his thoughts on the $26 hot dog being offered at Rangers Ballpark this season.

Listen

"I don't know," Murphy said. "We'll see when I'm done playing."
Murphy likes the idea of trying something different at the park, like a one-pound dog.
"You're always wanting to see something on the menu besides the norm," Murphy said. "You're used to going to the ballpark and seeing your hamburger, hot dog, popcorn, nachos. It's fun to see something different and this is different."