Steve Berthiaume and Doug Glanville discuss the Rangers' options with Roy Oswalt reluctant to pitch in relief.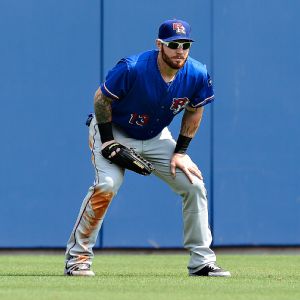 Nearly a month after being reacquired by the Rangers, outfielder Josh Hamilton will join the team on Monday after finishing his recovery from shoulder surgery.
10h
ESPN Stats & Information
Every Texas starter got a hit, and the Rangers scored their most runs at new Yankee Stadium in beating the New York Yankees 15-4 on Saturday.Texas scored 10 runs in third inning, becoming the second team this season with a 10-run inning.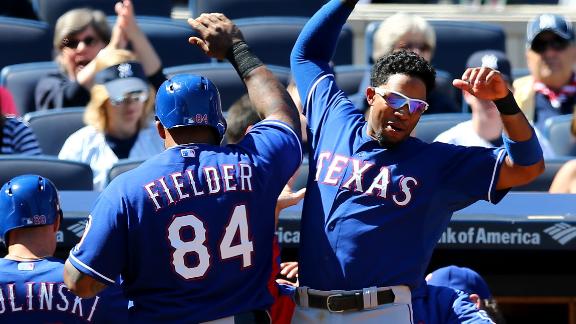 Rangers ride 10-run 3rd inning in 15-4 rout of Yankees
14h
ESPN Stats & Information
The Texas Rangers will start Nick Martinez (3-0, 1.88 ERA) against C.C. Sabathia (2-5, 4.67 ERA) and New York Yankees on Saturday afternoon. The Rangers have won three consecutive games on the road.
14h
ESPN Stats & Information
Prince Fielder hit two home runs in the Texas Rangers 10-9 win against the New York Yankees at Yankee Stadium on Friday. Fielder's two-home run game was his second against the Yankees and his first on the road.
15h
ESPN Stats & Information
The Texas Rangers and New York Yankees combined to score 19 runs and hit a total of six home runs, three by each team in the 10-9 Rangers win.Prince Fielder went 2-5 with two home runs and four RBI in the win, his first multi-home run game since April 5, 2013 against this same Yankees team.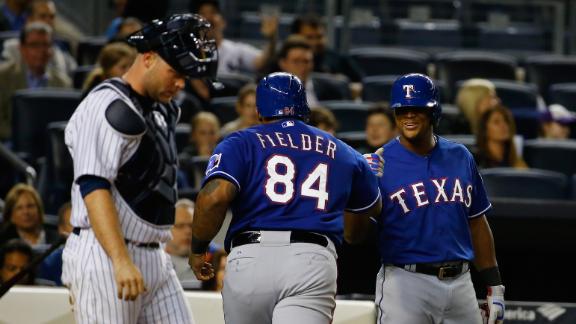 It was another loss for the Yankees, their fourth straight and eighth in their last nine games as they fell, 10-9, to the Rangers.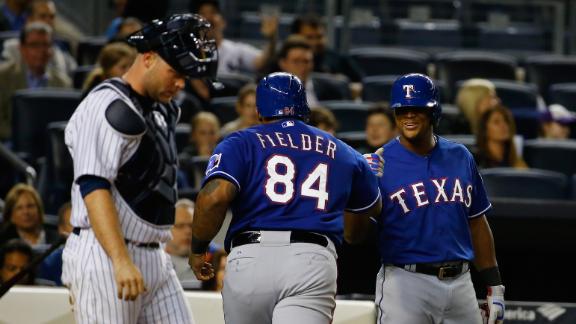 Fielder hit 2 homers, Rangers top Yankees for 3rd win in row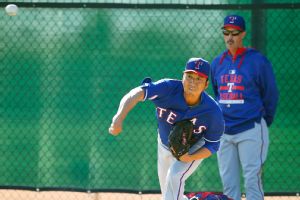 Japanese reliever Kyuji Fujikawa was placed on waivers by the Texas Rangers on Friday, which gave him his unconditional release.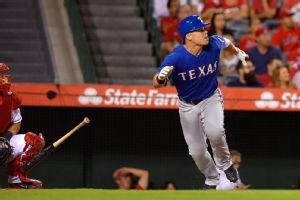 The Texas Rangers have put first baseman/outfielder Kyle Blanks on the 15-day disabled list and recalled outfielder Jake Smolinski from Triple-A Round Rock.
1d
ESPN Stats & Information
Colby Lewis (3-2, 3.06 ERA) will start for the Texas Rangers against Michael Pineda (5-1, 3.31 ERA) and the New York Yankees on Friday. Lewis is 1-3 with a 5.
For the May 22 edition of the ICYMI post on the ESPN SweetSpot Network, thereâ
2d
ESPN Stats & Information
The Texas Rangers defeated the Boston Red Sox 3-1 at Fenway Park on Thursday. The Rangers have won eight of their last 11 games on the road.Mitch Moreland went 3-for-4, tying his season-high in hits, with two RBI and a solo home run in the fourth inning.