Maturing Martin Perez delivers once again
August, 11, 2013
Aug 11
5:31
PM CT
By
Todd Wills
| ESPNDallas.com
HOUSTON --
Martin Perez
's confidence grows with each start. Listen to his teammates' words, and their trust in him increases every five or six days.
Because of that, the future might hold many more days like Sunday afternoon for the
Texas Rangers
' 22-year-old lefty. Perez, making his 17th career start, pounded the strike zone, stayed in the right place in his mind and tossed a complete-game gem for a 6-1 victory over the
Houston Astros
at Minute Maid Park.
The Rangers are rolling, winners of seven straight and 12 of 13 games. Perez has won twice during the hot stretch.
The list of those who believe in him multiplies by the day.
[+] Enlarge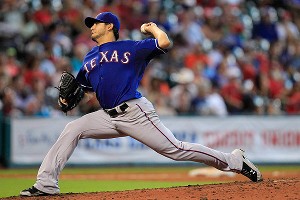 Thomas Campbell/-USA TODAY SportsMartin Perez is 5-2 with a 3.30 ERA in 10 starts since coming up from Triple-A Round Rock on June 22.
His own front office, that has refused to trade him. Other teams, who wanted to deal for him. His teammates, who can see a talented pitcher coming into his own.
And most importantly Perez, who matures with each start.
He was one pitch away from his first shutout Sunday, giving up a home run to Astros designated hitter
Chris Carter
with two outs in the bottom of the ninth. That was the only downer for this start, and it really wasn't one.
Perez finished up allowing four hits and two walks. He had a career-best eight strikeouts. He threw a season-high 115 pitches, four more than his last start against the
Los Angeles Angels
.
"We all know he has the stuff," Rangers catcher
Geovany Soto
said. "Now put that in the past. It's about having good outings, but ... Now you have to do it. You have to find a way to go deep into the game. You have all the tools."
Perez gets it.
He is so far removed from two starts late last September against Oakland when, with the Rangers losing their grip on the American League West, Perez lost twice, including the final regular-season game as the A's clinched the division.
Now Perez is helping the Rangers maybe take away the West from the A's. He is 5-2 with a 3.30 ERA in 10 starts since coming up from Triple-A Round Rock on June 22. His five wins are the most wins by any Texas starter during that span.
What's created this turnaround?
"When you trust what you have, you can do whatever you want," Perez said. "Trust yourself and be strong in your mind."
Perez had all of his pitches working for him Sunday -- his fastball, changeup and slider. He was able to command his fastball on the corners and at the knees. During a stretch from the fourth to the seventh inning, he had five strikeouts, all of them looking.
That's a pitcher who is commanding the zone with his fastball and one who has opposing hitters guessing because of the deception of his other pitches.
"His command was really good today," Soto said. "It's one of the best I've seen from him. Every time we needed the slider backdoor he got a strike with it. Every time we needed a changeup he kept it down. The most important part was the way he spotted his fastball down and on the corners."
Perez was helped along by Soto, who served as a calming presence for him. Soto also gave his young pitcher the lead. He had a ground-rule double in the top of the fifth inning that snapped a scoreless tie.
"I thought I was going to get another RBI but the ball bounced out," said Soto, who had an inside-the-park home run at Minute Maid Park in 2008.
Perez also was helped along by manager Ron Washington, who gave him a brief pep talk in the bottom of the fifth after a hit batter and a walk. Perez got a ground ball to end the inning after Washington's visit.
"I just told him to throw through the catcher," Washington said. "He started coming up short. He has tremendous stuff."
The only question Perez left open for discussion after the eighth inning was whether at 96 pitches Washington would give him a shot at the shutout with the Rangers leading 2-0.
Washington said after the game that if Texas didn't break open the game with four runs in the top of the ninth --
Jurickson Profar
had the key hit with a two-run single with two outs -- closer
Joe Nathan
would have pitched the ninth inning.
Perez knew the situation and rooted on his offense.
"I talked to the guys and told them to hit them because I want to finish my game," Perez said. "And they did."
Perez opened the bottom of the ninth with two ground-ball outs. One out away from the shutout, Perez didn't throw his best changeup. Carter pummeled the pitch for a home run.
"I feel a little bad because I wanted to throw a zero but that didn't happen," Perez said. "The most important thing is we won the game."
Actually, the way Perez is growing up before everyone's eyes -- that matters most.
"The thing that impressed me the most is the way he's improved over his starts this year," Rangers second baseman
Ian Kinsler
said. "Everything came together for him today. He was able to command the ball really well. But over his last three to four starts, he seems to get more comfortable on the mound and understand himself better, and that's huge."