5 reasons Rangers will/won't win AL West
March, 29, 2014
Mar 29
9:00
AM CT
By
Richard Durrett
| ESPNDallas.com
ARLINGTON, Texas -- It's been a crazy spring full of medical reports and injury timetables. And it's left the AL West even more uncertain than it was a few months ago.
As we do every year, here are five reasons the Rangers will win the AL West and five reasons they won't.
FIVE REASONS RANGERS WILL WIN THE AL WEST
1. Top of the lineup.
The Rangers added
Shin-Soo Choo
and
Prince Fielder
this offseason, bolstering a lineup that didn't score runs consistently enough in 2013. With Choo's track record of getting on base -- .392 on-base percentage is fourth-highest in the majors the last five seasons -- and Fielder's ability to pound the ball and produce, the Rangers should have opportunities to score runs earlier (something they didn't do enough of last year) and more consistently.
Adrian Beltre
, the club's cleanup hitter, has been one of the top hitters in the game the last three years and
Alex Rios
is underrated in the 5-hole.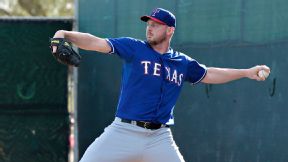 Ron T. Ennis/Fort Worth Star-Telegram/MCT/Getty ImagesMatt Harrison should return soon and give the Rangers' rotation a boost.
2. Rotation gets reinforcements soon.
There's plenty of concern about the Rangers' rotation, which for the first week or two of the season doesn't resemble the group the front office or coaching staff expected just a few months ago. There's a tendency to let your mind think this is the rotation you're going to see two or three months from now. And that's unlikely.
Colby Lewis
is another start or two away from being ready to pitch in the big leagues.
Matt Harrison
should be back by the end of the month. Those are two important starters with track records that should help the staff immediately. And
Yu Darvish
's MRI didn't show any structural damage. Assuming he progresses, he's going to be back shortly, too. All of a sudden that troubling staff looks better.
3. Schedule.
The Rangers got a break from the schedule makers in 2014. It helps that the
Houston Astros
are in the AL West. But even in interleague play, they get a few teams that aren't expected to contend like Colorado and the
New York Mets
. Home games early -- 13 of the first 19 -- should help the club tread water while they get some injured pitchers back. And they finish the season in September with 17 of 23 in Arlington, including the final four against the Oakland A's. That should be an advantage.

4. Speed.
The Rangers have it in some nice spots in the lineup and they're committed to using it to their advantage. This team used to create runs, not to mention chase balls down defensively, with its speed. That wasn't the case as much last year. Look for the club to use its speed, which also means making smart decisions, again this year.
5. Injuries, questions with other AL West teams
. It's not just Texas that is dealing with injuries.
Jarrod Parker
of the Oakland A's needs Tommy John surgery, putting a dent in the rotation. The Angels' back end of the rotation is a question mark and they must prove that the last two years were simply a case of underachieving for a high-priced team. Seattle certainly improved, but are they good enough to challenge the A's, Angels or Rangers in the division? It's clearly up for grabs with no team having a big advantage. That helps a Texas team dealing with early injuries.
FIVE REASONS RANGERS WON'T WIN AL WEST
1. Injuries.
Where do we start? The club has not only dealt with a ridiculous number of injuries to the rotation, but also two starting position players. Don't underestimate how much that could hurt the club since pitching reinforcements appear on the way. Not having starting catcher
Geovany Soto
and second baseman
Jurickson Profar
for 10 to 12 weeks means the fill-ins have to hold their own for an extended period of time. That won't be easy. And what happens if the Rangers suffer another injury?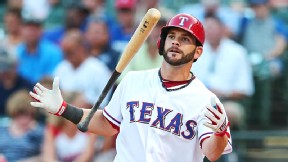 Kevin Jairaj/USA TODAY SportsWill Mitch Moreland be able to produce as the Rangers' primary DH?
2. Bottom of the order.
The top of the order gets the publicity, as it should. But the bottom of the order needs to produce, too. And it's full of questions.
Leonys Martin
had a rough spring. Can he bounce back and get it done during the season?
Mitch Moreland
is going to get most of his at-bats as a DH. How will he do? The catching position didn't have a track record of a high batting average even before Soto's injury. If that group doesn't get it done, it will impact the entire offense.
3. Rough start.
If the injuries to this team mean that it stumbles out of the gate, it could be tough to make that ground up. The schedule has home games early, but also some tough series on the road against Tampa Bay and Boston and six games against Oakland (three on the road and three at home). Should the Rangers struggle early, the road to a title gets even tougher.
4. Emergence of Angels, A's.
What if the Angels' bats finally put it together this year?
Albert Pujols
and
Josh Hamilton
didn't play to their capabilities last year. But if they put it together this year with
Mike Trout
doing his thing, this team can pile up runs. They'll need to with the back end of their rotation. Oakland is hurting on the starting pitching front from the spring but still has that great bullpen and the ability to get clutch hits.
5. Bullpen.
Joe Nathan
isn't back there anymore.
Joakim Soria
was an All-Star at the position a few years ago, but that was pre-Tommy John surgery. The bullpen won't have
Tanner Scheppers
setting up, either, as he's needed in the rotation.
Neftali Feliz
couldn't find his velocity or command this spring. There are a lot of questions to be ironed out in that pen.