Durrett's take: Ortiz's ball was an error
May, 14, 2014
May 14
1:50
PM CT
Forgive me, but I don't understand
MLB's decision
on
David Ortiz
's batted ball that was changed from an error to a hit in
Yu Darvish
's near no-hitter Friday. Baseball has official scorers for a reason. And Steve Weller, who's been doing it for years, cited a rule in the rulebook (and called Elias Sports Bureau) before making his decision on the ball Ortiz hit with two outs in the seventh inning. The short fly to right field dropped between 2B
Rougned Odor
and RF
Alex Rios
after they clearly had communication issues.
[+] Enlarge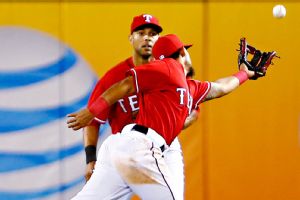 Ron Jenkins/Getty ImagesDavid Ortiz's pop fly that fell between Rougned Odor and Alex Rios, originally ruled an error, was changed to a hit Wednesday by Major League Baseball.
"In my judgment, when the ball goes up in the air, I felt like the second baseman or the right fielder, under normal effort, could've clearly caught the ball," Weller told a pool reporter Friday night. "I don't think there's a lot of argument about that. Under the rule, 10.12a1, it clearly states that a fly ball that lands, that's allowed to hit the ground, that in the judgment of the official scorer under normal effort could be caught -- you're to award an error on that play.
"I felt like Rios had an easier play coming in; I felt like he called [Odor] off and then both players stopped on the ball. I know what it looks like, some people thinking he's being a hometown scorer and trying to protect the pitcher. I looked at the replay a dozen times and it has not changed my opinion. From my perspective, the perfect game was more coincidental to the call than getting the call right."
That's a pretty good explanation. But after the game, Red Sox manager John Farrell also made a good point when he said that "10 out of 10 times" that play is called a hit, according
to this Comcast SportsNet story from Sean McAdam
.
Why can't we use some logic here? It was obvious, even to Ortiz, that someone -- Odor or Rios -- should have caught that ball. Just because it didn't hit a glove means it wasn't an error? Come on. If a ball goes between a shortstop's legs and it doesn't touch his glove, it's an error. But because a fly ball that drops is normally called a hit -- and the rule as written is ignored -- it should just be a hit? Ortiz said after the game that if Darvish had completed the no-hitter, the DH would not have complained, so I don't think this ruling would have been changed if Ortiz had been retired in the ninth inning.
MLB doesn't give explanations for scoring changes. That's actually understandable; otherwise, the league would be inundated with phone calls (they get a bunch of scoring reviews and make changes nearly daily) and would have to explain everything. But it doesn't give us any insight into why MLB changed the call.
Let me add this, too. For those of us who have seen Weller handle his job for years in the Rangers' press box, there's no chance he was being a homer for Darvish. No way. He's as professional as they come. He took his time, reviewed the play, made a phone call, and stuck by his call.
Traditions are an important part of the game. But at times, logic should outweigh decisions that have been made the same way for years. Baseball has official scorers to make these kinds of difficult calls. Weller weighed everything about the play and made the best call he could. I think it was the right one. But it goes down as a hit for Ortiz.