J.P. Arencibia's night mirrors season
July, 30, 2014
Jul 30
1:00
AM CT
ARLINGTON, Texas --
J.P. Arencibia
hit two home runs, including a grand slam, drove in seven runs and had four extra-base hits.
The
Texas Rangers
first baseman was all over the place in the 12-11 loss to the
New York Yankees
on Tuesday night.
Arencibia's night summed up the Rangers' season pretty neatly.
"Not enough," he said of describing his evening. "It was a good game, but I want to help the team win and unfortunately we were one run short tonight."
[+] Enlarge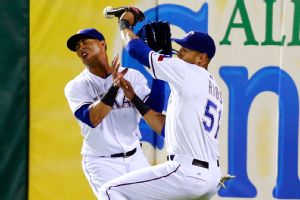 Tim Heitman/USA TODAY SportsOutfielders Leonys Martin and Alex Rios had an embarrassing collision in the sixth inning that led to a Yankees run.
That's basically what this 65-loss team is right now: short-handed at the plate, inexperienced in the field and on the mound.
The 25-year-old starter on Tuesday was
Nick Martinez
, who is still learning about the big leagues. He retired 13 of 14 hitters after a first-inning walk. He couldn't finish the sixth inning.
Completing innings is something pitching coach Mike Maddux demands of his pitchers, both experienced and inexperienced.
Martinez, who lasted 5⅔ innings, couldn't do it. It wasn't totally his fault, but a few plays here and there might have helped him.
For instance, after Brett Gardner's leadoff double in the top of the third,
Derek Jeter
hit a ball off Martinez's glove that was fielded by
Elvis Andrus
at short. Andrus' throw beat Jeter to the bag and he was ruled out. The Yankees challenged the play and it was overturned because Arencibia's foot wasn't on the bag.
If
Prince Fielder
or
Mitch Moreland
was playing first base -- more experienced than Arencibia, who was playing just his ninth career game at the position -- Jeter might have been out.
Injuries to Fielder and Moreland have forced the Rangers to play nine different first basemen this season. The inning kept going and had no ending until the Yankees scored seven times to take an 8-4 lead.
There was something else in the inning that raised more questions about the direction of the club. Right fielder
Alex Rios
committed an error as he let a ball hit off his glove despite calling for it. The ball then hit
Leonys Martin
in the head.
Manager Ron Washington said it cost his team only a run and not the ballgame.
For a good percentage of the season, we've seen outfielders almost crash into each other and infielders backing up into the lower portions of the outfield just steps away from playing bump-and-run with a corner outfielder.
Martin said he didn't hear Rios call for the ball.
That happens too much for the Rangers in the outfield given the experience of Rios and left fielder
Shin-Soo Choo
.
Of course, Andrus has to make adjustments in dealing with Choo when he chases a fly ball in shallow left field. Choo is playing with a sore left ankle and Andrus feels the need to compensate for that by taking on more responsibilities covering fly balls.
The Rangers, as is the case with any team with 65 losses by late July, are a mess.
"We didn't quit, we kept fighting," Washington said of how his team played. "We could have very easily laid it down but we didn't. We kept going. When you keep believing good things happen, and we were one swing away from winning the ballgame."
Yeah, that one swing from
Adrian Beltre
, the Rangers' best hitter.
The Rangers loaded the bases in the ninth against Yankees closer
David Robertson
and Beltre worked the count to 3-2. The final pitch of the night was a fly ball to left caught by Gardner, just three steps shy of the warning track.
"I jumped the fence, I thought it had a chance to get out," Arencibia said.
"That's as bad as you could suck and still get one of baseball's best hitters out," Robertson said. "I feel like the luckiest guy, as bad as I pitched."
The Rangers, now 5-20 in July, wished they had some of the Yankees' luck.