Texas Rangers:

2010 Rangers ALDS
October, 1, 2010
10/01/10
8:30
AM CT
ARLINGTON, Texas -- Our third installment in the position breakdown keeps us touring around the infield.
Today's position:
Second base.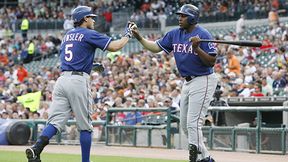 AP Photo/Paul SancyaThe Rangers lineup performed decidedly better when it included Ian Kinsler (left), who missed time with ankle and groin injuries.
Ian Kinsler
, like many on the Rangers' team, will be making his postseason debut at the major league level next week. But he's been a winner at nearly all levels of baseball -- high school, college, minor leagues (including a championship at Double-A Frisco).
Sometimes you don't know how valuable someone is until he is out of the lineup. The Rangers certainly found that out this season, as Kinsler was on the DL to start 2010 for the fifth time in as many seasons. He missed nearly the first month of 2010 with a high ankle sprain and then missed more than a month with a groin strain.
And the numbers certainly show he has a positive impact on the team:
When he starts: 59-39, .286 batting average
When he doesn't start: 29-31, .259 batting average
Kinsler gives the Rangers a speed baserunner and someone with pop in the lineup. He's also improved each season on defense and is an important leader. The Rangers need him to have an impact for this offense to put something together in the playoffs.
September, 30, 2010
9/30/10
10:30
AM CT
ARLINGTON, Texas -- For the next five weekdays leading into Wednesday's Game 1, we're going to feature a timeline of the Rangers' season on and off the field. Consider it a way to recap what happened in 2010. Feel free to comment on some of the items and to let us know if we missed some. This first installment begins with the Winter Meetings last December and goes through January (two months for each installment will follow):
Dec. 8:
Rangers president Nolan Ryan makes public his partnership with Pittsburgh attorney Chuck Greenberg. They are part of a group of investors hoping to buy the club. Greenberg attends part of the Winter Meetings as does Dennis Gilbert, another prospective buyer. Houston businessman Jim Crane is also a bidder.
Dec. 9:
General manager Jon Daniels completes trade with the Orioles, sending
Kevin Millwood
and $3 million to Baltimore for reliever
Chris Ray
and a pick in the Rule 5 draft. The move frees up about $9 million in the budget.
Dec. 11:
Rangers make official the signing of
Rich Harden
to a $6.5 million deal.
Dec. 15:
Owner Tom Hicks chooses the group headed by Greenberg and Ryan as the one he will enter into exclusive negotiations with to buy the club. The decision comes after a flurry of activity, including resubmitted bids by Crane and the Greenberg-Ryan group. The hope then was to get a deal done by Opening Day.
Dec. 19:
The proposed deal to send Boston's
Mike Lowell
to Texas falls apart after Lowell fails a physical and needs surgery to repair a torn thumb ligament
Dec. 22:
Texas agrees to terms with reliever
Darren Oliver
on a one-year contract with a vesting option for the second year.
Jan. 11
: Rangers sign
Vladimir Guerrero
to a one-year deal with a mutual option to be their designed hitter.
Jan. 19
:
Colby Lewis
, the former first-round pick of the Rangers, signs a two-year deal after spending two previous seasons in Japan.
Jan. 21:
Club makes signing of utility infielder
Khalil Greene
official.
Jan. 23:
Hicks Sports Group and Rangers Baseball Express, the name of the group headed by Greenberg and Ryan, strike a deal to complete the sale of the Rangers, pending approval from MLB and HSG's creditors.
Jan. 31
: Rangers expect pitchers
Omar Beltre
and
Alexi Ogando
, who were held up from entering the United States on visa issues stemming from their part in a human trafficking scandal, to be allowed to arrive in time for spring training.
September, 30, 2010
9/30/10
8:00
AM CT
ARLINGTON, Texas -- We continue our look many of the Rangers' positions headed into postseason.
Today's position:
1B
Our outlook on this position would probably be a lot different if we discussed this a few weeks ago. But much has happened since then.
Jorge Cantu
, who couldn't seem to buy an RBI with this team, had two very big ones in the Rangers' clinching game in Oakland. And he's started to hit left-handed pitching down the stretch. Cantu has a .281 batting average in September and he was 7-for-16 (.438) in the final four-game series with the A's, much of that against left-handed pitching. Cantu, though, has actually hit right-handed pitching much better over the course of the entire season (.265 against righties, .239 against lefties). But that right-handed bat will be nice to have in the lineup when the first-round series starts against a lefty (either the Yankees' C.C. Sabathia or the Rays'
David Price
). Cantu's defense has also been solid. He made two very good plays in the Rangers' win on Friday night in Oakland and it's part of his game that is underrated.
[+] Enlarge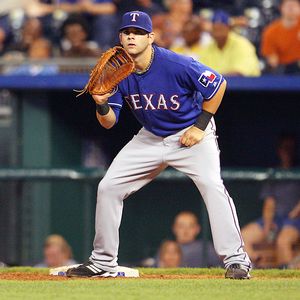 Scott Sewell/Icon SMIMitch Moreland only hit .230 in September, but he could be the Rangers' best option at first base in the playoffs.
Interestingly, Cantu is 0-for-6 lifetime against Price and 1-for-12 against Sabathia.
The question becomes which other first baseman does the club put on the postseason roster. General manager Jon Daniels, manager Ron Washington and the staff want to see how things play out during this final week with their two reserve left-handed hitting first baseman. It's been a bit of a back-and-forth battle.
Chris Davis
came back up and started hitting to the point where, at this time last week, he appeared to have the edge. But
Mitch Moreland
, who was in a slump at the same time that Davis was in a hot streak, was 3-for-6 with two homers in the series finale in Oakland.
Coming into Wednesday's game, Davis was 0-for-10 with five strikeouts in his last three games. That was after going 4-for-9 with a homer and four RBIs when he was called back up on Sept. 11.
Davis has been a late-inning replacement at first base (mainly when the Rangers have the lead) since he was recalled. His glove work has been consistently good the past few seasons and there is a comfort level with having him make defensive plays in close games, which are likely in the postseason. But it should be noted that Moreland's defense has been pretty solid too. He can certainly play the position, which would allow the Rangers to go with the hotter hand at the plate if they choose.
I think letting things play out is smart to see if either guy gets on a particular roll. But to me, Moreland has the better 2010 track record in terms of hitting and his defense is solid enough that I'd go with him.
But who are you leaning towards for that left-handed hitting first base spot?
September, 29, 2010
9/29/10
2:02
PM CT
ARLINGTON, Texas --
David Murphy
was taken out of Wednesday's game with the Mariners in the second inning because of a left groin strain.
Rangers officials said he is still being evaluated, so we don't know how serious the injury may be.
Murphy came out of the game while at first base after reaching on an error.
Mitch Moreland
pinch ran for him with two outs. Moreland then stayed in to play right field and
Jeff Francoeur
moved over to left field, a position he's never played in the majors.
Murphy has been a huge reason this team has stayed afloat with
Josh Hamilton
out of the lineup. He is hitting .355 in September, much of that time with Hamilton out with the rib injury.
We'll let you know more on Murphy as soon as we do.
September, 29, 2010
9/29/10
11:17
AM CT
ARLINGTON, Texas --
Frank Francisco
's MRI was improved, but, according to manager Ron Washington, Francisco still can't get on a mound. That eliminates him from the postseason roster.
The plan is for Francisco to keep throwing off flat ground and go to Arizona, where he can get on a mound and face some hitters. Teams are allowed to reset their 25-man rosters after each series, so if Francisco progresses enough, he could get consideration for the ALCS should the Rangers win their divisional playoff series.
Washington said the club had look at all scenarios for the postseason, including not having Francisco on the roster, in its meeting on Tuesday. They do not have to decide on the final 25-man roster until 11 p.m. Dallas time next Tuesday, prior to the Wednesday's Game 1 in either Tampa Bay or New York.
September, 29, 2010
9/29/10
8:00
AM CT
From now until the playoffs begin, we'll take a very brief look at each Rangers position leading into the postseason and how each might impact how the club does in its first playoff appearance in 11 years.
Today's position:
Catcher
It's kind of amazing to think about what the position was when the season started and what is is now.
Jarrod Saltalamacchia
was the hero of Opening Day, hitting a walkoff single in an unlikely comeback victory over the
Toronto Blue Jays
back on April 5. And the thought was that
Taylor Teagarden
or Saltalamacchia would step up and seize the position. That didn't happen. Teagarden's first stint with the club produced a 1-for-27 showing at the plate that sent him down to Double-A (he was much better in August in his second stint). But Saltalamacchia was hurt after that first game and never did return before Boston acquired him at the trade deadline.
[+] Enlarge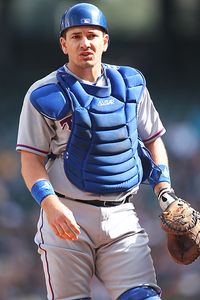 Otto Greule Jr/Getty ImagesThe Rangers have a 50-29 record and a 3.04 ERA with Matt Treanor behind the plate. He's hitting .217 with five home runs and 25 RBIs in 79 games.
Matt Treanor
, obtained by the team late in spring training from Milwaukee, started the season in Triple-A and found himself in the majors before the first week was over. He hasn't left. He dealt with an injury, but has proven to be a reliable backstop who has handled the staff well.
In order to fortify the position leading into the second half of the season, the Rangers traded for
Bengie Molina
at the end of June. The veteran has hit just .215 since coming to Texas, but does give Texas someone with postseason experience back there.
Both catchers have essentially split time since Molina's arrival. But you would think with Molina's playoff experience that he would likely get the nod in the postseason. But the club could also use both catchers depending on if they liked a certain combination.
Lee has had Molina behind the plate for eight of his starts as a Ranger. Treanor has caught him just three times and Taylor Teagarden has caught a few as well. Lee has a 4.27 ERA when Molina is behind the plate, but that's misleading because Molina caught for games during that stretch where Lee's back was bothering him. If you take that out, Lee has a 1.31 ERA with Molina as his catcher. Treanor caught Lee's first game as a Ranger (6 earned runs against Baltimore) and then two of his more recent starts, including a solid eight-inning performance (1 earned run) against the Yankees on Sept. 12. But Treanor's overall ERA with Lee is 4.27.
[+] Enlarge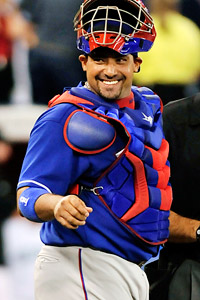 Brad White/Icon SMIThe Rangers have a 25-26 record and a 4.00 ERA with Bengie Molina behind the plate. He's hitting .215 with two home runs and 17 RBIs in 52 games.
Molina has caught Wilson more as well, including five of his last seven starts. In his last five starts caught by Molina, Wilson has a 2.64 ERA. Treanor's last two starts with Wilson -- 12 earned runs in 10 1/3 innings. But he also had two straight solid starts with Treanor behind the plate in July (1 earned run in 14 2/3 innings). Overall, the ERA is about the same with each catcher.
BTW, overall stats for each catcher this season are interesting in that, going into Tuesday's game, the Rangers were 25-26 with a 4.00 ERA with Molina at catcher and 50-29 with Treanor and a 3.04 ERA. In fairness, Treanor caught many games during the Rangers' hot June and Molina wasn't a member of the team then (thanks again, ESPN Stats & Information for the help).
Neither catcher has given the club much at the plate this season. Molina is hitting .215 with two homers and 17 RBIs since joining the Rangers (52 games) and Treanor is batting .217 with five homers and 25 RBIs in 79 games (stats before Tuesday's game).
I would think because this club doesn't have many players who have experienced the bright lights of the postseason that having the veteran Molina would make more sense. But both could see some time.
Who would you go with behind the plate?