Texas Rangers:

2011 Offseason
December, 19, 2011
12/19/11
12:01
AM CT
By
Richard Durrett
| ESPNDallas.com
We continue looking at free agents and trade possibilities for the
Texas Rangers
this offseason and today we circle back to a player we discussed just after Thanksgiving:
Matt Garza
. Since many of you have emailed and tweeted about Garza, let's talk about him again.
Garza, 28, was 10-10 with a 3.32 ERA in 198 innings (31 starts) for the Cubs in 2011. Six times, Garza left with a lead late in the game only to watch the bullpen give it away. He had 197 strikeouts and 63 walks as the Cubs finished 20 games under .500. He came to Chicago after an offseason trade with the Rays (the Cubs sent five minor leaguers to Tampa Bay for Garza) and was 15-10 with a 3.91 ERA in 2010, his final season in Tampa Bay.
[+] Enlarge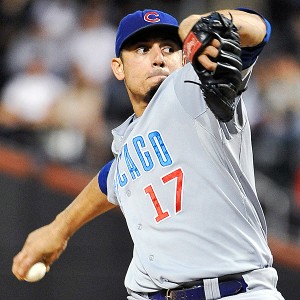 AP Photo/Kathy KmonicekMatt Garza had 197 strikeouts and 63 walks in 198 innings for the Cubs in 2011.
ESPNChicago.com reported that the Rangers and Cubs had discussions about Garza
during the Winter Meetings. The Cubs apparently want "top-tier" prospects and also discussed
Scott Feldman
, according to the report.
Like many of the starting pitchers on the trade block, interest should pick up once the Yu Darvish sweepstakes is resolved (likely Tuesday afternoon). That would help crystallize the market for Garza (and
Gio Gonzalez
,
John Danks
and others).
Garza is under team control through the 2013 season before becoming a free agent in 2014. He's arbitration eligible for two more seasons and made nearly $6 million in 2011. He's expected to cost between $8 and $9 million in 2012. So on the one hand, you're giving up some top-tier prospects for someone who would be in the rotation for more than one season.
Why he could make sense:
Garza has more of a track record than many of the young starters in the rotation -- Garza has four straight seasons of at least 30 starts (more than 200 innings in two of those as well) and an ERA between 3.32 and 3.95 in that stretch. In other words: You know what you're getting. And his experience would certainly help the current young Rangers crop. The club has been interested in him before and he has postseason experience, which never hurts when you are talking about the two-time defending AL champions.
Why he might not make sense:
The Rangers must choose when to use their key prospect pieces to make trades. Is Garza that guy? The Cubs want a lot for him, but perhaps the Rangers could get him for less than what the A's are likely to ask on Gonzalez (who is under team control for longer). Or is there someone better on the market that makes more sense (or will someone else pop up closer to the trade deadline that might be worth saving some of these prospects for to make a deal)?
Frankly, it all comes down to cost -- in terms of prospects -- doesn't it? What do you think of Garza? How does he compare, in your mind, to Gonzalez, Danks and some of the other starting pitcher trade possibilities we've discussed? What are you willing to give up in terms of prospects to get him?
December, 16, 2011
12/16/11
12:20
AM CT
By
Richard Durrett
| ESPNDallas.com
One of the rumors swirling at the Winter Meetings involved the Rangers showing some interest in
Wade Davis
. There are plenty of solid
Tampa Bay Rays
starters and I would imagine the Rangers would inquire on them if they are made available.
Many of you have asked about Davis, so let's discuss him. Who is he?
[+] Enlarge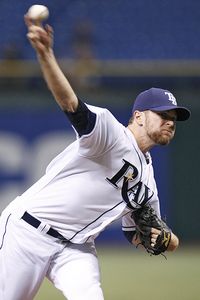 AP Photo/Chris O'MearaWade Davis was 11-10 with a 4.45 ERA in 29 starts for the Rays last season.
Davis, 26, was drafted in the third round of the 2004 draft by the Rays and made his major league debut in September 2009. Davis, a 6-foot-5 right-hander, was 11-10 with a 4.45 ERA in 29 starts (184 innings) in 2011. The Rays were careful to not push Davis in 2011.
He did not start in the ALDS against Texas in October, instead pitching 2 1/3 innings of relief and allowing no runs and one hit. He did start vs. Texas in the 2010 ALDS, allowing two runs on seven hits in five innings in a win at Rangers Ballpark in Arlington.
In 2010, Davis was 12-10 with a 4.07 ERA with 113 strikeouts and 62 walks.
The Rays believe Davis can be a 200-inning type pitcher, but he has yet to have the breakout season. He's known as a hard worker with a good head.
His contract is certainly an interesting one. He's signed through the 2017 season with a deal that includes three season's worth of team options (signed prior to Opening Day 2010). The breakdown:
2012: $1.5 million
2013: $2.8 million
2014: $4.8 million
2015: $7 million club option
2016: $8 million club option
2017: $10 million club option with $2.5 million buyout
(I'm told there is a buyout on the 2015 year, but I'm not sure what that total is.)
Davis is a young pitcher with upside and someone who could be under team control for a while. But he hasn't put up amazing numbers, either. Does that mean the Rays would part with him without demanding a gaggle of top prospects? You would think. One question the Rangers will likely ask themselves when dealing with any pitching trade option: Is he a better option than the young pitchers in the rotation now? At this point, not really.
Derek Holland
and
Matt Harrison
put up better numbers in 2011. The Rangers have veteran
Colby Lewis
and they want to build up
Alexi Ogando
's strength and see what
Neftali Feliz
has as a starter.
Lewis makes $3.25 million in 2012 and is a free agent after that, so the club is always looking for young arms with upside. Davis fits that mold. But right now, he's a No. 3 or No. 4 guy and the Rangers have a fair number of those. The contract seems reasonable, considering you've got the three club options years you can opt out of if you choose.
What do you think of Davis' contract? Is he worth looking into?
December, 13, 2011
12/13/11
11:00
PM CT
By
Richard Durrett
| ESPNDallas.com
We continue our look at possible free agents or trades for the Rangers. One name that has been tossed about is
Gio Gonzalez
.
The A's are willing to deal him and the Rangers inquired at the Winter Meetings. But the A's want top prospects in return and the Rangers aren't willing to pay that price. If the asking price drops, maybe a deal can be made. It's worth noting that possibly a dozen teams (that's the number the San Francisco Chronicle put on it) have contacted the A's about Gonzalez.
[+] Enlarge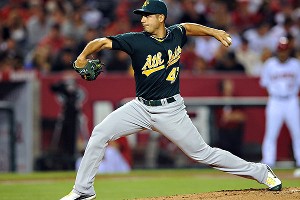 Kelvin Kuo/US PresswireGio Gonzalez, who went 16-12 last season with the Athletics, had a 3.12 ERA in 32 starts and was selected to his first All-Star Game.
Why? First, the left-hander has just entered arbitration and is under team control through the 2015 season. So this wouldn't be some sort of rental-player deal. Second, he's put up solid numbers for a team with very little offense.
Gonzalez, 26, was 16-12 with a 3.12 ERA with 197 strikeouts and 91 walks in 202 innings (32 starts) in 2011. But that wasn't Gonzalez's only solid season. He was 15-9 with a 3.23 ERA with 171 strikeouts and 92 walks in 200 2/3 innings in 2010.
Why it makes sense:
Gonzalez is a lefty, which doesn't hurt at Rangers Ballpark in Arlington, and he's still developing. It would be interesting to see what pitching coaches Mike Maddux and Andy Hawkins could do with him. He certainly isn't the ground ball pitcher that his teammate,
Trevor Cahill
, is, but Gonzalez had a 1.43 ground ball-to-fly ball ratio, which was only slightly behind
Matt Harrison
(1.44), who was second on the team to
C.J. Wilson
in that category.
Gonzalez also would be a pitcher that could slide into the rotation for a number of years, not just as a one- or two-year player. He would be in the upper half of the club's rotation and give them some depth.
Why it might not make sense:
He's going to be costly -- in prospects and maybe including major-league players, etc. -- and the price might be even higher for Texas for dealing within the division. Is Gonzalez that much better than what the Rangers currently have on staff? Is he worth dealing away some top hands on the farm to get him? Plus, he has not fared well in Arlington in his career, sporting a 4.29 ERA in 21 career innings. But let's be fair: He was facing a dangerous lineup the last two seasons and with the Rangers' offense behind him, those numbers would get better.
What do you think of Gonzalez? What are you willing to trade? Someone in the current rotation and a top pitching prospect or more? Is he worth a hefty price?