Texas Rangers:

2012 All-Star Game
October, 12, 2012
10/12/12
2:00
PM CT
By
Richard Durrett
| ESPNDallas.com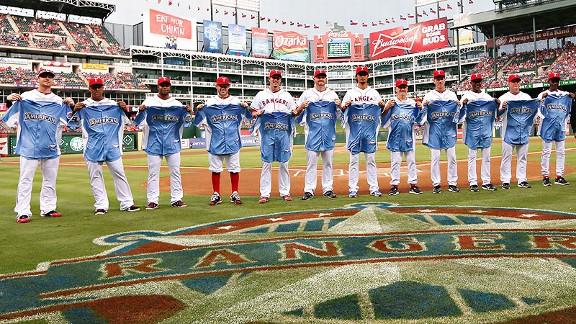 Jim Cowsert/US PresswireA club-record eight Rangers players wore All-Star uniforms for Ron Washington's AL squad in Kansas City.
We've now hit the middle of the summer in the 2012 season in our
Texas Rangers
timeline. Here's a look at some of the highlights from those two months:
June 2:
After the Rangers' sloppy 3-2 loss to the Angels in Anaheim, manager Ron Washington called a rare team meeting. He reminded his squad to make the fundamental plays and that they weren't playing to their capabilities.
June 3:
Hamilton is named AL player of the month for May after a league-high 12 homers and 32 RBIs. He also hit .344 for the month.
Nelson Cruz
hit the longest homer hit in the big leagues at that point, 484 feet way up the hill in left-center in Anaheim.
June 4:
The MLB draft begins and the Rangers take Lewis Brinson and Joey Gallo with their first two picks. The club signs all of its first 10 picks.
June 7:
Derek Holland
is placed on the DL with left shoulder fatigue and
Alexi Ogando
is tabbed to take his place in the rotation. The A's beat
Yu Darvish
and take three of four from the Rangers in Oakland.
June 10:
Ogando injures his groin trying to beat out a hit in a start against San Francisco and has to come out of the game after three perfect innings. He ends up on the DL. The Rangers take two of three from the Giants.
June 12:
Colby Lewis
pitches a complete game in a win over the
Arizona Diamondbacks
for Texas, giving the bullpen much-needed rest.
June 16:
Justin Grimm
, called up from Double-A Frisco with all the injuries, makes his big league debut and pitches a quality start against the
Houston Astros
.
June 19:
TV broadcaster Dave Barnett undergoes tests after an on-air issue the previous night in San Diego. He does not return to the booth in 2012. Steve Busby takes his place with Matt Hicks joining Eric Nadel on radio.
June 23:
Roy Oswalt
makes his Rangers debut. He gives up one run in six innings in a 4-1 Texas win.
June 24:
Texas gets its 22nd sellout of the season, breaking the club record for sellouts set in 1994.
[+] Enlarge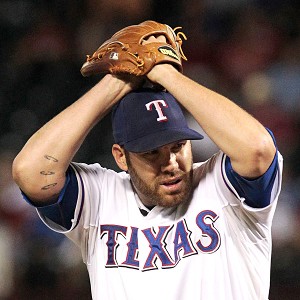 Ron T. Ennis/Fort Worth Star-Telegram/GettyImagesColby Lewis scored a complete-game win over Arizona in June, but a torn flexor tendon in his elbow ended his season before August.
June 26:
Lewis is placed on the disabled list with forearm tendinitis.
Martin Perez
is called up in his place.
July 1:
Josh Hamilton
,
Adrian Beltre
and
Mike Napoli
are voted into the All-Star game as starters for the AL squad, leading a club-record eight players into the game (Darvish would get voted in by fans a few days later). It's the fifth straight All-Star Game start for Hamilton. LHP
Matt Harrison
, closer
Joe Nathan
, second baseman
Ian Kinsler
and shortstop
Elvis Andrus
also make the team.
July 2:
Harrison is named AL pitcher of the month for June after going 5-0 with a 1.29 ERA in six starts. He had 24 strikeouts and 10 walks and opponents hit .224 against him.
July 3:
Roy Oswalt gives up 11 runs (nine of them earned) on 13 hits -- both career-highs -- in a 19-2 loss to the
Chicago White Sox
.
July 7:
Derek Holland returns from the disabled list and gets a quality start, allowing three runs in six innings in a 4-3 Rangers win in 10 innings over the Twins. Nelson Cruz's walkoff double ended a five-game losing streak.
July 8:
Jurickson Profar
hit a home run and
Mike Olt
had an RBI double in the Futures Game as part of All-Star week festivities. Later that night, Ian Kinsler hit a walkoff single in the 13th to give the Rangers a win over the Twins right before the All-Star break.
July 10:
The NL beats the AL, 8-0. All of the Rangers play except for Darvish.
July 18:
Lewis is activated off the DL to start against the Oakland A's. After three weeks on the DL with forearm tendinitis, Lewis allowed one run in five innings.
July 22:
The Rangers lose to the Angels in the final game of a three-game series and are five games up in the AL West as they leave Anaheim.
July 23:
Lewis has a torn flexor tendon in his elbow that will require surgery, ending his season. It's a huge blow to the club. Lewis was the team's best postseason pitcher in 2010 and 2011. Perez is called up to pitch in his place.
July 27:
One of the bigger fish in the trade deadline pond landed in Los Angeles with the Angels as
Zack Greinke
was dealt to the Rangers' AL West rival. Josh Hamilton was 0-for-4 against the White Sox and his average dipped to .145 in July. Some of the fans in Arlington booed the slugger after he struck out in the game.
[+] Enlarge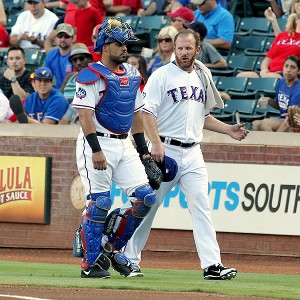 Matthew Emmons/US PresswireLongtime Cubs teammates Geovany Soto (left) and Ryan Dempster became Rangers before the non-waiver trade deadline.
July 29:
The Rangers beat the White Sox, 2-0, but lose the series. The offense is struggling to score runs consistently as the Angels get set to arrive for a big four-game series.
July 30:
Texas falls, 15-8, to the Angels and see their lead in the AL West drop to four games. The club acquires catcher
Geovany Soto
and cash considerations from the
Chicago Cubs
for minor-league pitcher Jake Brigham and a player to be named or cash.
July 31:
About 10 minutes before the trade deadline, the Rangers acquire
Ryan Dempster
from the Cubs for minor leaguers Christian Villanueva (third baseman) and RHP Kyle Hendricks. Dempster gives the Rangers a veteran in the rotation that posted a 2.25 ERA in 16 starts in the NL in 2012. The Rangers announce that
Neftali Feliz
, scratched from his rehab start two days ago, will have Tommy John surgery. The Angels beat the Rangers, 6-2, to climb to within three games of the AL West lead.
July, 10, 2012
7/10/12
8:00
AM CT
By
Richard Durrett
| ESPNDallas.com
KANSAS CITY, Mo. -- It was Rangers row at the media availability Monday at Arrowhead Stadium in Kansas City (yep, all the baseball players were at the football stadium), which meant that
Adrian Beltre
was just a few tables down from
Yu Darvish
.
Beltre would glance Darvish's way a few times, noticing the huge crowds that stayed steady for 45 minutes talking to the Japanese pitcher. It was one more example of the demands on Darvish this season and how he's handled them just fine. It's something that's impressed Beltre.
"We expected him to have a good season, but I don't think we expected him to become accustomed to the U.S. so quickly," Beltre said. "We knew he had potential and what he did in Japan, but we didn't know how well that would translate over here. He's learned quick. When he's in there, he's in there to win the game. He battles. He has some games where he has trouble throwing strikes, but he comes back and he helps keep our team in the game."
Darvish feels like he's learned a lot in his short time in the big leagues and he knows that will only continue.
"I'm a better pitcher than I was the first day at camp," Darvish said through interpreter Joe Furukawa. "I think I've gotten stronger mentally. I've learned not to pay too much attention to the small details. So mentally, I've gotten strong."
Darvish has grown off the field too, and he's starting to pick up more and more English.
"The communication with the players is going well and it's obviously better now because communication is improving," Darvish said. "I've always felt comfortable, even from the beginning. Aside from baseball, there isn't too much culturally or anything I've struggled with or had a hard time adjusting."
July, 8, 2012
7/08/12
7:24
PM CT
By
Jeff Caplan
| ESPNDallas.com
If the National League wins Tuesday's All-Star Game and again prevents the
Texas Rangers
from having home-field advantage in the World Series, Rangers fans won't be able to blame
C.J. Wilson
.
The former Texas and current
Los Angeles Angels
lefty
has been scratched with a blister
on the middle finger of his pitching hand.
Jake Peavy
of the
Chicago White Sox
will take his place.
Wilson, 9-5 with a 2.43 ERA, pitched in last season's All-Star Game as a Ranger and took the loss after allowing a three-run homer to Milwaukee's
Prince Fielder
, now with the
Detroit Tigers
, in the National League's 5-1 win.
Wilson said he has been battling issues with broken fingernails and blisters all season.
"Last year, I went and obviously didn't do very well. I'd like to pitch well to get back for that, but it's not really worth it," Wilson said. "This is an issue I've been fighting all year."
July, 4, 2012
7/04/12
11:09
AM CT
While the Rangers and White Sox are facing off on the field, the teams are battling at the ballot box for the final spot on the AL All-Star team.
The White Sox had the upper hand in the first game of the three-game series in Chicago, but
Yu Darvish
and the Rangers have held their edge at the polls.
In the latest standings released Tuesday (vote totals are not revealed), Darvish remains in the lead, with Chicago starter
Jake Peavy
in second. They are followed, in order, by Baltimore's
Jason Hammel
, Kansas City's
Jonathan Broxton
and the Angels'
Ernesto Frieri
.
Darvish's National League running mate
, Arizona second baseman
Aaron Hill
, isn't faring as well. He slipped to last place in the NL voting.
With Atlanta's
Chipper Jones
being added to the NL roster in place of the injured
Matt Kemp
, and thereby removed from the final vote, the Cardinals'
David Freese
has taken over the NL lead, followed by Washington's
Bryce Harper
, Atlanta's Michael Bourn and Hill.
Voting at MLB.com continues until 3 p.m. CT Thursday, and the winners will be announced soon thereafter.
July, 2, 2012
7/02/12
10:20
AM CT
By
Richard Durrett
| ESPNDallas.com
When AL manager Ron Washington was asked if there was one player he was most disappointed that didn't get in the All-Star Game, he was quick to mention
A.J. Pierzynski
. But Pierzynski isn't happy that Washington didn't pick him.
PODCAST
Rangers president Nolan Ryan comments on Ron Washington's All-Star selections, how Derek Holland's rehab is progressing, Dave Barnett's status and more.

Listen

"I feel bad for Pierzynski," Washington said Sunday after the team was announced. "The guy's having an outstanding year. He's been working with a very good pitching staff over there with those
Chicago White Sox
for many years. I consider him a winning player because he beats you any kind of way he can. He beats you mentally, he beats you physically. So I feel really bad for Pierzynski."
The White Sox catcher talked to reporters on Sunday and voiced his displeasure.
If (Washington) felt that bad he would have put me on the team,'' Pierzynski said."He had an opportunity to and he didn't do it. Obviously, he can feel as bad as he wants, but he didn't feel that bad."
CBSSports.com's Jon Heyman mentioned to Pierzynski that
Mike Napoli
, the starting catcher, is a good hitter. Piezynski's response according to Heyman's tweet: while consoling aj on A-S snub, i pointed out napoli is a good hitter. said aj: "yeah, if you consider .230 good.'' (.238)
I understand Pierzynski's disappointment. And he made that clear to reporters. But why pick on Napoli? He was voted in by the fans. There's nothing anyone can do about that.
Matt Wieters
was voted in by the players. So that leaves one other catching spot. Washington has to figure out five pitchers, his two other reserve spots and make sure every team is accounted for. He went with
Joe Mauer
to get a Twin on the roster. Could he have gone with
Josh Willingham
? Perhaps, but then that means someone else gets snubbed. Washington had to pick a Kansas City Royal too and
Billy Butler
was deserving. If he doesn't take Butler, he's got to take someone. In other words: It's not an easy job to assemble the team.
Every year, there are players that deserve to go that don't get in. That's part of fan voting (Napoli's numbers show he shouldn't start, but it's up to the fans, so don't blame Napoli) and making sure every team is represented. Pierzynski should be there. But he's not the only one.
July, 2, 2012
7/02/12
8:00
AM CT
By
Clint Foster
| ESPNDallas.com
ARLINGTON, Texas -- Ask any Rangers fan from the 1970's, 80's or even 90's and they would probably tell you that they were thrilled to see two
Texas Rangers
suit up for the MLB All-Star game.
This year, the Rangers are sending a club-record seven players to the 2012 All-Star game, as winning has become commonplace in Arlington.
In their 40 years in Texas, the Rangers have sent more than two players to the All-Star game only 12 times, including this season. The Rangers have had three All-Stars twice (1991 and 2009), four All-Stars six times (1989, 1992, 1998, 1999, 2005 and 2008), five All-Stars twice (2004 and 2011) and six All-Stars only once in 2010. The Rangers have been virtually devoid of All-Star pitchers, sending at least one pitcher in only 15 years, including 2012.
The last three All-Star games, the Rangers have sent no less than five players, setting a club-record with six in 2010. 2012 also marks the second consecutive season that Ron Washington has managed the AL All-Star team. It shows just how much the perception of the Rangers has changed across the nation, even since 2009.
"This used to be a team that I didn't want to be traded to," All-Star closer
Joe Nathan
said. "Because of the weather and just where they were, it was a place that wasn't that attractive to me. And to go from that to putting everyone else on hold to make sure I got something done here, it's just done a complete 180."
It's no coincidence that a change in perception comes with winning at a high level. 2010 and 2011 of course marked the Rangers first two appearances in the World Series. But even the recent winning pedigree is a testament to just how vital the organizational level has been in taking the Rangers from a struggling franchise to a thriving one.
The turnaround can be traced to when Jon Daniels was appointed general manager at the end of the 2005 season. Daniels began drastically revamping the Rangers farm-system, which has been vital to the Rangers success today. 1989 All-Star Nolan Ryan's tenure as president, beginning in 2008, and CEO, beginning in 2010, was another major step. Add in some key hires and trades by this management team, and the Rangers had solidified their status as a contender.
"This is a place a lot of people want to be now," Nathan said. "You hear it all the time on SportsCenter and across the league, this team really has no weaknesses. Even with the injuries, we've been able to go out and play good baseball. Credit to everybody that's had a hand in this. It's never one person that turns an organization around like this."
With the final All-Star ballot out,
Yu Darvish
has a chance to join
Josh Hamilton
,
Adrian Beltre
,
Ian Kinsler
,
Elvis Andrus
,
Mike Napoli
,
Matt Harrison
and Nathan as the club's record eighth All-Star this season. And with the current management in place coupled with a lauded farm-system, a proven coach and some fantastic talent at every position, the Rangers could make a habit out of dominating All-Star rosters.
July, 1, 2012
7/01/12
10:26
PM CT
ARLINGTON, Texas -- The Rangers are sending a franchise-record seven players to the All-Star game July 10, but right-handed starter
Yu Darvish
is in the running to make it eight.
Darvish was on the bad end of the Rangers' 3-1 loss to the
Oakland Athletics
on Sunday evening. Darvish (10-5) gave up three runs on five hits in seven innings of work. He tied his season high with 11 strikeouts, but he let the go-ahead run score on a wild pitch in the sixth inning and gave up an insurance run on a leadoff homer by
Brandon Moss
in the seventh.
The AL and NL each have one roster spot left, with fans voting online through Thursday. The five candidates for the final AL roster spot are all right-handed pitchers: Starters
Jake Peavy
of the White Sox,
Jason Hammel
of Baltimore and Darvish along with relievers
Jonathan Broxton
of the Royals and
Ernesto Frieri
of the Angels.
"Just being selected among those other guys, they're all good pitchers," Darvish said through an interpreter. "Just being among them is an honor."
Darvish has downplayed a possible appearance in the All-Star game, and on Friday said he wasn't deserving of the honor. Yet, he won't get another chance to show fans he should go.
His next start is scheduled for Saturday, but it could move up to Friday should the Rangers decide left-hander
Derek Holland
is ready to return to the rotation from the disabled list.
Darvish didn't do any campaigning for votes after Sunday's game.
"The fans get to vote for the last spot," he said. "There's nothing much I can say on that. I'll just stay quiet and see what happens."
July, 1, 2012
7/01/12
6:18
PM CT
By
Richard Durrett
| ESPNDallas.com
ARLINGTON, Texas -- It was five months ago that
Josh Hamilton
sat alone at a table in the interview room at Rangers Ballpark in Arlington and apologized to his family, friends and fans for a relapse with alcohol during the offseason.
On Sunday, he was back at that table facing the cameras again. This time, he was thanking those same fans for voting him as a starter for the All-Star Game for a fifth time. And they voted in record numbers, punching his name on a paper ballot or clicking it on the web 11,073,744 times. That total shattered Jose Bautista's 2011 record of 7,454,753 votes. Hamilton's story is one of the reasons he's so popular. It's clear that popularity is only growing.
"It's just a blessing, man," Hamilton said. "It just means a lot to have fans vote you in and get to that many votes is obviously pretty special, so I'm excited to go and I'm excited to play so people can watch."
Hamilton said he's worked off the field to be sure another relapse doesn't occur. On the field, he blistered the ball in April and May, winning consecutive player of the month honors. He was batting .319 with 25 homers and a league-high 73 RBIs heading into Sunday's game.
"We're in the business of entertaining people, so when people vote and they want to see me go to the game, it helps me think that I'm entertaining them pretty well," Hamiton said. "They might think are going to see something special at the game or whatever, whether it be me or other guys. That's what's so fun about it, because you don't know what you're going to do. It's about facing the best in the game, the best pitchers, that's just a fun time. There's no pressure. It's just a bigger stage for me to share Christ with obviously, that's my main goal. For people to still to vote me in knowing that's still my main goal, that says a lot about them and it's just a cool feeling."
It's Hamilton's fifth-straight appearance in the All-Star Game and he's been voted a starter by the fans all five years.
"It never gets old," Hamilton said. "I think the first time you're over-excited because you don't know what to expect. When you've done it more than once, you know how exhausting it is, but at the same time how appreciative you are to be there. It's just as exciting now as it was the first time."
Hamilton's first time was his most memorable. He participated in the Home Run Derby and captivated the country, mashing moon shots all over Yankee Stadium. It gave him a chance to share his story of fighting drug and alcohol addiction to get to the big leagues and how important his faith was in that process.
Hamilton said he'd like to participate in a Home Run Derby in the future, but doesn't want to risk anything right now. He said he doesn't think the Derby would impact his swing for the rest of the season, but with the club fighting for a postseason berth he doesn't want to take a chance on injury.
"It takes just one swing, one thing different in that swing to cause something to hurt," Hamilton said. "It's not fair to Rangers fans and the organization to take that chance."
Hamilton looked back at the past five months and said he utilized the relapse as a wake-up call.
"It always goes back to not doing the things I need to do to live my life how I should live it," Hamilton said.
He said after the first relapse -- just prior to spring training in 2009 -- he "kind of swept it under the rug."
"After this one, we wanted to figure out what it was," said Hamilton, who has been in counseling and has turned to his faith to help him figure out what he needs to do to avoid another relapse. "When things are good away from the field, I don't have to worry about things on the field, what's going to happen. What comes out is what's supposed to come out and I have peace about whether it's good or bad."
Hamilton said that despite struggling in June -- he had to make a late charge to finish the month batting over .200 -- he wasn't consumed by it.
"I haven't been stressed one bit this last month and I haven't really been hitting," Hamilton said. "It's not because I had good numbers already. As a competitor, you want to do all the time, but just going up there and knowing your team is getting the job done and we're winning ball games, and we're in first place, that's what it's all about."
July, 1, 2012
7/01/12
4:19
PM CT
By
Richard Durrett
| ESPNDallas.com
ARLINGTON, Texas --
Matt Harrison
's phone rang about 10 minutes before
the official announcement of the 2012 All-Star team
, and the left-handed starting pitcher heard a familiar voice.
Texas Rangers
manager and AL skipper Ron Washington called to let Harrison know he had made the team.
"He told me to keep it to myself," Harrison said. "That wasn't easy, because I wanted to call a bunch of family members. But I did."

Harrison, 26, will be making his first All-Star Game appearance following an 11-3 first half with a 3.16 ERA in 16 starts. He's become a reliable, consistent starter and one that Washington determined deserves his chance to pitch on the big Midsummer Classic stage.
"It's pretty surreal, I guess," Harrison said. "I can't really explain it. It really hasn't sunk in yet. I guess it will in a week when I get on the field with those guys. I'm honored to have this opportunity. I'm very humbled. I can't believe it."
Harrison is one of a team-record seven players who will represent the Rangers at the All-Star Game. It could be eight, should
Yu Darvish
win
the final vote going on until Thursday
at 3 p.m. central time.
The list includes three infielders as
Adrian Beltre
,
Ian Kinsler
and
Elvis Andrus
are also on the squad. Beltre was voted in as a starter by the fans, Kinsler was picked by the players and Andrus earned his ticket from the manager. Outfielder
Josh Hamilton
and catcher
Mike Napoli
also were voted in as starters, and closer
Joe Nathan
joins Harrison on the pitching staff.
"I'm excited about it," Kinsler said. "It's always an honor to be named to the All-Star team. I think right now we have seven players going, possibly eight. It's going to be a good time.
"Anytime you get votes from the players and your peers, it means a lot. It's definitely something I take to heart."
This is the first time Beltre has been voted in by the fans. But it will be his second consecutive start in an All-Star Game. He started for
Alex Rodriguez
last year because Rodriguez had knee soreness.
Napoli is making his first All-Star Game trip. He hasn't had the first half he wanted at the plate, but has been a big part of helping the club's pitching staff continue to perform at a high level even while battling injuries.
"It's great. I'm definitely happy," Napoli said. "Hopefully, I can get in the game and do something to help us win."
Nathan returns to the All-Star Game for the fifth time and pitched one inning each in his previous appearances (2004, '05, '08 and '09) with the Twins.
"This one's special for sure," Nathan said. "To go through Tommy John, this means a lot to get back to this level and being this consistent. A lot of people helped me out. When Wash called to let me know the news it just kind of hit me that this kind of marks something to get back where I wanted to be. A lot of people probably doubted that I'd be back at this level. I told him it's an honor to join him, but that doesn't speak words for how I'm feeling."
June, 30, 2012
6/30/12
8:41
PM CT
By
Richard Durrett
| ESPNDallas.com
ARLINGTON, Texas -- American League All-Star manager Ron Washington said he doesn't plan on playing his starters longer or managing the game like it's a win-at-all-costs event from the opening pitch. He will try to use his entire roster and hope that he can get a lead late and do what he has to do to keep it.
"It's the All-Star Game, and I want to play everybody like I did last year," Washington said. "They're All-Stars, I should be able to win with all of them. I should have more of them available. But my thing is they're in the All-Star Game and I certainly want to get everyone that's in that All-Star Game in the game."
But Washington will do what's necessary in the late innings to see if he can get his team a victory.
"If we get into the seventh and eighth inning with a lead, I'm going to try to win," Washington said. "But for the first five or six innings, let them play."
Read more on Washington's plans here.
June, 27, 2012
6/27/12
1:49
AM CT
By
Richard Durrett
| ESPNDallas.com
ARLINGTON, Texas -- It wasn't exactly an easy draw for
Yu Darvish
's final start before the 2012 All-Star roster is put together this weekend.
PODCAST
Ron Washington joins Ben & Skin to talk about Yu Darvish and the Rangers' rotation.

Listen

The 25-year-old
Texas Rangers
starter had to face
Miguel Cabrera
,
Prince Fielder
and the hard-hitting
Detroit Tigers
. He had to pitch in the suffocating triple-digit Texas heat for the first time. And he had to figure out how to bounce back from a 29-pitch first inning in which he put his team behind 2-0 before the offense even had a chance to go to work.
But by the time the first frame was over, Darvish had settled into a rhythm and was pitching more efficiently. He lasted seven innings (113 pitches) and gave up four runs on four hits with one walk and 10 strikeouts. And most important, he left with his team in the lead. Darvish watched from the dugout as the bullpen helped him secure his AL-leading 10th win, the best piece of evidence for his inclusion in the All-Star Game on July 10.
"It seemed like the longer the game went, the better he got," manager Ron Washington said after the Rangers' 7-5 win Tuesday night. "He was trying to get a rhythm again in those first few innings and they put some runs on the board. But we came back and answered and he continued to pound the strike zone. All of a sudden his fastball was crisper, his breaking ball was crisper and he was using the pitches at the right time. He kept us around, scored some runs and did a great job."
Read the rest of the story
here
.
June, 25, 2012
6/25/12
2:13
PM CT
By
Richard Durrett
| ESPNDallas.com
ARLINGTON, Texas -- With just a few days of voting remaining,
Texas Rangers
second baseman
Ian Kinsler
has dropped out of the starting spot in the All-Star Game after
Robinson Cano
garnered most votes the past week. In the latest results released on Monday afternoon, Kinsler is 106,923 votes behind Cano as both players have received more than 3.4 million votes. Kinsler was a little fewer than 15,000 votes ahead of Cano a week ago.
There's still time, however, for Kinsler to make a move. Fans have until 10:59 p.m. CT on Thursday to cast votes online for the starters in the July 10 game at Kauffman Stadium in Kansas City. Manager Ron Washington has until Saturday to get his selections in, and the entire team will be announced Sunday. If you haven't done so yet,
you can vote here
.
Other Rangers notes from the lastest vote totals:
* No one in the AL has more votes than
Josh Hamilton
, who has totaled 7,310,824 votes so far and is in line to start his fifth consecutive All-Star Game. Only
Derek Jeter
, who appears a lock to start at shortstop for the seventh consecutive season, has a longer active mark in the AL. Hamilton is 143,929 votes away from the all-time record number of votes for any All-Star candidate as he tries to break
Jose Bautista
's mark from last year.
*
Nelson Cruz
moved up to fourth in the outfield voting. The top three outfielders in the fan vote start in the game. Cruz is only 92,423 votes behind third-place Bautista in a very close race.
*
Adrian Beltre
remains in front at third base, leading
Miguel Cabrera
by nearly 400,000 votes. Beltre is trying to make the All-Star team for the third consecutive year. He started in 2011 at third base for
Alex Rodriguez
, who didn't play because of knee soreness.
*
Mike Napoli
is way out ahead of the competition at catcher and it would be his first All-Star appearance. He is more than 1.2 million votes ahead of
Joe Mauer
.
*
Elvis Andrus
(shortstop) and
Michael Young
(DH) are still in second place at their positions. Jeter has a huge lead at shortstop and
David Ortiz
is outpacing Young by more than 500,000 votes.
*
David Murphy
is sixth among outfielders, the same spot he was last week.
*
Mitch Moreland
has stayed fourth on the first base ballot most of the past month but is still ahead of
Albert Pujols
.
Prince Fielder
has a large lead at the position.
June, 11, 2012
6/11/12
10:30
AM CT
By
Richard Durrett
| ESPNDallas.com