Texas Rangers:

A.J. Preller
June, 11, 2014
Jun 11
6:51
PM CT
ARLINGTON, Texas -- As soon as right-handed pitcher Luis Ortiz graduates high school Saturday, he'll head to Arizona to begin his professional career as the
Texas Rangers
' first-round pick in 2014.
And he can't wait.
"I'm ready to leave home," said the 18-year-old Ortiz, who signed for $1.75 million Wednesday. That figure was about slot for his position in the draft, 30th overall. "I'm a grown man. I'm 18. I'm ready to start my professional career."
Ortiz is a confident young man, believing he can work his way up to the big leagues. He modeled himself after
Felix Hernandez
, teaching himself pitching mechanics in front of a mirror. The thing he's looking forward to most?
"Having a pitching coach," Ortiz said.
He says it with an assurance that he'll get even better as more coaches teach him. He'll start that process next week in Arizona.
"We'll see where it goes from there," assistant general manager A.J. Preller said. "He'll tell us how quickly he moves up."
Seven of the Rangers' first 10 picks have officially signed, including the first four.
Area scout Butch Metzger pushed for Ortiz's selection and was in attendance at the news conference, along with Ortiz's family.
June, 6, 2014
Jun 6
6:41
PM CT
ARLINGTON, Texas -- The
Texas Rangers
have preached patience when it comes to most of their draft picks through the years. And they don't mind extending that patience to injured players.
Texas drafted left-handed pitcher Wes Benjamin in the fifth round Friday, despite the fact the 20-year-old starter for the University of Kansas underwent Tommy John surgery less than two months ago.
"We evaluated him like he was healthy and liked what he can do," said Kip Fagg, Rangers director of amateur scouting. "Has two good breaking balls, a good frame and we got very good reports on him."
Benjamin was 4-0 with a 4.22 ERA in seven starts for the Jayhawks in his junior season and was the team's No. 1 starter until he tore his ulnar collateral ligament March 28 while playing against Oklahoma. He had seven shutout innings against Stanford and was one out away from a complete-game victory over No. 10 Texas in Austin on March 14.
The fact Benjamin doesn't turn 21 until July is one reason the club is willing to wait a year for him to rehab from Tommy John. It also shows how common the surgery has become and how confident the club is that young players can bounce back from it.
"He's going to work hard and do all the rehab and we'll monitor that," assistant general manager A.J. Preller said. "You look at these guys individually, but we like where he projects."
The Rangers also drafted a local player, center fielder Doug Votolato in the ninth round. He's a switch-hitter from Flower Mound (played at Marcus High School) who was at the University of Central Arkansas. He played in the infield and outfield and was the leadoff hitter, batting .379 with 10 doubles, two triples, a home run and 24 RBIs in 52 games. He also stole 26 bases.
A look at the Rangers' picks Friday:
SS Joshua Morgan (95th overall), Orange Lutheran High School (California):
Posted a .300 or better average in each of the past three seasons and was in the USA Baseball 17U National Development Program.
LHP Brett Martin (126th overall), Walters State Community College (Tennessee):
Fagg said he "can really spin the ball" and that the Rangers see him as a starter. Was 9-2 with a 3.83 ERA in 16 appearances (nine starts).
LHP Wes Benjamin (156th overall), University of Kansas:
He was 4-0 with a 4.22 ERA in seven starts before Tommy John surgery.
3B Jose Trevino (186th overall), Oral Roberts:
The club believes he can play second, shortstop, third and catcher. He last season caught some for right-hander Chi Chi Gonzalez, a player the Rangers took in the first round in 2013.
RHP Nick Green (216th overall), Indian Hills Community College (Iowa):
A 20-year-old right-hander was 3-1 with a 2.97 ERA in nine games. He pitched a no-hitter May 4.
RHP Erik Swanson (246th overall), Iowa Western Community College:
Struck out 97 batters in 79 innings this season for a team that won the NJCAA Division I title. He won the outstanding pitcher award in the tournament.
CF Doug Votolato (276th overall), University of Central Arkansas:
He's a Flower Mound Marcus product who can play infield and outfield and is a switch-hitter. He hit for high average and showed speed.
C Seth Spivey (306th overall), Abilene Christian University:
Hit .341 with 13 doubles, three triples and five homers in 52 games as a senior in 2014.
November, 11, 2013
11/11/13
2:18
PM CT
The
Texas Rangers
made the promotions of A.J. Preller and Mike Daly official on Monday. As the club indicated last month, Daly will be in charge of the daily operations of the club's player development program and affiliate relations and will report directly to Preller, who oversees scouting and player development.
Preller has the title of assistant GM and Daily is senior director of minor league operations.
From the club's release:
"A.J. and Mike have been instrumental in this franchise's success over the last several years, especially when it has come to scouting and bringing quality players into the organization," said Rangers President of Baseball Operations and General Manager Jon Daniels. "These promotions to more responsibilities on the player development side are well-deserved and will make us a stronger organization, further strengthening the bonds between player development and scouting, as well as the major and minor leagues.

"Thad Levine and A.J. have been my left and right hands throughout our time together. They will continue to be so, along with the rest of a strong leadership team. Mike has been directly involved in bringing much of the young talent into the organization and his familiarity with so many of our players will be a huge asset in his new position."

Preller, 36, joined the Rangers in November 2004 and was promoted to Senior Director, Player Personnel prior to the 2010 season. He oversaw the professional, international, and amateur scouting departments in that role and has been instrumental in the organization's efforts to upgrade the level of talent throughout the system. His efforts in increasing the emphasis on scouting in Latin America and the Pacific Rim have paid huge dividends for the club. Prior to joining the Texas organization, Preller worked for Major League Baseball and with the Philadelphia Phillies and Los Angeles Dodgers.

Daly, 35, just completed his seventh season in the Texas organization and has been the club's Director of International Scouting since November 2009. He was responsible for the day-to-day scouting activities throughout Latin America and the Rangers academy in Boca Chica, Dominican Republic. He was with the Cleveland Indians the previous six years, working in the baseball operations department in 2001-02 and as an area amateur scout from 2003-06.
October, 6, 2011
10/06/11
10:33
AM CT
By
Bryan Dolgin
| ESPNDallas.com
While baseball's scouts are always looking for the next impact player, Rangers Magazine/Insider is always looking for the next impact guest. Before the start of Game 2 in the ALDS, A.J. Preller visited with Ben Rogers, Jeff "Skin" Wade and me outside the Home Plate Gate at Rangers Ballpark in Arlington.
PODCAST
Rangers senior director of player personnel A.J. Preller joins Rangers Magazine to talk about building a perennial winner and more.

Listen

Preller, 33, is the Rangers' senior director of player personnel and this is his seventh season with the Rangers. He is a Cornell graduate who works under general manager Jon Daniels and in all aspects of scouting (June draft, internationally and pro level). He also works as an adviser to Daniels on key acquisitions.
"There have been teams that have had one- or two-year runs, and it's hard to do anything like that, but really the goal of everyone in our organization is to do something over the next seven, eight, nine years to where there's a debate between talk show hosts and fans ... was the 2010 team club better? Was the '11 club? Or, was the '18 club better?" Preller said. "I think that's what we work toward every day ... to build something special."
Preller talked about several standouts during his DFW radio debut. One in particular is right-handed pitcher Alexi Ogando. Preller saw him play as an outfielder in the Oakland A's system in 2004 and that led to the Rangers acquiring Ogando in the Rule 5 Draft in 2005 with intent of converting him into a pitcher.
"He was kind of hesitant at first. Tried explaining it to him that if it doesn't go well go right back out to playing the outfield, and he got on the mound day one and put the radar gun on him. He was 94 his first ball out of his hand," Preller recalled. "Within two weeks, we put him in an intrasquad game. It was a scrimmage-type game and he was 97-100. Obviously, that's something special."
Preller also talked about baseball operations, future Rangers prospects, international scouting impact, Derek Holland, the future status of center field, more on Ogando, Mitch Moreland, philosophy on scouting, the impact of his roles throughout the year and more. Listen to the podcast.
August, 4, 2011
8/04/11
2:18
AM CT
By
Ben Rogers
| ESPNDallas.com
Rabid Reaction: We debut our series of knee-jerk-styled, emotional overreactions from Ben Rogers of 103.3 FM ESPN's Ben and Skin Show. He's known to get way too excited over even the slightest of developments with the teams he grew up with in the D/FW. Proceed with caution ...
A month ago, I had never even heard of him. Now I'm convinced that the Rangers have to have him. I'm talking about spectacular 24-year old Japanese MLB-ace-in-waiting Yu Darvish.
By now, I'm sure you're aware that you needn't waste your own precious time charting the early projections of every single potential global phenom wearing footsie pajamas. It would simply be a waste of your personal resources. Jon Daniels and his amazing cast of genius baseballing front office Jedi masters are way ahead of you.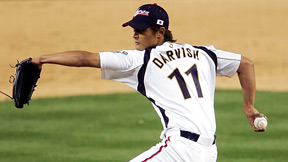 Gary A. Vasquez/US PresswireInternational pitching sensation Yu Darvish, the 24-year-old ace of the Hakkaido Nippon-Ham Fighters, has been scouted by Rangers GM Jon Daniels.
You and I see a third-grader popping wheelies. Daniels sees a future second baseman with gap power. You and I notice a 14-year-old save his sister's snow cone in the bleachers. Daniels sees a potential home run-robbing centerfield candidate for the 2022 season. Right now he's the closest thing in baseball to the Oracle in the "Matrix."
He's quick to share the spotlight with his front office comrades when it comes to their success. To that end, you can expect other teams to come calling for his brightest personnel people in the very near future. Their group has become one of the most aggressive, most astute and most respected front offices in all of baseball and thus highly coveted by other franchises.
They're everywhere. They see everything. In fact, there's currently not even a game of backyard wiffleball being played anywhere on the planet that Daniels, assistant GM Thad Levine and director of player personnel A.J. Preller don't know about.
They leave no stone unturned. Just consider the remarkable
story of Alexi Ogando
.
But that's ancient history. They've been very busy recently, and I'm not talking about the nationally applauded trade deadline acquisitions of relievers Koji Uehara and Mike Adams.
In May they inked Cuban defector/outfielder Leonys Martin to a five-year deal worth $15.5 million (including a healthy $5 million bonus). It made for the second-largest contract ever given to a Cuban defector. Martin is now commonly regarded as a top-5 prospect in the Rangers organization and a good bet to roam center field for the big league club next season.
In July they signed the two most-coveted 16-year old prospects in the Dominican Republic in outfielders Nomar Mazara ($5 million bonus) and Ronald Guzman ($3.45 million bonus). Mazara's bonus set a record and Guzman's wasn't far behind.
Based on their most recent global talent hauls, it should come as no surprise to anyone that the Rangers have been directly linked as big potential players in the Yu Darvish sweepstakes. In late June, Daniels was spotted personally scouting a Darvish start in Japan.
It is now widely expected that his Japanese team will make him available through the silent auction posting process following this season. The Rangers would have to win that bidding process just to pay his current team for the rights to attempt to negotiate a separate contract with Darvish. If the Rangers were to win the bid but find themselves unable to work out a deal with Darvish, their bid money would be refunded.
For a frame of reference, in 2007 Boston bid over $51 million for merely the right to negotiate with Daisuke Matsuzaka. They then negotiated an additional six-year, $52 million deal directly with the player to get him on the Red Sox.
Is Yu the next Dice-K? If so, would he be worth $100+ million?
Since I've only become a Yu Darvish expert in the last five minutes, I'll simply share with you the opinion I've formulated based on conversations with respected baseball brains in culmination with my own well-documented propensity for extreme hyperbole ... he'll be better than Dice-K.
Darvish will arrive with fewer miles on his Japanese baseball odometer and will therefore have an even higher ceiling. He is currently the best pitcher in all of Japan, and everything you hear about him is that he's ready to front a major league rotation today.
(Editor's note: Click here to see Jim Caple's 2008 profile on Darvish -- Dice-K 2.0)
You've got to like his age, his front-of-rotation wares and the potential long term controllability of his first MLB contract. And the Rangers always need starting pitching. Always. In addition, with two Japanese players already on the roster in Uehara and Yoshinori Tateyama, Texas might just be an ideal fit for him, as well.
Now that you know about him, I'm sure you'll agree as a fellow instant authority on all things Darvish, he is an absolute must-sign for Texas.
But don't panic about the fact that he's only just now arriving on your personal radar screen if you weren't already dialed in. Daniels and his elite staff of worldwide talent sharks are already all over it.
July, 6, 2011
7/06/11
6:26
PM CT
ARLINGTON, Texas -- The Rangers announced the signing of Dominican outfielder Nomar Mazara to a 2012 contract. ESPNDeportes.com had the record bonus at a little more than $5 million.

Mazara took some swings in batting practice as a large contingent of club officials looked on, including general manager Jon Daniels, CEO Nolan Ryan, manager Ron Washington and even slugger Josh Hamilton. Rangers hitting coach Scott Coolbaugh threw BP to Mazara, who hit balls to all fields and showed some power.

A couple of scouts shared their thoughts on Mazara. He projects as a left-handed, power corner outfielder with a good arm (he throws left-handed) and average speed. He's 6-foot-4 and around 195 pounds and when the Rangers first saw him as a 14-year-old, he was 6-1 and 180. So he's growing at a pretty fast rate.

Since Mazara signed a 2012 contract, he's not eligible to compete in the Dominican Summer League now. So he'll go back to the Rangers' Dominican Republic academy in Boca Chica and participate in some non-sanctioned games, sort of like instructional league. He'll return in September to Instructional League in the states and begin his professional career in the Rangers' pipeline. Mazara will come to spring training next year and then be sent out, probably to either Class A Hickory or Spokane.

"You can see him growing, might even be a left-handed Juan Gonzalez," Washington said. "He showed some bat speed for a 16-year-old kid. He attacks the baseball. He showed the ability to hit it to all fields. What was impressive is when he took a bad swing, he'd make an adjustment the next swing. That shows he has a feel but he's only 16."

Mazara played for the Dominican in the RBI World Series in Florida last August and his club won the Junior Division. He was signed by Rangers scout Rodolfo Rosario.

"We're looking for corner bats and we feel like he's very projectable with a body that will only grow," said Mike Daly, Rangers director of international scouting.

A.J. Preller, the senior director of player personnel, was quick to bring up Mazara's makeup as one reason the club believes he can mature quickly into an impact player.

"He loves the game and works extremely hard," Preller said. "The day after we signed him, he was up a long time and it was pretty tiring and he was back out there hitting balls. He can't get enough. He's got great work ethic. He's just a good kid and has an appreciation for the game."
June, 28, 2010
6/28/10
10:33
AM CT
ANAHEIM, Calif. -- Part of becoming a successful organization is hiring good people. Rangers general manager Jon Daniels has certainly done that. Thad Levine is mentioned by many folks as someone who should get a chance to be a GM soon. Now 33-year-old A.J. Preller's name is surfacing. He's the senior director of player personnel.
Baseball Prospectus noted Preller as someone to watch
as a future GM. Here's part of the writeup on him:
Why He's Ready: If there's a Jon Daniels, Part II, this is it. Preller has, as scouts would call it during the draft, "helium." His background is close enough to Daniels 'that there's a little worry that he's unprepared, but he adds in the scouting department seasoning that could get him painted with the still-derogatory "Stat Geek" tag. He also played a big role while working for MLB in beating Eric Gagne in a landmark arbitration case. The Rangers' success has been fueled in large part by players that Preller has his fingerprints on. Don't think that doesn't get noticed by the competition. There's some concern that he might not be fully ready for the big chair. "I wouldn't feel confident that he's ready to run an organization," said one current GM, "but I'd want to interview him and see if he impressed me enough with a plan."
March, 22, 2010
3/22/10
10:22
AM CT
By
Ben Rogers
| ESPNDallas.com
There's a misperception out there that once the curse of Tom Hicks' debt collecting army has been replaced by Chuck Greenberg's giant, fruit-producing wallet that expensive free agents will instinctively flock to the
Texas Rangers
like the salmon of Capistrano (gratuitous "Dumb & Dumber" reference). That won't likely be the case. At least not immediately.
Assuming the deal actually overcomes the last remaining obstacles and gets finalized in the first part of the season, Greenberg will probably need a long, uninterrupted sleep followed by a full day of sweat-inducing checkbook balancing before he's able to walk outside and enjoy the sunshine.
That's why picking the Rangers to win the West this season sounds like an unfair expectation. If you set the bar there, anything less will appear to be an underachievement. Let's not forget that this team's payroll will resemble a bottom-feeding catfish near the bottom of the payroll rankings this season. Let's also not forget that several extremely young heavy-lifters on this team will make roughly $400K this season. That's a biweekly paycheck for most Yankees.
The Rangers' new ace wasn't exactly purchased on the Boardwalk portion of the board.
Rich Harden
was picked up with a St. Charles Place vibe. Sure, he has the chance to be Marvin Gardens, but the point is that he represents a shrewd signing by a team unable to do anything more than gamble on a slightly damaged-but-talent heavy risk/reward proposition -- not an undeniable ace acquisition.
Contenders aren't typically constructed under nearly unfathomable financial duress. Lofty expectations almost seem laughable when you truly put the picture in the frame here. The fact that people are picking the Rangers as the fashionable dark horse to win the West speaks volumes about the job that Jon Daniels, Thad Levine, A.J. Preller, Scott Servais and the great Nolan Ryan have done with a tuna can budget.
I'm as excited as anyone about the future of the Texas Rangers. But don't expect instant domination as soon as Greenberg gets behind the wheel with Ryan riding shotgun. At least wait until you can't see Hicks' rioting debt collectors in the rearview mirror before you start planning the parade route.
January, 27, 2010
1/27/10
10:51
AM CT
ESPN.com Insider Keith Law
ranked the 30 farm systems
based on the current inventory in each organization. The ranking includes only players who are still eligible for the Top 100 prospects ranking -- that is, players who still retain rookie status for 2010.
And for the second season in a row, the
Texas Rangers
are ranked No. 1. Here is what Law had to say about the Rangers.
The best system in baseball for the second year in a row, the Rangers are strong in many areas down on the farm. They continue to draft or sign young pitching in what is starting to look like a pathological fear of an impending pitcher shortage, and their stable of arms includes potential No. 1 and No. 2 starters to innings-eater types to front-line relievers. They have big bats, some with positions (Justin Smoak) and some not so much with the glove thing (Mitch Moreland). Their system was light on middle infielders, so they signed two of the top international free-agent shortstops in Jurickson Profar and Raul Sardinas. They're light behind the plate and in center field, but they're headed for a situation where they have excess pitching and can actually trade some of it to fill other needs, an enviable position for any team unwilling to pay market prices for major league free agents. Even a shaky 2009 draft class, for which the Rangers didn't sign their first-round pick and took a couple of toolsy high school players who are light-years from being productive in pro ball, didn't sink this system, as they were active again in the international market and picked up an out-of-favor prospect from Kansas City during the season.

GM Jon Daniels, who has overseen the farm system's renaissance, recently gave international scouting director A.J. Preller -- who is responsible not just for Texas' signings in Latin America but for identifying players like Neftali Feliz, Engel Beltre, and Carlos Melo as throw-ins in larger trades -- responsibility for the Rule 4 draft as well, consolidating all amateur scouting under one person and perhaps leading to a quick bounce-back from a poor performance in last year's draft. The AL West has suddenly become very competitive, with four well-run organizations all trying to balance immediate contention with long-term building goals, but Texas remains the best-positioned team there for long-term success.