November, 23, 2010
11/23/10
1:02
PM CT
By
Richard Durrett
| ESPNDallas.com
Nearly three years before
Josh Hamilton
claimed his first MVP Award after helping the Rangers to the World Series in 2010, general manager Jon Daniels and his staff faced a difficult decision.
The
Cincinnati Reds
were willing to trade an outfielder with all of the tools to become one of the top players at his position. But they wanted a young starting pitcher who had the upside to become a longtime member in their rotation.
The Reds wanted
Edinson Volquez
; the Rangers didn't want to give him up. For nearly a month, the Rangers tried all kinds of different combinations of trades to acquire Hamilton without trading Volquez. But it became very apparent that if the Rangers wanted Hamilton, they had to part with one of their top pitching prospects.
"Our scouts felt we were acquiring one of the most talented players in the game," assistant general manager Thad Levine said. "It came down to who do we value more: a premium position player who plays every day or a starter who pitches every five days. We felt the everyday player was of slightly greater value. But it was a debate."
At the time, the Rangers were coming off a 75-87 season and were stressing rebuilding the pitching staff. So to trade one of the few high-level pitching prospects in the organization wasn't an easy decision.
"In trading Edinson Volquez, we felt strongly we were trading a pitcher who had All-Star capabilities," Levine said. "He's a guy we had signed and developed. He had grown with us. We felt like he was on the cusp of breaking through in the big leagues. We knew his arsenal was one that if he harnessed it, he was going to have success."
But the idea of having an elite centerfielder and a former No. 1 pick with all the tools was too good to pass up. After the 2008 season, both teams felt like they got a good deal. Hamilton wowed the nation with his performance in the Home Run Derby at Yankee Stadium and hit .304 with 32 homers and 130 RBIs. But a changed swing that didn't feel comfortable and a series of injuries caused Hamilton to have a disappointing encore. He played in just 89 games and hit .268. Interestingly, injuries also hurt Volquez, who missed nearly all of 2009 after reconstructive elbow surgery. The recovery carried into 2010 and at one point Volquez was moved to the bullpen. But Volquez made some tweaks to his delivery and had a solid finish to the season, good enough to earn a start in the postseason.
Of course, Hamilton put up career-best numbers, including a .359 batting average and a .633 slugging percentage on his way to the MVP Award.
"There were scouts in the room before we made the trade that said he could be the best player in the game from a talent standpoint," Levine said. "Those same people thought he was capable of doing what he did last year, too, when he had some injuries and prolonged slumps. That's part of the challenge in evaluating the true person we were acquiring."
The Rangers did their homework and were convinced that Hamilton was on the right path off the field and could be a force on it. Three years later, it's become one of the key trades in Daniels' history as general manager.
"It's pretty telling that a guy that missed the last month still made contributions that the BBWAA deems to be better than players who played for six months," Levine said. "I think they're right."
November, 23, 2010
11/23/10
1:01
PM CT
By
Richard Durrett
| ESPNDallas.com
Josh Hamilton
won Tuesday's BBWAA AL MVP Award, but he isn't the first Rangers player to do so. In fact, four other Texas players have won the award, including two-time winner
Juan Gonzalez
. A quick look at those players:
Jeff Burroughs (1974):
The outfielder claimed the award during a memorable 1974 season for Texas. The club finished 84-76 and in second place behind eventual world champion Oakland. That same year, Mike Hargrove earned rookie of the year honors, Billy Martin was named manager of the year and Fergie Jenkins was comeback player of the year. Burroughs hit .301 with 25 homers and a league-leading 118 RBIs. He is one of only five No. 1 overall draft pick to win the MVP. Hamilton, interestingly, could be added to that list today as he was taken first overall in 1999).
Juan Gonzalez (1996, 1998):
In 1996, the outfielder hit .314 with a .643 slugging percentage, helping him barely edge past
Alex Rodriguez
for the MVP (Gonzalez got one more first-place vote). Like Hamilton, Gonzalez had one really spectacular summer month. He hit .407 with 15 homers and 38 RBIs in July. In 1998, Gonzalez had 100 RBIs before the All-Star break and finished top-5 in the AL in most of the key hitting categories. This time, it wasn't a close vote. In both 1996 and 1998, the Rangers won the AL West before falling in the first round of the playoffs to the Yankees.
Ivan "Pudge" Rodriguez (1999):
The Rangers were once again AL West champions and Rodriguez was a big reason why. He hit 35 homers, then a record for catchers. He was the first catcher to hit at least 30 homers, drive in 100 runs and score 100 runs in major league history. At one point during 1999, Rodriguez had a 20-game hitting streak. He also managed to steal 25 bases, fifth most by any catcher in history. He was named on all ballots.
Alex Rodriguez (2003):
In his last season with the Rangers, the then shortstop won the MVP despite playing on a team that was 71-91. He led the AL in home runs, runs scored and slugging percentage. He had finished in the top-10 of the MVP voting five times before finally winning the award. Rodriguez pounded out 47 homers and 118 RBIs while hitting .298. He was 17-for-20 in stolen base attempts and had a .996 OPS, playing in all but one game.
November, 23, 2010
11/23/10
8:00
AM CT
By
Richard Durrett
| ESPNDallas.com
Josh Hamilton
is certainly the favorite to do so. This is the final award handed out by the Baseball Writers' Association of America and Hamilton, despite not playing most of the final month, is likely to take home the award.
We'll get into all of his ridiculous numbers later today, but here's a few:
* Led the majors with a .359 batting average and .633 slugging percentage
* Was second in AL in on-base percentage (.411), fourth in total bases (328), tied for sixth in hits (186), tied for fifth in multi-hit games (53), tied for fith in extra-base hits (75) and tied for fifth in home runs (32)
* Had a career high 40 doubles despite missing that final season
* Was crazy good on Aug. 13 when he went 4-for-5, scored four runs, hit a homer and a double and scored from second base on an infield hit. Oh, and he made two diving catches in center field too.
Hamilton's competition includes, among others,
Robinson Cano,
who was solid for the Yankees all season. But when Hamilton missed that final month, no one really stepped up and challenged him. So I think he wins it despite the missed time. (BTW, he played 133 games. That's the same number
Joe Mauer
played when he won it last year).
Stay tuned. We'll know at 1 p.m.
September, 14, 2010
9/14/10
8:00
AM CT
By
Richard Durrett
| ESPNDallas.com
ESPN.com's
Jayson Stark did an update on the season-ending awards and talked about the AL MVP
. His question: How does Josh Hamilton's injury impact his ability to win it? Here is part of Stark's entry:
According to the Elias Sports Bureau, no position player in history has won an MVP in a non-strike year without playing at least 10 games from Sept. 1 on. And all but Dick Groat (10 games and 35 plate appearances in 1960) played at least 15 games.

Well, at this point, it's looking less and less likely that Hamilton will play 15 games after August this year. At the moment, his entire September body of work consists of two games and six plate appearances. So maybe he still deserves the MVP whether he makes an impact the rest of the way or not. But if he doesn't, well, then who?

Clearly, Miguel Cabrera would win the Prettiest Stats Award. He ranks in the top three in all the Triple Crown categories, leads in OBP and OPS, and has a great shot to break the AL record for intentional walks. (At 30, he's three away.) But his team hasn't been closer than nine games out of any playoff spot in five weeks.

So if we look just at contenders, there's Paul Konerko (top five in a bunch of categories, and having a monster September). And there's Joe Mauer (hitting .370 with a .448 OBP since the break). And there's Evan Longoria (top three in the league, ahead of even Cabrera, in WAR). And there's Robinson Cano (fifth in VORP and OPS-plus), who has been by far the most consistent force on the league's best team, the Yankees.

For the moment, I'm still casting my vote for Hamilton. But if he doesn't show up in a single box score over the next two weeks, get back to me.
Hamilton is still in wait-and-see mode on his bruised ribs. And I still think he'll get in at least a week of games or so before the end of the season. I'd be tempted to vote for him as MVP even if he doesn't, since he played at such a high level to put the Rangers in the position they're in. But that does make it a tougher decision.
Would he still get your vote if he doesn't play the rest of the regular season?
July, 26, 2010
7/26/10
8:18
AM CT
By
Richard Durrett
| ESPNDallas.com
Josh Hamilton
's amazing two-month stretch continued in Sunday's big series-finale win over the Angels. He had three more hits, drove in three more runs, legging out a two-run triple in the first to give the Rangers a quick 2-0 lead.
Hamilton is now hitting .357 this season. It's what he's done since June 1 that's the reason his average has made such an impressive climb. Hamilton is hitting an MLB-best .432 (83-for-192) since June 1. In his last 35 home games, he's hit safely in 34 of them and has 34 RBIs, nearly one a game. He's hitting .413 in that stretch.
He won AL Player of the Month for June pretty easily. Could he add July to his resume in 2010 as well? He's batting .388 this month with five homers and 13 RBIs. He's got a .432 on-base percentage and a 1.120 OPS.
[+] Enlarge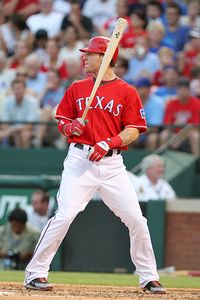 Matthew Emmons/US PresswireRangers outfielder Josh Hamilton is hitting .357 with 23 home runs and 74 RBIs this season, putting him in contention for the AL MVP award.
I liked this quote from
Ian Kinsler
last night: "This is not just healthy Josh," Kinsler said. "This is ridiculous Josh."
But is it MVP Josh? A special thanks to the hard-working Keith Hawkins at ESPN Stats & Information, a regular contributor on this blog, for putting together some updated numbers as a comparison of Hamilton and
Miguel Cabrera
. If you look at the stats and what each player has done for his team, it sure appears to be a very tight race between those two for the honor.
Let's start with some of the key stats and where each player ranks:
Batting average:
Hamilton is hitting .357, Cabrera .350. Hamilton leads the AL, Cabrera is second.
Homers:
Cabrera has 24, Hamilton 23. That's second and third in the AL, respectively (
Jose Bautista
is No. 1).
RBIs:
Cabrera has a staggering 88 to lead the AL. Hamilton has 74, tied for fourth in the league.
Hits:
Hamilton has 12-hit lead on his closest competitor,
Robinson Cano
, with 137. Cabrera is fourth at 124.
Extra-base hits:
Hamilton and Cabrera are tied for tops in the standings with 58. Hamilton has a MLB-leading 19 games with three or more hits this season.
OPS
(on-base percentage plus slugging percentage): Cabrera leads the AL at 1.075 with Hamilton third at 1.035.
Average with runners in scoring position:
Once again, the two players are very close. Cabrera is fourth at .366 (in 129 plate appearances) with Hamilton in sixth at .364 (113 plate appearances).
There's one more stat that I think is interesting and can give you an idea of each player's statistical value to their teams and that's
runs created
:
Josh Hamilton leads the American League with 99 runs created. Cabrera, of course, is right on his tail at 94 runs created.
Sure, there are other players who can make a case for MVP. Robinson Cano (he was great when
Mark Teixeira
got off to a slow start and the Yankees really needed him),
Carl Crawford
,
Torii Hunter
,
Paul Konerko
,
Justin Morneau
,
Kevin Youkilis
,
Dustin Pedroia
or even
Vladimir Guerrero
, though his slow start to the second half makes him a clear second to Hamilton at this point on his own team.
Obviously, MVP is more than simply numbers. It's about how valuable that player is to his particular team. That's where the injuries to the Tigers' recently will be interesting to watch. On the one hand, without as much protection in the lineup, Cabrera's numbers could suffer. On the other hand, if he keeps putting up the impressive stats, he could help his agrument as voters will see he's doing it without as much help as Hamilton.
Hamilton has helped his team to a 7-game lead in the AL West. Obviously, he hasn't done it alone. But he's been the biggest bat in the lineup since June 1, when this team really started piling up wins and taking control of the division. Cabrera has aided in his team's competitive posture in the AL Central. The Tigers are 2 games back in that hotly-contested division.
Numbers, though, matter heavily as we've seen in recent ballots. You could make arguments for either player, as these stats show. At the All-Star break, most of the midseason MVP consideration went to Cabrera, based largely on his RBI lead. And he still has a sizeable lead there. Hamilton has closed the gap in many other categories.
It might be how each player does in big games down the stretch that decides this thing. Hamilton sure came through in a big series this past weekend. He was 6-for-13 with two doubles, a triple and four RBIs as the Rangers took three of four to boost their AL West advantage.
It would be tough to cast a ballot right now. But no one has to do that. This has been a better season for Hamilton, in my opinion, since 2008. And I don't think it's going to stop. He's comfortable at the plate, relaxed about is overall game and he's not putting too much pressure on himself. My prediction: Hamilton wins the MVP when the season is over.
What do you think?