Texas Rangers:

AL wild-card game
November, 26, 2012
11/26/12
9:39
AM CT
Major League Baseball announced the playoff shares for the 2012 postseason, which included the
Texas Rangers
' appearance in the AL wild-card game.
The Rangers' share of the players' pool was $980,452.04. The value of each full share was $16,999.09. Texas awarded 44 full shares, 8.5 partial shares and 12 cash awards.
The players' pool comes from 50 percent of the gate receipts from the wild-card games, 60 percent of the gate receipts from the first three games of the division series, 60 percent of the gate receipts from the first four games of the league championship series and 60 percent of the gate receipts from the first four games of the World Series.
That money is then distributed between all the clubs that made it to the postseason. The total pool was $65,363,469.22. A full share for the
San Francisco Giants
, the World Champs, was $377,002.64, while the runner-up
Detroit Tigers
got $284,274.50. Both of those are records.
By the way, the Rangers got $251,515.76 per full share after falling in seven games in the 2011 World Series.
November, 8, 2012
11/08/12
11:00
PM CT
Editor's note: We've reached our final memorable moment of the 2012 season. These were 10 moments -- they could be good or bad from a Ranger perspective, but they had to be memorable -- that helped define the season.
Memorable Moment No. 1:
Rangers fall, 5-1, to the
Baltimore Orioles
in the AL wild-card game.
The fact that the Rangers were even in the AL wild-card game had most people stunned, including the club itself. But despite losing a five-game lead with nine games to play (and a four-game lead with six left), the Rangers were still favored against the Orioles. After all, they had dominated the Orioles during the regular season, were playing the AL wild-card game at home and had No. 1 pitcher
Yu Darvish
on the mound. The offense had performed well against Baltimore, including the memorable four-homer game by
Josh Hamilton
(which made our list of top-10 moments).
[+] Enlarge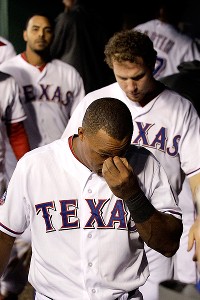 AP Photo/Tony GutierrezThe Rangers' season ended earlier than expected with a loss to the Orioles in the AL wild-card game.
It was tough, though, to gauge what momentum might do. The Rangers didn't have any going into that Friday night game, losing three consecutive games in Oakland to watch the AL West-lead they held for nearly the entire season disappear. Davish did his best to change that momentum.
The 26-year-old pitcher gave up three runs (two earned) on five hits in 6 2/3 innings with seven strikeouts and no walks. And it wasn't enough. The Rangers' bats, basically silent the final 10 games, scored just one run. That one came on a double play ball hit by
Josh Hamilton
in the first inning. Texas was just 1-for-7 with runners in scoring position.
Baltimore starter
Joe Saunders
got through 5 2/3 innings, allowing just one run. The Orioles' bullpen finished the game off as the offense got some insurance runs, scoring off
Derek Holland
after he entered the game with a runner on in the sixth. Even closer
Joe Nathan
struggled, allowing two runs in the top of the ninth. The Rangers threatened in the bottom half of the inning, loading the bases with two outs.
David Murphy
flied out to left to end the game.
The scene after the game was part shock and part disappointment. The players talked about how they didn't meet expectations. Murphy mentioned the club ran out of gas. But a season that looked to have so much promise as the club tried to defend its AL championship ended a lot sooner than anyone expected.
Was the AL wild-card game the most memorable moment for you? If not, what was?
October, 6, 2012
10/06/12
3:30
PM CT
ARLINGTON, Texas --
Texas Rangers
closer
Joe Nathan
knows a thing or two about win-or-go-home games right after the regular season. He played in two while in Minnesota, losing one and winning another. He's now 1-2 in those games after the Rangers lost 5-1 to the
Baltimore Orioles
on Friday in the AL wild-card game.
"It's a tough game," Nathan said. "We all came in knowing you don't want to be a part of it. If anybody knows that, it's me. I've been a part of two Game 163s and anytime you play a sudden death, you just don't know. Anything can happen in those games."
Despite the loss, Nathan says he likes the current system and the idea of the wild card teams facing each other in that kind of situation.
"I still like the setup," Nathan said. "The one thing that will change, I'm pretty sure, next year is starting at the team with the best record, starting at their place. As far as the one-game setup, it gives that disadvantage to the wild card teams, which you need. I feel like the other format, we make the playoffs as a wild card there's no disadvantage. You're going in the same as the team with the best record in baseball. So I like this format. I think it's exciting. You just don't want to be a part of this. So win the division."
October, 6, 2012
10/06/12
1:02
AM CT
ARLINGTON, Texas – The Texas Rangers' free fall from the top of the AL West to an early exit from the 2012 postseason took less than two weeks.
It was a stunning collapse that ended with general manger Jon Daniels hugging players in the clubhouse at Rangers Ballpark in Arlington on Friday night and teammates saying goodbye to each other.
This was not how the season was supposed to end for the two-time defending AL champions. They led the AL West by five games with nine to play after beating Oakland on Sept. 24. Now, less than two weeks later, they watched their lead in the AL West evaporate on the final day as the Oakland A's celebrated. And then, despite having the lifeline of a winner-take-all AL wild-card game against a team they dominated in the regular season, the offense had no energy and they wasted a sterling performance by
Yu Darvish
in a 5-1, season-ending loss.
It's amazing to consider that the Rangers never had a champagne-crazed celebration in a clubhouse. They toasted the fact that they made the playoffs last weekend, but figured they'd break out the big party for the division title. That never came. Neither did a wild-card win. Former Rangers manager Buck Showalter and his team – many of them former Rangers – turned up the music and dumped beer on each other in the visiting clubhouse in Arlington and will now move on to face the
New York Yankees
. For the Rangers, a season with so much promise is over way earlier than expected.
"I'm very surprised," veteran leader
Michael Young
said. "It was a very disappointing finish. We felt like we had the team and we had the guys to make another run at it. That doesn't really come down to tonight's game. It comes down to the last week and a half. We had an opportunity to put our best foot forward and set ourselves up for a strong run. We didn't get it done."
Texas lost eight of its final 10 games and 10 of the last 14.
On Friday, the Orioles did what the A's managed to accomplish in a three-game sweep of the Rangers: They took advantage of their scoring chances. The Rangers didn't. So almost before the playoffs really started, the Rangers were out.
"I'm going to be watching teams on TV next week and I know we're good enough to be where those guys are and we didn't get it done,"
David Murphy
said. "For that, we don't deserve to be there, and that's frustrating. I know what type of personnel we have in here. I know what type of talent we have. I know the quality of guys we have. That makes it frustrating."
Players were stunned as they gathered their things and talked to one another. All those plans for another long postseason stay are over.
Closer
Joe Nathan
and others vowed to let it motivate them.
"It won't be hard to get up in the morning and go there (to the gym) for sure," Nathan said. "These things fire you up and want you to get it going."
October, 5, 2012
10/05/12
7:00
PM CT
ARLINGTON, Texas -- Buckle up! It's not exactly where we thought they'd be, but the Texas Rangers have one shot to get past the Baltimore Orioles in the AL wild-card game and into the ALDS against the New York Yankees. Let's talk all about it starting at 7 p.m. CT. The game can be heard on ESPN Dallas 103.3 FM and seen on TBS. The room is now open for you to get some early questions in and participate in polls.

Needless to say, but this should be an interesting evening.


October, 5, 2012
10/05/12
3:00
PM CT
ARLINGTON, Texas -- The AL wild-card game features RHP
Yu Darvish
of the
Texas Rangers
and LHP
Joe Saunders
of the
Baltimore Orioles
. The game starts at 7:37 p.m. on ESPN Dallas 103.3 FM and TBS. A quick look at the matchup:
PODCAST
Rangers GM Jon Daniels comments on the state of the team heading into Friday's elimination game against the Orioles.

Listen

Darvish (16-9, 3.90 ERA):
This is Darvish's postseason debut in the big leagues, but he has pitched in the Nippon Professional Baseball playoffs five of the last six years. ... He was 8-2 with an 1.38 ERA with five complete games, 22 walks and 91 strikeouts in 11 career postseason starts. ... He earned the win in the fifth and deciding game of the 2006 Japan Series to give the Hokkaido Nippon-Ham Fighters their first NPB championship since 1961. ... Darvish led all MLB rookies with 221 strikeouts and 191 1/3 innings and he tied for first in wins. ... He had the third-lowest AL opponent batting average at .220 and was fifth in strikeouts and fourth in walks (89).
Saunders (9-13, 4.07 ERA):
The veteran has helped give the Orioles some key innings since the acquired him from Arizona in August. ... He is 3-2 with a 2.75 ERA in September, though only two of those starts were against playoff teams. ... He's 3-7 with a 6.48 ERA in 11 career starts against Texas, including 0-6 with a 9.38 ERA in six previous starts at Rangers Ballpark in Arlington. ... Saunders has started four playoff games in his career and is 0-1 with a 6.00 ERA in those starts. His last one came in 2011, when he gave up three runs in three innings in the NLDS.
Hitters:
Ian Kinsler
(10-for-24, 4 HR, 8 RBIs),
Nelson Cruz
(6-for-20, 2 HR, 3 RBIs),
Michael Young
(10-for-28, HR, 3 RBIs) and
Geovany Soto
(4-for-6, HR) have hit Saunders well. ... Darvish has never pitched against the Orioles.
October, 5, 2012
10/05/12
1:09
PM CT
ARLINGTON, Texas -- With the AL wild-card game now hours away, it's time for some predictions. It's unanimous from the folks we asked at ESPN Dallas that the Rangers come out with a victory. Why?
For starters,
Yu Darvish
. He's pitched like an ace down the stretch and there's little to suggest that won't continue against a team that has not seen him before. I think that's a big advantage for Darvish. Also, Orioles' starter
Joe Saunders
has one of the worst ERAs at Rangers Ballpark of anyone with a minimum of five starts. Only
Jose Contreras
' 10.17 ERA is worse than Saunders' 9.38, according to the folks at ESPN Stats & Information.
The other reason is that this team is at home in front of its fans. It's a playoff game and it will be electric in there. That can only help a Rangers team that has to forget about what happened the last few weeks and just play its game. I think they will.
Durrett's prediction:
Rangers 5, Orioles 2
Other staff predictions:
Ben Rogers:
Rangers win, 4-2. Comment: Darvish is the truth. Prepare to behold a glorious gem.
Mike Peasley:
Rangers win, 7-2. Comment: Darvish has been the Rangers' most consistent starter down the stretch while Joe Saunders has had zero success in Arlington. Those two things plus the home crowd lift Texas to the ALDS.
Jean-Jacques Taylor:
Rangers win, 4-2.
Todd Archer:
Rangers, 5-2. The Rangers can't let Buck Showalter end their season, can they? Survive and advance.
Tim MacMahon:
Rangers, 2-1. Darvish pitches a gem that doesn't include any pop flies to center field.
Bryan Dolgin:
Rangers, 7-1. Darvish pitches eight innings with 11 strikeouts, including three from
Chris Davis
.
Josh Hamilton
has a big night at the plate.
Jeff "Skin" Wade:
Rangers, 3-1. Orioles enter the 36th Chamber of the Yu and do not make it out alive.
October, 4, 2012
10/04/12
4:30
PM CT
ARLINGTON, Texas --
Baltimore Orioles
veteran
Joe Saunders
will start Friday's American League wild-card game against the
Texas Rangers
, manager Buck Showalter announced Thursday.
Showalter said Saunders' experience, along with the fact that the Orioles are unsure
Steve Johnson
's knee was going to be 100 percent, impacted the decision to start Saunders against the two-time defending AL champions.
"(Saunders) is rested and ready to go," Showalter said. "He's pitched some in the playoffs. We've said that our No. 1 starter is the guy pitching that day. Our whole rotation has been a sum of the parts. Joe has pitched well for us since he's been here. He's got a tough task ahead of him."
Saunders does not have good numbers at Rangers Ballpark in Arlington in his career. He's 0-6 with a 9.38 ERA in six starts. The left-hander hasn't pitched in Texas since 2010, when he had one of his better starts in the park, allowing one run on seven hits, but still got the loss.
You can read more
here
.
October, 4, 2012
10/04/12
3:53
PM CT
ARLINGTON, Texas -- Texas Rangers manager Ron Washington said he doesn't need to say anything more to outfielder Josh Hamilton about his error in center field Wednesday and he's ready to move on from the play.
PODCAST
Ben and Skin think they know what was going on inside Josh Hamilton's head during the infamous muffed popup against Oakland.

Listen

"I have no issues with Hamilton, and that's the end of that," Washington said one day before the club's AL wild-card game against the Baltimore Orioles.
For more of Washington's comments -- and general manager Jon Daniels -- click here.
October, 4, 2012
10/04/12
10:33
AM CT
Fans interested in going to Friday's AL wild-card game between the Texas Rangers and Baltimore Orioles at Rangers Ballpark in Arlington can purchase tickets online at
texasrangers.com/postseason
or at the West Box Office at the stadium (open until 6 p.m. today). Here are the prices:
Lower Box, Lexus Club Box, Corner Box: $85
Lexus Club Terrace, Lower Reserved: $60
Upper Home Run Porch, Upper Box, Upper Reserved, Grandstand Reserved: $40
Standing Room: $30