Texas Rangers:

ALCS Game 6
October, 16, 2011
10/16/11
12:19
AM CT
By
Richard Durrett
| ESPNDallas.com
ARLINGTON, Texas --
Nelson Cruz
already had his name etched in the 2011 AL Championship Series MVP trophy before he came to the plate in the seventh inning of Game 6.
But when you have established yourself as the Rangers' version of Mr. October and carry a "boomstick" and fire fake guns in the air after a big play, you have to leave the fans with something they'll remember in the clinching game, right?
So with the Rangers already leading 13-4, Cruz got a first-pitch split-fingered fastball from
Brad Penny
and deposited it into the left-field seats. The 50,000-plus at Rangers Ballpark in Arlington cheered until Cruz acknowledged them, aware that the slugger was now in a class all by himself. No one else in major league history has hit six homers or collected 13 RBIs in a playoff series. He was 8-for-22 (.364) and all eight hits were extra-base hits -- six homers and two doubles. Only one player has had more extra-base hits in a playoff series: Yankes' Hideki Matsui had nine in the 2004 ALCS against Boston.
Cruz also mashed six homers in last year's postseason, becoming the first player with six or more home runs in a postseason in two different years.
[+] Enlarge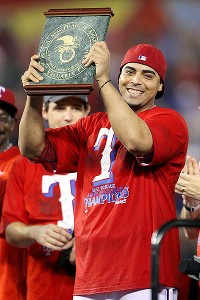 Matthew Emmons/US PresswireNelson Cruz holds up his ALCS MVP trophy after a record-setting performance.
"It was his series," Rangers first-base and outfield coach Gary Pettis said. "What can you say? He did it all. He played defense. He swung the bat. He drove in runs. We're glad he's on our team."
All of this comes after he went 1-for-15 with a run and five strikeouts in the ALDS. He talked with hitting coach Scott Coolbaugh near the end of this series and focused on one thought: slowing down. Cruz didn't get the benefit of a rehab assignment after returning from a disabled list stint with a strained hamstring. And he was amped up. He looked at video before the ALCS and felt like he was swinging at hittable pitches.
"He was getting a little big with his swing," Coolbaugh said. "He was trying to do too much. He had a couple of good at-bats at the end of that [ALDS] series and started to get a feel for it. He was in a good mind frame to perform and do what he's capable of doing. He went to right-center, left field, all parts of the field. He was in a zone, and that's what he's capable of when he slows things down."
The struggles in the ALDS are now long forgotten. So is the fact that the Rangers had to put Cruz through waivers in 2008 and that no team was willing to pay $20,000 to pick him up.
The Cruz that couldn't hit in the major leagues but crushed balls out in the minors has now become one of the most feared hitters in postseason history. No one, not even Reggie Jackson, has put together two consecutive postseasons like Cruz.
"It was ridiculous," said
Josh Hamilton
, last year's ALCS MVP. "It was fun to watch. It's one thing to be in the stands, but when you're down here on the field with him you can see the intensity, you can see the focus. It's exciting."
It wasn't as if these home runs weren't hit at critical times, either. Cruz won Game 2 for the Rangers with a walk-off grand slam in the 11th inning, becoming the first player in postseason history to do that. His three-run blast in Game 4 also gave the Rangers a nice cushion in extra innings, allowing Neftali Feliz to pitch with a four-run lead. And he helped win Game 4 a few innings earlier with his arm, nailing
Miguel Cabrera
at the plate with a one-hop rope from right field to keep the Rangers in front.
"I haven't seen a better throw than that one," Pettis said. "That saved that game."
Cruz hit a 99.9 mph fastball from Justin Verlander for a home run in Game 5 and was in the on-deck circle as the game ended with the Tigers winning, 7-5.
"I wonder what would have happened in Game 5 if he had come up in the ninth," general manager Jon Daniels said. "Special players do special things when the game calls for it and he did that."
Cruz, 31, did it with a smile on his face and that infectious laugh. He always seems to look like he's having more fun than everyone else.
"I saw him do this last year on TV and I got to see it in person now," third baseman
Adrian Beltre
said. "Being here and seeing it for myself is amazing. We wouldn't be here without him."
Now Cruz and his teammates are headed to the World Series.
"It's awesome," Cruz said. "We wanted to do this again and we have. Now we want to go all the way."
Cruz's boomstick could certainly help carry them there. The sellout crowd at Rangers Ballpark in Arlington yelled "Cruuuuuz" as he received the MVP trophy for a playoff series that was record-setting.
October, 15, 2011
10/15/11
10:41
PM CT
By
Richard Durrett
| ESPNDallas.com
ARLINGTON, Texas -- The Rangers are headed to their second consecutive World Series after blistering the Tigers for a 15-5 win Saturday. The offense, which hadn't had a breakout game from top to bottom, did so in Game 6 with a nine-run third inning and a few more runs later on. Everyone contributed to the victory, fitting because that's how the Rangers have done it all season. Some quick thoughts as we collect more from a jubilant clubhouse (ESPN Stats & Information also chimes in with some fun facts):


* A big third inning decided Game 6. Here's a quick look at how the Rangers scored nine runs in the inning (more about that inning later):
-- The nine runs are the most in a postseason inning since the Angels scored 10 runs in the seventh inning of Game 5 of the 2002 ALCS. It was the most runs the Rangers have scored in a postseason inning, breaking the record of six scored in the ninth of Game 3 of the 2010 ALCS.
-- Four Tigers pitchers needed 50 pitches and nearly 40 minutes to get through it.
-- Surprisingly, the inning started with
Ian Kinsler
's ground out to third base, where
Brandon Inge
made a nice diving play to get the first out.
-- Things fell apart for the Tigers from there as the Rangers' lineup depth went to work.
Elvis Andrus
drew a four-pitch walk and
Josh Hamilton
's looping single put two on with one out for
Michael Young
.
-- Young delivered with a double just inside the left field line, scoring two runs. Before that at-bat, Young had two RBIs the entire series (and three in the postseason). That tied the score.
--
Adrian Beltre
gave the Rangers the lead with a single up the middle, scoring Young. It was his sixth RBI of the playoffs.
--
Mike Napoli
did his usual, working the count to 3-2. He then walked ahead of
Nelson Cruz
.
-- Cruz appeared to swing at a third strike high fastball, but first base umpire Tim Welke said Cruz did not go around. He then walked on a 3-2 pitch to load the bases for
David Murphy
.
-- Murphy, batting eighth as the DH, hit a two-run single to center. Detroit outfielders had some issues getting to balls right away in the inning and that included left fielder
Delmon Young
. He bobbled the ball and Rangers third base coach Dave Anderson alertly sent Napoli home as well.
-- Kinsler got into the act with a two-run single after that as the Rangers batted around.
-- Michael Young came up again and this time doubled just inside the right field line to drive in two more. He became the first player with multiple extra-base hits in the same inning in LCS history. It's been done three times in the World Series. Young hit .377 with runners in scoring position this season.
*
Derek Holland
gave up a two-run homer to
Austin Jackson
in the fourth and that was the end of his night. No Rangers starter in this series managed to get a quality start. Holland gave up four runs in 4 2/3 innings but left ahead 9-4. Holland led the big leagues with 7.64 run support average this season. And the Rangers beat that with the big third inning.
* Kinsler had three RBIs and was 2-for-5 in the game.
*
Miguel Cabrera
continued his sensational ALCS. On a 1-2 count, Cabrera drove a fastball the other way, just over Cruz's glove and over the fence for a solo homer in the first. He hit another one off
Mike Adams
in the eighth. He had three homers in this series and four in the playoffs. He had seven RBIs in the ALCS. He came into the game hitting .375 in the ALCS. ESPN Stats & Information: Cabrera extended his LCS hitting streak to 13 games. Only Pete Rose and
Manny Ramirez
, both with 15, have longer streaks.
* Andrus had the club's second stolen base of the ALCS when he took second with two outs in the first. Young popped up to first base in foul territory to end the inning.
*
Endy Chavez
, in the lineup at No. 9, came up with two on and two out in the second. He wasn't able to get the Rangers on the board as he grounded to second.
* Cruz hit a double in the second and then homered in the seventh. It was his seventh and eighth hits of the ALCS and all were extra-base hits: six homers, two doubles. Cruz, the MVP of the series, drove in 13 runs in the six game. The six homers and 13 RBIs were the most by any player in a postseason series. More on Cruz's ridiculous series coming up on the blog.
*
Ryan Raburn
hit into a double play in his first two at-bats. Both meant that No. 3 hitter Cabrera hit with no one on base his first two times up. He batted with two outs and none on in the first and led off the fourth.
* The big third inning meant that the sellout crowd of more than 50,000 spent the last two-thirds of the game in celebration mode. It gave a kind of relaxed feel to the game.
* Young put a capper on his ridiculous Game 6 by hitting a solo homer 416 feet to straightaway center to make it 13-4 in the seventh.
October, 15, 2011
10/15/11
10:16
PM CT
By
Randy Jennings
| ESPNDallas.com
ARLINGTON, Texas -- The Rangers are so close they can taste it now.
Cheered on by a crowd of 51,508, the seventh largest all-time at Rangers Ballpark, Texas takes a 15-4 lead into the eighth inning. Six outs separate the Rangers from a second World Series in as many seasons.
Alexi Ogando
worked two snappy innings of relief in the sixth and seventh, allowing just one hit. A case could be made for him being the Rangers' most valuable pitcher in the ALCS.
Of course,
Nelson Cruz
has a hammerlock on the MVP with a record six homers and 13 RBIs, including another that reached the seats in the seventh with a man aboard.
But for Game 6 MVP honors, Michael Young's three hits and five RBIs were clutch. Young's first of two doubles in the third inning was an igniter.
October, 15, 2011
10/15/11
9:26
PM CT
By
Randy Jennings
| ESPNDallas.com
ARLINGTON, Texas -- If it was the regular season, Ron Washington likely would have stuck with
Derek Holland
to get the final out with a five-run lead in the fifth inning so he could be in position for the win.
But a World Series berth is at stake tonight. No fooling around.
Austin Jackson's two-run home run in the fifth had barely cleared the right-field fence before Washington was beating a path to the mound, signaling for
Scott Feldman
.
Holland in 4.2 innings allowed seven hits, including three home runs. But the damage was kept to a minimum because he did not issue any walks and was helped by two double play balls to short.
After adding a run in the bottom of the fifth, Texas led Detroit, 10-4.
If you're counting down outs, the Rangers need 12 more to clinch a second straight World Series appearance and
Alexi Ogando
is on to pitch the sixth.
October, 15, 2011
10/15/11
8:43
PM CT
ARLINGTON, Texas -- Why is a slumping
Michael Young
still in the clean-up spot?
Look no further than Rangers' nine-run third inning.
Young delivered the clutch hit the Rangers so badly needed, a two-run double into the left-field corner with Texas down 2-0 that awoke the home team's bats and led to Detroit starter Max Scherzer's demise.
When Young's spot came up again later in the third, he doubled again, this time in the right-field corner to drive in two more runs.
Young's .162 playoff batting average with no home runs coming into tonight's game had talk show phone lines buzzing. But manager Ron Washington kept Young in the four hole, where he excelled in the regular season.
The nine-run outburst is easily a Rangers team playoff record, eclipsing six against the Yankees in last year's ALCS.
Texas leads 9-2. No surprise with
Derek Holland
on the mound. The Rangers always score for Holland.
October, 15, 2011
10/15/11
7:50
PM CT
By
Randy Jennings
| ESPNDallas.com
ARLINGTON, Texas -- The strike zone is usually the issue for 25-year-old Derek Holland.

So far tonight, the Rangers' lefty has commanded the zone.

But for the second straight inning, a Tigers right-handed hitter (this time Jhonny Peralta) homered to the opposite field. Peralta picked on a 95 mph fastball with a 1-1 count and sent it an estimated 358 feet.

The Rangers stranded a runner in scoring position with two outs in each of the first two innings against Max Scherzer and trail the Tigers, 2-0, after two innings of the ALCS Game 6.

Texas leads the series 3-2.
October, 15, 2011
10/15/11
7:19
PM CT
By
Randy Jennings
| ESPNDallas.com
ARLINGTON, Texas -- The ALCS question pops up again: Do the Rangers pitch to Miguel Cabrera, pitch around him or walk him?

Ahead in the count 1-2 with the bases empty in the first inning of Game 6, Derek Holland went after the Detroit slugger and paid the price.

Cabrera drove a Holland offering over the wall in right field to give the Tigers a 1-0 lead.

The Rangers will have to play from behind as they bat in the bottom of the first.