Texas Rangers:

Alex Gonzalez
June, 12, 2014
Jun 12
2:39
PM CT
By
Richard Durrett
| ESPNDallas.com
Double-A Frisco third baseman Joey Gallo and right-handed starting pitcher Alex "Chi Chi" Gonzalez were named minor league player and pitcher of the month for May. Catcher Tomas Telis was named defender of the month and right-handed pitcher Phil Klein was the reliever of the month.
Gallo hit .326 in May with four doubles, a triple, 12 home runs, 26 RBIs, 26 walks, 26 runs in 28 games with Class A Myrtle Beach. He played well enough to earn a promotion to Double-A Frisco earlier this week.
You can read about Gallo's first game in Frisco here
.
Here's more on Gonzalez, Telis and Klein from the club's release:
Gonzalez, 22, went 4-0 with a 1.59 ERA (6 ER/34.0 IP) and 26 strikeouts against 10 walks over 5 starts with High-A Myrtle Beach in May. The right-hander also held Carolina League batters to a .179 average (22-123) during the month. The Oral Roberts product completed at least 7.0 innings in 3 of the 5 starts, including a career-best 8.0 shutout innings on May 3 vs. Frederick. Gonzalez also had a no-hitter broken up in the 7th inning of his start on May 20 at Frederick, earning his 5th consecutive win in that outing. He was promoted to Frisco on June 10 and allowed just one hit over 5.0 scoreless innings in his Double-A debut that night vs. Midland. Overall, Gonzalez has combined to go 6-2 with a 2.43 ERA (19 ER/70.1 IP) over 12 starts with Myrtle Beach and Frisco. The Florida native was selected in the first round (23rd overall) of the 2013 June draft and signed by Jay Eddings.

Telis, who turns 23 next Wednesday, appeared in 14 games behind the plate and started once at third base for the RoughRiders in May. Overall, Telis has played 31 games at catcher this season for Frisco and compiled a .990 fielding percentage (3 E/291 TC). He has also thrown out 15 of 55 (27.3%) would-be basestealers. At the plate, Telis is batting .328 (59-180) with 12 doubles, 2 triples, 2 home runs, and 27 RBI. The Venezuela native currently boasts the highest average in the Texas League after batting.369 (38-103) over 26 games in May.

Klein, 25, compiled a 0.71 ERA (1 ER/12.2 IP) and converted all 6 save opportunities over 9 relief appearances in May. The right-hander recorded 14 strikeouts against just 3 walks and limited opposing batters to a .122 average (5-41). Klein finished the month with 8.2 scoreless innings over his last 6 appearances, a scoreless streak that currently stands at 11.2 innings. The former Youngstown State Penguin has gone 3-0 with a 0.95 ERA (3 ER/28.1 IP) and 37 strikeouts over 20 relief appearances with the 'Riders this season. He is currently tied for 4th in the Texas League with 7 saves. The Ohio native was selected in the 30th round of the 2011 June draft and signed by Roger Coryell.
June, 7, 2013
6/07/13
7:00
AM CT
By
Todd Wills
| ESPNDallas.com
BOSTON -- Travis Demerritte, the Rangers' selection with the 30th pick in Thursday's First-Year Draft, will play somewhere on the infield once he signs.
And the high school infielder out of Winder Barrow (Ga.) High said Thursday night that he will sign with the Rangers and forgo going to the University of South Carolina, though no deal is official yet.
PODCAST
ESPN senior MLB analyst Jim Bowden joins Fitzsimmons & Durrett to share his thoughts on the penalty for PEDs and says it's time for the Rangers to move on from Michael Kirkman.

Listen

"Definitely," Demerritte said. "I love the organization."
Demerritte, 18, will be one to watch because he was selected with the pick the Rangers received for compensation for losing
Josh Hamilton
to free agency.
Demerritte gives the Rangers a power-hitting infield prospect who can three infield positions -- third base, second base and shortstop. Kipp Fagg, the Rangers director of amateur scouting, said Thursday that Demeritte will begin his pro career -- when he signs -- at shortstop.
The Rangers were attracted to him for his potential to hit for power at an infield position, something they lack in the system. And for his bat speed.
Demerritte set a school record with 32 career home runs. He batted .404 as a senior with 12 home runs and 37 RBIs.
"He's got a chance to be a pure hitter and a power hitter," Fagg said. "He's got electric bat speed. From scouting, he was one of the fastest bats I've seen in a while."
Demerritte played second base as a sophomore and shortstop the last two seasons. He's also played third base.
"I have played all of them (3B, 2B and SS)," Demerritte said. "The past two years in high school I played shortstop. I've played shortstop my whole life, so I think I can play that position."
It comes as no surprise that the Rangers plucked a top prospect out of Georgia. They selected high school outfielder Jake Skole in the first round in 2012. They picked high school left-hander Kevin Matthews and University of Georgia outfielder Zach Cone with the 33rd and 37th picks in 2011.
The Rangers also took pitcher
Justin Grimm
, who leads all American League rookies with five wins, in the fifth round in 2010 out of the University of Georgia.
Demerritte said he has developed a very close relationship with Rangers area scout Derrick Tucker. His signing should be a slam dunk.
"They've been interested for a very, very long time," Demerritte said. "They've always been interested. For a second, I was worried that somebody else may have stepped in."
June, 7, 2013
6/07/13
7:00
AM CT
By
Todd Wills
| ESPNDallas.com
BOSTON -- The Rangers covered a lot of ground with their first three picks in Thursday's First-Year Draft, going for a college pitcher, a high school infielder and a prep pitcher.

In the process, they took advantage of a deep draft with pitching and also grabbed a shortstop they've been known to covet for months.

The Rangers went away from the recent trend of taking high school pitchers in the first round, selecting Oral Roberts right-hander Alex Gonzalez with the 23rd pick in the draft. They used the 30th pick, one that received as compensation for losing Josh Hamilton to free agency, on Winder Barrow (Ga.) High shortstop Travis Demeritte.

They finished the first night of the three-day draft by selecting 6-foot-6 right-hander Akeem Bostick from West Florence (S.C.) with their second-round pick.

"We feel very excited about the guys we took," Rangers scouting director Kipp Fagg said. "We got a college pitcher with a special arm, we're really excited about Travis Demeritte, a young middle infielder from Georgia with electric tools -- a bat that we really like -- and Akeem Bostick is a big projectable right-handed pitcher."

Gonzalez is a pitcher the Rangers hope can advance through the system at a good pace. He was a part of talented pitching staff at Oral Roberts, going 9-5 with a 1.83 ERA. He has good fastball movement and throws a hard cutter.

"We view him as a starting pitcher," Rangers director of personnel A.J. Preller said. "You look at his delivery, his arm action and his demeanor on the mound, he's a starter. We feel we took a guy who could find his way into the rotation in Arlington sometime in the future."

Demerrette is a power infielder all the way, one the Rangers have coveted for months out of one of their favorite states to draft, Georgia. He plays three infield positions, but will begin his pro career as a shortstop.

"He's a good enough athlete and a good enough bat to give us versatility," Fagg said.

Bostick, taken in the second round at No. 62, brings intrigue. He's signed to play football and baseball at Georgia Southern. He was 10-0 with a 0.60 ERA as a senior for West Florence.

"He's a 6-foot-6 kid, right-handed pitcher with a very loose arm and very good downhill plane," Fagg said. "He has the makings of a breaking ball. It's a little inconsistent, but he has a chance of having a secondary pitch that could be a weapon."

June, 6, 2013
6/06/13
9:15
PM CT
By
Richard Durrett
| ESPNDallas.com
The Texas Rangers selected Travis Demeritte, a third baseman that many see as a shortstop, from Winder-Barrow High School in Georgia (as we've seen in recent years, the Rangers like players from Georgia) with the 30th pick in the MLB draft.
Demeritte hit .404 with 12 homers and 37 RBIs in 126 plate appearances (89 at-bats). He scored 42 runs and played in 29 games. Various scouting services say he could play third, shortstop or second. He also pitched for his team this past season, going 8-1 with a 0.69 ERA in 50 2/3 innings.
ESPN.com's Keith Law in his final mock draft had the Rangers taking Demeritte with the 23rd pick. Instead, they get him seven picks later. Here's what the ESPN.com's scouting service says about him:
If you like projectable, raw, high school infielders, Demeritte might be the guy for you. He's an athletic kid with loose, quick actions, but is crude as a hitter and won't remain at shortstop in pro ball.

His bat speed is a huge asset, so while he loads his hands way too deep and far out from his body, he can still recover and drive the ball against high school pitching, showing impressive power for his age. He has the arm for the left side of the infield but not the feet or the instincts, and will at least have to move to third base in time.

He could go as high as the end of the first round, although I think that's too rich for a position player from Georgia who's still this raw, seeing him as more of a second-round talent.
June, 6, 2013
6/06/13
8:39
PM CT
By
Richard Durrett
| ESPNDallas.com
The Texas Rangers made their first pick in the 2013 MLB draft just moments ago and took right-handed pitcher Alex Gonzalez 23rd overall. Gonzalez is 6-foot-3 and pitched for Oral Roberts. He was the Southland Conference pitcher of the year in 2013 after leading the league with a 1.76 ERA as a junior. He averaged 10.5 strikeouts per nine innings and opponents hit just .198 against him.
One scout texted me that Gonzalez has an excellent slider/cutter and projects as a starter with four pitches. And another scout said he was not concerned with the perception that Gonzalez might have issues because he faced weaker competition than some other top pitchers. ESPN.com's Keith Law says Gonzalez has the "best cutter in the draft." Here's what ESPN.com's write-up on him says:
He'll sit 91-94 mph with his fastball, stronger than he was in the fall, with solid command and good rhythm to his delivery, using it to set up all of his off-speed weapons, led by a slider-cutter that varies from a true slider at 84-86 to one closer to a hard cutter up to 89-90. He'll flash a changeup as well, but rarely uses it, succeeding more with the fastball/slider/cutter combo.

His delivery is very simple, pushing off his back leg well for power, pronating his elbow very early as part of a short (but not too short) arm stroke. He might not have a huge ceiling due to his moderate build and lack of a huge fastball but could easily develop into a good No. 3 starter or even a No. 2 thanks to his feel for pitching and variety of offerings.
ESPN.com's Jason Churchill adds his thoughts:
The Rangers get a college right-hander that could help them within a year and a half. ... His stuff projects to play well in their ballpark, thanks to a hard cutter, good fastball movement and future plus command.
May, 11, 2010
5/11/10
8:00
AM CT
By
Richard Durrett
| ESPNDallas.com
Someone asked me the other day if
Vladimir Guerrero
was the top offensive free agent signing this offseason. You could certainly make that argument.
[+] Enlarge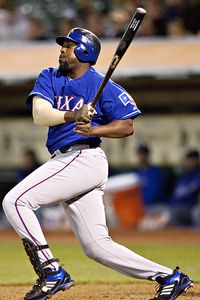 Jason O. Watson/US PresswireVlad Guerrero isn't the only free agent paying big dividends for his new team.
Guerrero is batting .339 with six homers and 26 RBIs. He even has four stolen bases and his body appears to be holding up just fine so far this season. He's making $5.5 million (the contract includes performance bonuses) this season and there's a mutual option (with a $1 million buyout) for 2011. So who else signed offseason deals that look good so far this season? ESPN Stats & Information put together a list. Here goes (all stats through Sunday):
* Arizona's 2B
Kelly Johnson
(one year, $2.35M): 10 HRs, 19 RBIs and a .282 batting average. He hit just eight HRs in 303 at-bats last season.
* Toronto SS
Alex Gonzalez
(one year, $2.75M): He's a defense-first infielder with Toronto who's added 10 HR (he hit eight all of last year) and 27 RBIs.
* Chicago OF
Marlon Byrd
(three years, $15M): The former Ranger has a .347 BA, 6 HRs, 22 RBIs.
*
New York Mets
C
Rod Barajas
(one year, $500K): Another former Ranger, he leads the Mets with nine HRs.
* New York Mets C
Henry Blanco
(one year,$750K): Backup has thrown out all five baserunners this season in limited action.
* Washington C Pudge Rodriguez (two years, $6M): .365 batting average for the catcher that turned down a one-year offer from the Rangers and got a multiyear deal in Washington.
Here are some who have struggled:
* New York Mets'
Jason Bay
(four years, $66M): one HR, 12 RBIs, .248 batting average.
* Seattle's
Chone Figgins
(four years, $36M): He's hitting just .185 for a struggling Mariners lineup.