Texas Rangers:

Alfonso Soriano
July, 22, 2013
7/22/13
7:37
PM CT
By
Todd Wills
| ESPNDallas.com
ARLINGTON, Texas -- The
Texas Rangers
improved their starting rotation Monday by trading for
Chicago Cubs
right-hander
Matt Garza
.
Will a hitter follow?
Rangers general manager Jon Daniels offered an honest assessment of his team's offense in his news conference to discuss Monday's trade for Garza, who is likely to pitch Wednesday night against the
New York Yankees
.
The Rangers led all of Major League Baseball with 808 runs scored last year. They entered Monday's game against the Yankees eighth in the American League in runs, averaging 4.3 runs per game.
"Our offense hasn't been at the level of the last couple of years," Daniels said. "When you lose 70 home runs from last year's club, that's not necessarily a surprise."
Whatever you think about the seasons that
Josh Hamilton
,
Mike Napoli
and
Michael Young
are having for other teams this season -- Napoli with the Red Sox has been the best of the three -- the Rangers miss the production those players provided the past three seasons. Or in Napoli's case two.
PODCAST
Rangers GM Jon Daniels joins Fitzimmons and Durrett to discuss the Matt Garza trade and if the Rangers are done shopping before the deadline.

Listen

Because of that, the Rangers are still in the market for a hitter and will explore options that could include
Chicago White Sox
outfielder
Alex Rios
or, who knows, Chicago Cubs outfielder
Alfonso Soriano
, among other names rumored to be available.
Daniels remains hopeful that some of his own players, such as shortstop
Elvis Andrus
and left fielder
David Murphy
, snap out of what have been season-long struggles. Both players have come out of the break looking refreshed and more relaxed at the plate.
"I still think that internally we've got some real improvements from guys that have had different reasons why they've struggled and we believe in them," Daniels said. "If there is another addition, and I don't know if there will be, but it will probably be more on the offensive side with a bat to help carry the load."
July, 18, 2013
7/18/13
5:38
PM CT
By
Todd Wills
| ESPNDallas.com
ARLINGTON, Texas -- The
Texas Rangers
have been reported to be the top contender for
Chicago Cubs
starting pitcher
Matt Garza
, but general manager Jon Daniels had nothing to say on the subject during a press conference Thursday with the media.
PODCAST
Ron Washington joins ESPN Dallas GameDay to discuss Manny Ramirez and the Rangers at the All-Star break.

Listen

He said the club is active in trade talks and because the Rangers are in contention in the American League West and for a wild card spot, they are initiating most of the discussion.
"We have expectations and goals and we would like to reward the club and help these guys, the way they've played," Daniels said.
The Rangers could use a starting pitcher and a right-handed bat, which is why players such as Garza and his teammate with the Cubs, former Texas All-Star
Alfonso Soriano
, and Chicago White outfielder
Alex Rios
have been mentioned as possible acquisitions for the Rangers.
Daniels said there's not one addition the Rangers have placed a priority on between a pitcher or position player.
"You could go both ways on it and we're having active conversations on both fronts," Daniels said. "I don't know sitting here right now exactly where it's going to head. But we'd like to upgrade the club if we can."
The Rangers are not ready to give right-handed hitter
Manny Ramirez
a chance yet. Ramirez will remain with Triple-A Round Rock while the club continues to evaluate what the 41-year old designated hitter has left. Ramirez is batting .300 and has hit three home runs in eight games. He was expected to be in the Round Rock lineup Thursday night.
Ramirez doesn't have an out in his minor league deal with the Rangers, so they can take their time. Daniels did say he is getting good reports on Ramirez off the field.
"From a clubhouse perspective and as a teammate, it's been very positive," Daniels said. "We knew when we signed him that we were going to give him a few weeks minimum to sit on that and make an evaluation and see where he is and if there's a spot here and whether he can help us. Those are still things we are evaluating."
Daniels also said the organization isn't in panic mode over what could happen with
Nelson Cruz
, whose name has been linked to a possible suspension because of his involvement with the Miami Biogenesis Clinic.
MLBPA Union Head Michael Weiner said during a news conference this week at the All-Star Game that any suspensions resulting from the Biogenesis investigation likely won't be served until 2014, if the discipline is challenged before an arbitrator. He said he expects MLB to present its findings to the union "within the next month."
"Until there is something official that we can respond to, there's really not much we can say," Daniels said.
July, 10, 2013
7/10/13
7:04
PM CT
By
Todd Wills
| ESPNDallas.com
Rangers manager Ron Washington said the club has a plan in place should right fielder
Nelson Cruz
be suspended after the All-Star break.
PODCAST
Rangers GM Jon Daniels dishes on Yu Darvish's injury, whether he is concerned about a potential suspension of Nelson Cruz, his expectations for Manny Ramirez and more.

Listen

ESPN's "Outside The Lines" reported that, according to several sources, commissioner Bud Selig's office is expected to suspend as many as 20 players sometime after next week's All-Star break for their roles in the Miami Biogenesis case, which Cruz's name has been tied to for several months.
So how exactly will the Rangers respond? And does that response include counting on
Manny Ramirez
, who started his fourth consecutive game on Thursday night for Triple-A Round Rock?
At some point, Ramirez may be part of the solution, but it's still too early to tell. Rangers general manager Jon Daniels said Tuesday that the club doesn't have any set expectations for Manny. "We didn't sign him expecting him to be a knight in shining armor," Daniels said.
The Rangers have to be pleased with Ramirez's process so far. He was 3-for-10 with a home run and three RBIs in his first three games to start his comeback attempt with Triple-A Round Rock. He's been showing up early at the ballpark -- two hours before most of his teammates -- to work on his swing in the cages.
Ramirez is relaxed and does appear to be a changed man.
Still, the 41-year-old Ramirez hasn't played at the big league level in a couple of years, as Daniels reminded reporters on Tuesday. And there's almost no chance he will play in the outfield for the Rangers. If he makes it, he'll be the designated hitter.
Can Ramirez come close to replacing Cruz's 22 home runs and 68 RBIs?
That would be asking way too much, even though Ramirez is 14th all-time in home runs (555) and 18th all-time in RBIs (1,831).
Again, he is 41.
Ramirez may be able to pick up some of the slack, and with the emergence of
Leonys Martin
-- who entered Wednesday's game in Baltimore batting .290 -- he could be the one to replace Cruz in right field, with an eventual platoon of
Craig Gentry
and
Engel Beltre
in center field.
There are also names on the trade market such as the
Chicago Cubs
'
Alfonso Soriano
and the White Sox's
Alex Rios
, but Daniels said he didn't see any middle-of-the-order type of hitters available on the trade market.
Maybe Ramirez can fill that role after the All-Star break, if Cruz goes down.
But that's still a big maybe.
May, 6, 2013
5/06/13
1:00
PM CT
By
Todd Wills
| ESPNDallas.com
ARLINGTON, Texas -- This should be interesting. The Rangers are already in Chicago, where they will begin a 10-day, nine-game, four-city road trip with a makeup game Monday against the Cubs. As Rangers radio play-by-play voice Eric Nadel duly noted, they'll play in four different cities in eight days.
PODCAST
Jon Daniels joins Fitzsimmons & Durrett to discuss the Rangers' sweep of the Red Sox, if Yu Darvish has been even better than expected and what moves we could see the club make before the trade deadline.

Listen

It's Tuesday and Wednesday against old American League foe Milwaukee, a day off Thursday in Houston, then three games against their new American League rivals, the Astros, over the weekend. Then it's next Monday-Wednesday at the Rangers' closest pursuer in the AL West, the
Oakland Athletics
. The last time the Rangers were there they lost three straight games to lose the division title.
Here's how the first week of the road trip shapes up:
Wait 'til next year:
The Cubs are slumping, losers of four straight after a three-game sweep at the hands of Cincinnati. The Cubs can't hold a lead and they can't win a close game. At 11-20, the Cubs have lost nine games in which they led at some point. After Sunday's 7-4 loss to the Reds, the Cubs have seen 26 of their 31 games decided by three runs or less. They are 9-17 in those games. The Cubs never led Sunday, but were within two runs going into the eighth inning.
Russell raises value:
Cubs left-handed reliever
James Russell
, the son of Jeff Russell -- No. 2 on the Rangers' all-time saves and games pitched in list -- is off to a perfect start. James Russell, a product of Colleyville Heritage, Navarro College and the Texas Longhorns, has tossed 12 1/3 scoreless innings to begin the season. He had 11 scoreless innings in April, the first Cubs reliever with at least 10 innings pitched to go the season's first month without allowing a run since 1969. With the Cubs struggling, the 27-year Russell's trade value should be high on or before the July 31 trade deadline.
Soriano moves up:
Former Ranger
Alfonso Soriano
, playing the outfield for the Cubs, belted two home runs Saturday, giving him 375 for his career, making him the 70th player in major league history to reach that mark. His next home run will tie him with Hall of Famer Carlton Fisk for 69th on the all-time list. Soriano hit 64 homers in two seasons with the Rangers in 2004-05.
Brewers slumping, too:
The Rangers will move from a Cubs team with a four-game losing streak to a Brewers team that has lost five straight games. The Brewers aren't getting any pitching. Milwaukee has allowed at least six runs in each game during the losing streak. Tuesday's starter Willy Peralta comes off of his worst start of the season, allowing six runs and 11 hits in 4 2/3 innings against the Cardinals. The Brewers did get third baseman
Aramis Ramirez
back off the 15-day disabled list this weekend. He is 2-for-6 since his return from a sprained left knee.
Then there's the Astros:
Oh, the Astros. Does anyone ever wonder what would have happened had the Rangers ended up with Jim Crane as their owner instead of Bob Simpson and Ray Davis? Try not to imagine it. The Astros are 8-24 and are on pace to lose a major league record 122 games. Somewhere the 1962 Mets are breaking out the champagne. The Astros have lost 10 of their last 11 games, getting outscored 26-2 on Saturday and Sunday by Detroit. Tigers ace
Justin Verlander
had a no-hitter in the seventh inning.
Yu Darvish
, who pitches Saturday night, was an out away from a perfect game against the Astros on April 2. Fortunately because of Crane's Comcast debacle, no one in Houston can see the games. Maybe he planned it this way. Minute Maid Park should be packed with Rangers fans this weekend.
April, 18, 2013
4/18/13
5:49
PM CT
By
Sahadev Sharma | Special to ESPNDallas.com
CHICAGO --
Alexi Ogando
was able to overcome his struggles with fastball command by leaning on his other pitches in his first three starts of the season. However, in Thursday's 6-2 loss to the
Chicago Cubs
, nothing seemed to be working for the Rangers righty.
"He was hanging his breaking ball, he was getting his fastball up and they didn't miss it," manager Ron Washington said. "They came out swinging today. Whenever he made a mistake with the breaking ball they hit it, and whenever he made a mistake with the fastball it left the ballpark."
The Cubs pounded out 13 hits on the day and hit two home runs, both off Ogando. Ogando said he was consistently missing the zone, so he wanted to throw some strikes, but he left some pitches up and the Cubs bats feasted.
"By far today's outing was the worst of all," Ogando said. "Since (my fastball command) was off and I wanted to throw strikes, they took advantage of the pitches that stayed up."
Ogando added that on top of his control issues, the wet mound – it had been raining for over 24 hours prior to first pitch – caused him to slip a couple times and made it difficult to pitch. Prior to giving up back-to-back home runs to
Anthony Rizzo
and
Alfonso Soriano
, pitching coach Mike Maddux made a visit and the grounds crew did some mound maintenance.
Contrary to what his pitcher said, Washington was quick to shoot down any talk of problems with the mound.
"I didn't hear anything about the mound," Washington said. "It didn't bother (Cubs starter
Carlos Villanueva
). They were doing maintenance all day. Not gonna use that as an excuse; he didn't get it done."
Washington said Ogando's fastball has not been where it should be all season, but was confident he'd find it in short order.
April, 18, 2013
4/18/13
4:04
PM CT
By
Sahadev Sharma | Special to ESPNDallas.com
CHICAGO -- The
Texas Rangers
(9-6) fell 6-2 to the
Chicago Cubs
(5-9) to split what ended up being a two-game series after Wednesday's rainout. The Cubs got to
Alexi Ogando
early, with
Anthony Rizzo
and
Alfonso Soriano
delivering back-to-back home runs in a four-run third inning. Cubs starter
Carlos Villanueva
was strong for his third consecutive start, holding the Rangers to only two runs.
Yu Darvish
is scheduled to get the start Friday for the Rangers when they return home to open up a three-game set with the
Seattle Mariners
.


Inefficient Ogando:
Ogando has struggled with high pitch counts early on in the season and Thursday was no exception. Ogando was able to work through his issues with minimal issues in his previous outings, but he couldn't find the same magic against the Cubs. He walked Cubs shortstop
Starlin Castro
in his first two plate on eight straight pitches. Castro came into the game with no walks in 58 plate appearances. The real damage was done on back-to back-home runs by Rizzo and Soriano in a four-run third. Ogando gave up multiple runs in an outing for the first time this season.
Bats struggle:
Entering the day, the Rangers were 12th in the AL in runs scored, and they did little to improve their standing. Outside of a combined 4-for-7 from
Nelson Cruz
and
Ian Kinsler
(each had a single and a solo home run), the offense went a 0-for-21 with a walk against Cubs pitching.
Up next:
The Rangers head back to Arlington for a three-game home stand against the Seattle Mariners. Yu Darvish heads to the mound on six days rest to face
Joe Saunders
at 7:05 p.m. Friday night on TXA-21 and ESPN Dallas 103.3 FM.
March, 19, 2013
3/19/13
6:04
PM CT
By
Ron Matejko
| ESPNDallas.com
MESA, Ariz. -- The
Texas Rangers
(12-12-2) saw their two-game winning streak come to an end after losing 5-4 to the
Chicago Cubs
(12-14) on Tuesday at HoHoKam Stadium. Starter
Alexi Ogando
allowed four runs (three earned) on five hits and two walks while striking out three in five innings of work. He gave up two home runs, including a two-run shot by
Alfonso Soriano
in the Cubs' three-run first inning.


What it means:
Texas dropped back to .500 and missed a chance to equal a spring high with its third consecutive victory.
Long memories:
It doesn't matter that Rangers catcher
A.J. Pierzynski
is no longer wearing the uniform of the Cubs' cross-town rival
Chicago White Sox
. Cubs fans at HoHoKam Stadium still greeted Pierzynski, who played eight seasons in Chicago, with a round of boos when he walked toward the batter's box for his first at-bat. Pierzynski responding with an RBI double to get the last laugh. He caught heat from the Northsiders in the second inning after committing an error, which they let him know about.
PODCAST
Lance Berkman joins Fitzsimmons & Durrett live from Surprise, Ariz., to discuss spring training and how he feels better than he expected to heading into the season.

Listen

Tons of runs:
The Rangers scored two runs in the top of the first inning to jump out to an early lead. The Cubs answered by putting up three of their own in the bottom of the frame, including a monster two-run shot by Soriano that cleared the grassy area in left field and landed in the parking lot.
Holland's return:
LHP
Derek Holland
allowed five runs on nine hits with two walks and three strikeouts in 4 2/3 innings against Tucson in a minor-league start for Round Rock (AAA).
Nathan's numbers:
Closer
Joe Nathan
pitched two scoreless innings in a game with High-A Myrtle Beach and allowed one hit and no walks while striking out four. He threw 35 pitches, 22 for strikes.
Model citizen:
Outfielder
Leonys Martin
entered the game in the sixth inning and played center field. Martin missed Monday's game to return to Miami, where he was granted his U.S. citizenship.
Impressive newcomer:
RHP reliever
Coty Woods
pitched a scoreless seventh inning, building off what has been an impressive spring for the Rule-5 pickup. Woods has not been overwhelmed despite attending his first major league camp and has allowed two runs and nine hits with nine strikeouts in 9 1/3 innings. The 25-year old has been one of the bright spots among right-handers out of the bullpen.
What's next?
The Rangers are off Wednesday and return to action Thursday night to host the
Los Angeles Angels
at 8:05 p.m. CT at Surprise Stadium. The game can be heard live on ESPN 103.3 FM and seen on TXA21. RHP
Derek Lowe
(1-0, 0.00) is the scheduled starter for Texas. Los Angeles is yet to name its starter.
March, 18, 2012
3/18/12
5:52
PM CT
LAS VEGAS --
Matt Harrison
and
Derek Holland
did exactly what they should've done to the overmatched split squad roster the
Chicago Cubs
brought to Las Vegas.
They dominated.
Harrison, just like Holland on Satuday, suffocated the Cubs' offense by attacking the strike zone and getting ahead in the counts against a lineup that featured regulars
Alfonso Soriano
and
Bryan LaHair
and a couple of backups. It's the oldest and most reliable pitching formula in baseball.
In five innings, Harrison allowed one hit and one run with a walk and five strikeouts in a 3-2 loss to the Cubs. In his outing, Holland allowed no runs on a hit with no walks and two strikeouts.
"So far, so good," Harrison said. "Hopefully, I can keep doing the same thing: pounding the strike zone and making quality pitches. I want to make them swing the bats because good stuff happens when they do that."
Harrison struck out 126 batters in 185 innings last year. He's not trying to increase his strikeouts, but if he can make his changeup a consistent weapon, the numbers will naturally rise. He's been working on using his fingertips to slow down the ball when he releases it instead of slowing down his arm speed down.
At least two of his strikeouts occurred on changeups.
"I've always thought that was his second-best pitch," Ron Washington said. "He worked on it the second half of last season, and he came into spring training, and he's continued to work on it and it's gotten better."
January, 5, 2011
1/05/11
8:00
PM CT
By
Jeff Caplan
| ESPNDallas.com
DALLAS --
Texas Rangers
general managing partner and CEO Chuck Greenberg was all smiles Wednesday evening as he dished on the day's free-agent signing of third baseman
Adrian Beltre
. Greenberg also was quick to tip his cap to Texas Rangers captain
Michael Young
, whose willingness to abandon third for the role of designated hitter and "super" utility player made the signing easy.
"He came to us and was adamant about how strongly he felt about staying with the Rangers and being a part of our collective success and embracing whatever role he could in that journey," Greenberg said. "I'm sure if he had his druthers he would be at third base every day, but you can't say enough about his professionalism and his willingness to put the organization first. Because at the end of the day we all have a singular goal and commitment, and that's to win. The fact that he felt so strongly about being a part of that says a great deal about Michael and a great deal about his belief about the path that we're on."
Greenberg is participating on a five-member panel that includes Eddie Gossage, Bill Lively and Mark Cuban as part of the National Sports Marketing Network's North Texas Chapter's inaugural event. The area's sports leaders gathered with area mayors and sports marketing professional to discuss the state of sports business in D/FW in terms of the economics and growth of the region. Greenberg took time to talk baseball prior to the panel discussion.
Young moved from second base to shortstop earlier in his career to make way for
Alfonso Soriano
, who refused to play the outfield. Young then transferred from shortstop to third base to make room for phenom
Elvis Andrus
. And now Young is moving again. But this time he's been asked to give up playing the field on an everyday basis.
He's been given assurances that he'll see action at all the infield positions, which could include first base, and that he'll get his typical number of at-bats during the season.
The question really becomes if Rangers manager Ron Washington will truly be able to keep Young active enough in the field to keep him from becoming bored as a designated hitter when Young believes he can still contribute much more.
"The reality is it gives Wash so many different options and ways to approach the lineup," Greenberg said. "One hundred sixty-two games is a long season and you pencil everything in emerging from spring training and there are always surprises thrown your way. Inevitably there will be things that you don't hope for and you don't count on. This gives us so many different ways to deal with it. There will be plenty of at-bats and plenty of opportunities in the field for everybody. That's just the nature of the game."
May, 23, 2010
5/23/10
6:07
PM CT
By
Jeff Caplan
| ESPNDallas.com
ARLINGTON, Texas -- The Rangers gave
Chris Davis
48 at-bats before shipping him to the minors with a .188 average. His replacement,
Justin Smoak
, after a 1-for-21 homestand, is batting .165 in 97 big-league plate appearances
How much longer can Texas stand the pain of getting no offensive production from their first baseman?
"I think you'll find that out when we know," manager Ron Washington said after Sunday's 5-4 loss to the
Chicago Cubs
. "Right now, we're with Smoak."
The 23-year-old had been on a modest upswing a couple of weeks ago, taking his average from .067 to .197. But, in his last 15 games, Smoak is 6-for-47. He was 0-for-10 in the Cubs series and 0-for-4 Sunday when he struck out in his final at-bat in the eighth inning and he didn't make good contact in any of his first three at-bats.
As the Rangers begin an eight-game road trip in Kansas City on Tuesday, Smoak said he's simply trying to focus while trying to allow his mind not to grind on his slump.
"When things aren't going good, you always try to think about something you can do better, something you can do to get right," Smoak said. "Right now, it's just been one of those things where I'm hitting the ball, but I'm not squaring anything up. I've said it a million times, but I've just got to do it, is just slow the game down. I've had a hard time with just trying to do too much."
Smoak is the No. 7 hitter in the bottom third of the lineup that is struggling mightily. On Sunday, nine-hole hitter
Julio Borbon
offered up the only two hits among 11 at-bats among he, Smoak and catcher
Matt Treanor
, who was 0-for-3 with a walk. Smoak, who has four home runs and 11 RBIs on the season, flied out to left with one on and no outs in the second inning, bounced into a fielder's choice in the same situation in the fourth, popped out to shortstop in the sixth and struck out in the eighth with Texas needing a run to tie.
"I don't think it's that big of a deal, he's a rookie," said
Michael Young
, who, conversely, is blistering at the plate with a .483 homestand. "I think what he's finding out right now is the big leagues is really hard. I went through it, everyone went through it. It's not easy up here. The guys who are the most mentally tough are the ones who are going to survive and ultimately play really well. We have a lot of confidence in the world that he's going to be one of those guys. I'm sure it's a frustrating part for him, but he knows his teammates are here and, fortunately, we have a strong lineup where he doesn't feel like he has to do all of the work."
That's of little consolation to Smoak, who isn't interested in swapping spots with Davis, who was hitting .327 at Triple-A Oklahoma City through Saturday. Smoak, who has shown patience at the plate and has drawn 17 walks, said after seeing a steady diet of fastballs when he first arrived, he's having trouble hitting offspeed pitches. He refused to use it as an excuse for his sinking average.
"Nothing's different. In college and the minor leagues I saw a lot of offspeed pitches and early on when I first got here I was getting a lot of heaters," Smoak said. "I think I've proven that I can hit a fastball, now it's just going back and getting the offspeed pitches. I've got to find an approach where I see the ball better."
That begins Tuesday at Kansas City.
"If I could do anything to help this team win," Smoak said, "that's what I should be doing."
**
C.J. Wilson
got ahead 0-2 on three batters in the Cubs' four-run first inning and gave up hits to all of them. The worst in Wilson's mind was the two-run homer
Alfonso Soriano
sent into the left-field bleachers to give the Cubs a 4-0 lead after five batters.
In the sixth inning, one which Wilson would not complete, nine-hole batter
Koyie Hill
hit Wilson's first pitch into right field for what turned out to be the deciding run.
"He fisted a ball to right field. It wasn't like he hit it over the fence. It wasn't like the Soriano ball. That's the one I want back," Wilson said. "One run on a single with two outs, the runners going on contact, that's going to happen. Obviously, the walk to Soriano started the whole thing, but it wasn't like really anything else selection-wise or anything like that I would change. The only pitch I would take back is the Soriano pitch, but that's a lesson learned for the rest of the season."
**Reliever
Frank Francisco
is on a roll. He extended his scoreless innings streak to eight with one inning of perfect relief. After striking out Alfonso Soriano,
Xavier Nady
and
Jeff Baker
in order -- all swinging -- in the eighth, Francisco recorded 15 of 22 outs by way of strikeout during the seven-game homestand.
"I just had two bad games at the beginning [of the season] and just like that I'm the same guy," said Francisco, referring to a couple of blown saves early on that ousted him from his closer spot.
Francisco said he was having placement issues with his fastball early in the season and that his other pitches weren't breaking coming out of spring training. He said he feels like everything is coming together as he seems to be entrenched as a set-up man for
Neftali Feliz
.
"I just want opportunity to go out there and pitch and whatever happens, happens," Francisco said. "I just want to go in any situation. That's the only way I can help my team to win."
**In the bottom of the eighth inning, Washington pinch-hit left-handed hitter
David Murphy
for lefty Borbon to face Cubs southpaw
Sean Marshall
with Treanor on first and two outs. Borbon had two singles in the game, but with the Rangers trailing, 5-4, and down to four outs, Washington said he was looking for the long ball.
"I was looking for a bomb," Washington said. "Of all the guys I have, I felt like he [Murphy] was the one that could catch something, and if he didn't catch it he could do what he did, get the count close and maybe draw a walk, get to the top of the lineup."
Washington said he preferred Murphy to bat against the lefty rather than pinch-hit with right-handed
Max Ramirez
, which Washington felt would have prompted Cubs manager Lou Piniella to go to right-handed closer
Carlos Marmol
.
Murphy, however, struck out swinging to end the eighth inning.
That Washington had to go the lefty Murphy against a lefty shows the depth issue the Rangers face.
**Washington argued the safe-at-home call made by home plate umpire Jerry Meals in the sixth inning. Nady barely beat the throw from Rangers right fielder
Nelson Cruz
, scoring the Cubs' final run on Hill's single.
"He got his hand in there," Washington said Meals told him.
It did appear on replay that Nady got his hand across the plate before Treanor could get his glove down.
**Left-hander
Matt Harrison
(shoulder tendinitis) will head to Double-A Frisco and pitch Monday and Wednesday. If he's ready, he'll join the Rangers on the road Friday as part of the bullpen, Washington said.
May, 23, 2010
5/23/10
4:13
PM CT
By
Jeff Caplan
| ESPNDallas.com
ARLINGTON, Texas -- It's back to the drawing board for
C.J. Wilson
.
Vaulted to the perch of staff ace after a team-record seven consecutive "quality starts" to open the season, Wilson on Sunday suffered through his second consecutive short outing in a 5-4 loss to the
Chicago Cubs
. The Rangers ended their seven-game homestand 5-2, but after starting it with five straight wins, they know they let a big opportunity go by with an eight-game road trip starting Tuesday at Kansas City.
[+] Enlarge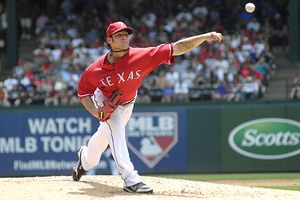 AP Photo/Ralph LauerC.J. Wilson turned in his second-shortest start of the season against the Cubs on Sunday.
Wilson, tabbed with the loss to fall to 3-2, got into trouble immediately, giving up a leadoff hit to
Ryan Theriot
, a bunt hit to
Starlin Castro
and an RBI single to Derrick Lee. After
Marlon Byrd
got the second run home on a fielder's choice, former Ranger
Alfonso Soriano
roped Wilson's 0-2 pitch -- he fouled off the first three pitches -- into the left-field bleachers for a 4-0 lead after five batters.
Wilson settled down after Soriano's ninth homer of the season, retiring 14 of the next 17 batters. He got into hot water again when he allowed the first two batters to reach base in the top of the sixth with the Rangers trailing 4-3. He nearly got out of the jam, but with two outs, catcher and nine-hole hitter
Koyie Hill
sent a liner to right to score the fifth run and that was it for Wilson.
After going 4 1/3 innings in his previous start -- a no-decision in the 8-7 win over the Angels -- Wilson lasted 5 2/3 innings Sunday, giving up five earned runs on seven hits with three walks and five strikeouts. Soriano's homer was the third off Wilson in a span of 2 1/3 innings going back to his last start. He entered that game having not allowed a long ball in 87 2/3 innings.
Wilson, who threw 108 pitches -- 66 for strikes -- has allowed 12 runs on 14 hits in 10 innings spanning his last two starts.
**The Rangers sent the top of the order to the plate in the bottom of the ninth inning against Cubs closer
Carlos Marmol
, who entered with a 1.66 ERA.
Elvis Andrus
and
Michael Young
both struck out before
Ian Kinsler
worked a walk to bring up
Vladimir Guerrero
, who was batting a team-leading .341 when he came to the plate.
Guerrero took ball one, fouled back the next pitch and took a 93 mph strike for a 1-2 count. Kinsler stole second on ball two. Guerrero fouled off the next two pitches to keep the count at 2-2 and then was caught looking at 93 mph pitch that caught the outside corner to end the game.
**The announced crowd for Sunday's game was 37,777, bringing the series total to 122,900, the largest three-game attendance at Rangers Ballpark since the
New York Yankees
came to town on July 24-26, 2006, and drew 128,910.
**Young is on fire at the plate. With a two-run homer in the third and an RBI double in the seventh, Young accounted for three of the Rangers' four runs. He extended his hitting streak to 10 games and wrapped up the seven-game homestand batting .483 (14-for-29). After a slow start, Young has pushed his season batting average to .317.
**
Josh Hamilton
's struggles in the daylight continued Sunday with a 1-for-4 outing, including a line-drive out hit right at second baseman Ryan Theriot with the bases loaded and the Rangers down a run in the bottom of the seventh. Hamilton grounded out to second to end the first inning with runners at first and second. He singled to center with out in the sixth and was left stranded.
Hamilton had a good homestand at the plate, going 10-for-24, but he had just two RBIs over the seven games despite four doubles and a home run.
**First baseman
Justin Smoak
is in a serious funk. He was hitless in four plate appearances Sunday and never really hit the ball hard. He weakly grounded out to first in the fourth inning, popped out to shortstop in the sixth and struck out looking in the eighth with one out and the Rangers down a run.
Before Sunday's game, manager Ron Washington expressed confidence in the youngster playing in his first extended big-league action since the Rangers sent light-hitting
Chris Davis
to the minors. But Smoak is now batting .165 after a 1-for-21 homestand.
**Guerrero didn't get the chance to tie or give the Rangers a lead when he came to the plate in the seventh inning with runners on second and third and two out. He was intentionally walked to bring up left-handed hitting Hamilton. Cubs manager Lou Piniella countered with southpaw
Sean Marshall
, who got Hamilton to line out to second.
**The bottom third of the Rangers' batting order went 2-for-11 with a walk.
Julio Borbon
picked up both hits, including an RBI in the third inning. However, the left-handed hitting Borbon was lifted for lefty pinch-hitter
David Murphy
in the eighth inning with a runner on first and two outs to go against Marshall. Borbon doesn't hit lefties well, but Murphy struck out swinging.
**Reliever
Frank Francisco
exntended his scoreless streak to eight innings after striking out the side in the eighth inning. Opponents have gone 4-for-28 against him during the stretch.
** Washington went to closer
Neftali Feliz
in the top of the ninth even though the Rangers trailed by a run. Feliz last worked on Friday night when he picked up his 12th save of the season. The Rangers have an off-day on Monday, so Washington likely didn't want his young closer, who retired the side in order, to be off the mound for three consecutive days.
May, 21, 2010
5/21/10
9:50
PM CT
ARLINGTON --The Rangers earned their major-league leading 18th home victory with a 2-1 win over the Cubs on Friday night. Texas is now 10-2 at home in one-run games. Pitching was the story as right hander
Colby Lewis
earned his fourth win of the season with a strong effort. Also, the Rangers have won five straight since getting swept by Toronto last weekend. Here are some highlights:
*
Josh Hamilton
has been pretty good with his bat this season. Well when it comes to swinging for the fences. But on Friday night he laid down a bunt in the fourth inning as part of the Rangers two-run inning.
"We've been talking about it for awhile," Hamilton said. "If the situation arises, if I have an opportunity, they're not expecting it, so, that's in my favor. I've been practicing a little bit, its nothing I do everyday but we talk about if the situation calls for it, you know what be a team player, get it done."
It all started when
Ian Kinsler
sent a bouncer to third that was scooped up by Mike Fontenot. The throw to first was behind Kinsler, who then ran to second. Cubs second baseman
Ryan Theriot
grabbed the loose ball, and throwing off-balanced, sent his throw low, and it skipped past shortstop
Starlin Castro
and into left field.
Kinsler reached third on an infield hit on two errors.
"Running from first-to-second I thought I was going to be pushing it a little bit," Kinsler said. "The ball kinda bounced off the wall and the second baseman did a good job of backing up right there. He was kinda in position and fortunately he threw it into left field and I was able to move to third."
He scored on
Vladimir Guerrero
's double to left. Hamilton then moved Guerrero over with a bunt. It was Hamilton's first sacrifice in the majors and third as a professional -- minors and majors included.
Nelson Cruz
sent Guerrero home with a double to right-center to give the Rangers a 2-1 lead.
*Before the game, Ron Washington talked about needing his starters to go as many innings as possible to help the bullpen. Colby Lewis went six innings, allowing one run on five hits. He struck out four and walked three. He threw 109 ptiches, 70 for strikes. Lewis was the loser in his last start, 5-2 defeat to Toronto on Sunday. Lewis lasted 5 2/3 innings and gave up five earned runs. He walked four and struck out five.
"I felt good," Lewis said. "After six, I told [pitching coach] Mike [Maddux] with some off days coming up I felt like I could have gone back out . Yeah, you definitely think about how many pitches you throw early and you want to get through at least six."
*The lower part of the order continues to struggle. The bottom three went 0-10 with two strikeouts. David Murphy got the start over Julio Borbon and went 0-4, failing to get the ball out of the infield. Justin Smoak, who sat Thursday night, returned to the lineup and went 0-3. Catcher Max Ramirez also went 0-3. But he was in for Matt Treanor, who got a night off. Treanor did come in the ninth to catch closer Neftali Feliz.
*The Cubs' last chance at scoring any more runs came in the eighth inning against setup man
Frank Francisco
, who got the first two batters he faced out,
Alfonso Soriano
then singled over the glove of
Michael Young
. Another former Ranger,
Marlon Byrd
, followed with a singled under the glove of Young. Both runners moved over on a wild pitch.
But Mike Fotenot struck out on a pitch on the inside part of the plate to end the inning.
Francisco threw a fastball that started inside then moved back to the center of the plate.
"Yeah, I don't think he had a chance," Francisco said of Fotenot. "I really trust my stuff."
April, 11, 2010
4/11/10
6:33
PM CT
By
Jeff Caplan
| ESPNDallas.com
Joaquin Arias
in all likelihood wouldn't be wearing a Rangers uniform if not for the injury to
Rangers
second baseman
Ian Kinsler
.
Is Arias ever taking advantage of his opportunity.
The 25-year-old now in his seventh season with the Rangers' organization is a base hit waiting to happen. He entered Sunday's game against Seattle with the second-highest batting average on the club at .455. He beefed it up to .500 after he singled in each of his first three at-bats and scored twice, giving him a three-hit day in back-to-back games.
In the last three games he's 8-for-11 at the plate. Even his inning-ending double play in the sixth was scorched. Arias' bat has forced manager Ron Washington to keep him in the lineup.
"When you're swinging the bat the way he's swinging the bat and getting on the bases, you've got to ride the hot hand," Washington said. "I'll get [Andres] Blanco in the game in Cleveland, but the way Jaoquin was swinging the bat I couldn't take him out of the lineup."
Texas begins a three-game series over four days tonight at
Cleveland
.
The Rangers had so little hope for Arias, primarily a shortstop who had surgery on his throwing shoulder in 2007 and has never seemed to regain the same power in his right arm, that they went out and made a trade with the Cubs for
Andres Blanco
in late March. Blanco is 0-fer in five plate appearances so far this season.
But, Arias, the unknown third quantity in the Alex Rodriguez-for-Alfonso Soriano trade with the Yankees in 2004, has earned the right to keep playing until Kinsler is ready to return from a sprained ankle. At that point, Texas general manager Jon Daniels will have a decision to make.
"I'm just trying to do my job. I don't know what is going to happen when [Kinsler] comes back," Arias said. "I just have to do my job and help the team. That is all I can do."