Texas Rangers:

Allen Craig
October, 29, 2011
10/29/11
12:42
AM CT
By
Jeff Caplan
| ESPNDallas.com
ST. LOUIS -- So much of this postseason for
Texas Rangers
right-fielder
Nelson Cruz
was either Boomstick or bust.
After Friday's 6-2 loss in Game 7 of the World Series, Cruz stood at his locker answering questions, trying hard not to reveal his disappointment, but his welling eyes made it difficult to hide.
"It's hard. We still have to be positive about this," Cruz said. "We got here in back-to-back years and it's hard to be here. In the bottom of my heart I know we are champions, the way we play, the way we take of each other, we never give up. To be able to be so close, one strike away to be champions, now we are on the other side, it is tough."
Cruz produced a playoff hitting barrage for the ages, crushing a record-tying eight home runs for a single postseason. It looked as though he would break that tie with
Barry Bonds
(2002) and
Carlos Beltran
(2004) in the sixth inning Friday night. With the Rangers trailing 5-2 and desperate for offense against rolling Cardinals starter
Chris Carpenter
, Cruz launched a towering shot to deep left.
It was so high it looked like it had no choice but to go out. Left-fielder
Allen Craig
drifted back until he ran out of warning track and made a leaping catch with his glove over the wall to bring it back in and rob the Rangers of any momentum.
The Game 7 loss only reinforced how close the Rangers were the previous night to winning it all. And, Cruz said he will have a tough time erasing the memory of the two-out, ninth-inning rocket
David Freese
sent his way, but out of his reach.
Cruz was scrutinized after the 11-inning Game 6 loss for his awkward approach to the tailing liner that crashed off the wall and scored two runs to send the game into extra innings.
"The play in right, I don't care who you are, was a tough play,"
Josh Hamilton
said. "It's a little different if the ball was hit high and coming down, but it was a line drive off the wall. I'm surprised that Nellie even got back there close enough to attempt to catch it."
Cruz said in the end, the homers he hit will fade, but the play he didn't make will be difficult to erase.
"Definitely, maybe the one play is going to be there, it's going to be tough," Cruz said. "It's not like last year when we got blown out by San Francisco. We came farther this year and closer to becoming a champion. I cannot think about it."
Boomstick or bust. Ten of Cruz's 14 postseason hits went for extra-base hits. Six of his eight homers came in a monstrous American League Championship Series that earned him MVP honors. For the entire postseason, though, he hit just .226 with 14 strikeouts. In the World Series he was 5-for-25 (.200) with two homers, one in Game 6 after
Adrian Beltre
belted one for a 6-4 lead, and three RBIs.
"No, it's nothing," Cruz said of his home runs. "You want to be a champion and whatever I did was not enough."
October, 29, 2011
10/29/11
12:38
AM CT
By
Richard Durrett
| ESPNDallas.com
ST. LOUIS -- Texas Rangers manager Ron Washington faced an interesting decision in the fourth inning of Game 7. With the Rangers down 3-2, reliever
Scott Feldman
walked
Allen Craig
and hit
Albert Pujols
on an 0-2 pitch.
After
Lance Berkman
grounded to first for the second out (and the runners moved up),
David Freese
came to the plate. The eventual World Series MVP had already done ridiculous damage in the Fall Classic and Washington didn't want to take any chances.
So with first base open, he intentionally walked Freese to load the bases for
Yadier Molina
. But that meant there was no margin for error for Feldman. And for a guy struggling to throw strikes in that inning, it created an uncomfortable situation. Feldman threw three straight balls to fall behind 3-0. He did get a couple of strikes in as Molina took all the way. But his 3-2 pitch was low and Molina walked to score a run.
That forced Washington to make a pitching change and
C.J. Wilson
came in and promptly hit the next batter,
Rafael Furcal
. All of a sudden a 3-2 game became a 5-2 game and the Rangers never recovered.
October, 28, 2011
10/28/11
8:07
PM CT
By
Jeff Caplan
| ESPNDallas.com
ST. LOUIS --
Allen Craig
provided St. Louis its first lead of the game with a one-out solo home run to right field. The Cardinals, who tied it at 2 in the bottom of the first, now lead 3-2.
Cardinals starter
Chris Carpenter
has settled down since his rough first inning, facing seven batters over the last two innings as Game 7 of the World Series moves into the fourth inning.
Matt Harrison
has allowed three runs on three hits and a pair of walks. The walks came back-to-back to
Albert Pujols
and
Lance Berkman
in the first inning with two outs.
David Freese
made him pay with a double to the wall.
October, 25, 2011
10/25/11
12:31
AM CT
By
Jeff Caplan
| ESPNDallas.com
ARLINGTON, Texas --
Neftali Feliz
has this impulsive little knack for having to rescue himself before saving the game.
[+] Enlarge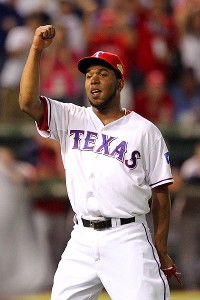 Matthew Emmons/US PresswireNeftali Feliz once more made things interesting toward the end, but once more he got the job done.
If the strong-armed closer had the
Texas Rangers
faithful biting their nails in the ninth inning of Game 4 (a non-save situation with a 4-0 lead), he must have had 6 million in the Metroplex in near-cardiac arrest as he flirted with danger before fanning
Albert Pujols
in a power-on-power matchup in the 4-2 Game 5 victory over the
St. Louis Cardinals
for a 3-2 World Series lead.
Feliz's M.O. this postseason has been to be so jacked up when he hits the mound that he sails fastballs up at the eyeballs and puts the lead-off man on with a free pass.
This time, he plunked
Allen Craig
with a 1-2 slider. The major issue there is that the mighty Pujols was up next representing the tying run.
"That's not the guy you actually want to see at home plate with somebody at first base," shortstop
Elvis Andrus
. "But we know how good [Feliz] is. He's a young guy with a lot of talent and you see him growing as a pitcher. You see it in that at-bat. He threw three or four nice breaking pitches to put Albert off-balance and you see the difference on that last swing."
Feliz quickly got ahead of Pujols, 0-2, using a second-pitch slider to get a foul ball. Pujols then laid off three pitches that Feliz hoped he would chase to go to a full count. On the sixth pitch, Craig took off and Pujols fouled it off. On the seventh pitch, Craig was running again, and again Pujols fouled it off just trying to stay alive.
"When we saw him with two strikes," Feliz said, "we saw with my breaking pitches that he was slow with his bat."
Feliz's eighth pitch whistled off the plate as Craig churned for second. Pujols reached for it and swung through it. Craig had no chance, gunned down for a second time by catcher
Mike Napoli
with Pujols at the plate.
"That was a very important at-bat," Feliz said. "Of course, I was trying to make the best pitches I could because I had a runner on base. Fortunately for me, I was able to get the job done."
The Drama King wasn't quite ready to let the 51,459 at Rangers Ballpark celebrate a final home win of the 2011 season. Feliz walked
Matt Holliday
to bring up lefty
Lance Berkman
.
Just as Feliz has done all postseason -- despite having just two more strikeouts (10) than walks/hit batters (eight) in his 10 appearances -- he struck out Berkman with an 81 mph slider. The five-pitch at-bat included two sliders, a cutter in the dirt and a pair or high 90-mph fastballs.
His array of quality pitches and varying speeds continued an evolution for one of the hardest-throwing closers in the game.
"I feel confident about my breaking pitches, my slow stuff because I have to show them and prove to them that I can work with them at any count and I can work with them on any count and work against them with more than my fastball," he said.
The only number that really matters for Feliz is six: Six saves in six opportunities.
October, 25, 2011
10/25/11
12:11
AM CT
ARLINGTON, Texas –
Mike Napoli
has had a historic World Series, joining Hall of Famer Mickey Mantle as the only men with four multi-RBI games in the same Fall Classic.
He's made quite an impact behind the plate, too.
The Cardinals have managed to score a total of only six runs in the four games Napoli played catcher. His presence went beyond calling a good game Monday night, when he twice gunned down
Allen Craig
trying to steal second base in critical situations.
Craig's first failed attempt came on what Cardinals manager Tony La Russa called a "mix-up" in the seventh inning, allowing the Rangers to intentionally walk
Albert Pujols
with two outs instead of pitching to him with a runner on first.
The second came on a strike-'em-out, throw-'em-out double play with a full count on Pujols in the ninth inning. The first two outs of the final frame came on the hit-and-run gone wrong.
"The throw with Pujols at the plate [in the ninth inning] was not an easy throw," said second baseman
Ian Kinsler
, who made the tag on both plays. "That ball is up over his head at 98. He had to reach up, catch it and throw a strike down to second. It was a very good play.
"He's been overlooked in his career as a catcher, as a defensive catcher. He's proven leaps and bounds [better than] what people though, and he's obviously not too shabby on the offensive end, either."
Napoli's defensive ability was a sore point in Anaheim. Manager/ex-catcher Mike Scioscia didn't believe Napoli was good behind the plate, prompting the Angels to trade him to Toronto, which quickly flipped him in a steal of a deal for Texas.
That made the throws on the game's biggest stage even sweeter for the player Rangers manager Ron Washington affectionately refers to as "Dirtbag."
"I got labeled as not really a good catcher," said Napoli, who drove in the game-winning runs with an RBI double in the eighth. "I'm glad I can show everybody I can do it on both sides."
October, 24, 2011
10/24/11
8:00
AM CT
By
Jeff Caplan
| ESPNDallas.com
ARLINGTON, Texas -- Back to you, C.J.
On Sunday night,
Derek Holland
put together the start of his life, won Game 4 and allowed the
Texas Rangers
to knot up the World Series with the
St. Louis Cardinals
.
Now
C.J. Wilson
, winless and thoroughly disappointing throughout the postseason, has a chance to move Texas one win away from the franchise's first championship in tonight's Game 5. The series then shifts back to St. Louis for Game 6 on Wednesday and, if necessary, Game 7 on Thursday.
This, C.J., is the biggest start of your life.
"True story," Wilson said.
The left-hander is 0-3 with a 7.17 ERA in the postseason. He has not pitched more than six innings and has made it through six just once. It's hardly the way a staff ace is expected to perform and not the way Wilson drew it up as he prepares for free agency after the season.
He has managed to get progressively better. He seemed to be on his way to his longest start of the postseason in Game 1 in St. Louis, but he got in trouble in the sixth and couldn't make it out, leaving a 2-2 game. The base runner he left for
Alexi Ogando
scored when pinch-hitter
Allen Craig
, the Cards' designated hitter on the road, singled.
"I think the other day I got a good chance to see all their hitters in the lineup," Wilson said. "It's a chance for me to set some things straight for us as a team."
Wilson has watched
Colby Lewis
in Game 2 and Holland in Game 4 pitch gems. If Wilson comes through, the Rangers will have two chances to take one back at Busch Stadium and apply maximum pressure to the Red Birds. Another dud and the Rangers will be staring down consecutive World Series defeats.
Wilson and the Rangers can look at their postseason history in one of two ways. Texas has lost Wilson's last seven postseason starts. Either they're due to turn that around or doomed to head to St. Louis one loss away from World Series elimination for a second consecutive season.
"I'm somewhat of an optimist, but at the same time being a realist, obviously it hasn't gone as well as I would have liked," said Wilson, a 16-game winner during the regular season. "I would have liked to have won every game and thrown a shutout every time because it would have made it easier on everyone else. Obviously, if I threw a shutout the first game we'd be winning right now."
October, 22, 2011
10/22/11
8:00
AM CT
By
Jeff Caplan
| ESPNDallas.com
ARLINGTON, Texas --
Matt Harrison
is no different than
Derek Holland
or even
C.J. Wilson
for that matter. When he fails to keep his pitches down, he falls behind in the count and into trouble.
And, unfortunately for Harrison, that's been the case in the postseason and why he doesn't have a start beyond five innings even though he's been the Rangers' most effective starter behind
Colby Lewis
.
Texas Rangers
manager Ron Washington would like to get him into the sixth in today's pivotal Game 3 of the World Series at Rangers Ballpark, but that will be up to Harrison.
"Definitely not walk three people each game," Harrison said, giving his key to staying in the game. "The first time was a little bit of jitters in the playoffs when I pitched against the Rays, but the Tigers have a good lineup. They had a lot of righties and they made me work a lot of deep counts. Hopefully, I can get some quicker outs this time, maybe put some more balls in the strike zone, but in a good spot in the strike zone and get some quicker outs."
Harrison proved his most resilient over the regular season and he had stints where he was near-dominant. In the postseason, he's walked six batters in 10 2/3 innings, again his major undoing. Opposing hitters are batting just .225 off him, second-best among the starters behind Lewis (.191) and he's the lone starter to allow fewer than 10 hits in the postseason (nine).
He'll face a string of Cardinals right-handed hitters that can take it to the gaps for extra bases or out of the park in
Albert Pujols
,
Matt Holliday
,
David Freese
and
Lance Berkman
.
Allen Craig
, who tagged
Alexi Ogando
as pinch-hitter in each of the first two games will serve as the designated hitter.
Harrison managed to get out of jams in his two postseason starts with a sinker that induces ground balls. For much of the season, Harrison led the majors in groudball double plays until his teammate Wilson passed him late in the season. The Cardinals don't run particularly well and the DP-ball could be a significant weapon again.
"I think his sinker is his key pitch," Washington said. "He gets a lot of ground balls and he gets a lot of double plays when people get on the bag. But, he's also developed his secondary pitches, change-ups and his breaking ball. He can throw them at any time in the count. When you can do that, you can keep batters off-balance."
And, if he can avoid throwing too many of them, he might work his way deeper into Game 3 and give his chance to take a World Series lead for the first time in franchise history.
October, 21, 2011
10/21/11
12:14
AM CT
By
Jeff Caplan
| ESPNDallas.com
ST. LOUIS --
Colby Lewis
has never had the title of ace or been tabbed the No. 1. But there should be little debate that Lewis is the
Texas Rangers
' most trusted postseason starter.
He had his best stuff on display in a critical Game 2 on Thursday night against the
St. Louis Cardinals
and even though the win eluded him, Lewis' stellar 6 2/3 innings kept the stymied Rangers' offense against
Jaime Garcia
just one big inning away from gaining a split. It finally happened in the ninth with Lewis watching from the bench and leaving overly satisfied with a no-decision in the 2-1 Texas win.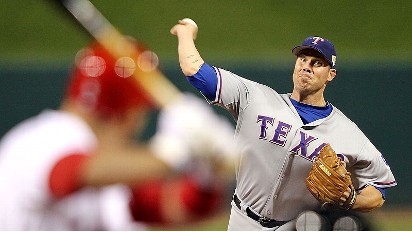 Jamie Squire/Getty ImagesDespite not getting the win, Colby Lewis may have saved the World Series for the Rangers with his quality outing.
"The biggest thing was trying to match zeroes and keep your team in the ballgame," Lewis said.
Lewis left with two outs in the seventh inning in a near-identical situation to that of
C.J. Wilson
in Game 1. With two outs and
David Freese
on second, Lewis couldn't put away pesky
Nick Punto
with a two-strike count. Punto singled off a slider to put runners at the corners.
"That's probably one pitch I'd want back in that situation," Lewis said. "Especially in the seventh, late in the game."
That guaranteed a pinch hitter for Garcia and ended Lewis' night after 96 pitches and fire still in his belly.
Out of the Cardinals dugout came Game 1 pinch-hit hero
Allen Craig
, who tagged
Alexi Ogando
for the go-ahead run. Rangers manager Ron Washington made the slow walk to the mound.
"I would have liked to stay out, but when Wash makes the decision, he makes the decision," Lewis said. "But it's strictly a managerial move and like I said, Ogando's been great and the bullpen's been outstanding this postseason."
But, for the second consecutive night Craig got the best of Ogando, singling in the go-ahead run again for a 1-0 St. Louis lead, and suddenly Lewis was a candidate for a hard-luck loss.
"It's still just 1-0. Look at our lineup, it's just one pitch from tying up the ballgame, so I wasn't real concerned," Lewis said. "Yes, it's unfortunate that we went down late, but like you saw, we did the small things without the homer."
Lewis had been the club's No. 3 starter in the first two rounds, giving him just one start in each series. But Washington decided to move Lewis up to Game 2 for the World Series. Washington downplays the notion that he has strategically lined up Lewis to pitch on the road, where his ERA during the regular season was more than two points lower than his home ERA and he had given the dreaded long ball far less frequently.
He kept everything in the park Thursday night, allowing only a third-inning, two-out double to
Rafael Furcal
, a fifth-inning single to Punto and then two singles in the seventh to Freese and a second one to Punto.
The Texas starting rotation now has two quality starts under its belt in this postseason, and Lewis has both of them. This Game 2 gem iarguably goes down as the most determined effort of his career, challenging the eight innings he threw in the ALCS clincher last season to beat the Yankees.
"Colby is that type of player," right fielder
Nelson Cruz
said. "He did that last year in the playoffs and he's doing it again in the playoffs. He's been awesome for us."
The win over the Yankees got the Rangers into the World Series. This one might have saved it.