Texas Rangers:

Andres Torres
March, 15, 2013
3/15/13
5:43
PM CT
By
Ron Matejko
| ESPNDallas.com
SCOTTSDALE, Ariz.--The
Texas Rangers
(9-9-2) saw their two-game winning streak come to an end with a 5-2 loss to the
San Francisco Giants
(8-9-3) on Friday at Scottsdale Stadium.


What this means:
Texas falls back to .500 after losing both games of the two-game spring series to San Francisco.
Lowe debuts:
Derek Lowe
pitched two scoreless innings in his Rangers and spring debut. He scattered a pair of hits and walked one.
Great gun:
Craig Gentry
showed off his arm on a play during the first inning when he threw out
Andres Torres
who was trying to tag up and take third on a fly out to right field. Gentry made the catch about halfway out in right, and fired a bullet to
Adrian Beltre
that got there so quickly that Beltre had to wait for Torres to take a few more steps toward him before applying the easy tag.
PODCAST
Manager Ron Washington joins Fitzsimmons & Durrett live from Surprise, Ariz., to discuss how the Rangers are looking heading into the 2013 season.

Listen

Double threat:
1B-OF Jim Adduci, all 6-2, 210-pounds of him, stole second base cleanly in the second inning, and had a good jump doing it, showing he has speed to go along with a good bat. He tried to steal second again in the fifth inning but was thrown out on a close play.
Self defense:
LHP
Joe Ortiz
saved himself when
Matt Cain
drilled a line drive back at the Rangers reliever to lead off the third inning. Ortiz quickly dropped down to the mound to avoid the ball and put his glove up to his face, knocking the shot down and throwing the ball to first to secure the out. The play went 1-3 on the scorecard but was anything but routine.
Zero Joe:
Speaking of Ortiz, he threw his seventh scoreless inning of the spring, and has allowed just three hits in his seven innings of work.
Captain Kirkman:
LHP
Michael Kirkman
will likely be asked to take on a bigger role in the bullpen this season and he looks ready for the added responsibility. Kirkman threw a scoreless eighth inning and remains unscored upon in six innings this spring.
Cain pain:
Texas could only muster two hits in five scoreless innings against San Francisco starter Cain, who faced one batter above the minimum.
Font 'A' debut:
RHP
Wilmer Font
made his first appearance in an 'A' game this spring and allowed a two-run home run to
Hunter Pence
during his inning of work. Font was sidelined early in camp with biceps tendonitis. He rose from High-A Myrtle Beach to the majors in 2012, just one year removed from undergoing Tommy John surgery. Font averaged 12.6 strikeouts per nine innings with Myrtle Beach.
Perfect no more:
RHP Johan Yan was untouchable through his first five appearances, allowing no hits and just one walk -- until Friday. Torres took a pitch deep in the seventh inning, hitting a two-run home run, the first blemish on Yan's spring ledger.
Big draw:
The Texas-San Francisco game was a sellout with Scottsdale Stadium packed with 12,106 fans taking in the game under 85-degree, mostly sunny skies.
What's next?:
Texas is scheduled for a pair of split-squad games this weekend, with one game being played in Arizona and the other in Las Vegas on each day. On Saturday, the Rangers will play one game against the
Chicago Cubs
at Cashman Field at 3:05 p.m. CT. RHP Nick Tepesch (0-0, 2.25) will start for Texas. RHP Jeff Samardzjia (1-0, 5.59) takes the mound for Chicago. The game can be seen live on Fox Sports Southwest.
In the other game, Texas hosts the
Los Angeles Dodgers
at Surprise Stadium at 3:05 p.m. CT. LHP
Matt Harrison
(1-0, 9.00) will start for the Rangers. LHP
Clayton Kershaw
(2-2, 5.54) is the scheduled starter for the Dodgers. The game can be heard live on ESPN 103.3 FM.
November, 1, 2010
11/01/10
3:58
PM CT
By
Jeff Caplan
| ESPNDallas.com
ARLINGTON, Texas --
Pat Burrell
, who struck out four times in Game 3 and is hitless in the World Series (0-for-9), returns to the
San Francisco Giants
' lineup as the designated hitter for tonight's Game 5. After taking a seat to clear his head and work on his swing, Burrell will hit seventh against the
Texas Rangers
.
Game 4 hero
Aubrey Huff
, who hit a two-run homer in the second inning, drops from third to sixth in the order.
Aaron Rowand
will also make his first start of the World Series in center field, which moves
Cody Ross
to left field and
Andres Torres
to right field.
Here's the Giants' lineup:
RF Andres Torres (S)
2B
Freddy Sanchez
C
Buster Posey
LF Cody Ross
3B
Juan Uribe
1B Aubrey Huff (L)
DH Pat Burrell
SS
Edgar Renteria
CF Aaron Rowand
P
Tim Lincecum
(3-1, 2.79 ERA)
October, 31, 2010
10/31/10
4:07
PM CT
By
Richard Durrett
| ESPNDallas.com
October, 30, 2010
10/30/10
11:18
PM CT
By
Jeff Caplan
| ESPNDallas.com
ARLINGTON, Texas – The count went from 0-and-2 all the way to 3-and-2 and an all-time Rangers Ballpark record crowd of 52,419 rose as one, sweating a tidal wave of nervous energy that could have swept sidewinder
Darren O'Day
into early retirement.
A faulty cog in the
Texas Rangers
' consecutive bullpen meltdowns by the Bay, O'Day called out catcher
Bengie Molina
to discuss pitch selection to dangerous rookie catcher
Buster Posey
, who, with a runner on first, could have tied it up with one crack of the bat.
"I had an idea what I wanted to throw," O'Day said. "And he [Molina] had a better idea of what I wanted to throw. I went with Bengie."
[+] Enlarge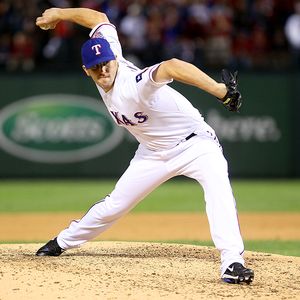 Elsa/Getty ImagesDarren O'Day opted to listen to Bengie Molina before getting Buster Posey to ground out to end the eighth inning. "I had an idea of what I wanted to throw, and [Molina] had a better idea of what I wanted to throw," O'Day said. "I went with Bengie."
O'Day executed the pitch, a slider away, and Posey got on top of it, softly rolling it up through the box. Shortstop
Elvis Andrus
charged it, scooped it and threw out Posey in plenty of time.
Inning over. Crisis averted.
"I wasn't worried at all," starter
Colby Lewis
calmly said in the happy postgame clubhouse.
That meeting at the mound was the biggest single moment of the World Series for the Rangers. Whether it becomes a series-altering is to be seen, starting with Sunday's Game 4.
But, Lewis' second consecutive brilliant start, following up his eight-inning gem that clinched the American League pennant, spared the bullpen from another long night and pulled the Rangers back into the World Series. The 4-2 victory leaves them trailing the
San Francisco Giants
, 2-1, with two more to go at home and under AL house rules.
Lewis gave up a second solo home run to
Andres Torres
in the eighth inning with one out. After
Nelson Cruz
made a terrific running catch on Freddy Sanchez's missile to left, Lewis got to 0-2 on
Aubrey Huff
and appeared poised to get out of the eighth on his own terms, as he did against the Yankees.
But, then Lewis plunked Huff. That triggered manager Ron Washington to the mound. Lewis exited to a standing ovation. Posey stood in the on-deck circle representing the tying run.
"I brought in O'Day to face Posey," Washington said. "I wanted to give him [Posey] that funky [side-arm] look. If Posey gets a hit, I'm bringing in [Neftali] Feliz."
More on the young flamethrower in a moment. First, O'Day had to walk through fire as the right-hand-hitting Posey laid off three straight pitches to take the count full. Molina and O'Day met on the mound.
O'Day, Molina said, wanted to throw Posey a slider on the inside of the plate. Molina shook him off and recommended, if not demanded, a slider away.
"Seeing as Bengie's been playing since I was maybe in the sixth grade, and he played for that team and that [Posey] was his replacement," O'Day said, "I figured he probably had a better idea of what he wanted me to throw."
[+] Enlarge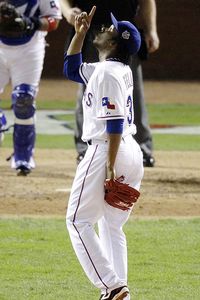 AP Photo/Eric GayNeftali Feliz made his first appearance of the World Series, blowing away the Giants in the ninth inning to earn the save.
Said Molina: "It's a no-brainer because I think the only chance you give [Posey] is to have something middle-in and then he hits it out. I don't mean that Posey cannot hit the ball the other way. I don't mean that at all. I'm just saying you go with that because it's a lot harder -- with O'Day pitching -- it's a lot harder to go the other way."
Retiring Posey finally allowed Washington to to go the 22-year-old Feliz for a postseason save situation in his first World Series appearance. It took 14 games, but was well worth the wait. A tad nervous and wild during the ALDS, Feliz blistered fastball after fastball. He threw 12 heaters among 13 pitches in the 1-2-3 ninth.
"I was mentally prepared," Feliz said. "I was trying to keep all my pitches low and do my job."
After a third-pitch slider to lead-off man
Pat Burrell
, Feliz threw nothing but smoke, all clocked between 97 and 99 mph. Burrell swung at a high one and whiffed.
Cody Ross
, who broke up Lewis' shutout bid with a solo homer in the seventh, sailed a 99 mph fastball to the warning track in right.
Juan Uribe
had no chance to catch up to a 99 mph riser.
"Just blowin'," Lewis said. "It was awesome."
Feliz became the second-youngest pitcher in World Series history to record a save behind only Bob Welch in 1978 against the
New York Yankees
. Who'd the 22-year-old pass? Nolan Ryan. The Rangers team president and co-owner saved Game 3 for the 1969
New York Mets
. He, too, was 22, but about three months older.
Asked about passing Ryan, Feliz smiled as he spoke in Spanish to team interpreter Eleno Ornelas. A contingent of Latin press suddenly laughed out loud as Feliz answered the question.
"Of course, I am very happy and I have to take advantage of what life gives me, the chance to save a game," Ornelas translated.
Perhaps something was lost in translation. Not lost was the uplifting performance by a bullpen that desperately needed one.
"It's huge, especially for [O'Day]," the staff's elder statesman,
Darren Oliver
said. "He's been doing it all year anyway, but to do it in a big situation like this, because everybody's watching, every pitch is so important, I'm sure his phone is blowing up with a bunch of text messages.
"It's good for him. At least he'll get some good sleep tonight."
October, 30, 2010
10/30/10
8:33
PM CT
By
Jeff Caplan
| ESPNDallas.com
ARLINGTON, Texas -- Colby Lewis gave up an eighth-inning, one-out solo home run to Andres Torres and with two outs he hit Aubrey Huff on an 0-2 count to end another terrific postseason outing that has the Rangers leading the San Francisco Giants, 4-2.

Lewis also surrendered a solo shot to Cody Ross in the seventh. After a 20-pitch inning in which he escaped unscathed, Lewis cruised through six. He got offensive backing from Mitch Moreland's three-run homer in the second and Josh Hamilton's solo shot in the fifth.

Lewis lasted 7 2/3, allowing the two solo homers and just five hits. He struck out six and walked two.

Darren O'Day relieved Lewis with cleanup hitter Buster Posey up. O'Day got ahead 0-2, then nearly plunked Posey to go to 2-2 and then 3-2. The sellout crowd was on their feet, easily unsettled by a bullpen that had been dismantled in two games in San Francisco.

But this time O'Day got the job done. Posey sent a dribbler to shortstop Elvis Andrus, who easily threw the Giants catcher out.

October, 29, 2010
10/29/10
4:47
PM CT
By
Jeff Caplan
| ESPNDallas.com
ARLINGTON, Texas -- Apparently
Ian Kinsler
was not as surprised that his Game 2 blast to deep center wasn't gone, but had actually bounced off the top of the wall and into center fielder
Andres Torres
' glove for a double.
"I saw a couple balls in batting practice do that," Kinsler said. "It seemed like whenever a ball hit the top of the wall it came back into the park. So when I saw it hit the top of the wall I figured it was going to come back in."
Kinsler's double led-off the fifth inning with the score tied, 0-0. Kinsler would be stranded at second and in the bottom of the inning
Edgar Renteria
homered to left field for a 1-0 lead.
San Francisco Giants
pither
Matt Cain
said he thought Kinsler's shot was long gone.
"I thought it was a home run," Cain said. 'I saw it hit and I thought it hit something behind the wall and I thought it was a home run, so I cashed it in as one run. Then I saw that Torres had thrown it in and he was standing on second. From there I just said, 'Hey, I've got to try to keep that guy there and we'll just get the next guy, see if we can get the next guy out and see how it works out.'"
David Murphy
and then
Matt Treanor
failed to move Kinsler over. Cain then intentionally walked
Mitch Moreland
to get to
C.J. Wilson
, who bounced out to first to end the inning.
"It would have been 1-0 at the time," said Kinsler when asked if an extra inch could have changed the course of the game. "Could have. We'll never know. We didn't score any runs. One run obviously wouldn't have won the game at the end of it, but who knows if that would have changed the game."
All three of Kinsler's postseason home runs came in the ALDS.