Texas Rangers:

Anibal Sanchez
June, 25, 2014
Jun 25
12:00
PM CT
By
Calvin Watkins
| ESPNDallas.com
ARLINGTON, Texas -- The Rangers (35-41) currently have the longest losing streak in the majors at six games and just two AL teams, Houston (33-45) and Tampa Bay (31-48), have fewer wins than the Rangers.
The three-game series with the
Detroit Tigers
at Globe Life Park continues Wednesday night.
Here's a preview:
Fixing the offense:
Ron Washington inserted
Carlos Pena
into the No. 6 spot Tuesday night and he went 0-for-4. Washington has used nine different players in the six hole this season and employed 58 different lineups. The lack of run support recently, 11 runs in the last five games, is hurting the Rangers during this six-game losing streak. Washington is open to keeping Pena, a left-handed hitter, in the lineup again against righty
Anibal Sanchez
.
Saunders seeks a win:
Lefty
Joe Saunders
(0-3) gets the start Wednesday night and seeks his first win of the season. The Rangers are 2-4 in his starts. Saunders went 4 2/3 innings allowing seven runs, four earned in a 7-3 loss to the
Los Angeles Angels
on June 20.
Beltre getting hot?:
Third baseman
Adrian Beltre
hit just .229 on the Rangers' recent nine-game road trip. Tuesday night, Beltre hit the ball hard, getting four hits, including a RBI single in the third inning. With the Rangers seeking offense, could Beltre be the answer?
May, 23, 2014
May 23
8:38
PM CT
By
Richard Durrett
| ESPNDallas.com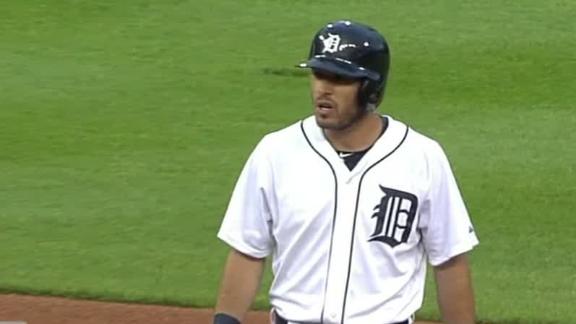 DETROIT -- The
Detroit Tigers
quickly erased a 2-0 Rangers lead and cruised to a 7-2 victory on Friday night at Comerica Park. Some quick thoughts:
How it happened:
Tigers starter
Anibal Sanchez
allowed three straight hits in the second to fall behind 2-0 before settling down and getting some support from his offense. Sanchez got 14 of his next 15 batters out as the Tigers built a 6-2 lead through six. He ended up allowing just the two runs on five hits with no walks and five strikeouts.
Scott Baker
, meanwhile, gave up six runs on eight hits in six innings.
What it means:
The Tigers evened the series at a game each with two games left and ended a four-game losing streak. The Rangers had crept to within a game of .500, but now fall two back and 7 1/2 games behind the
Athletics
, pending Oakland's result against the
Toronto Blue Jays
.
Up too often:
Baker had too many pitches up in the zone on Friday, and he wasn't missing many bats (he had one strikeout and it didn't come until the sixth), as the Tigers took advantage. Even after the Rangers gave Baker a 2-0 lead in the second, he gave it right back in the bottom half of the inning on a two-run homer by
Austin Jackson
. The Tigers added a run in the third and two more in the fifth off Baker, as well. Even the outs the Tigers hit were hard. We'll see if this means
Joe Saunders
gets the rotation spot next time through or if Baker sees another opportunity.
Kinsler kills it:
Ex-Rangers second baseman
Ian Kinsler
had three doubles and scored after each of them on Friday. His first double went down the first-base line -- a rare opposite-field double for him -- and his second one went down the third-base line. The third, for good measure, was a fly ball to right field. Kinsler has four hits against his former team in this series.
Moreland's impact:
Mitch Moreland
put the Rangers in front in the second with a two-run double to left-center. Moreland's poke scored
Adrian Beltre
(single) and
Alex Rios
(bloop double) to give the Rangers a 2-0 lead. The two RBIs put Moreland at 17, one more than
Prince Fielder
. Moreland also made a nice play at first base, digging an errant throw from
Elvis Andrus
and preventing a run and Andrus' second error of the inning. With Fielder out, this is a big opportunity for Moreland to show he can handle the everyday job at first. He played well on Friday.
Big arm:
Once again, catcher
Robinson Chirinos
showed off his arm. In the first inning, with the speedy
Rajai Davis
at first base, Chirinos made a snap throw to first after Kinsler took a strike. Davis was too far off the bag and could not get back before Mitch Moreland applied the tag. Just like that, a runner on at first with no outs was eliminated.
League-leading DPs:
Rios grounded into his 11th double play of the season in the seventh inning and his 12th to end the game in the ninth. Rios, the Rangers' most consistent offensive producer and team leader in RBIs, leads the AL in ground-ball double plays so far in 2014.
Up next:
RHP
Nick Martinez
(0-1, 2.28 ERA) is on the mound for the Rangers opposed by RHP
Rick Porcello
(7-1, 2.91 ERA) at 3:08 p.m. CT on Fox Sports 1.
November, 4, 2013
11/04/13
1:30
PM CT
By
Todd Wills
| ESPNDallas.com
The voting for the American League Cy Young Award will be announced Wednesday, Nov. 13.
Detroit's
Max Scherzer
is the runaway favorite to win the award because of his 21 victories. The Rangers'
Yu Darvish
will pick up significant support and likely finish among the top five in the voting.
Darvish is one of the top five pitchers in the American League, and the Baseball Writers' Association of America is expected to back that opinion. He had a major league-leading 277 strikeouts and flirted with a perfect game in April and a no-hitter in August. Yet Darvish's 2013 season will be remembered for what could have been.
Is this fair?
Let's try to decide over the next week, starting with Darvish's win total. We'll look at his major league-leading strikeout total -- and what that means -- and then his tough-luck losses before the voting is released next week.
The case against Darvish on whether 2013 was a successful season begins with his win total. I know, I know, many of you believe a pitcher's win total is overrated. It will be the case made against Scherzer and for his teammate
Anibal Sanchez
, who had a league-leading 2.57 ERA to go with 14 wins.
But this is about Darvish.
He won 13 games and lost nine in 32 starts for a Rangers team that finished one victory from making it to the postseason and five games behind the Oakland A's in the AL West. The Rangers were 17-15 in Darvish's starts. If that total had been 18 or 19…
Fourteen American League pitchers won more games than Darvish. Oakland's
Bartolo Colon
had 18 wins. Ex-Ranger
C.J. Wilson
had 17 wins for the Angels. Baltimore's
Chris Tillman
had 16.
R.A. Dickey
, who played on a bad Toronto team, and Darvish's countryman
Hisashi Iwakuma
, who played for a mediocre Seattle club, each won 14 games. That's just a glance at a handful of pitchers.
Say what you want about the value of wins as an important stat for pitchers. Those who say it's an overvalued statistic can point to only one starter on the World Series champion
Boston Red Sox
who won more games than Darvish:
Jon Lester
, with 15 wins. The Red Sox were 19-14 in Lester's starts. That's not that far off from what Darvish produced in one fewer start.
Still, 13 wins is a total that falls under expectations for a pitcher of Darvish's caliber. Most of us penciled in 18 wins or more for him before the season started.
Yes, Darvish lost a record four games by 1-0 scores. And give him some credit. In the 10 starts in which he recorded a no-decision, he had a 2.98 ERA.
Rangers manager Ron Washington asks one thing of his pitchers -- keep his team in games. Darvish did that. The Rangers were 5-1 in his six September starts. As Darvish pitched with a back injury, his team won games, even though he went past six innings in just two of those starts.
Does Darvish's win total diminish his season? Sound off and let's hear your opinion.
May, 18, 2013
5/18/13
1:30
PM CT
By
Todd Wills
| ESPNDallas.com
ARLINGTON, Texas -- The Rangers and Detroit play the third game of a four-game series Saturday with right-hander
Justin Grimm
facing Tigers right-hander
Anibal Sanchez
. First pitch is 7:05 p.m. CT on Fox Sports Southwest and ESPN-FM 103.3 and 1540-AM.
Grimm (2-3, 4.28 ERA):
Grimm tries to turn around a three-game losing streak. ... He has allowed 10 runs in his past 10 innings. ... He has struggled to keep the ball down in the strike zone, allowing seven hits and five runs in a start Monday in Oakland. He allowed consecutive home runs to
Yoenis Cespedes
and
Brandon Moss
in the third inning to fall behind 4-0. ... It's been a tough turnaround for Grimm, who is 0-3 with a 7.02 ERA for three May starts, that after being named American League rookie of the month for April, having gone 2-0 with a 1.59 ERA. ... He has pitched well at home with a 1-1 record and 2.84 ERA for three starts in Arlington. ... He will face the Tigers for the second time. The first one didn't go well, as he allowed seven hits to the first nine batters he faced and Detroit scored five runs in the first inning.
Sanchez (4-3, 2.05):
Sanchez is off to a great start. He's fourth in the AL with 66 strikeouts and fifth with his 2.05 ERA. He has allowed three runs or fewer in all eight of his starts. ... He dominated Houston in his last start, allowing two runs in seven innings in a 7-2 victory over the Astros. Sanchez had eight strikeouts. ... But that's not the real story for him as far as strikeouts go. Sanchez had a major league-best 17 strikeouts against Atlanta in a 10-0 victory over the Braves on April 26. It broke a team record that had stood since 1969 when Mickey Lolich struck out 16 twice less than three weeks apart. ... Sanchez is 0-2 with a 7.45 ERA for two career starts against the Rangers.
Hitters:
Geovany Soto
(5-for-10, RBI) and
Lance Berkman
(5-for-13) had success against Sanchez when he pitched in the National League.
Miguel Cabrera
was 2-for-2 with two RBIs when the Tigers crushed Grimm for six runs in one inning-plus last June in Arlington.
May, 16, 2013
5/16/13
11:00
AM CT
By
Todd Wills
| ESPNDallas.com
ARLINGTON, Texas -- It's all about
Yu Darvish
versus
Justin Verlander
on Thursday.
PODCAST
Randy Galloway, Matt Mosley and Glenn "Stretch" Smith discuss the latest Rangers news, including the Yu Darvish-Justin Verlander matchup.

Listen

But the matchup between the Rangers and
Detroit Tigers
also features two American League powerhouses. It should be an entertaining four-game series.
The Rangers have a seven-game lead in the AL West and the best record in the AL. The Tigers are a half-game ahead of Cleveland in the AL Central.
Here's what to watch for as these two titans clash in Arlington:
Failing to sweep Houston:
The Tigers arrive in Texas following a missed opportunity: They didn't sweep the Astros at home. While Texas swept the Astros in Houston over the weekend, the Tigers couldn't finish their series off against baseball's worst team Thursday. Detroit lost 7-5 to Houston as
Miguel Cabrera
's near walk-off grand slam fell just short in the bottom of the ninth. Houston had scored two runs in the top of the ninth against the Tigers' bullpen to take the lead.
Getting started:
The Tigers are getting great starting pitching. Detroit's rotation leads the AL with 19 wins, a 3.32 ERA, 252 strikeouts and 26 quality starts. It doesn't get any tougher in baseball than Verlander (4-3, 1.93 ERA),
Rick Porcello
(1-2, 6.68),
Anibal Sanchez
(4-3, 2.05) and
Doug Fister
(5-1, 3.06). And the Rangers are missing the Tigers' No. 2 starter, flamethrower
Max Scherzer
(5-0, 3.98).
Valverde is back:
The Tigers struggled to find a closer early in the season, even turning to former Ranger
Joaquin Benoit
for a spell. They believe they've solved their issue by returning to old closer
Jose Valverde
. The 35-year-old missed all of spring training before re-signing with Detroit, so he's not in pitching shape just yet, Tigers manager Jim Leyland told reporters this week. Valverde has converted three of his four save opportunities and has a 1.29 ERA in seven games. It will be interesting to see how things go this time around with Valverde. He was already one the most erratic closers in the game, almost always pitching himself into trouble and getting out of it.
Out of the Anaheim mess:
How happy are
Torii Hunter
and
Vernon Wells
right now? They're out of Anaheim, where the Angels are off to an abysmal start. Meanwhile, Wells has double-digit home runs with the Yankees and Hunter already has 15 multihit games for the Tigers and is batting .325. He is two home runs shy of 300 for his career. Hunter has been as good as any hitter in baseball against Darvish, with six hits in 18 at-bats, tying him with the Angels'
Alberto Callaspo
for the most career hits against him.
Versus the West:
The Tigers are 10-6 against the AL West but haven't played the Rangers yet. That includes a 6-1 mark against the Astros. The Rangers are 3-4 against the AL Central, splitting a four-game road series at Minnesota and losing two of three to the White Sox in Arlington.
December, 8, 2012
12/08/12
8:45
PM CT
By
Richard Durrett
| ESPNDallas.com
The
Texas Rangers
were informed on Saturday that
Zack Greinke
is not coming to Arlington, a source confirmed. ESPN.com's Jayson Stark reports
Greinke is close to signing a six-year deal worth approximately $145 million with the
Los Angeles Dodgers
.
So the dominoes that didn't fall in Nashville, Tenn., a few days ago are beginning to fall now. The Rangers still have a spot open in their rotation. Where could they look to fill it? Some possibilities:
*
R.A. Dickey
. The former Ranger and 2012 NL Cy Young Award winner could be on the trade block if the
New York Mets
can't get a two-year extension done. Dickey enjoyed his time in Texas and would give the Rangers another top-tier starter for 2013. The rotation is currently fronted by
Yu Darvish
, with All-Star
Matt Harrison
behind him. Dickey and his knuckleball would be a nice addition. The Rangers may not match up perfectly with the Mets in terms of the exact positions they want (for instance, the Mets apparently want a catcher), but would New York simply take the best package it could get? What if (just speculating here) that package was fronted by
Mike Olt
?
*
James Shields
. The price was sky-high at the winter meetings, but the Rangers' farm system could entice the Rays to do something. And maybe now that the Rangers don't have Greinke, they'll be willing to up their offer a bit. Shields, who turns 31 on Dec. 20, has pitched at least 200 innings each of the past six seasons. His numbers dipped some in 2012, but he was still solid. He had a 3.52 ERA in 227 2/3 innings (33 starts). Shields also has six postseason starts under his belt, his last two against the Rangers (and he lost both of those, allowing 11 runs on 12 hits in 9 1/3 innings).
Those are the two big options that were buzzing around the lobby at the Gaylord Opryland last week. Are there others the club could look at? What about
Anibal Sanchez
? The free agent is probably the next best thing on the market now with Greinke reportedly heading to L.A. Sanchez is four months younger than Greinke, has a slider and changeup that get plenty of swings and misses, and he pitched well down the stretch. Sanchez was 9-13 with a 3.86 ERA for the
Miami Marlins
and
Detroit Tigers
in 2012. He was sent to the Tigers at the trade deadline and played a big role for the AL champions.
In his six September starts, Sanchez was 2-2 with a 2.43 ERA. He had 37 strikeouts and five walks. In the playoffs, Sanchez made three starts and was 1-2 with a 1.77 ERA, his lone win coming against the Yankees in the American League Championship Series. He had quality starts in all three outings and had 18 strikeouts and six walks.
Do the Rangers consider
Kyle Lohse
? Who do you think the Rangers should go after now that Greinke appears headed to L.A.?
November, 26, 2012
11/26/12
8:00
AM CT
By
Richard Durrett
| ESPNDallas.com
Front office personnel, agents and scouts will start to gather in Nashville this weekend in anticipation for the Winter Meetings, which run next week. In preparation for those meetings, we'll take a look at some areas the Rangers hope to address at the meetings. It's their version of a Black Friday shopping list.
Today's position:
Starting pitchers
It seems that every year the
Texas Rangers
are looking for starting pitching. And why not? It's a critical area of any club and one of the quickest ways to improve. Last offseason, it was the final day of the winter meetings that signaled the club's intention to dive back into the market, though no one knew it at the time. That last day of the meetings in Dallas, several Rangers staff members had meetings with Bob Simpson and Ray Davis to help convince them to spend the money to bid for
Yu Darvish
. That yielded dividends in 2012 and Darvish comes into 2013 as the No. 1 pitcher on the club.

Joining Darvish in the rotation at this point:
Matt Harrison
,
Derek Holland
and
Alexi Ogando
. That leaves one spot open. Filling it with a top-flight starter would certainly bolster the Rangers' chances in 2013.
On top of anyone's free-agent starting pitcher list has to be
Zack Greinke
. He's got the best resume of any pitcher looking for a job. And with Darvish signed up for five more seasons, the club hoping to get Harrison inked long-term (he's got two more arbitration years left before hitting free agency) and Holland already under contract that could have him pitching in Arlington through the 2018 season, adding another pitcher with pedigree to that group could make them a force for years to come.
Greinke pitched for the
Milwaukee Brewers
and then the
Los Angeles Angels
in 2012. He was 9-3 with a 3.44 ERA in 21 starts (123 innings) for the Brewers and then went 6-2 with a 3.53 ERA in 13 starts to finish the season for the Angels. Greinke's last eight starts in 2012 were impressive and have to be on the minds of general managers as they contemplate signing him to a big contract. He was 5-0 with a 2.04 ERA in those last eight starts, many of them big ones as the Angels tried (but ultimately failed) to secure a playoff spot.
Greinke has pitched well against the AL West in his career (2.91 ERA in 49 games) and is 3-5 with a 2.84 ERA in 79 1/3 innings at Rangers Ballpark in Arlington. The question is whether it would take six years to get him. At 29 years old, he may want something like the six year, $144 million
Cole Hamels
got. The Rangers may not want to make that big an investment, though I've got to think they'd consider it as it would be another player they could add to their core and fortify the rotation.
But the Angels are also going to be fully motivated to sign Greinke as their rotation goes through changes. Others will also jump in the Greinke sweepstakes, which you've got to think will heat up in Nashville.
There are other starting pitchers out there on the market --
Anibal Sanchez
,
Kyle Lohse
and
Edwin Jackson
, for example -- but they don't stack up to Greinke. The Rangers will look at trade possibilities too. If there's any chance the
Tampa Bay Rays
would part with
David Price
or
James Shields
, the Rangers could match up. But to me, it has to be a pretty big name that would help the rotation at the top end.
That's not to say the club won't look at increasing depth. They always do. But in terms of a big deal, I think they'd look to really increase the club's competitive chances with a front-end starter. That's high up on the shopping list in Nashville.
Which starting pitcher do you want? How do you think the Rangers will fill that spot?
November, 19, 2012
11/19/12
8:00
AM CT
By
Richard Durrett
| ESPNDallas.com
In the aftermath of the
Toronto Blue Jays
' megatrade with the
Miami Marlins
, some of you wondered if the
Texas Rangers
would go after
Ricky Nolasco
, another higher-paid Marlins' player that could be shopped around (though there are reports he's likely to stay...we'll see).
The Rangers could use another starting pitcher. The rotation as it stands now:
Yu Darvish
,
Matt Harrison
,
Derek Holland
and
Alexi Ogando
. But when it comes to starters, I think you've got to focus on impact pitchers. Nolasco is a fine No. 4 or No. 5 starter. He was 12-13 with a 4.48 ERA with 125 strikeouts and 47 walks. He pitched 191 innings (31 starts).
But the problem is he's slated to make $11.5 million. That's too high a price to pay for a pitcher that won't, in my opinion, make the staff appreciably better. I'm all for adding depth, but not at $11.5 million.
I think the Rangers will shoot higher. The most attractive pitcher on the free-agent market is
Zack Greinke
. The 29-year-old made 34 starts between Milwaukee and the
Los Angeles Angels
last year. After struggling in his first few starts with the Angels, he finished the season strong. He has a track record and would really strengthen the rotation. But the Angels will be aggressive in trying to re-sign him and it's going to take a big investment to land him.
We'll look at some more pitchers in detail in the coming weeks, but
Anibal Sanchez
is still out there as well. He's no Greinke, but he would improve the overall rotation. He's had an ERA under 3.88 the past four seasons and finished in 2012 campaign with the
Detroit Tigers
, pitching well under pressure. He was 4-6 with a 3.74 ERA in 12 starts for them.
But Greinke's in such a good spot because he's clearly the top free agent pitcher. The Rangers have the minor league system to go out and try to make a deal through trades, if some top pitchers are made available. I've always been partial to
James Shields
, who would again be an example of someone who is a difference-maker that really improves the rotation. He was 15-10 with a 3.52 ERA just one season after going 16-12 with a 2.82 ERA. But the Rays may not want to deal him. You never know if they'd look at
David Price
, but that's when the name
Jurickson Profar
gets talked about (which I'm hesitant to do, but would discuss when it comes to top-flight starting pitching or, as we mentioned earlier, a guy like
Giancarlo Stanton
).
The Rangers will always look to add depth to the rotation and invite some guys for spring training in case plans change (like injuries, which always bite this team in spring training), but they're going to do that at the right price. As for what they'll try to do with the rotation this offseason, think bigger than Nolasco. If they do anything, I think it will be landing a truly impact starter.
What would you like to see the team do about its starting rotation? Stay tuned here on the blog this week and in coming weeks as we continue to break down some possibilities and discuss the Hot Stove as it relates to the Rangers.
July, 1, 2011
7/01/11
1:00
PM CT
By
Calvin Watkins
| ESPNDallas.com
The Rangers begin a three-game series with the
Florida Marlins
at the ballpark tonight and the matchup looks good, on paper at least.
Alexi Ogando
vs.
Anibal Sanchez
.
Here's a look.
Ogando (7-3, 2.87):
The right-hander has lost his last three starts and might be fighting for his spot in the rotation Friday night. He's got a 4.26 ERA in June where he's given up 17 runs, 12 earned in 25 innings. ... At home, Ogando is 5-1, 2.34 ERA. ... Right handed hitters are hitting just .151 against him this season. ... He's had two of his shortest outings of the season this month. He lasted just 1 2/3 innings in a loss to the
New York Yankees
on June 14 and three innings in a loss to the
New York Mets
on June 25. ... Ogando said his biggest problem has been spotting his pitches.
Sanchez (6-1, 2.82):
Sanchez isn't struggling like Ogando, instead he's not getting run support. The Marlins have scored just six runs in his last three starts, all no decisions. The Marlins lost those three games. ... Sanchez hasn't lost since April. His last victory was June 10 vs. Arizona. He struck out eight over 6 2/3 innings in a 6-4 victory. ... The Marlins have lost three of his last five starts. ... When he's ahead 0-2, he gets people out. Opponents are hitting just .057 against him with 20 strikeouts.
July, 1, 2011
7/01/11
10:30
AM CT
By
Richard Durrett
| ESPNDallas.com
With the
Florida Marlins
coming to town for a three-game series, Joe Capozzi,
Marlins beat writer for the Palm Beach Post
(and a guy who had to jump on a 6 a.m. flight out of San Francisco to get to Texas in time to cover today's action) answered a few questions for us about the Marlins. Here goes:
Q: Can you give us an overall assessment of the Marlins? Why did they struggle so much in June?
JC:
The Marlins went 5-23 in June -- the worst month in franchise history -- for a variety of reasons. The main culprit was offense. They struggled earlier to hit with runners in scoring position, which is why John Mallee was fired in early June. That firing stunned players, which I think was the reason they continued their tailspin.
Q: How have players reacted to the managerial change?
JC:
Manager Jack McKeon has been a positive slap in the face to a team that was often coddled by mild-mannered Edwin Rodriguez. While players were not happy with Mallee's firing, they have come around in the last week and praised McKeon for his old-school approach.
Q: What's the latest on Josh Johnson? Any idea when he might return? Would the Marlins entertain trading him?
JC:
Josh Johnson's absence also factors into the June swoon. The starters are 8-17 since his last start. And now he has been pushed back because of shoulder soreness. They hoped he'd return July 16; now it's looking more like August. I do not think they will trade him. They consider him a franchise marquee face.
Q: Who is the offensive MVP of the club so far this season? Who's the best pitcher?
JC:
Gaby Sanchez
is the offensive MVP (even though he had a rough June) and
Anibal Sanchez
is their new ace.
Q: Give us a quick scouting report on the starters we'll see this weekend in Arlington.
JC:
You will see Anibal on Friday. This is his second injury-free season -- he was bothered by shoulder issues most of his caeer up until last year -- and the results are paying off. He has allowed four earned runs over his three starts.
Javier Vazquez
(Sunday) has been on a nice roll, with an ERA around 1.00 over his last three starts. Nice bounce back for a guy who looked horrible up until June.
The Marlins will call up a minor league pitcher to start Saturday -- either Double-A LHP
Brad Hand
or Triple-A righty
Elih Villanueva
. Both were up earlier and both got hit around, although Hand was effective in his first start.
Q: Who's been the biggest surprise this season? The biggest disappointment?
JC:
Biggest disappointment is
Hanley Ramirez
(.221, 5 HR, 24 RBIs). Biggest surprise is probably
Greg Dobbs
who is htting .300 and playing more often than he has at any point in his career. He was supposed to be a bench player but has gotten lots of playing time, mainly plugging in a hole at 3B.
June, 15, 2010
6/15/10
10:14
PM CT
In a game dominated by the starting pitchers, it was catcher
Matt Treanor
who made the biggest impact ... once he got off the bench with the Rangers down to their last out Tuesday.
With two outs in the top of the ninth, runners at the corners and the Marlins leading 2-1, Treanor pinch hit and sent the first pitch he saw from closer
Leo Nunez
deep to center for a two-run triple and a 3-2 Rangers lead.
Neftali Feliz
pitched a 1-2-3 bottom of the ninth for his 16th save.
How unlikely were Treanor's heroics? It was his third triple in 861 career at-bats. His last triple came in 2007 when he played for Florida, the team with which he started his major league career. He played for the Marlins from 2004 to '08.
Starters
C.J. Wilson
and
Josh Johnson
locked in a duel that Johnson appeared to be getting the best of.
The Rangers got to Johnson with three singles and a run in the first inning, but he gave up only one more hit over the next six innings.
Wilson took a one-hitter into the sixth but struggled with his control. That caught up to him when he walked a batter with one out in the sixth then allowed a two-run homer to
Hanley Ramirez
. Wilson finished with two runs on two hits with six walks and six strikeouts in six innings.
He was on the hook for the loss until Treanor saved the day. Reliever Alexi Ogando, with a scoreless eighth in his major league debut, got the victory.
Rangers third baseman
Michael Young
, one hit from tying
Ivan Rodriguez
for the all-time franchise record, went 0-for-4 with three strikeouts. Young gets his next shot at the record Wednesday against Marlins starter
Anibal Sanchez
, whom he's never faced.