February, 24, 2014
Feb 24
9:49
AM CT
SURPRISE, Ariz. --
Texas Rangers
outfielder
Alex Rios
has been cleared to do drills with the rest of the team after his left big toe felt better. The toe has bothered Rios since he played on the turf in Toronto a few years ago.
Rios has managed the toe since then and eased off it for a few days. But he's back and expected to participate in drills today. He's not in the lineup for the intrasquad game.
Other injuries:
* INF
Kevin Kouzmanoff
(sore back) will not participate in drills today and is listed as day-to-day.
* RHP
Tanner Scheppers
(back) is scheduled to throw a bullpen session today.
* C
Geovany Soto
(left foot surgery) is in Arizona and is expected to come by the facility at some point today. His timetable is 10 days to let the sutures heal before he can resume baseball activity. The Rangers hope he can get in some Cactus League games in the final two weeks before the season starts.
* RHP
Ben Rowen
(biceps tendinitis) will start a throwing program the first week of March.
* RHP
Daniel Bard
(Thoracic Outlet Syndrome) is in the early stages of his throwing program.
* Assistant GM Thad Levine (broken left thumb) injured the thumb playing basketball. He's wearing a brace on it and certainly can't play basketball for a while.
February, 18, 2014
Feb 18
11:03
AM CT
SURPRISE, Ariz. -- The
Texas Rangers
aren't going to take any chances when it comes to an already injured-impacted starting rotation. So when
Matt Harrison
mentioned he had a stiff neck, he was taken off the list to throw a live batting practice session Tuesday.

Harrison said he's fine and general manager Jon Daniels admitted that the lefty wanted to throw his live BP as planned. But the club won't risk anything this early in camp.
"We're going to be cautious," Daniels said. "He wants to throw and says it doesn't bother him on the mound, but we'll take it easy anyway."
Harrison is listed as day-to-day.
Other injury news:
* The big injury news of the day is
Jurickson Profar
's shoulder, which bothered him throwing Monday to the point that he is now going to take it easy for another week. The setback means he likely won't play second base in Cactus League games until the second or third week of March.
You can read all about that here.
* RHP
Daniel Bard
: His back feels better and he's doing conditioning, but still isn't throwing because of Thoracic Outlet Syndrome surgery in January.
* RHP
Roman Mendez
(olecranon stress fracture): Scheduled to throw a bullpen session Tuesday.
* RHP
Ben Rowen
(biceps tendinitis): Played catch Monday and had continued discomfort. He had an MRI that was clear, but won't throw until team physician Dr. Keith Meister clears him to throw.
* RHP
Shawn Tolleson
(ankle): Came out of Monday's session feeling good and is scheduled to do everything Tuesday. Assuming he's OK, he wouldn't be on the injury report after today.
February, 17, 2014
Feb 17
10:32
AM CT
SURPRISE, Ariz. -- Left-handed pitcher
Derek Holland
is going to get a scan on his left knee earlier than planned.

Instead of getting it done at 12 weeks after his surgery, doctors will take a look at eight weeks. That's two weeks from now, meaning he won't be coming to Arizona until early March. But general manager Jon Daniels said Holland, who is expected to get off crutches this week, is progressing well.
Other injury notes:
Texas Rangers
second baseman
Jurickson Profar
has been cleared to throw by team physician Dr. Keith Meister. The team will still ease him in and he'll start Cactus League games at DH before transitioning to full-time second-base duty.
Read more about Profar's status here.
* RHP
Ben Rowen
(biceps tendinitis): Cleared to start his throwing program, but won't be ready for the start of Cactus League games based on his progression.
* RHP
Shawn Tolleson
(left ankle sprain): He's going to throw live BP later today, so the ankle is feeling better.
* RHP
Daniel Bard
(stiff back): He will go through conditioning and get treatment, but he was behind anyway because of Thoracic Outlet Syndrome surgery in January.
February, 16, 2014
Feb 16
11:10
AM CT
SURPRISE, Ariz. -- As
Texas Rangers
pitchers and catchers report today, a few key members of the club's rotation -- and some that are vying to make that rotation -- are expected to be 100 percent on schedule and ready to go.
That includes left-handed pitcher
Matt Harrison
, who threw 44 pitches in a bullpen session on Sunday and was pleased with how he's feeling.

Yu Darvish
, who had an injection in his back at the end of last season, threw 34 pitches on Sunday and is listed as fully healthy.
Colby Lewis
likely throws his first bullpen on Monday, but will do so on schedule. After coming off hip surgery, Lewis has been throwing at his home and the club lists him as "full go." The hip resurfacing was a rare procedure on a pitcher (in fact, there's no record of an active pitcher having it), so everyone will be paying close attention to Lewis' progress.
Other injury notes:
LHP Derek Holland remains on crutches and is rehabbing in Arlington. He will join the team in Surprise when he's off crutches, which could be a week or so.



INF Jurickson Profar has some shoulder inflammation. He can run, hit and field, but won't throw until he's reevaluated by Dr. Keith Meister, the team physician, this week.



Roman Mendez (olecranon stress fracture) is throwing pens and progressing through his throwing program (he had the surgery last May). The club anticipates that he will be little behind at the outset of camp.



Joseph Ortiz (foot) is on the 60-day DL and can't put any weight on his foot until the end of March.



Ben Rowen (biceps tendinitis) will be reevaluated by Dr. Meister this week.



Shawn Tolleson (left ankle sprain) will be reevaluated by Dr. Meister this week and is listed as day-to-day.
February, 12, 2014
Feb 12
7:06
PM CT
Derek Holland
is scheduled to go to spring training on Feb. 22 or 23 when he gets off crutches. Holland had said earlier in the offseason that he was hoping to do his rehab in Arizona so that he could be around the team.
Holland had microfracture surgery earlier this offseason and is recovering after tripping on his boxer, Wrigley, on the stairs of his home and injuring his left knee.
Other notes from general manager Jon Daniels, who spoke to beat writers on Wednesday afternoon:
* The Rangers are still negotiating with
Mitch Moreland
on a contract for the 2014 season. Moreland, who is arbitration-eligible, and the club have a hearing scheduled for Feb. 19. When the two sides exchanged figures, Moreland was looking for $3.25 million and the Rangers offered $2.025 million. We'll see if the two sides can find enough common ground to avoid a hearing. The Rangers haven't had a hearing since 2000.
"I'm hopeful that we can (reach an agreement), but you get this close you have to be prepared," Daniels said. "I'm sure both sides have prepared their cases. I know we have, and hopefully we don't have to go down that path. You have to be prepared for anything."
* Daniels said he's stayed in contact with
Nelson Cruz
's agent, Adam Katz, but expects the slugger to sign elsewhere.
"We check in periodically, but nothing's changed there," Daniels said.
* Daniels indicated the Rangers aren't pursuing any right-handed bats on the free agent market at this time, opting to go internal at that spot. Those candidates include
Alex Castellanos
,
Robinson Chirinos
, and
Michael Choice
.
* The GM did not address anything about
Tommy Hanson
, though he said he hoped to add some pitching depth soon. It's likely that the club is waiting another day or two when they can place Holland on the 60-day disabled list, giving them room to put Hanson on the 40-man roster.
*
Ben Rowen
, the right-handed submarine pitcher, has some biceps tendinitis that will keep him from following the same schedule as the rest of the club's pitchers. But the club doesn't think he'll be too far behind.
January, 29, 2014
Jan 29
9:00
AM CT
Note: Spring training will arrive before you know it. To get you ready, we'll take a look at every position between now and February, when pitchers and catchers report to Surprise, Ariz.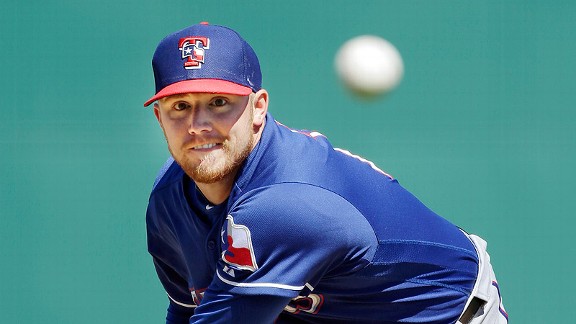 AP Photo/Mark DuncanRobbie Ross will be a critical component in middle relief if he doesn't join the rotation.
Today's position: Middle and long relief
As pitching coach Mike Maddux put it last week, the club will take the best "staff," not the best "relievers" or the best "starters." The mission is about putting together the 12 pitchers who can most help the team. That means figuring out the group they want and how best to align them.
There are a host of candidates for a job in the starting rotation. That's a pressing issue now that
Derek Holland
's recovery from knee surgery will probably keep him out until midseason. But even as those players compete for that job, they could also be competing for a spot as a long reliever. The pitcher who doesn't go into the rotation could slide in as a long man and spot starter.
The list of internal candidates for the rotation spot include
Michael Kirkman
,
Colby Lewis
,
Robbie Ross
,
Tanner Scheppers
and
Nick Tepesch
. There will be more, you can be sure. And there will be external candidates that will get a look as well.
If Ross doesn't earn the job, the lefty could be a critical middle reliever for this team. While he didn't have as strong a 2013 as he did 2012, Ross was still 4-2 with a 3.03 ERA in 65 games. He pitched in a variety of situations. But what was odd about Ross' season was his inability to get left-handed batters out consistently. They hit .341 against him in 91 at-bats. It's something Ross is working on this offseason and into 2014.
Kirkman and Tepesch could be viable long men and spot starters should they not end up in the rotation. Kirkman is motivated after a poor 2013 and believes that the pitcher that showed up for spring training and pitched so well last year can do the same in the regular season. Tepesch got some big league experience last year, stepping into the rotation because of injuries. He was 4-6 with a 4.84 ERA in 19 appearances (17 starts) and is working on a changeup with the hopes of that helping make him more effective.
If Scheppers doesn't start, he's a late-inning reliever and someone who has the experience of getting big outs late in close games. We'll talk more about him tomorrow.
The Rangers also have veteran
Jason Frasor
for middle relief. He was actually the first player the club signed this offseason.
Neal Cotts
burst onto the scene last year and returns after a terrific 2013. Cotts had a 1.11 ERA in 57 innings pitched, and opponents hit just .180 off him. Others such as
Shawn Tolleson
and
Ben Rowen
will try to impress coaches this spring and see if they can get into that mix.
OUTLOOK:
The Rangers have plenty of internal options for the middle and long relief roles, but it may take some time to sort them out. It's a good mix of veterans and young players in the bullpen. We'll talk more about the later innings and the closer in the next few days.
November, 20, 2013
11/20/13
2:14
PM CT
The
Texas Rangers
received right-handed pitcher
Shawn Tolleson
from the
Los Angeles Dodgers
on a waiver claim, the team announced Wednesday.
Tolleson, 25, was 3-1 with a 4.30 ERA in 41 relief appearances (37 2/3 innings pitched) over the last two seasons with the Dodgers. He had only six appearances in 2013 because of a lower back surgery and a left hip injury. Tolleson, who attended Allen High School and pitched at Baylor, has a career 1.34 ERA in 107 appearances (127 2/3 innings pitched) in the minor leagues. He also has a .932 career WHIP in the minors with 185 strikeouts against 31 walks.
The Rangers also added right-handed pitchers Lisalverto Bonilla and Ben Rowen, along with infielder Luis Sardinas, to the major league roster. Left-handed pitcher
Edwar Cabrera
cleared waivers and been assigned outright to the minors.
Rowen, 25, went 6-1 with a 0.69 ERA in 51 total appearances for Frisco and Round Rock in 2013. Bonilla, 23, was 7-5 record with six saves and a 4.79 ERA in 47 games (two starts) for Frisco and Round Rock last season. Sardinas, 20, batted .288 with two home runs, 46 RBIs, 81 runs scored and 32 steals in 126 total games with Myrtle Beach (High-A) and Frisco in 2013. He has a .354 (45-127) average in 31 games with La Guaira in the Venezuelan Winter League.
Cabrera, 26, was received from Colorado on a waiver claim on October 16.
The Rangers now have 38 players on the 40-man roster.
March, 22, 2013
3/22/13
6:53
PM CT
By
Ron Matejko
| ESPNDallas.com
SURPRISE, Ariz. -- The
Texas Rangers
(13-13-2) continued their recent trend of alternating wins and losses following with a 14-9 loss to the
Colorado Rockies
(13-10) on Friday at Surprise Stadium.


What this means:
Texas falls back to .500 and has dropped two of its last three. The 14 runs allowed tied the most in a single game this spring (Feb. 26 vs.
Chicago White Sox
).
Roughed up rookie:
Starter Nick Tepesch had his most difficult outing of the spring, allowing eight earned runs on 12 hits with three walks and three strikeouts in five-plus innings. The rookie right-hander was on the cusp of earning the No. 5 spot in the starting rotation, but after this performance, and allowing three runs in five innings to the Cubs on Sunday, the 24-year old will need to bounce back well in his final spring start next week.
PODCAST
ESPN MLB Insider Jim Bowden joins Fitzsimmons & Durrett in Surprise to discuss what to expect from the Rangers this season.

Listen

Down under:
Submarine pitcher Ben Rowen replaced Tepesch and didn't fare any better. All five batters he faced reached base on four hits and one error. He allowed three runs, all on a
Wilin Rosario
home run, and one inherited runner scored. Rowen was appearing in his second consecutive game. He pitched 1.1 scoreless innings Thursday.
Rare air:
Even LHP
Joe Ortiz
, who has been untouchable in 'A' games this spring, fell victim to the Colorado offensive assault, giving up a two-run home run and allowing one inherited runner to score. Ortiz was unscored upon in nine innings in 'A' games.
Still streaking:
Elvis Andrus
went 1-for-2 extending his hitting streak to 12 games. He is 15-for-34 during that span (.441) and is hitting .378 overall this spring.
Whoa, Nellie:
Nelson Cruz
continues to hit well this spring and sparked the Rangers four-run fourth inning with his two-run, home run to right field.
Four for four:
Texas scored four runs in both the fourth and fifth innings to continue its recent offensive onslaught. The Rangers had posted three of their highest hit totals in the last five games.
Four fifths:
David Murphy
and
A.J. Pierzynski
hit back-to-back home runs in the Rangers four-run fifth inning. Murphy blasted a two run blast to right, followed by Pierzynski's shot that cleared the grassy area in right field and went well into the home run party tent that sits behind it.
Mitch Moreland
and
Craig Gentry
followed with doubles off the wall as the bottom half of the Rangers order roughed up
Rafael Betancourt
.
What's next?:
Texas will hit the road to take on the
Cincinnati Reds
on Saturday at 3:05 p.m. CT at Goodyear Ballpark. RHP
Yu Darvish
(0-1, 1.04) is the scheduled starter for Texas. RHP
Mat Latos
(0-0, 2.45) will take the mound for Cincinnati. The game can be heard live on ESPN 103.3 FM.
March, 12, 2013
3/12/13
1:13
PM CT
By
Ron Matejko
| ESPNDallas.com
SURPRISE, Ariz. -- The
Texas Rangers
announced Tuesday the additions of right-handed pitchers Ben Rowen and Lisalverto Bonilla to their training camp roster.
Rowen and Bonilla have seen limited spring action as minor-league extras, but both have made the most of their opportunities and own impressive résumés.
"Both guys were discussed before camp, as far as coming in," president of baseball operations/general manager Jon Daniels said. "We had quite a few numbers but they've come over and thrown a few innings and I think everyone wanted to see a little bit more of them -- get them in this environment, get them with Mike (Maddux). Both guys have impressed."
Bonilla was acquired in December from Philadelphia as part of the
Michael Young
trade. His changeup is considered his best pitch, followed by a slider.
He's thrown one scoreless inning this spring with a walk and a strikeout.
The 22-year old Samana, Dominican Republic native was 3-2 with a 1.55 ERA and four saves in 31 appearances in Single-A and Double-A in 2012, his first season as a full-time reliever.
Rowen's deep, submarine delivery is enough to garner attention, but the results of his funky throwing motion have been eye-popping as well.
"We have a bunch of guys with different arm slots, he's even more extreme," Daniels said. "Almost more like
Chad Bradford
, more like that angle with his hand barely above the ground when it comes to his arm swing. He's a unique guy."
Rowen throws plenty of strikes but isn't packing the velocity with a fastball that peaks in the low 80s, but he has excellent command. Last season he finished 5-0 with a 1.57 ERA and 19 saves for Myrtle Beach, earning him Closer of the Year honors in the Carolina League and the minors' Best Relief Pitcher from MLB.com.
Rowen has allowed one hit in two scoreless innings this spring.
The Rangers also announced Tuesday that RHP Jake Brigham, RHP
Neil Ramirez
, RHP
Justin Miller
and OF Joey Butler have been reassigned to the minor league camp.
August, 9, 2012
8/09/12
1:30
PM CT
The
Texas Rangers
' minor league award winners for the month of July, which were announced Thursday, are: RHP C.J. Edwards (pitcher of the month), INF Alejandro Selen (player of the month), INF Rougned Odor (defender of the month), RHP Ben Rowen (reliever of the month).
Here's some information about the four players from the club's release:
Edwards, 20, was 1-0 with a 0.76 ERA (two ER/23.2 IP) and 29 strikeouts against nine walks, while holding opposing batters to a .127 average (10-79) over five games/four starts with the Arizona League Rangers and the Spokane Indians. The 6-foot-2, 180-pound Edwards had the lowest opponent batting average and posted the fifth-lowest ERA of any minor league pitcher during the month. The right-hander was elevated to Spokane on July 12 and completed at least 5.0 innings with two or fewer hits and one or zero earned runs in three of his first four starts with the Indians. Overall, Edwards has combined to go 4-1 with a 1.13 ERA (six ER/48.0 IP) and 58 strikeouts against 19 walks in 10 games/nine starts with the AZL Rangers and Spokane. Edwards was selected in the 48th round of the 2011 June draft and signed by Chris Kemp.
Selen, 23, batted .409 (27-66) with 10 runs, four walks, two doubles, six home runs and 23 RBIs over 19 games with Low-A Hickory in the month of July. The Dominican Republic native had a season-high four hits twice during the month, along with career-best five RBIs on July 26 vs. Delmarva just one day after his second career multi-home run game on July 25 vs. Delmarva. Overall, Selen is batting .354 (46-130) with eight doubles, 10 home runs and 37 RBIs in 36 games with the Crawdads this season. Selen was signed as a non-drafted free agent on September 7, 2005, by Danilo Troncoso.
Odor, 18, started 26 games in the field for Low-A Hickory in July, appearing at second base 15 times and shortstop in 11 contests. The Venezuela native owns a .980 fielding percentage at second base this season, highest among any second baseman in the South Atlantic League with at least 345 total chances. He has spent the bulk of his playing time at second base, with 70 of his 90 games there. At the plate, Odor is batting .262 (94-359) with 21 doubles, four triples, eight home runs, 40 RBIs, and 14 stolen bases in 90 games with Hickory. He was signed as a non-drafted free agent on January 3, 2011 by Rafic Saab and Mike Daly.
Rowen, 23, did not allow a run over 12.2 innings and tallied nine saves in 10 appearances out of the bullpen with High-A Myrtle Beach in July. The Virginia Tech product held Carolina League opponents to a .143 average (6-42) during the month, while recording 12 strikeouts with no walks. The right-hander is currently in the midst of a 29.2-inning scoreless streak dating back to June 3, during which batters have hit just .152 (15-99) with 21 strikeouts against just one walk. Overall, Rowen is 4-0 with a 1.17 ERA (six ER/46.1 IP) and 16 saves in 30 games with the Pelicans. He was selected in the 22nd round of the 2010 June draft.
September, 13, 2010
9/13/10
4:31
PM CT
Right-hander David Perez was named the Rangers' minor league pitcher of the month for August, and infielder Jhonny Gomez was named player of the month.

Perez, 17, went 1-0 with a 0.50 ERA (one earned run in 18 innings) over three starts in August for the Dominican Summer League Rangers.

Gomez, 20, hit .475 with five doubles, two triples and 10 RBIs in 16 games for the Arizona Rookie League Rangers.

The Rangers also honored short-season Class A Spokane third baseman Mike Olt as defender of the month and Spokane right-hander Ben Rowen as reliever of the month.