Texas Rangers:

Ben Sheets
July, 28, 2010
7/28/10
8:28
PM CT
The closest pursuers to the first-place Rangers in the AL West received bad pitching news Wednesday.
Oakland A's starter
Ben Sheets
, who went on the 15-day disabled list Saturday,
is out for the year
with a torn flexor in his right elbow.
Los Angeles Angels
starter
Joel Pineiro
strained a muscle in his left side warming up before Wednesday's game and
is out 6-8 weeks
.
Sheets was signed to a one-year, $10 million contract by the A's in the offseason. For that investment, they got a 4-9 record with a 4.53 ERA in 20 starts. Sheets' injury was confirmed by Rangers team physician Dr. Keith Meister.
Pineiro, the Angels' leader in victories, is 10-7 with a 4.18 ERA.
The Angels had a bit of good news, however.
Dan Haren
, who was acquired from Arizona then left his Angels debut after being hit by a line drive, pitched a bullpen session Wednesday and
pronounced himself fit for Saturday's scheduled start
against the Rangers.
Pending the result of Wednesday night's Rangers-A's game, Texas had an 8 1/2-game lead on Oakland and a nine-game lead over the Angels, who lost to Boston in an afternoon game.
May, 13, 2010
5/13/10
10:00
AM CT
By
Josh Davis
| ESPNDallas.com
The Rangers and A's conclude their three-game series at 1:05 Thursday at Rangers Ballpark in Arlington with LHP
C.J. Wilson
going against RHP
Ben Sheets
. Here's a brief look at the matchup:
Wilson (3-1, 1.51 ERA):
The 29-year-old Wilson is coming off his first complete-game victory, allowing five hits and one earned run on 113 pitches in a 4-1 win against Kansas City on Friday. The left-hander, the current ERA leader in the American League, is the first lefty in club history to open a season with six consecutive quality starts. He has matched another personal-best this season with three consecutive decisions, and is tied with
Colby Lewis
for most victories by a Texas starter (3). Wilson has not allowed a home run in 41 appearances in Arlington since the beginning of the 2009 season.
Ben Sheets (2-3, 6.38 ERA):
Sheets, making his eighth start of the season, has struggled on the road, going 0-2 with a 13.50 ERA and a .446 opponent's batting average away from home. In addition, he has yielded five of his six home runs on the road. Sheets won his last start against Tampa Bay, but he allowed 17 runs in his prior two starts. He has started just one game against the Rangers, a 4-3 Milwaukee loss at Texas in June 2007. In that contest, he pitched seven innings allowing five hits and no earned runs.
Hitters:
While Oakland's
Cliff Pennington
,
Eric Patterson
,
Landon Powell
and
Daric Barton
have yet to record a hit against C.J. Wilson, a few A's sluggers have had success against the Rangers' left-hander.
Eric Chavez
is 3-7 in his career against Wilson with a home run and two RBIs,
Rajai Davis
is 2-4 with two RBIs, and
Ryan Sweeney
is 2-3. Only three Texas batters have faced Sheets:
Vladimir Guerrero
is 7-18 with one home run and four RBIs,
Michael Young
is 1-3 and
Ian Kinsler
is 0-3.
May, 4, 2010
5/04/10
10:27
AM CT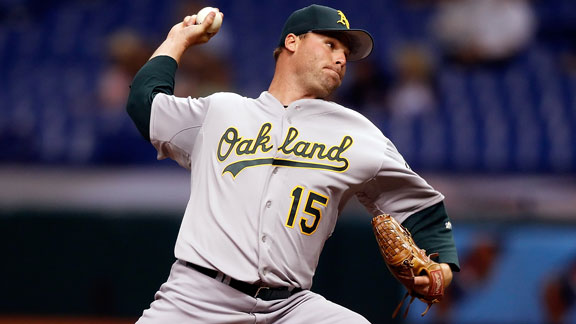 Is Oakland pitcher Ben Sheets tipping his pitches, most notably his curveball? In his last two starts, spanning 7 1/3 innings, Sheets has been shelled for 17 runs on 19 hits. ESPN The Magazine's Buster Olney discusses.
Side note: The Rangers will miss Sheets on this trip to Oakland, and quite possibly during the A's trip to Arlington on May 11-13. He's next scheduled to start Saturday against Tampa Bay.
February, 27, 2010
2/27/10
8:00
AM CT
By
Richard Durrett
| ESPNDallas.com
ESPN.com's
Jerry Crasnick wrote about Ben Sheets
, who still lives in the Dallas area and had a deal with the Rangers before last season, when he failed a physical. Sheets signed with the Oakland A's, meaning he'll get some chances to pitch against Texas this season. Part of the story:
When the Athletics spent $10 million on a one-year contract for Sheets, they were betting on a return to form by the pitcher who made four All-Star teams while with Milwaukee, struck out 264 batters at age 25 and averaged 225 innings during a three-year stretch with the Brewers.
And if Sheets isn't vintage Big Ben or Oakland fades from American League West contention by July, general manager Billy Beane will try to flip him at the trade deadline, and Sheets will swap his Kelly green, Fort Knox gold and wedding-gown white for a contending team's colors.
The column continues later with this:
The signing was momentous enough that several A's remembered precisely where they were when they got the news. Manager Bob Geren was having a flat tire repaired when Beane called, and he had to step outside to escape the noise from his lug nuts being removed.
Braden was so excited, he tracked down Sheets' phone number and sent his new teammate a "Welcome to Oakland '' text message. To his delight, Sheets responded almost immediately.
"He told me, 'I want you to get your working boots on, because it's going to be a fun year,'" Braden said. "That was awesome to hear. Here's a four-time All-Star texting me back when he's got nothing invested yet. And he's ready to work. You hear that and you know you've got the right guy.''
So clearly the A's are excited.
Click here for a quick look at Sheets' value in the A's rotation
.
January, 26, 2010
1/26/10
10:00
PM CT
By
Richard Durrett
| ESPNDallas.com
I know some of you weren't happy to see that the
Oakland A's signed Ben Sheets on Tuesday
. Once again, an AL West team is out on the market getting aggressive. This division has really stepped it up this offseason.
But the deal was one year at $10 million. A few folks I talked to thought Sheets would get a similar deal to what Rich Harden got from the Rangers. Apparently not. Harden got $7.5 million with a club option for 2011.
Is Sheets worth the money? That's hard to say. When he's healthy, he has ace-type stuff. It's why the Rangers had a two-year agreement in place with him last offseason before he failed a physical and required surgery.
But $10 million sure seems like a lot for a guy just coming back off that surgery after missing 2009. And while the Rangers were interested -- they made no secret about that -- the pricetag was too high.
Do you think the Rangers really missed out on a great opportunity? Or did the A's overpay?
January, 20, 2010
1/20/10
11:27
AM CT
By
Richard Durrett
| ESPNDallas.com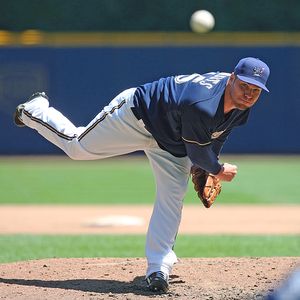 Jeff Hanisch/US Presswire
Ben Sheets could bolster the Rangers' deep lineup of pitchers.
The
Rangers
were one of a handful of teams that watched
Ben Sheets
throw on Tuesday at the University of Louisana-Monroe.
One report said pitching coach Mike Maddux was in attendance, watching Sheets throw 20 fastballs (topping out at 91 mph) and a bunch of curve balls as well. The report quoted one scout as saying Sheets "looked good physically."

The Rangers are long shots on Sheets at this point. They have spent most of the money in their budget. But you can never completely count them out as we've seen this offseason. General manager Jon Daniels can get creative. Sheets does appear to have plenty of suitors right now as he tries to make his comeback.

Are you OK with the Rangers' pitching situation entering spring training? Do you want Sheets?
December, 9, 2009
12/09/09
12:15
PM CT
By
Richard Durrett
| ESPNDallas.com
INDIANAPOLIS -- The Texas Rangers met with Casey Close, the agent for Ben Sheets, on Tuesday, according to a league source.

Sheets, 31, is recovering from elbow surgery last season. He rehabbed for most of 2009 in Arlington, working with Rangers physician Dr. Keith Meister. The Rangers did get some medical records on Sheets and are reviewing them.

The Rangers had a deal in place with Sheets last offseason before the pitcher failed a physical and opted for surgery. He interests the club if they can structure a deal that includes some incentive-based bonuses that give the team some protection if he isn't completely healthy.

Sheets could be the type of free agent who isn't signed until later in the offseason once he has a better idea of his market value and if teams get a chance to see him throw.
December, 8, 2009
12/08/09
5:49
PM CT
By
Richard Durrett
| ESPNDallas.com
INDIANAPOLIS -- Texas Rangers general manager Jon Daniels said he is trying to set up a meeting with Casey Close, the agent for pitcher Ben Sheets. The Rangers would like to meet with Close before the winter meetings end to get an update on how Sheets is progressing after elbow surgery.


The club had a deal in place with Sheets last offseason, but he failed a physical. Sheets had surgery and missed the 2009 season. He did his rehab work in Arlington with Dr. Keith Meister, the club's team physician, during the season.


"Like we would with any player, we want to find out where the player is physically," Daniels said.

Daniels said that the normal homework process is to see a pitcher throw and looks at the medical records.


"Those are typically the types of things you want to do on a guy that is coming back from injury," Daniels said.

Sheets, 31, could be looking for a similar deal to the one he had in place last season, which was some guaranteed money and some incentives for innings pitched and other benchmarks to prove he's healthy.
December, 8, 2009
12/08/09
1:33
PM CT
By
Richard Durrett
| ESPNDallas.com
INDIANAPOLIS -- Several clubs have talked to the Rangers about Kevin Millwood, who will make $12 million this season in the final year of his contract. And there is certainly some interest. That list includes Baltimore (but that deal may have faded some) and, according to various reports, Arizona. It doesn't appear the Mets are interested at this time. Texas would look at getting some pitching prospects in return.

Should the Rangers move Millwood, the club could use some of the money saved from the trade to get another veteran starting pitcher, possibly Ben Sheets or Rich Harden. Both are coming off injury concerns. Word is that Sheets hasn't thrown for teams yet and getting medical records on him isn't easy right now. That could be an attempt to wait to see if the market goes up later this offseason. He spent 2009 rehabbing from surgery in Arlington. The Rangers had a deal with Sheets last offseason before he failed a physical. Harden was shut down in Sepetember because of shoulder fatigue.

The team also needs a right-handed bat and some of the financial flexibility from getting rid of Millwood's salary could go toward names like Vladimir Guerrero or Jermaine Dye, both players the Rangers are interested in.