Texas Rangers:

Bob Simpson
December, 6, 2012
12/06/12
8:00
AM CT
NASHVILLE, Tenn. --
Texas Rangers
CEO Nolan Ryan wouldn't dismiss the idea that his club could afford to sign both
Josh Hamilton
and
Zack Greinke
, but he acknowledged that it would take ownership approval.
Ryan, speaking to local reporters Wednesday night, said principal owners Bob Simpson and Ray Davis would have to approve anything that was over budget. And Ryan suspects that signing both players would put the club over budget, though he cautions that he doesn't know exactly what that might cost.
Davis is in Nashville, attending some of the club's meetings. The key personnel that determine the club's financial resources are in place should Daniels get close to a deal before the winter meetings end.
Read the entire story
here
.
November, 5, 2012
11/05/12
11:00
PM CT
Editor's Note: Before we shift our complete focus to the 2013 season, let's take a quick look back at 10 memorable moments -- games, signings, events -- from the 2012 campaign. By memorable, we mean both good and bad moments. And we've now reached our top 5.
Moment No. 4:
Texas signs Japanese pitcher
Yu Darvish
just prior to the deadline on Jan. 18.
Before we get to Jan. 18, we have to back up a bit. While the Winter Meetings were wrapping up -- those meetings in Dallas included one of the Rangers' biggest rivals, the Angels, signing
Albert Pujols
and
C.J. Wilson
-- general manager Jon Daniels and his staff were busy putting the finishing touches on two separate presentations to club owners Ray Davis and Bob Simpson, co-chairman of the board. The baseball staff wanted to go after Darvish and that required a major financial commitment.
[+] Enlarge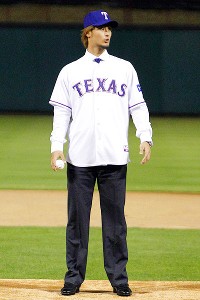 AP Photo/LM OteroYu Darvish donned his new jersey and threw a pitch from the mound at Rangers Ballpark after his introductory press conference in January.
The staff had convinced Nolan Ryan to back them and the CEO decided that a presentation from the baseball front office rather than Ryan himself might better sell the proposal. Davis and Simpson agreed to what ended up becoming a $51.7 million posting bid. And they weren't sure if that would be enough to land Darvish. The bid went in that December and on Dec. 18, the Rangers were notified that they had won the bidding and would begin negotiations with Darvish and his representatives. They had a month to get a deal done or Darvish would pitch in Japan in 2012.
The Rangers didn't take anything for granted. The scouts and personnel that had followed Darvish established contact with the family. Josh Boyd went to Japan to help iron things out. And Daniels, assistant GM Thad Levine and others worked with Darvish's representatives (Don Nomura and Arn Tellem) to get a six-year, $56 million deal completed (Darvish gets $4 million more if he stays healthy in those final few years of the deal).
A few weeks prior to the deadline, the Rangers entertained Darvish and his father. The club treated it like a recruiting trip, showing a video on the big screen, touring the ballpark and potential places to live and giving Darvish a taste of life in Texas.
The day the deal came together -- Jan. 18 -- was an interesting one in Arlington. Japanese media had stayed through the night just in case a deal got done hours before the deadline, but things didn't come together until that afternoon. Darvish was still in Japan, but made his way to Texas two days later for the official news conference.
But the posting and the signing represented yet another major step for the club. It showed it has an ownership group willing to spend money and one that put its trust in the front office.
January, 21, 2012
1/21/12
2:18
PM CT
ARLINGTON, Texas -- Rangers co-chairman
Bob Simpson's comments Friday
don't mean the club is out of the Prince Fielder sweepstakes. He, like GM Jon Daniels on Wednesday, called it "unlikely." But he didn't slam any doors shut, either.
Simpson,
like Nolan Ryan this week
, suggested that the current price tag is too high.
"If that were to change, I guess they'd look at it harder," Simpson said. "Right now he's priced himself out of what we could do."
If Fielder wants to play in Texas, it's time to get creative. What about a short-term deal with some opt-outs for Fielder (and maybe the club) that gives him a chance to put up some monster numbers at Rangers Ballpark in Arlington and then explore the free agent market again if he chooses?
We know from past deals that the Rangers' front office is a creative bunch. There's no question Scott Boras, Fielder's agent, is too. If the 8- or 10-year deal isn't there for Fielder, what about a 5- or 6-year deal that maybe includes the chance for Fielder to get out of the contract after three or four years (and maybe have part of that contract backloaded or some other moves made to fit him into the budget)? That would give him time to use that left-handed bat Arlington and pile up statistics that could then yield a bigger contract.
Fielder turns 28 in early May. He has stayed healthy in his career, playing at least 157 games per season in his six full seasons in Milwaukee. He's got a career .282 average with at least 28 homers per season (32 or more in his last five seasons, including 50 in 2007 and 46 in 2009). Think of the numbers he could put up in Arlington (maybe Yu Darvish wouldn't want that fence moved back after all if Fielder joins another power lefty, Josh Hamilton, in the Rangers' lineup).
Yes, even a shorter-term deal might impact the club's ability to sign Hamilton. And Simpson stated his personal preference for Hamilton over Fielder. But he acknowledged that was his opinion and that it would be something discussed as a group if it came to that. Simpson's management style is to trust his baseball folks. Yu Darvish isn't a Ranger if he (and co-chairman Ray Davis, not to mention the other owners) don't trust Jon Daniels and his staff.
So let's see what happens. If the Albert Pujols-type deal isn't there right now, why wouldn't Fielder want to try to work something out with the two-time AL champions and one of the favorites to get back to a third straight World Series? And by the way, Pujols just turned 32 and got a 10-year deal. If Fielder put up solid numbers the next four seasons, maybe he could get a similar deal. Stay tuned. We've learned with the Rangers that they check into everything and look at every option to improve the club.
January, 21, 2012
1/21/12
9:38
AM CT
ARLINGTON, Texas -- Bob Simpson, Rangers co-chairman of the board, said the three-hour presentation made to him by members of the baseball operations staff convinced him, Ray Davis (the other co-chairman) and other owners to put up a $51.7 million posting bid for Yu Darvish (and then put up more money to sign him, an eventual $60 million over six years).

Simpson, an oil man, said there's "producing" and there's "wildcatting" and Simpson wanted to make sure the staff felt Darvish was closer to being a producer.

"Wildcatters generally don't do well," Simpson said to a small group of media, including ESPN Dallas 103.3 FM. "I try to find the lowest risk available and the winning strategy. Does this fit? They had to convince me and Ray that it does. I believe and trust them. They've done a lot of work. It goes back to are you going to support the organization or second guess them? You're much better off getting real people that know what they're doing than trying to call plays behind them. If you think you can impove your management personally as an owner, you need to get somebody else and not do it yourself."

General manager Jon Daniels, assistant GM Thad Levine, player personnel director A.J. Preller, professional scouting director Josh Boyd and Don Welke, senior scouting assistant to the GM showed their passion for Darvish as they explained why they felt he was worth the big investment.

Simpson said the presentation convinced him, mainly because he saw the "enthusiasm" from the front office about Darvish. It also helped that the last time the ownership group heard a presentation on a major financial commitment, it was Adrian Beltre. And in the first year of that five-year, $80 million deal (with a $16 million option for a sixth year), Beltre produced.

"I have to support my guys," Simpson said. "I support. I don't try to invent the wheel. I'm certainly not going to pick bsaeball players. I support my staff, particularly as they get a track record that you say, 'These guys know what they're doing.' Last year's acquisition of Adrian, he's worth the price of the ticket all by himself."

When it comes to the club's finances, Simpson talked about a strategy to make the Rangers a "dynasty."

"We're writing checks to make this stuff happen, but at some point it's got to sustain itself and we understand that," Simpson said. "Winning comes first and then support comes. You can't ask fans to come to every game while you're losing and have them help you increase your revenues. You're trying to take it to a new level, a sustainable level, where it is a dynasty franchise like the Dallas Cowboys achieved. Then in the off years, and inevitably you'll have some, they still support you."

Simpson, who has been a Rangers fan since the franchise moved to Arlington in 1972, said there were years he didn't come to games because the team wasn't good. But he knows it's not simply a matter of writing big checks that keep a team winning.

"Money can't buy it," Simpson said. "Silly guys get in with big egos and a lot of money and make a mess. I don't believe that's going on here. You've got thoughtful spending behind superb management. That's a different model."
January, 21, 2012
1/21/12
9:06
AM CT
ARLINGTON, Texas -- Bob Simpson, Rangers co-chairman of the board, said Friday night after the introductory news conference for Yu Darvish that his preference would be to re-sign Josh Hamilton over signing free agent first baseman Prince Fielder.

"We've got guys, frankly, like Josh Hamilton that I would love to see re-signed," said Simpson, whose interview with a few media folks from last night can be heard on Rangers Magazine at 10 a.m. this morning on ESPN Dallas 103.3 FM (hosted by Bryan Dolgin). "My personal preference, at this moment, would be to re-sign him instead of having Fielder. But we could all debate that. The organization has its feelings. Everybody dreams about having both. Sometimes you can't have both at some level. If they came around to something we'd do, we'd look at him. But we don't think it's likely."

Fielder is, of course, the top free agent left on the market and would bolster a lineup that is already considered by many as one of the best and deepest in the majors. While saying a deal for Fielder was unlikely, Simpson didn't close the door.

"He's been considered, but given our set of cards, too pricey," Simpson said. "If that were to change, I guess they'd look at it harder. Right now he's priced himself out of what we could do."

Simpson said the biggest offseason deal was acquiring Darvish, which Simpson called "complicated" because of winning a posting bid and reaching an agreement with him.

"We did it," Simpson said. "Now we're satisfied. If we get something on top of that, great. But not something that wrecks our financial discipline."

In other words: The deal might need to be backloaded and be a term and yearly salary the Rangers could fit into their budget.
October, 17, 2011
10/17/11
8:00
AM CT


ARLINGTON, Texas -- Bob Simpson, co-chairman of the board of the Rangers, walked around Rangers Ballpark in Arlington shaking hands and hugging members of the organization following Game 6 of the ALCS. And he didn't try to hide his excitement at going back to another World Series.

"This is so great," Simpson said. "To see these fans so excited like this. I have been a Ranger fan since 1972. I've seen the good times and the bad times. To see what Nolan Ryan, Jon Daniels and Ron Washington and this organization have done is great. This ownership group supports it and we're not done yet."

Simpson talked with several media members after the game, vowing that the Rangers wanted to make it a habit of winning division titles and making postseason runs:

Q: Can the Rangers sustain this level of excellence, which will cost more money as the years go by?

BS: Our challenge is going to be to keep this level of talent together and we know that. We're going to step up and put some money in, ask the fans to support us and help us and see if we can't deliver something like this every year. We want a great fan experience. We're committed to sustaining this level of play.

Q: Talk about stepping up with the financial resources to sign Adrian Beltre.

BS: That was a particularly smart acquisition. The year that Michael has had, the other stars. We're here because of the whole team. We had a lot of talk about 'Why didn't you get Cliff Lee?' Well, we tried. As it turns out, I think what came to pass was better.

Q: This is a top media market, can Rangers fans expect the club to have a top-5 budget?

BS: Maybe eventually as we transition. I think rather than have a payroll goal, we have a talent and level of play goal. Money can't buy success by itself. That's been proved over and over again. What I would recommend to the owners is support this management, support this talent and if we have to step up from time to time financially, we will. Unlike some other teams, there's been no money taken out by the owners. We expect to put money in every year for several years until we get to the sustained big-time and also until our TV contract steps up in 2015. We are committed and want to keep this level of play. You can't ever guarantee it because it's a competitive world. But our philosophy is to sustain this level of play and we know it's going to cost more money. We'll do everything within reason to keep it there and keep this going.

Q: What does this mean for you personally?

BS: It comes at a great time in my life. We just sold our company a couple of years ago and I've got a little more time. It's a different experience and certainly a lot of luck, I understand that. But I'm around people that create luck. I think they can sustain it. I think Nolan Ryan is unbelievable. It's sort of a novelty among franchises because you've got this icon and he's a CEO and president and a baseball tutor and cares about people. He's genuine with lots of integrity. It's a great organization to be associated with.
August, 5, 2011
8/05/11
6:54
PM CT
ARLINGTON, Texas -- Rangers manager Ron Washington was at home plate with club co-chairman Bob Simpson and his wife, Janice, as the public address system played "That's the Way Baseball Go," recorded by country music legend Merle Haggard.

Simpson and his wife had the idea to modify Haggard's Grammy Award-winning No. 1 hit "That's the Way Love Goes," and the Simpsons, with assistance of Jim Hodges and Jackson Yandell of Fort Worth, wrote the new lyrics for "That's the Way Baseball Go."

Washington laughed and clearly got a kick out of his famous line being used in a song by Haggard. The Simpsons wanted it to be a tribute to the Rangers manager, who led the club to the franchise's first World Series appearance in 2010. The Simpsons presented Washington with a framed copy of the original lyrics during a pregame ceremony.

The song will be available for download in the near future. The Simpsons' share of the proceeds from the downloads will go to the Texas Rangers Baseball Foundation.
March, 11, 2011
3/11/11
4:40
PM CT
ARLINGTON, Texas -- What challenges will Nolan Ryan face now that he's added the CEO title with Chuck Greenberg's departure from the Rangers?

"I don't really see, with the people that we have in place, it really much different than the role that I've played as president in the three years that I've been here," Ryan said. "I really don't see that changing."

Ryan's first comments of Friday's press conference were thanking co-chairmen of the board Ray Davis and Bob Simpson for having the confidence in him to fill the additional role. However, he followed that up by emphasizing the importance of "staying the course" for the Rangers.

"I'm not a micromanager," Ryan said. "I really believe in hiring good people and letting them do their jobs, so it really will be a joint effort, not only in the front office but as it's been in the baseball department with Jon Daniels and Thad Levine and Ron and our coaches and scouts. I don't see the business side of it being run any differently than my approach to the baseball side."
August, 13, 2010
8/13/10
5:39
PM CT
By
Jeff Caplan
| ESPNDallas.com
ARLINGTON, Texas -- While Chuck Greenberg and Nolan Ryan are the faces of the Texas Rangers' new ownership group, they are not the primary investors. That distinction belongs to Bob Simpson, who was chairman of XTO Energy Inc., and Ray Davis, a Dallas billionaire and former co-CEO of Energy Transfer Partners LP.

Those four, though, comprise less than one-fourth of the franchise's total investors -- 18 -- all of whom have yet to meet as a group.

"I'm the only one they've all met," Greenberg said.

That will change Saturday night.

"We are having a get-together tomorrow night," Greenberg said. "So it will kind of be like the first day of school for everyone."

Greenberg said the majority of investors are local or have local ties. Almost all outside the Big Four have remained anonymous. Greenberg said they could soon be made public.

"I just want to be respectful," Greenberg said. "Once we have a chance to do that, if they're comfortable with it, then we'll do that."