Texas Rangers:

Buck Showalter
June, 3, 2014
6/03/14
11:10
PM CT
By
Richard Durrett
| ESPNDallas.com
ARLINGTON, Texas --
Nelson Cruz
nearly didn't take his scheduled at-bat in the eighth inning. His said his legs were cramping starting in the fourth inning, and manager Buck Showalter briefly considered pinch hitting for him.
But Cruz decided to make it a quick at-bat anyway, pounding the first pitch he saw from
Shawn Tolleson
deep into the left-field seats for a 404-foot blast that blew open what moments earlier was a tie score in the eighth inning.
[+] Enlarge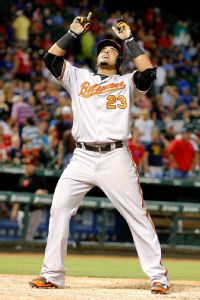 AP Photo/Sharon EllmanNelson Cruz celebrates at the plate after his three-run homer in the eighth gave the Orioles a big lead late in Texas.
Cruz knew it was out as soon as he hit it. And he took his time rounding the bases to be sure he didn't injure himself.
"I was cramping the whole time," he said.
It was a dramatic home run. Cruz always did have a flair for the dramatic, especially in Arlington. Remember the grand slam in the 2011 ALCS against the
Detroit Tigers
? It seems that everything with Cruz is big. Big swings. Big misses. Big streaks. Big home runs in big moments.
The home run, not to mention Cruz's presence in an orange and black uniform, had some Rangers fans thinking it had been a big mistake not to re-sign him. But Cruz doesn't think about the "what if" or live in that past. He said he was surprised the market didn't materialize for him, but his reservation about taking the Rangers' one-year offer was that "the outfield was already set." Texas wanted Cruz as its DH; he still feels he can help a team in the outfield.
On Tuesday, he was in left field, a spot he rarely played in Arlington. But it was his bat that made an impact. So much of it was familiar. The quick swing. The speed of the bat. The ball getting out in a hurry.
Cruz admitted that it was "weird" to turn to his right and head to the visiting dugout after rounding the bases at Globe Life Park.
What didn't feel strange was the reception he received. If there was any question as to whether fans would still be upset about his 50-game suspension that contributed to the team's struggles down the stretch (missing the postseason after losing Game 163), it was answered in the first inning. Cruz was cheered. Some fans even stood to give him an ovation.
"They were always behind me when I was here," Cruz said. "I'm thankful for the fans."
Cruz said the decision last year to take the suspension and not appeal was a tough one, as he experienced pressure from various sides.
"That was a difficult time in my life," he said. "I think I went through all that, and it helped me be the player I am right now. I try to stay in the present and leave all that behind me."
He's thankful to be in Baltimore, where he continues to play well in the present. The streaky hitter has found some consistency outside of Texas. He's hitting home runs no matter which park the Orioles travel to, and he leads the league in both home runs (21) and RBIs (55). He's batting .313 on the season, good enough for top 10 in the AL.
Cruz is only adding to his totals in a park where he experienced so many memorable moments.
"It was fun," he said.
October, 5, 2012
10/05/12
11:01
PM CT
By
Richard Durrett
| ESPNDallas.com
ARLINGTON, Texas -- The Rangers' offense couldn't convert in the key situations -- a recent problem for this club -- and the
Baltimore Orioles
did, winning yet another close game (no one was better in close games than Baltimore this season) by a 5-1 score. Texas couldn't take advantage of a tremendous performance by
Yu Darvish
and the AL will have a new representative in the World Series.


What it means:
The Rangers' season is over after a late-season collapse. A club that led the AL West by five games with nine to go (and four with six to go) dropped eight of its last 10 to lose the division to the A's and the AL wild-card game to the Orioles. They led the AL West for all but three days in 2012 and won't play in the ALDS. ... Baltimore will head home to host the
New York Yankees
for the first two games of the ALDS.
Offense disappears:
As has been the case the final few weeks of the season, the Rangers offense didn't deliver in key situations. The fourth inning was a prime example.
Nelson Cruz
and
Michael Young
had back-to-back one-out singles to put runners on the corners. But the Rangers couldn't get the runner home from third with less than two outs.
Mike Napoli
struck out and then
Geovany Soto
had a check-swing strike on a 3-2 pitch. ... Give
Joe Saunders
credit for wiggling out of trouble, but the reality is that Texas had multiple chances -- the Rangers put a batter on base in the first five innings and managed just one run, which scored on a double play.
Hamilton gets booed:
Josh Hamilton
, perhaps playing in a Rangers uniform for the final time, was 0-for-4 with two strikeouts, a double play and a roller to the mound. The final strikeout came with a runner at second and two outs in the eighth. Hamilton saw eight pitches -- all strikes -- in the four at-bats. It ended Hamilton's rough stretch the past few weeks and a terrible last few days for him. He dropped a routine fly ball in shallow center field Wednesday in the division-deciding game and then couldn't deliver on Friday.
Controversial decision:
Manager Ron Washington decided to pull Darvish with two outs and a runner at second base in a 2-1 game in the seventh inning (Darvish was at 91 pitches). Washington elected to go with the lefty-lefty matchup with
Nate McLouth
coming up. He decided on
Derek Holland
, who threw 50 pitches Wednesday in Oakland and struggled. Holland threw a wild pitch to put
Ryan Flaherty
at third and then gave up a single to left to McLouth to give the Orioles a critical insurance run. ...
Koji Uehara
, who has held lefties to a .188 average this season and has been very good against them since coming back from the disabled list, didn't pitch until the eighth, where he struck out the side. That included left-handed hitters
Chris Davis
and
Matt Wieters
.
Darvish dazzles:
The 26-year-old was phenomenal, proving he could handle the big-game pressure. He gave up three runs (one was unearned and another scored when Holland gave up the two-out single) on five hits with seven strikeouts and no walks. His slider was a tremendous out pitch as he got most of his strikeouts on the pitch, which just drops out of the zone on hitters. ... Darvish got nothing from his offense and hung in, putting up zeroes and at least giving the Rangers a chance to do something.
Double plays:
The Rangers took themselves out of three innings with double plays Friday. And even the inning they scored was shortened because of a double play by Hamilton that scored the run, but allowed Saunders to keep it a one-run game. ... After
Craig Gentry
got on first because of an error by first baseman
Mark Reynolds
,
Ian Kinsler
hit into a double play to clear the bases. ... Kinsler got a one-out single in the fifth and Andrus hit into a double play.
Can I get an interpreter?:
When Darvish started stretching his neck in the sixth, Soto went to the mound to check on him and looked to the dugout. That brought out assistant athletic trainer Kevin Harmon, Washington and pitching coach Mike Maddux. Joe Furukawa, Darvish's interpreter, tried to come out and was initially sent back by the umpires. But he was allowed onto the field after the umpires conferred. MLB has a rule that allows interpreters to come to the field in case of injuries.
Very early (unearned) run:
It took the Orioles just four pitches to get the lead. Michael Young tried to backhand a ground ball to first by McLouth and couldn't get a handle on it. Moments after the error, McLouth stole second easily. He scored when
J.J. Hardy
hit a ground-ball single up the middle that scored McLouth for the game's first run. ... Darvish then got out of the inning without allowing any further damage, striking out two batters along the way (Davis and Wieters) on sliders.
Rangers tie it quickly:
Texas seemed to have an opportunity for a big first inning. Kinsler walked and
Elvis Andrus
singled on a hit-and-run to put runners at the corners with no outs. Hamilton hit into a double play, which scored the run. But it also kept the Rangers from having a better chance at scoring more runs. Still, the club managed to tie it right away thanks to the top two guys in the lineup.
Great catch:
Kinsler had a nice defensive play in the second.
Jim Thome
smoked a ball on a line between first and second. Kinsler quickly jumped and snagged it to his left. It was a quick-reflex play that prevented a run.
Hanging in:
Credit Saunders for his grit and manager Buck Showalter for his decision to start the veteran. Despite numbers that did not seem favorable at Rangers Ballpark in Arlington, Showalter went with Saunders anyway and it paid off. Saunders put a runner on in each of his first five innings, but allowed just the lone run in the first. He did a great job of getting out of trouble and getting the Rangers to chase pitches outside of the zone.
Two more:
Baltimore turned a 3-1 game into a 5-1 game in the top of the ninth, getting two runs off Rangers closer
Joe Nathan
. The Orioles scored them with a big one-out single from
Manny Machado
and a sac fly from McLouth.
July, 5, 2011
7/05/11
8:00
AM CT
ARLINGTON, Texas -- Former Rangers manager Buck Showalter's return to Rangers Ballpark in Arlington has been a long time coming since his last year at the helm in 2006.

Showalter found some comfort in remembering the ins and outs of the ballpark, which has not changed much since his four-season term as Rangers manager. But the personnel in Rangers uniforms has taken on a new identity.

Since Showalter's last season in Texas, only five players currently remain on the Rangers' 40-man roster: Michael Young, Nelson Cruz, Ian Kinsler, C.J. Wilson and Scott Feldman.

Despite new faces in many of the positions in the Rangers lineup, some of the team's recent success can be traced to Showalter's time in Texas. He was 320-329 in Arlington with his best year in 2004 when the Rangers went 89-73, finishing three games behind the Angels in the race for the AL West.

"It was a lot of fun," Showalter said. "A lot of energy in the park and some good moments."

Showalter said he followed last year's AL champion team and had high praise for the organization and current manager Ron Washington.

"I'm very happy for them and proud of what they accomplished," he said. "Wash was a perfect guy to come in here. He got an opportunity he deserved and he took advantage of it."

He also said he's a big Mavericks fan and said he had a fun time following their run to the NBA championship and watching his favorite player, Jason Kidd.

Showalter still owns a home in Dallas and has roots planted in the area, with a daughter at law school at SMU and a son who is a sophomore at TCU.
June, 24, 2011
6/24/11
11:08
AM CT
By
Richard Durrett
| ESPNDallas.com


Dr. Richard L. Ison, O.D., an optometrist since 1990 who is practicing in Murphy, Texas, northeast of Dallas, said Rangers' outfielder Josh Hamilton's thoughts that having blue eyes makes it tougher on him to see during the day than those with darker eyes is true.

"Because of the lack of pigment in lighter color eyes, like blue or green eyes as opposed to brown, you get a lot more unwanted light and that can create glare problems," Dr. Ison said.

Dr. Ison said the phenomenon is called intraocular light scatter, meaning the light scatters as it enters, producing a focal point that isn't as good.

His solution for Hamilton: Find a pair of sunglasses that he's completely comfortable wearing while batting.

Dr. Ison noticed that in one of the Rangers' recent day games in Atlanta, Hamilton was adjusting the sunglasses he was wearing twice during one at-bat and then with two strikes, took them off completely.

"He has to find a pair that he likes and that will be the right tint for him," Dr. Ison said. "He just has to try some different kinds and figure out the right light transmission factor for him."

Hamilton told ESPN 103.3 FM's Bryan Dolgin that he's found another pair of sunglasses that he used while he was in the field last season and will try those this weekend when the club has two day games against the New York Mets.
August, 20, 2010
8/20/10
6:14
PM CT

Baltimore Orioles
manager Buck Showalter comes on with Ian and Matt to discuss the series against the
Rangers
, managing again,
Josh Hamilton
and more.