February, 21, 2011
2/21/11
9:30
AM CT
By
Richard Durrett
| ESPNDallas.com
SURPRISE, Ariz. -- Rangers pitcher Dave Bush is the only player on the club who spends his offseason in Maine. He talks about that experience.

Q: What is a baseball player doing in Maine for the offseason?

DB: I spent a lot of time up there as a kid. I was probably three when my family went up there for the summer and I went back every year. I was from Philadelphia area, so it was about seven or eight hours.

Q: Is there a particular spot?

DB: We're in the western mountains. I don't know how my parents found it the first time, but they just knew somebody or picked the spot. But I always liked it. We stay by a lake up there. It's fun.

Q: What do you do while you're there?

DB: Any kind of outdoor stuff. We camped, biked, hiked, swam. We did that for about 10 years until I started playing baseball in the summer. I was doing it so young that it was what we did and I still enjoy it.

Q: Baseball is a summer sport. Now you're spending winter there. How is that?

DB: It's different, but there is still a lot to do outdoors in the winter time. I cross country ski and there are plenty of mountains nearby. I snow shoe and hike. There's a lot of stuff to do, it's just kind of a different lifestyle. People up there expect winter and they are accustomed to it. They'd rather embrace it than try to fight it. I don't mind the cold weather.

Q: What do you do to keep in shape without any outdoor time to throw a baseball?

DB: Everything is indoors. I have a little gym at home that I put together so I can work out. I throw inside at a couple of high schools. They have some gym. One place has a basketball court and another place has more room. You have to get creative. Sometimes I'll work out outside by shoveling snow for a couple of hours. That works you out pretty good. It's just a different way of doing it. By the end of the winter, it has me in shape.
March, 20, 2010
3/20/10
7:30
AM CT
By
Richard Durrett
| ESPNDallas.com
SURPRISE, Ariz. -- Ranger fan Ben, a frequent reader of this blog, emailed recently that it seemed like we hadn't heard much about Michael Young this spring. Well, that's a good sign. It means Young is going about his business. I talked to him briefly about his spring and how he's preparing for the 2010 season.

Q: How would you desribe your spring?

A: Busy. I haven't been adjusting to a new position like last year, but it's been very active. There are still things I know I have to do to be ready and I'm in the process of doing that. For me, that's about getting reps. I want to get at-bats, work on some things and feel comfortable.

Q: Do you want to have certain results or does that matter?

A: I don't worry about numbers. For me, it's all about feel. How do I feel at the plate? If I go 0-for-4, but I hit some line drives and am squaring the ball up, I don't change anything. If I go 3-for-4, but it's some bleeders or bloops, I have to change something because that's not going to work the next day. So I get my at-bats and go by feel to figure out where I am.

Q: What about your health? How do you feel physically?

A: I feel great. That's another part of spring training is making sure your body is ready. You also want to leave here healthy. That hasn't been an issue for me at spring training. I feel good and will just keep working.
March, 17, 2010
3/17/10
10:30
AM CT
By
Richard Durrett
| ESPNDallas.com
SURPRISE, Ariz. -- I got a chance to briefly chat with Justin Smoak about his spring training so far. It should be noted that Smoak talked to me on Monday, just before he doubled in that game. He then hit a homer, his first of the spring, on Tuesday. He's now batting .250 (4-for-16) with two walks, four strikeouts and three RBIs. Here is some of that conversation:

Q: Talk about your approach this spring.

A: I'm taking the same approach I did last season, working on my swing and defense and trying to get better. It's nothing complicated. I just want to see it and hit it. I've scuffled a little bit so far this spring, but that's part of it. I have to get my timing down and get ready for the season. I've been working with Clint Hurdle and the other coaches and it's getting better.

Q: What are you working on in particular?

A: It's getting back to what I was doing at the end of last year. I got in some habits I shouldn't be in right now and I have to work out of that. It was timing issues, mainly. Now I feel like I'll be ready to go here. It's definitely better.

Q: Talk about your work in the field this spring.

A: I feel really good about that. I've worked a lot with Dave [Anderson, the infield coach] and Wash and I'm getting some good work in. I'm working mainly on the foot work. That's what it comes down to playing the position. Sometimes I would have balls right at me and I'd have a problem with my feet and planting them waiting for the ball to come to me instead of keeping my feet moving and going to the baseball. Those are things I'm working on.

Q: How are you physically?

A: I feel great. I had a hip flexor. It just tightened up on me and I took a couple of days off and I was good to go.
March, 1, 2010
3/01/10
1:00
PM CT
By
Richard Durrett
| ESPNDallas.com
Before heading out of Surprise, Ariz., late last week (I'll be back for two weeks worth of games starting March 14, by the way), I talked with outfielder
David Murphy
. He has a great attitude about his situation and seems upbeat about the 2010 season.
[+] Enlarge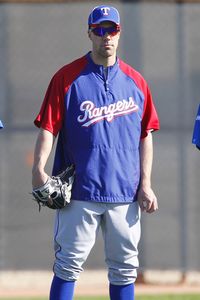 AP Photo/Charlie NeibergallDespite a slow start, David Murphy hit a career-high 17 home runs last year.
Q: Can you talk about what kind of role you think you'll have and how often you might play?
A:
I think it's way too early to estimate who's going to be on the field what amount of time. I feel like if I take care of my business and play the game the way I've always played, that I'm going to be on the field playing. It's hard to think about how that's going to work out, but we have a lot of depth and championship teams have depth, so that's a huge positive.
You don't know how things are going to work out at this point in the season. You can't guess what's going to happen over a 162-game season. You have to re-evaluate as it goes. The most important thing is the team. I don't want this situation to become more important than the team's success. I want to be on the field and obviously every guy does. But more important, this team is extremely talented and has a chance to go a long way and I don't want to take away from that.
Q: What did you learn from starting 0-for-23 last year?
A:
That it's useless to worry about slumping because everybody talks about baseball being such a mental game. As players, we're prepared for that and you can know that, but when you actually encounter the situation and it gets to that extreme -- 0-for-23 for me -- you've got to learn that damage control. You have to learn that your teammates are going to be behind you. I learned to trust my own abilities. I might slump every now and then, but I tell myself that I know I'm here for a reason. I can play this game.
Q: Outside of injuries, was the 0-for-23 slump the toughest thing you've dealt with on the field?
A:
Yes. Starting the season, I was a player with a year-and-a-half of service time. I made the team and I think as a young player you're still trying to make an impression. You're constantly trying to prove yourself over and over again. I put too much pressure on myself to do that.
When I got traded, I felt nobody knew me here. They had not seen me play on a consistent basis. I thought it was a great time to make a good first impression and open people's eyes. I felt like I had no pressure and I went out and played well. I had a great spring of 2008, good 2008, and I thought going into last year I did this and this, now there's expectations and I need to build on that. I thought I needed to have better numbers. I shouldn't have thought that. I put pressure on myself. The mental thing came into it and it hurt me. I learned to just go play the game and not put expectations on myself.
February, 28, 2010
2/28/10
8:00
AM CT
By
Richard Durrett
| ESPNDallas.com
Rangers hitting coach Clint Hurdle talked with Ben & Skin last week on ESPN 103.3 FM. It's an excellent interview, full of discussions on his overall philosophy, specific Rangers hitters (including Josh Hamilton and Ian Kinsler and what it takes for them to have solid 2010 seasons) and his outlook for the offense this season.
Do yourself a favor and give it a listen
.
February, 25, 2010
2/25/10
9:30
AM CT
By
Richard Durrett
| ESPNDallas.com
LHP
Matt Harrison
arrived in Surprise looking slimmer. He lost 30 pounds over the past year, 15 of them during the offseason. And you can tell he's proud of it (rightfully so). Harrison talks about the weight loss here: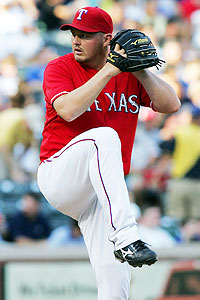 Tim Heitman/US PresswireMatt Harrison says he has struggled when facing chocolate chip cookies.
Q: Was losing weight something that was discussed with you before the end of the season?
A:
Yes. When I came last year, I was 265. I didn't realize I was that big when I came in for spring training. I started getting real bad shin splints. They said that if you lose some weight it would help. I lost 10 pounds and started getting better. I weigh 235 now, so that's a big difference. I feel much better.
Q: How did you lose the weight?
A:
I stopped eating late. I did more cardio stuff and basically cut out the sweets. That really helped a lot. And from then on, I've maintained that.
Q: Was it tough to give up sweets?
A:
Oh yeah. I love eating chocolate chip cookies. I had to tell my wife to quit making them. She was making them at 9 o'clock at night and I'd get home and she'd eat one and I'd eat the rest of them.
Q: Anything specific on the workouts?
A:
Running longer distances. I go out and run 30 to 45 minutes at a time, two or three times a week and then sprints on the other days. I really focused on more cardio exercises and then some squats and free weights too.
February, 24, 2010
2/24/10
9:00
AM CT
By
Richard Durrett
| ESPNDallas.com
SURPRISE, Ariz. -- Rangers first baseman Chris Davis is intent on bouncing back in 2010. He talked at length about what he's done this offseason and why he feels good about things right now. Here goes:
Q: Talk about where your confidence is entering this season.
[+] Enlarge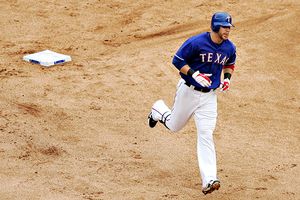 Tim Heitman/US PresswireChris Davis is optimistic about 2010 after revamping his stance in the offseason.
A:
I'm as confident as I've always been. I feel like I've done the right things this offseason to get myself prepared. I didn't really want to take time off because I was doing some things in my swing that I wasn't completely comfortable with yet. I wanted to hammer those down. Strength-wise, I feel as good as I have in a long time. That's not just lifting weights, but also baseball strength.
Q: What swing things were you working on to try to get comfortable?
A:
A lot of it was based on what we did last year at the end of the season. I made some changes in my stance, spreading out more. I'm also lowering my hands. I've always pulled my hands even with my chest and my hands were so high that I wasn't able to get them where they needed to be. That caused me to rush everything and I didn't have enough time to get them where they needed to be. The biggest thing this offseason was repeating the drills. I'm starting my hands closer to where they need to be. It's more quiet. I was reiterating that with drills to get a feel for that.
Q: Did you make adjustment through the hitting zone?
A:
I think one of the things I lost sight of last year was my bat path. It was real up and down. It was hit or miss. If they threw it in the right location at the right time, I was going to hit it. If they didn't, I wasn't going to have a prayer. That's why I was swinging and missing a lot of balls or fouling them off. We didn't address that until later in the season. You always start from the ground up on hitting mechanics. We felt like that was in a good position and it came down to my head and hands. My bat path was horrible. It's been flattened out so I can keep it more consistent to and through the zone.
Q: Are you focused less on hitting home runs and more on average?
A:
I think the big thing for me at the end of last season was the emphasis on not worrying about hitting home runs. I think I give myself a better shot to hit more home runs if I put the ball in play a lot more and if I make better contact. But the big thing for me when I came back up was to see if I could be more consistent making contact, swinging at better pitches, having better at-bats and hitting with two strikes. I think I accomplished that. I was happy about hitting with two strikes at the end of the season. I choked up a little bit. Even with two strikes, I felt like I could hit the ball out, but in reality you're trying to put the ball in play. Choking up gives me some more bat control and some more room to work with if I offer at a pitch, I can hold back. It's only going to benefit me. If I have a quality at-bat, the numbers will take care of themselves and the production will take care of itself.
February, 23, 2010
2/23/10
9:30
AM CT
By
Richard Durrett
| ESPNDallas.com
SURPRISE, Ariz. -- One of our periodic blog entries are camp chats, where we talk with a Rangers player about various topics. Today's chat is
Darren O'Day
, who recently rescued a dog.
[+] Enlarge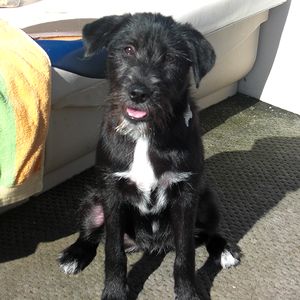 Darren O'DayDarren O'Day rescued a lab-terrier mix named Allie.
Q: Why did you get a dog?
A:
I've always wanted a dog my whole life. Every Christmas I would ask my parents for a dog and nothing else. And I would never get a dog. So every Christmas morning, I would be disappointed. I wanted to be a vet when I grew up. I loved animals. So the first opportunity I had, I got a dog.
Q: Why didn't you ever get a dog when you were growing up?
A:
My mom is allergic to them. I would ask anyway.
Brandon McCarthy
is allergic to dogs and he has two of them in his house.
Q: Why did you choose this dog?
A:
She's an eight-month-old lab-terrier mix. It was a rescue dog and the only dog we saw at this animal shelter that we could take home. A lot of them were fighting dogs or pit bulls that barked at you. Her name is Allie.
Q: So you wanted to be a vet growing up, but you didn't have a dog. Did your friends have dogs?
A:
Some did. I just liked animals. We had a cat when I was in high school and that's about it. I had a bird. A cockatiel and it hated me.
Q: Why did it hate you?
A:
Because when I was little, we had Cheerios for breakfast. The bird would try to eat my Cheerios and I was a fat, little kid and I wanted my Cheerios, so I pushed him away. He would sit on my shoulder and bite my ear and harrass me. I had to clean his cage every two weeks. Birds make a lot of noise.
Q: Where is the dog staying now?
A:
She's with Brandon McCarthy's fiancee. She's taking her hiking and is a great babysitter.
Q: Do you want to get another dog?
A:
I do. I've seen my dog play with Brandon's dog. They are best friends. They don't leave each other for anything. It would be great for my dog to have someone to play with like that. But it's not going to work right now. When we got the dog, the plan was my fiancee to live with me. But she got a job with Fox News in Atlanta. So I'll have to make it work in Dallas because she travels more than I do.
February, 21, 2010
2/21/10
3:54
PM CT
By
Richard Durrett
| ESPNDallas.com
SURPRISE, Ariz. -- Rangers first base prospect Justin Smoak has arrived at camp early and gone about his business every day. He said he isn't worried about when he might get into the majors or any sort of competition.

"I just know I have to keep getting better," Smoak said. "That will all sort itself out. It's big for me that I'm coming into spring knowing what to expect. I'm excited to be here and ready to get going."

Q: What did your performance with Team USA last year do for your confidence?

A: It did a lot. Last year, I struggled a lot right-handed. At Team USA, we saw a lot of left-handed pitchers because our whole lineup was left-handed hitters, basically, and I got a chance to hit a lot right-handed. It felt better and better as I got done and now my confidence is there and I'm ready for this year. I've always felt better hitting right-handed, but I saw so many right-handed pitchers that I got more at-bats left-handed and then every fifth day or so you'd get a left-handed pitcher. And I hadn't hit that much in BP that way. That was one adjustment I had to make, was to hit more right-handed and make sure I get my work in.

Q: Talk about your Triple-A experience last year and why you think you struggled some there.

A: I think I tried to do too much. I went out there and that first month I put too much pressure on myself. Going into the second month, I think I got a lot better. I just went out there and played and didn't think about it as much. That was important.

Q: What adjustments are you trying to make this season?

A: I know I want to take advantage of hitting off live arms. I don't want to just go in there and take batting practice against a righty. I need to jump in there and hit against lefties more. That's what I want to do at the plate. I'm always working on my defense and trying to get better there.

Q: You know the expectations are high for you. Does that put more pressure on you?

A: Not really. I've always had high expectations. The bar has always been set high. I'm used to that. You have to go out and play and hope for the best. I just want to be myself and go out and play hard.
February, 21, 2010
2/21/10
8:00
AM CT
By
Richard Durrett
| ESPNDallas.com
SURPRISE, Ariz. -- Our camp chat today focuses on one of the Rangers' pitching prospects, Tanner Scheppers. He was the 44th overall pick of the 2009 draft and was sent to Surprise for some winter ball action after he was signed in September. Scheppers had a 5.73 ERA in 11 innings, but it was a product of two rough outings. He appeared in seven games and didn't allow a run in five of them.

Scheppers said he will probably start the 2010 season at Double-A Frisco. Here's what some of what he had to say (during the interview, Rangers pitching coach Mike Maddux came by and needled Scheppers about starting his spring with a reporter talking to him):

Q: Give us a quick scouting report on yourself. What do you throw, how are you progressing?

A: I throw a fastball, four-seam and two-seam. I have a circle change and I have a slider and curve ball. And I'm working on a cutter.

Quick sidebar (a little more detail for you): He has a fastball that is in the mid 90s and his changeup, according to some Rangers officials, has improved. he was a shortstop until his sophomore year at Fresno State, so he's still getting used to being a fulltime pitcher. He's probably a starter long term.

Q: How long have you been working on a cutter?

A: I've been working on it since Instructs, so four months or so. It's something I've always kind of wanted to have just in case. It's always good to have an extra pitch in your back pocket for any kind of situation. Maddux is pretty strong on the fact that if you have more pitches, the better, as long as you can throw them for strikes. As long as you don't use a certain pitch in the wrong situations, it doesn't hurt to have them available to you to throw.

Q: What are your goals for this upcoming season?

A: I want to get experience and improve in every aspect of my game as I can. I want to soak up as much information as I possibly can from all the guys around me and keep taking steps forward. I'm just trying to focus on getting better. I'm not worried about where I might end up. I've been told probably Double-A is where I'll start. From there, I have to get as much experience as I can and do the best I can and see what happens.

Q: What is your biggest strength and your biggest weakness?

A: My biggest strength would be attacking hitters. I'm competitive, so I go right after them. I guess my weakness is that same thing. It can get you in trouble in some situations. Sometimes I'm too aggressive in certain counts and attacking the zone instead of pitching around guys. I'm still learning the right times to do what and it's a process.
February, 19, 2010
2/19/10
9:30
AM CT
By
Richard Durrett
| ESPNDallas.com
Rangers pitcher Colby Lewis, fresh off two years pitching in Japan, talked about his time there with ESPN Dallas. Here's what he had to say:
[+] Enlarge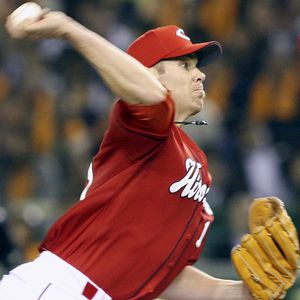 AP Photo/Koji SasaharaColby Lewis says the competition in Japan is better than it is in Triple-A, but it's not at the major league level.
Q: What was something you experienced in Japan that you didn't expect?
A:
How clean it is. I heard about it, but it's very clean. There's no trash in the streets. You drink a cup of coffee at Starbucks, you throw it away at Starbucks. There's hardly any trash cans on the streets and there's no garbage in the streets. If you sit down and eat, you sit down and eat. There's hardly any to go. You'll see some people do it, but they go straight home. The recycling is unbelievable. They have PET bottles, like a plastic bottle, and they would take the cap and wrapper off of it and it goes in a separate place. The only thing you throw away is a paper sack with your scraps. Everything else is recycled. You put it in a separate bag and each day the garbage truck comes by and one day it's plastics and the next it's bottles.
Q: Did you learn to speak Japanese?
A:
I started to pick up a little. I was better when people talked to me, but it was hard to have a conversation. I could tell a cab driver where to go and could order food. We had three translators that we could always call and hand the phone to them and they would talk.
Q: What is the competition like over there?
A:
The best way to explain it is that it's between Triple-A and the big leagues here. You might face a team that has four or five guys that could play at the big league player and a kid might step in the box that's a Double-A player. It all depends on the team, really. For me, I look at it like you have to go do your job no matter what it is.
Q: They use a different baseball in Japan. Talk about that.
A:
It's the same dimensions, but the texture is different. They talk about how the ball jumps in the Tokyo Dome. They have two Mizuno balls, a Zett ball. In Hiroshima, we were a Mizuno club, so we used that ball. They are all about taking care of their sponsorships. One good thing about that is what they call "fight money." Let's say you pitch well and you come out of the game and a couple of days later, they give you $500 to $1,000 in cash. It comes from the sponsors. If you do well over there, you hardly touch your paycheck. If you are an MVP of the month in each league, you can make $6,000 to $10,000. I won it one month my first year. It's crazy. It seems like they just hand it out over there. I think it's like other jobs where if you do well, you get a bonus.
Q: How seriously do their fans take the game?
A:
The fans are awesome. Trumpets, each guy has his own chant that the crowd does. They chant your name. They would say "good luck" or "do your best" in Japanese to me. I would hear that a lot. There was one guy where the crowd would get real quiet and one trumpet would play a little deal and the crowd would go crazy. It was pretty cool.
Q: How did you like the food?
A:
I dabbled in everything. I wanted to try it. My dad was over and they had a big street fare for opening of the summer and he was trying everything and thought it was awesome. If you go to Tokyo, they have TGI Friday's and Outback and stuff, so you can get other things. There was Korean Barbecue at some places and we at that a lot.
February, 18, 2010
2/18/10
4:15
PM CT
By
Richard Durrett
| ESPNDallas.com
SURPRISE, Ariz. -- Rangers pitcher
C.J. Wilson
took a quick trip to Vancouver for the Winter Olympics earlier this week. He got a call from a friend and saw a couple of events before returning to Surprise.
[+] Enlarge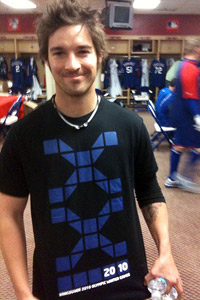 Richard Durrett/ESPN DallasC.J. Wilson took in a hockey game and two curling matches during his visit to the Winter Olympics in Vancouver.
"I wanted to make sure I didn't miss any of my throwing," Wilson said.
Wilson said he saw the the USA vs. Switzerland hockey game and the USA vs. Norway and Canada vs. Germany curling matches.
"I really liked it," Wilson said when asked about the curling. "We didn't know if fans would be subdued like golf. They were going nuts. The crowd got wild."
Wilson said he spent some money at the Olympic apparel store before he left and thought Vancouver was a great city.
"The public transportation was really good," Wilson said. "We just took the subway and got to where we were going with no trouble."
It was not Wilson's first Olympic journey. He said he was 3 1/2 when the Summer Games came to Los Angeles.
"My first real memory is seeing the bicycles going by," Wilson said.