Texas Rangers:

Carl Pavano
July, 26, 2011
7/26/11
1:30
PM CT
By
Randy Jennings
| ESPNDallas.com
ARLINGTON, Texas -- Game 2 of the four-game series between the
Texas Rangers
and the
Minnesota Twins
(7:05 tonight at Rangers Ballpark) has LHP
C.J. Wilson
opposing RHP
Carl Pavano
. Here's a look at the matchup:
Wilson (10-4, 2.94 ERA):
The 30-year-old All-Star pitched brilliantly in his last outing, a 1-0 loss to the Angels. ... Wilson absorbed a tough-luck defeat despite a complete-game two-hitter. The only run was unearned. ... He will be making his 22
nd
start of the season and is on a roll. Since May 25, Wilson has gone 6-1 with a 2.52 ERA in 11 starts. ... He's allowed only one home run in his last nine starts. ... He is in the top 10 in the American League in ERA (10th), strikeouts (sixth, 132), innings (sixth, 147) wins (tied for sixth) and winning percentage (.714, tied for sixth). ... Against Minnesota, Wilson is 2-3 with a 4.18 ERA in 21 career games. ... In four starts against the Twins, he is 2-2 with a 5.92 ERA. ... Wilson won his only start against Minnesota this season, allowing three runs and eight hits over seven innings in a 9-3 triumph at Target Field.
Pavano (6-7, 4.24 ERA):
The 35-year-old from New Britain, Conn., is due to make his 21
st
start of the season. ... Since the All-Star break, Pavano is 0-1 with a 5.54 ERA in two starts and opponents are batting an even .300 against him. ... Away from Target Field, Pavano is 3-5 with a 5.07 ERA. ... His last win came on the road against the White Sox, a 6-2 triumph on July 7. ... In his last outing, he was touched up for nine hits and five runs in six innings of a 6-2 home loss to Detroit. ... Minnesota is 9-11 in games when he starts. ... He's gone at least six innings in 15 starts and has 11 quality starts. ... Hitters in the final two spots in the opposing batting order are hitting .345 and .315, respectively, off him. ... Pavano will be facing the Rangers for the first time this season. ... He is 2-3 with a 6.62 ERA against Texas in six career starts.
Hitters:
Ian Kinsler
(6-for-12, two HR, six RBIs),
Elvis Andrus
(3-for-8) and
Michael Young
(6-for-17, HR) have had success off Pavano. ...
Jason Kubel
is 5-for-12 off Wilson and
Danny Valencia
is 2-for-5. Wilson has done a great job against
Joe Mauer
, who is 1-for-19 against him.
December, 8, 2010
12/08/10
11:28
PM CT
By
Richard Durrett
| ESPNDallas.com
LAKE BUENA VISTA, Fla. -- We wondered this morning if Day 3 would be pretty active and it certainly was. Here's a quick recap of what happened in Rangersland on Wednesday and the chatter in the lobby and beyond:
* Nolan Ryan expects that to get
Cliff Lee
, the Rangers will have to agree to a six-year deal. And the club appears willing to do that. They have put the ball in Lee's court and asked his agent to tell them what it would take to get Lee to Texas.
Click here to read all about that
.
* I like this approach by the Rangers. They want to shorten the bidding process and firmly believe Lee wants to stay in Texas. So here is his chance to give them the framework of a deal to do that.
Read some of my thoughts here
.
* I looked up the top state income tax rate in New York and it's 8.97 percent. That's a lot of money Lee could save by going to Texas. And it means the Rangers' offer doesn't have to equal the exact same dollar amount to be a better one, either. Just a thought.
* But now that the Red Sox got Carl Crawford, you can bet the Yankees will step up for Lee now. That could make things more difficult on Texas. We'll see.
* GM Jon Daniels said the club is not in a rush to sign a designated hitter, even as some big bats come off the board.
Paul Konerko
agreed to a three-year deal with the White Sox.
"We liked the player, but we were never really engaged to the point where we thought it was realistic," Daniels said.
A baseball official told me the Rangers were interested, but couldn't commit to the dollars without knowing what was going on with Lee. That's another reminder of why this needs to get resolved so the club can move forward with its other offseason plans.
* The Rangers remain interested in
Jim Thome
, even though he's a left-handed hitter. They have looked at a gaggle of others, including
Manny Ramirez
and
Marcus Thames
. The Rangers did not attend a workout session for
Magglio Ordonez
and don't appear very interested at this point.
* Texas was interested in
Carl Crawford
, meeting with his representatives on Wednesday. But by late Wednesday night, Crawford was a Red Sox outfielder. So cross him off the list.
* The relief market has been slowed by teams waiting on Lee. So that's an area the Rangers are likely to address more in the coming weeks, assuming they'd like to bring some more depth to spring training there. But they are also pleased with their current bullpen, so that's not a high priority.
* The Rangers have checked into
Brandon Webb
and
Jeff Francis
and met with
Andrew Miller
and his representatives yesterday.
*
Vladimir Guerrero
continues to be the club's top option at DH. He wants a multi-year deal and the Rangers want a one-year deal. So something could be worked out if Guerrero can't find that multi-year deal he wants (and so far he hasn't). The Rangers did meet with his agents on Tuesday.
* Texas does have interest in
Matt Garza
, but I'm hearing right now the Rays are asking a high price, so nothing is likely to happen quickly on that front.
* The Rangers are also still checking in on
Zack Greinke
, though the Royals are also talking about many prime prospects. It's likely the Royals will wait until after Lee signs before getting serious.
* Buzz is that Texas could end up getting in on
Carl Pavano
, but I don't think the interest level is high on the Rangers part right now.
* Names to watch in the Rule-5 draft for Texas on Thursday: Kasey Kiker,
Chad Tracy
and Joseph Ortiz.
Jason Cole has some other players to note in his report here on LoneStar Dugout.
Check it out.
* Michael Young said he wants to be a Ranger, telling FoxSports.com: "I'm a Ranger. I have no interest in playing for a different organization. The idea of suiting up for a different team in spring training doesn't appeal to me at all."
* Daniels said it's very unlikely the club would move Young.
Here is what Daniels had to say on the topic
.
November, 30, 2010
11/30/10
10:10
AM CT
By
Richard Durrett
| ESPNDallas.com
It turns out that the Rangers aren't feverishly working to try to land
Andy Pettitte
. Rangers president Nolan Ryan did speak to Yankees pitcher Andy Pettitte. However, the conversation was not about playing for Texas in 2011 and was more of a congratulatory call from Pettitte to Ryan after the ALCS.
Pettitte has said he wants to play for the Yankees (if he doesn't retire, which doesn't seem likely). So don't expect to see Texas making a hard play at Pettitte.
But that certainly won't stop the Rangers from looking at starting pitching. And the options for solid free-agent starters not named
Cliff Lee
is shrinking some.
Jon Garland
has signed with the Dodgers.
Ted Lilly
got a three-year deal in LA. Looks like
Javier Vazquez
is headed to Florida and
Jorge De La Rosa
to Colorado.
Of course, none of those names are in the elite starter category. But they are viable options for rotations and are coming off the market before the Winter Meetings convene next week in Orlando, Fla.
Carl Pavano
is probably the biggest starter left that isn't named Lee. Pavano has an injury history, but was 31-23 with a 4.39 ERA the last two seasons (in 420 1/3 innings with Cleveland and Minnesota). He had 264 strikeouts and 76 walks. I'm interested, but not wowed by the idea. We'll talk in the next few days about some other options for Texas on the free-agent or trade market.
But it shows how valuable starting pitching is that teams aren't waiting around to fork over big money to get them.
November, 10, 2010
11/10/10
8:00
AM CT
By
Richard Durrett
| ESPNDallas.com

ESPN.com Illustration
One of the major questions this offseason is whether the Rangers can re-sign
Cliff Lee
. That's something we've discussed a lot on this blog and will continue to do so.
Clearly, Lee was a difference-maker for this Rangers team in 2010. They don't make it to the World Series without him -- heck, they don't get out of the first round without him -- and it's difficult to imagine the Rangers' rotation in 2011 without him.
But the reality is he's the most sought-after free agent on the pitching market and the Yankees are interested. That means they can offer top dollar. And while the Rangers will do what they can, they aren't going to get into a protracted bidding war with New York. So that brings us to Plan B. Obviously, general manager Jon Daniels and his crew can make trades.
And we will discuss
Zack Greinke
at a later date (soon, I promise). It seems the Royals are willing to listen to offers and if I'm the Rangers, I'm interested. But for today's purposes, let's look at a few of the free-agent options when it comes to starting pitching and whether any of these are of interest to you and the Rangers. Here goes:
[+] Enlarge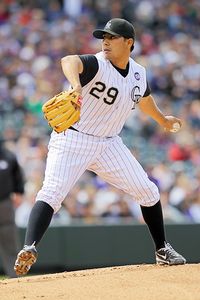 Doug Pensinger/Getty ImagesJorge De La Rosa had 113 strikeouts in 121 2/3 innings in 2010 for the Rockies.
Carl Pavano
:
He turns 35 in January but has proven the past two seasons that he can eat innings (199 2/3 innings in 2009 and 221 innings in 2010). Pavano had a 3.75 ERA in 2010 and was 17-11 for the Twins. In 32 starts, he had seven complete games (always news a bullpen likes to hear). He can be homer-prone, which could be of concern during those jet-stream nights at Rangers Ballpark in Arlington. But the right-hander has some value. The other issue: He's a Type A free agent who would cost first-round compensation. Is he worth that?
Jorge De La Rosa
:
I'm a bit intrigued by him because he's young and left-handed. De La Rosa will turn 30 just after Opening Day and has good stuff. But there are concerns. He made just 20 starts in 2010 (121 2/3 innings) after missing two months with a finger issue and has pitched more than 130 innings only once in his career (2009). De La Rosa also has a high walk rate. But he's wowed scouts with his changeup, and his slider has become a reliable pitch. He started getting a lot more ground-ball outs in 2010, as well, which would be a good thing in Arlington. He certainly has potential, and I'd be curious to see what pitching coach Mike Maddux could do with him. But he's a Type A who would cost compensation.
Jon Garland
:
The question when it comes to the 31-year-old is whether his 2010 season was a product of throwing at pitcher-friendly Petco Park in San Diego. Garland had a 3.47 ERA, but the numbers were 3.00 at home and 4.01 on the road. Garland hasn't posted his usual solid numbers since leaving the White Sox after the 2008 season. But he makes his starts, pitching at least 200 innings in six of his past seven seasons (and the exception was 196 2/3 innings in 2008 with the Angels). But he does have experience in the American League and would likely not cost a team any compensation (it seems unlikely that the Padres would offer him arbitration).
Brandon Webb
:
This seems like the kind of player Daniels loves to take a chance on. Right-shoulder surgery kept Webb from pitching most of the past two seasons, so it's unclear how he might look when he returns. But the Rangers have had success in taking chances on these types of guys with a contract based on incentives and maybe a club option for 2012. Webb won the Cy Young in 2008 with Arizona, folks. He's worth taking a chance on.
Jake Westbrook
:
Here's another pitcher who could be worth taking a chance on at a bargain salary based on injury history. He had elbow surgery in 2008 and didn't pitch in 2009. Westbrook struggled to start the season in Cleveland, but he was much improved for the Cardinals after the trade deadline. He's a ground-ball pitcher, and he did throw 202 innings in 2010 (he was 4-4 with a 3.48 ERA in 12 starts for the Cardinals after going 6-7 with a 4.65 ERA in 21 starts for Cleveland).
Other options:
Chris Young
,
Hisanori Takahashi
,
Vicente Padilla
(would you dare risk it again?) and
Jeff Francis
.
August, 24, 2010
8/24/10
1:30
PM CT
By
Richard Durrett
| ESPNDallas.com
ARLINGTON, Texas -- The second game of this four-game series between the Twins and the Rangers features RHP
Colby Lewis
against RHP
Carl Pavano
. A glance at the matchup:
Lewis (9-10, 3.37 ERA):
He's had some tough luck thanks to limited run support. Texas has scored just seven total runs for him in his last six starts. According to Elias Sports Bureau, the last time a Rangers pitcher had just seven runs of support in six straight starts was
Bobby Witt
in 1990. Lewis gave up four runs on nine hits in 6 2/3 innings against Baltimore as things fell apart in the seventh in a tight game. That ended a string of four straight quality starts for Lewis. Opponents are batting .224 against Lewis this season and he has 154 strikeouts and 50 walks in 155 innings. He gave up two runs on five hits in six innings with four walks and one strikeout against the Twins in May.
Pavano (15-8, 3.52 ERA):
The White Sox jumped on Pavano in his last start, tagging him for seven runs on 15 hits in six innings in an 11-0 loss last week. Despite that, Pavano has had a quality start in five of his last eight outings. He was 2-0 with a 2.91 ERA in July and 4-1 with a 2.25 ERA in June, so last week's struggles were a surprise. The 34-year-old has 100 strikeouts to just 29 walks in 174 innings and has surrendered 172 hits. He started against the Rangers earlier this season and gave up two runs on seven hits in seven innings to earn the victory.
Hitters:
Current Ranger batters have a .301 average against Pavano, led by
Michael Young
(4-for-11),
Josh Hamilton
(3-for-9, 2 2B, 3 RBI) and
Vladimir Guerrero
(7-for-27, 2 HR, 6 RBI). Twins hitters are batting .357 in their career off Lewis.
Jim Thome
is 4-for-6 with a homer and five RBI.
Orlando Hudson
is 4-for-7 with two doubles and four RBI.