Texas Rangers:

carlos quentin
July, 19, 2012
7/19/12
11:00
PM CT
By
Richard Durrett
| ESPNDallas.com
We're less than two weeks away from the July 31 trade deadline and the
Texas Rangers
are in position to make some moves if they choose. But with any deadline, the club must prioritize, get prepared and decide what kind of value it places on the prospective pieces on the market. With an additional playoff team in the mix, things may go even more down to the wire than normal as certain clubs could decide very late that they are sellers or buyers. And with the changes in compensatory picks, it could alter the value of rental players.
So let's pretend that I'm general manager Jon Daniels (he's way smarter than I am, but I'm taller and better looking) and I'm trying to figure out which deals I should do and which ones I shouldn't. Here are five things to consider at the deadline:
[+] Enlarge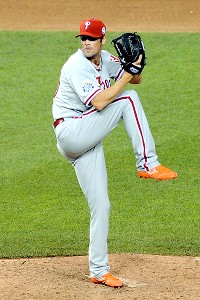 Denny Medley/US PresswireIf the Rangers decide to trade for a starter, it needs to be someone like Cole Hamels who will slot in at the top of the rotation in the postseason.
1. If the Rangers trade for a starting pitcher, make it an impact one.
You'll hear the names of
Ryan Dempster
and
Matt Garza
this time of year. Maybe even
Wandy Rodriguez
. But it doesn't make sense for the Rangers to deal decent prospects for pitchers who aren't going to make the rotation appreciably better.
Should Texas decide to get a starter, it needs to be someone who slots in at the top come the postseason. The two biggest names that could be out there are
Zack Greinke
and
Cole Hamels
. Personally, I like Hamels more than Greinke. And we'll see if he even becomes available now that
the Phillies and Hamels' agents are intensifying talks
. But this is where things get interesting. It's going to take a big package of premium prospects (and maybe even some major league players) to get it done. That would likely mean Mike Olt. I'm normally a guy who advocates dealing prospects for sure things. After all, they are called prospects for a reason. They might pan out, they might not. But with no draft picks coming back to Texas if Hamels (or Greinke) leaves, I think Olt (notice I'm not even mentioning Jurickson Profar, someone I can't imagine the Rangers even considering trading for a rental) is too high a price to pay to be included in the deal. If I'm Texas, I want Hamels. And I'm willing to fork over some solid prospects (
Martin Perez
, Cody Buckel or
Justin Grimm
, maybe even a combination) and even some big league pieces (yes, I'd consider dealing
Neftali Feliz
). But you don't trade the entire farm for someone who is here for a few months.
This is different from the
Cliff Lee
trade of 2010. With Lee, the Rangers not only knew they would get compensation picks if he left, but they knew they had to have someone at the top of that rotation to help them get over the hump of never winning a playoff series. Texas does not beat the
Tampa Bay Rays
without Lee, so the trade was a success (no matter what
Justin Smoak
does in the future). But the Rangers got something in return, too. Hamels is not the Lee of 2010, either. But he's the closest facsimile, if he's available. I'll pay a high price, just not as high as Olt. If that's not good enough to get Hamels, I'm not "settling" for Garza or someone else who doesn't have a big impact. It's just not worth it. So get a pitcher that can win Game 1 in the playoffs or don't get one at all and go with this current rotation, which I still believe is good enough, especially with the Rangers' bullpen, to win a title.
2. Get a right-hander for the bench.
The AL's loss in the All-Star Game only reinforces this need. It means that if the Rangers return to the World Series, they open on the road without a DH and could play the deciding game -- should it go the distance -- in the NL park. St. Louis' bench was a big difference in last year's World Series and manager Ron Washington didn't have enough weapons at his disposal. There are some names that are intriguing, but contract situations may make it unlikely.
Josh Willingham
seems like a good fit, but the contract calls for him to make $7 million next year and the year after. But there are other, cheaper options that could help the bench.
Carlos Quentin
's asking price is likely to be too much. What about
Shane Victorino
? It's the final year of his deal at $12.5 million this season and he's hitting .254 overall. But the 31-year-old switch-hitter is batting .322 against lefties.
There are some bats out there and the Rangers need to try to see if they can find one to help that bench down the stretch and into the postseason.
[+] Enlarge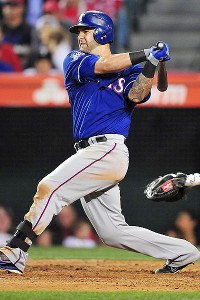 Gary A. Vasquez/US PresswireCatcher Mike Napoli is doing a nice job with the pitching staff but hasn't been producing at the plate.
3. Keep an eye on the catching market.
Honestly, I'm not sure there are reasonable upgrades to the club's catchers on the market, but the club has to at least do some digging.
Mike Napoli
and
Yorvit Torrealba
have done a nice job with the pitching staff and that's the first priority. However, the position is giving the club nothing at the plate.
The Rangers are one of the best teams in the league at checking on everything and leaving no stone unturned. That means at least seeing if there's anything worth pursuing on that front that can increase the offensive production at that spot.
4. See if there's a left-handed specialist for the bullpen.
It might seem odd to do anything with one of the best bullpens in baseball, but let's not forget what
Mike Gonzalez
did for this club in the postseason last year. He got two very big outs -- one in the ALDS and the other in the ALCS -- that helped the Rangers win games in those series. He struck out
Johnny Damon
with two runners on in the eighth inning of Game 3 of the ALDS, a pivotal game in that series. The Rangers won that game by one run. He also came in late in Game 1 of the ALCS with the bases loaded and the Rangers up by a run and got
Alex Avila
to end the threat. Those two outs alone made the trade worth it. Texas has a strong left-handed pitcher in
Robbie Ross
, but he's someone they utilize for a full inning or two and is actually better against righties than lefties (though neither can hit the rookie these days). Still, the idea of having a veteran left-handed pitcher who can get a key out is appealing. It's worth noting that the Rangers picked up Gonzalez at the August trade deadline, so it's not something they have to do right now.
5. Keep an open mind for a trade no one expects.
One thing this team does so well is that it stays prepared for anything and everything. That needs to be the case this year, too. Sure, it's unlikely that the Phillies would make Lee available or that the
Seattle Mariners
would put
Felix Hernandez
on the block (or want to deal him to Texas), but you never know. Maybe there's another impact player out there that Texas could get that no one expects right now. While we talked about not giving up Profar or Olt for a rental player, if there's a big-name pitcher with some years left on his contract, that's when those names might be discussed (still can't see Profar going unless it was something really big). Be ready to pull the trigger if that special opportunity (that Cliff Lee 2010-like chance) comes up.
What am I missing? What other deals would you try to make? What deals should the Rangers make?
May, 25, 2011
5/25/11
1:27
AM CT
By
Richard Durrett
| ESPNDallas.com
ARLINGTON, Texas -- On a wet Tuesday (and Wednesday), the Rangers fell 8-6 to the White Sox thanks to four Chicago homers, including three from Carlos Quentin. Here's some quick reaction (more to come from the clubhouse):
* Rain was part of the story, with severe weather causing the club to evacuate fans at one point and put them in the service tunnel for about 15 minutes. The delay was nearly three hours and the game wasn't over until the wee hours of Wednesday morning.
* Perhaps one of the biggest moments of the game was the headfirst sliding of
Josh Hamilton
in the 8th. He was trying to beat out an infield single just after 1 a.m. and made a headfirst dive into first base. He beat throw and got up, apparently OK. Hamilton said he wasn't going to change his game, but did talk in Frisco last week about tweaking it. That was one of those times when the club would prefer he run it out and not risk anything by sliding. Then, Hamilton stole second with two outs and slid headfirst into second. It was a close play, but he beat it out. He scampered to third on a wild pitch and somehow avoided the tag and was safe at third. But he didn't score when
Adrian Beltre
flied out.
* The wind was howling, creating a big jet stream effect and making it tough on the pitchers.
Derek Holland
threw one of his slow curves to
Carlos Quentin
and it didn't have much movement (the wind may have been part of the reason) and Quentin belted it out to left field in the first inning.
* Derek Holland couldn't avoid the big inning. In the third, he hit
Brent Morel
, the No. 9 batter, on a 2-2 pitch.
Juan Pierre
bunted down the first-base line and Holland had trouble grabbing it (but I don't think he'd have gotten Pierre anyway). With one out and two on, Quentin hit a 405-foot, opposite-field shot deep into the seats in right. The jet stream helped, but it put the White Sox up 4-1. Really, it was Quentin 4, Rangers 1 at that point.
* Quentin added a third for his first three-homer game of his career. The last one was hit the next day, belted off
Dave Bush
.
* The 2:58 delay meant that Holland was out early and
Brett Tomko
was in. He allowed a homer to
Adam Dunn
-- a long one to the upper deck in right in the sixth -- to give the White Sox the lead again. He gave up a few more hits as the White Sox extended that lead to 6-4.
* Hamilton's first at-bat came with a runner in scoring position in the first and the slugger delivered, tying the game with a single. That hit put Hamilton at 6-for-11 with runners in scoring position this season.
* Hamilton kept two double-plays from happening Tuesday, one with a hard slide and the other by running on the play (that one goes to manager Ron Washington).
*
Yorvit Torrealba
had a nice game. He caught Brent Morel trying to steal second in the fourth inning. Then he made the tag on a nice throw by
David Murphy
to get
A.J. Pierzynski
at the plate to end the sixth and then in the bottom half of the inning hit his first double since April 30.
* The Rangers tied the game after the delay in the fifth inning. They got a leadoff single from
Ian Kinsler
and he scored on a double by
Elvis Andrus
. Kinsler was running hard all the way and third base coach Dave Anderson made a nice, aggressive call in sending him. Beltre ended up doubling with two outs to score Andrus and tie the game.
* Washington said on the 103.3 ESPN FM pregame show that after Kinsler was 0-for-2 on Monday that the second baseman went up the tunnel and wasn't happy about it. Washington followed him and asked him if he wanted a hug. Since that point, Kinsler has actually hit the ball better. He had some hits Monday and some more on Tuesday. And he's getting on base with walks, too. Maybe he's starting to get things going.
* Yoshi Tateyama made his major league debut on Tuesday -- I mean Wednesday morning -- and got the first two batters he faced out before giving up a single to
Paul Konerko
. Washington took him out after that so that
Arthur Rhodes
could come in against Adam Dunn. Rhodes had retired Dunn all 15 times he faced him with nine strikeouts before the at-bat, in which Dunn walked. That was the first walk or hit for Dunn against Rhodes.
* Dunn was 0-for-31 against lefties, but drew his fifth walk against a lefty. That proved costly in the seventh as he helped advance runners and Rhodes eventually gave up a double to
Alex Rios
to score a run.
* Tateyama struck out Quentin with a nasty slider. It looks like a curve, but Tateyama called it a slider in spring training. Whatever you want to call it, Quentin didn't touch it.
*
Mark Lowe
got through a 1-2-3 eighth inning. Could he be the club's best 8th-inning setup man?
* For the fans that stuck around, Rangers gameday guru Chuck Morgan had a treat prepared for the Texas Legends race. Nolan Ryan made his debut, wearing his No. 34 jersey of course, and won the race. Right in the middle of it, a fake
Robin Ventura
came out and the fake Ryan scared him off. The real Ryan clearly enjoyed it.
* Give Ryan credit for sticking around after the 2:58 delay. He and his wife, Ruth, were back in their front row seats when the game resumed and stayed until the end.
May, 23, 2011
5/23/11
8:07
PM CT
By
Randy Jennings
| ESPNDallas.com
ARLINGTON, Texas -- So far, so good in Alexi Ogando's bid for his fifth win.
Ogando has thrown four shutout innings and the Rangers lead, 1-0, going to the fifth.
The 27-year-old right-hander has allowed three hits and a walk with three strikeouts. He has whittled on an ERA that was 2.13 when the game began.
Outfielders
David Murphy
and
Nelson Cruz
helped Ogando's cause with nice defensive plays in the fourth.
Murphy, in center tonight, ranged to his right to cut off a ball hit by
Paul Konerko
, made a spin and released a perfect throw to
Ian Kinsler
, covering second. Konerko was trying to stretch the single and was called out.
Cruz, in left field, ended the inning by running down a drive off the bat of
Carlos Quentin
.
June, 28, 2010
6/28/10
3:05
PM CT
Josh Hamilton's week saw him extend his hitting streak to 21 games, hit the second-longhest home run in the history of Rangers Ballpark and tie the club record for hits in a month with two games to go in June.

Yet it was Chicago White Sox slugger Carlos Quentin who took home American League Player of the Week honors for the period ending Sunday.

Quentin drove in 11 runs and had a 1.111 slugging percentage in helping the White Sox to an 11-game winning streak. He batted .389 and homered four times during the week.

Hamilton's Rangers also put together an 11-game winning streak and currently have a two-game string going heading into their showdown with the Los Angeles Angels. The Rangers outfielder hit .455 and added two home runs -- including Sunday's 468-foot blast against the Astros -- during the week.