Texas Rangers:

Chone Figgins
July, 13, 2012
7/13/12
2:00
PM CT
By
Clint Foster
| ESPNDallas.com
ARLINGTON, Texas -- The
Texas Rangers
resume play for the second half of the season following the All-Star break with a three-game road series against the
Seattle Mariners
. The first game back features LHP
Derek Holland
vs. RHP
Kevin Millwood
at 9:10 p.m. on ESPN Dallas 103.3 FM and TXA21. A quick look at the matchup:
Holland (5-4, 5.05):
The 25-year-old will make his second start since returning from the disabled list, a stint which caused him to miss 28 games from June 5-July 7. ... In his last start, Holland pitched six innings, allowing six hits, three earned runs, one home run, two walks and four strikeouts in the Rangers' 4-3 extra-innings win over the
Minnesota Twins
. ...Has pitched the fourth-most innings for the Rangers at 73, is tied with
Yu Darvish
for the most earned runs on the team with 41 and is second in home runs allowed with 12. ... Has been at his best on the road this season, posting a 3.23 ERA and 3-1 record in five starts and 30 2/3 innings pitched. ... Is 6-2 in 12 career games (eight starts) against the Mariners, posting a 4.26 ERA through 57 1/3 innings pitched. ... Is 1-1 in two starts this season against the Mariners with a 10.00 ERA in nine innings pitched. ... He allowed eight earned runs in 1 2/3 innings pitched in his last start against the Mariners, taking the loss in a 21-8 home defeat that raised his season ERA from 4.05 to 5.11.
Millwood (3-6, 3.69):
The 37-year-old former Rangers starter (2006-09) will make his 432nd career start and the 17th of the season against Texas. ... Is tied with
Felix Hernandez
for the most walks on the Mariners' pitching staff with 35. ... Has comparatively struggled at home this season, going 1-2 in seven starts with a 5.29 ERA through 34 innings pitched compared to a 2-4 record and 2.72 ERA on the road. ... Is 1-2 in six career starts against the Rangers with a 3.16 ERA through 37 innings pitched. ... Is 1-0 with a 1.06 ERA in three starts against Texas this season, allowing 11 hits and two earned runs and tossing six walks and 14 strikeouts in 17 innings pitched.
Hitters:
Mariners hitters are batting .274 (40-for-146) off of Holland. ...
Ichiro Suzuki
is .250 (7-for-28) with two doubles, a walk and a strikeout. ...
Chone Figgins
is .318 (7-for-22) with two doubles and six strikeouts. ...
Dustin Ackley
is 3-for-13 with a double and five strikeouts. ...
Justin Smoak
is 5-for-15 with two doubles, a walk and two strikeouts. ... Millwood has allowed a .251 batting average (46-for-183) against Rangers hitters. ... Michael Young is 5-for-18 with a home run, a walk and four strikeouts. ...
Mike Napoli
is 6-for-18 with four doubles, a home run, a walk and six strikeouts. ...
Josh Hamilton
is 4-for-10 with a double, a home run, two walks and a strikeout. ...
Adrian Beltre
is a career .247 (20-for-81) with four doubles, three home runs, three walks and nine strikeouts.
Up next:
Sat at SEA:
RHP Yu Darvish (10-5, 3.59) vs. RHP Felix Hernandez (6-5, 3.13), 8:10 p.m., ESPN Dallas 103.3 FM/1540 AM/FSSW.
Sun at SEA:
LHP
Matt Harrison
(11-4, 3.10) vs. RHP
Hisashi Iwakuma
(1-1, 4.84), 3:10 p.m., ESPN Dallas 103.3 FM/1540 AM/FSSW.
May, 29, 2012
5/29/12
9:00
AM CT
ARLINGTON, Texas -- The Rangers take on the Mariners in Game 2 of this three-game set at Rangers Ballpark. It's
Scott Feldman
taking on
Jason Vargas
.
Here's a breakdown:
Feldman (0-2, 4.66)
: Feldman looks for his first victory of the season as he makes his fourth start. Feldman, 29, moved into the rotation when
Neftali Feliz
was placed on the disabled list May 24. In Feldman's last start, also against the Mariners, he was knocked out after 4 1/3 innings when he gave up a grand slam to
Alex Liddi
. Feldman gave up a season-high five earned runs on just three hits. But the threw 73 pitches in the outing. Manager Ron Washington said Feldman isn't pitching for his spot on the rotation. Feldman is 3-4 in 10 career starts versus Seattle, with three consecutive losses.
Vargas (5-4, 3.39):
He lost his last start, to the
Los Angeles Angels
, when he gave up three earned runs in seven innings of work. Vargas has lost two of his last three starts. He picked up his last win May 19 at Colorado, when he also went seven innings. In 13 career appearances against Texas, he's 3-5 with a 4.62 ERA. Vargas is making his 12th start of the season and has lost only once at Rangers Ballpark in his career.
Hitters vs. Feldman:
Chone Figgins
.229,
Ichiro Suzuki
.290 and
Justin Smoak
.400.
Hitters vs. Vargas:
Elvis Andrus
.208,
Josh Hamilton
.150 and
Ian Kinsler
.435.
Up next:
Wed. vs. Sea.:
LHP
Derek Holland
(4-3, 4.05) vs. RHP
Blake Beavan
(2-4, 4.38), 7:05 p.m., ESPN Dallas 103.3/1540/FSSW
Thu.:
Off day
Fri. at LAA:
RHP
Colby Lewis
(4-3, 3.58) vs. RHP
Jerome Williams
(5-2, 3.81), 9:05 p.m., ESPN Dallas 103.3/1540/Ch. 21
Sat. at LAA:
RHP
Yu Darvish
(7-2, 3.25) vs. LHP
C.J. Wilson
(6-4, 2.77), 9:05 p.m., ESPN Dallas 103.3/1540/FSSW
May, 28, 2012
5/28/12
10:41
PM CT
ARLINGTON, Texas -- At the end of a hot night at the ballpark,
Texas Rangers
left-hander
Matt Harrison
was smiling.
Harrison pitched one of his best games of the young season, eight strong innings where he allowed just two runs on seven hits. He struck out five and threw 98 pitches.
Harrison moved to 6-3 on the season as he led the Rangers to a 4-2 victory over the
Seattle Mariners
on Monday night.
Harrison has beaten the Mariners twice in the last seven days and picked up eight consecutive wins against the team from the Pacific Northwest.
He's now 8-1 with a 2.69 ERA against the Mariners lifetime.
And Harrison did it by mixing up his pitches, mainly his curveball and changeup, and by spotting his fastball in the strike zone.
"I've been a little sluggish in the first couple of innings and I was just trying to hit (Mike) Napoli's glove and make them put the ball in play," Harrison said. "We were on the same page pretty much the whole game. I shook him off twice. We just kept going and make them put the ball in play and the defense was outstanding behind me and we ended up scoring some runs late."
Harrison noted he needed to pitch better in the first inning. He's allowed nine unearned runs in the opening frame this season and his objective was to get his pitches down in the zone. Harrison tends to overthrow early in the game and that gets him in trouble. He can still attack the strike zone, but must mix up his pitches more and not overthrow.
If he does that, he believes he'll have success.
Monday night, he retired leadoff hitter
John Jaso
on a bouncer to first, but
Chone Figgins
doubled down the left-field line. After
Ichiro Suzuki
reached on a fielders choice,
Jesus Montero
drove him home with a hard hit single to right for a 1-0 lead.
But Harrison didn't let the first inning bother him. He was able to get out of the inning by retiring
Justin Smoak
on a groundout to second. Harrison would go on to retire eight consecutive hitters until a Montero single in the fourth.
"There were a lot less pitches than the last game," Harrison said of his pitch counts in the first inning the last two games. "I was just staying with that approach the whole game and it worked out. Unfortunately I gave up that run in the first but I was able to battle back and keep it right there."
March, 1, 2011
3/01/11
8:20
PM CT
By
Jeff Caplan
| ESPNDallas.com
SURPRISE, Ariz. -- The
Rangers
left most of their starters at camp today and took a lineup of y0ungsters to Peoria to face the division-rival
Seattle Mariners
. Texas scored twice in the ninth, but couldn't complete the rally and lost, 5-4. But, there were several interesting story lines in yet another day of spring training.
Here are the six best of the day:
1. It was another optimistic day for right-handed pitcher
Brandon Webb
,
who completed his second bullpen session in three days
. He threw 46 pitches, 18 more than he did on Sunday and came out of it feeling no ill-effects. He'll throw in the pen every other day and then progress to facing a live hitter before the team can think about when he'll pitch in a spring game. But, all in all this is good progress for a guy who won 22 games in 2008 and if healthy could be an integral part of the rotation.
2. Another of the Rangers' young hopeful southpaws got on the mound today with
Matt Harrison
throwing two pretty innings. He got
five ground-ball outs and gave up two hits, a harmless two-out single and a not-so-harmless solo home run
to
Adam Kennedy
. Harrison said he started to rush after and got out of his nice pace from the first inning when Kennedy stayed away from three straight pitches out of the zone. The next pitch Kennedy took out of the park. Overall, however, Harrison showed well.
3.
Arthur Rhodes
, the Rangers' 41-year-old lefty reliever, made his spring debut, and what a debut it was. He
threw nine pitches to three batters, eight were called strikes
and that was all she wrote. He struck out two batters and got a fly ball for the third out. As Rangers manager Ron Washington put it: "Three pitches to three batters and he walked off the field, grabbed his jacket and went to the clubhouse."
4. The Rangers had to scratch No. 1 catcher
Yorvit Torrealba
before Tuesday's game because of back stiffness. He said he woke up stiff, tried to stretch it out and hoped to play, but eventually erred on the side of caution. He is not scheduled to play today and will be re-evaluated before Thursday's split squad games in which
Neftali Feliz
is scheduled to make his spring debut.
5.
Julio Borbon
continues to swing a hot bat. One of the few starters to play in this one, Borbon hit lead off and collected a pair of singles. He did get thrown out at second attempting to steal while
David Murphy
struck out in front of him. Borbon also made a diving grab in center to rob
Chone Figgins
of a hit in the third inning. It was a bit of a confidence boost for Borbon after he made an error in each of the first two games.
6. Ron Washington can be a sly dog and he's up to one of his tricks for Wednesday's game against the Los Angeles Angles.
Mike Napoli
certainly is a candidate to play some at catcher, but he's behind Torrealba and
Matt Treanor
in the pecking order.
That won't stop Washington from giving Napoli the start behind the plate against his old club
. The Angles drafted Napoli in the 17th round in 2000 and he played five seasons in Anaheim. "Sentimental reasson," Washington said for starting Napoli.
March, 1, 2011
3/01/11
5:55
PM CT
By
Jeff Caplan
| ESPNDallas.com
PEORIA, Ariz. --
Matt Harrison
said he's seen nothing like this.
"I've never seen so many lefties this close to the big leagues," Harrison after allowing one run and two hits in two innings as the starter in Tuesday's 5-4 loss to the
Seattle Mariners
.
Harrison is locked in a competition with fellow southpaws
Derek Holland
and
Michael Kirkman
to fill out the
Texas Rangers
' rotation behind lefty
C.J. Wilson
and righty
Colby Lewis
, and possibly
Tommy Hunter
, who is scheduled to start and pitch two innings Wednesday.
"Lefties seem like they're a dime a dozen now in this organization," Harrison said. "I really try not to worry about that. You have to get outs no matter what and pitch your game."
Harrison made a good first impression, mostly keeping his pitches down and staying ahead in the count. He rolled the first inning, allowing just a two-out single to
Milton Bradley
before getting
Jack Cust
to ground into a force play. After getting
Miguel Olivo
on a grounder to start the second, Harrison ran into some self-induced problems.
He started
Adam Kennedy
with a called strike on a cutter, but then Kennedy didn't bite on three more cutters outside of the zone, and Harrison said it rattled him.
"My pace was good in the first inning, then all of a sudden I got behind that guy," Harrison said. "He kept laying off those outside pitches and I'm like, 'Crap, man,' so I started getting right back on the rubber, catch the ball and throw, catch the ball and throw. Instead of just taking my time and making a good, quality pitch down, I just started rushing a little bit."
Kennedy deposited his fifth pitch, a 91-mph fastball, into the Rangers' bullpen beyond the right-field fence.
Overall, Harrison had good control and kept his pitches down. Five of the six outs he recorded game on ground balls.
"I thought he did a pretty good job. He got one pitch down in the wheelhouse of Adam Kennedy. Other than that he kept the ball down and pounded the strike zone."
Other highlights from Tuesday's game:
*Lefty reliever
Arthur Rhodes
, 41, apparently didn't want to stick around long. He made his Rangers spring debut in the fourth inning and needed nine pitches, eight being called strikes, to set the Mariners down in order. He got Kennedy looking at three consecutive fastballs, then got ahead of
Franklin Gutierrez
0-2 on a fastball and a changeup before getting him to fly out to center on the third pitch. Finally, Rhodes, a Waco La Vega High School product, caught Dustin Ackley looking at two sliders and fastball to end the innning.
"That was as effecient as you will ever see pitched," Washington said. "Three pitches to three batters and he walked off the field, grabbed his jacket and went to the clubhouse."
*
Julio Borbon
continues to swing a hot bat with two a pair of singles to drive his average up to .714. He also made a stellar diving catch in center in the third inning on a
Chone Figgins
sinking liner. Borbon committed an error in each of the first two games.
*
Brian Barden
, a non-roster invitee, joined Borbon and
Chris Davis
in the two-hit club. Barden smacked a double and had an RBI in his first of likely very few starts at third base.
*The Rangers got a look at former pitching prospect Blake Beavan, who was dealt to the Mariners along with first baseman
Justin Smoak
in the
Cliff Lee
deal. The Rangers got to him for three runs on two hits in two innings.
*
Taylor Teagarden
got his first start at catcher after
Yorvit Torrealba
was a late scratch with back stiffness. Teagarden went 0-for-2 at the plate.
June, 9, 2010
6/09/10
1:30
PM CT
By
Josh Davis
| ESPNDallas.com
ARLINGTON, Texas--The Rangers host the Mariners for game three of a four game stretch Wednesday night. LHP
C.J. Wilson
takes the mound for the Rangers, while the Mariners will counter with RHP
Ian Snell
at 7:05 p.m. Here's a brief look at the matchup:
Wilson (4-3, 3.63 ERA): The 29-year-old has been ice cold lately after opening the year with a great April. Wilson had a 4.62 ERA in May, and has a 5.40 mark so far in June, although that was just his last start. Wilson lasted only five innings into the Rangers' win 9-6 win versus Tampa Bay. The lefty allowed six hits and five runs while he was in, but only three of those runs were earned. Wilson did get the win, he first winning decision since May 7 vs. Kansas City. Wilson has started one game against the Mariners this year, which he did not get a decision despite pitching seven innings of five-hit, one run ball, for a 1.29 ERA.
Snell (0-4, 4.64 ERA): The 28-year-old has struggled all year, but his outing against the Rangers at Rangers Ballpark in Arlington earlier this year was hits worst. Snell lasted only three innings, giving up eight hits and five runs, four earned. In his last start the Mariners lost 7-1 to the Angels. In that game, Snell lasted 5.1 innings giving up just three hits, but three earned runs and four walks to no strikeouts. Snell's best start this year came in his first. He went six innings giving up only four hits and one run at Oakland in a 2-1 loss.
Hitters:
Jose Lopez
(7-13),
Chone Figgins
(4-14) and
Franklin Gutierrez
(2-4) have has success against Wilson.
Casey Kotchman
(0-8) has not. Vlad Guerrero (4-7),
Julio Borbon
(3-4) and
Elvis Andrus
(2-3) have been good against Snell.
Ian Kinsler
(0-6) has struggled.
May, 11, 2010
5/11/10
8:00
AM CT
By
Richard Durrett
| ESPNDallas.com
Someone asked me the other day if
Vladimir Guerrero
was the top offensive free agent signing this offseason. You could certainly make that argument.
[+] Enlarge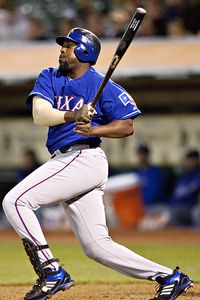 Jason O. Watson/US PresswireVlad Guerrero isn't the only free agent paying big dividends for his new team.
Guerrero is batting .339 with six homers and 26 RBIs. He even has four stolen bases and his body appears to be holding up just fine so far this season. He's making $5.5 million (the contract includes performance bonuses) this season and there's a mutual option (with a $1 million buyout) for 2011. So who else signed offseason deals that look good so far this season? ESPN Stats & Information put together a list. Here goes (all stats through Sunday):
* Arizona's 2B
Kelly Johnson
(one year, $2.35M): 10 HRs, 19 RBIs and a .282 batting average. He hit just eight HRs in 303 at-bats last season.
* Toronto SS
Alex Gonzalez
(one year, $2.75M): He's a defense-first infielder with Toronto who's added 10 HR (he hit eight all of last year) and 27 RBIs.
* Chicago OF
Marlon Byrd
(three years, $15M): The former Ranger has a .347 BA, 6 HRs, 22 RBIs.
*
New York Mets
C
Rod Barajas
(one year, $500K): Another former Ranger, he leads the Mets with nine HRs.
* New York Mets C
Henry Blanco
(one year,$750K): Backup has thrown out all five baserunners this season in limited action.
* Washington C Pudge Rodriguez (two years, $6M): .365 batting average for the catcher that turned down a one-year offer from the Rangers and got a multiyear deal in Washington.
Here are some who have struggled:
* New York Mets'
Jason Bay
(four years, $66M): one HR, 12 RBIs, .248 batting average.
* Seattle's
Chone Figgins
(four years, $36M): He's hitting just .185 for a struggling Mariners lineup.
April, 10, 2010
4/10/10
3:44
PM CT
By
Jeff Caplan
| ESPNDallas.com
ARLINGTON, Texas -- Seattle second baseman's Chone Figgins' errant throw to the plate trying to gun down Joaquin Arias sailed wide, allowing Arias and Taylor Teagarden, who came around from second base, to score.

Arias started the inning with his second base hit of the day, and Teagarden was hit by a pitch as he tried to square around to sacrifice bunt. Elvis Andrus got a beauty of a bunt down on the third-base side and was called out by hair, but he pushed runners to second and third with one out.

Borbon then grounded to second, igniting the throwing error for two runs, one earned.

Rangers 2, Mariners 1, as we move to the top of the sixth.
December, 29, 2009
12/29/09
9:18
AM CT
By
Richard Durrett
| ESPNDallas.com
The last couple of days have seen more activity in the AL West. I'm still amazed by how the deals keep coming in the Rangers' division.

The Angels signed former Detroit closer Fernando Rodney to a two-year deal worth $11 million. He's supposed to set up Brian Fuentes. That certainly strengthens the Angels' bullpen. But the question now is whether the Angels' budget has money left over to do much else. ESPN Insider Keith Law thinks they overpaid for Rodney.

The A's have reached an agreement with Justin Duchscherer. ESPN.com's Jerry Crasnick wrote that it's one year at $5.5 million. Duchscherer missed the 2009 season with elbow surgery and had treatment for clinical depression. He gives the A's a veteran presence in that rotation.

The Rangers have made several additions this offseason. And they aren't done. They are continuing to look for a right-handed bat to go in the middle of the lineup and have interest in Jermaine Dye and Vladimir Guerrero. They've also looked at left-handed hitter Jim Thome as a possible DH.

And we haven't even discussed the Mariners, who have made their team the strongest with plenty of additions, including Cliff Lee and Chone Figgins.

It's made the entire division better. Does it mean the Mariners are the favorites? Have the Rangers done enough to get past the Angels?
December, 14, 2009
12/14/09
5:36
PM CT
By
Richard Durrett
| ESPNDallas.com
It's not an easy question with the wild offseason so far in the division. The Angels, as always, are the team to beat because of their recent success on top of the AL West. But today we learned the Mariners sure are pushing hard too.

A published report says the Mariners have traded for Cliff Lee as part of a three-team deal that sent Roy Halladay to the Phillies.

So while the Rangers were busy acquiring Rich Harden, trading Kevin Millwood to get Chris Ray and the money to sign Harden and looking at right-handed bats (maybe Mike Lowell if he passes a physical), the Mariners were busy too.

They signed Chone Figgins at the Winter Meetings and now appear to have a top-notch starting pitcher to go in the rotation with Felix Hernandez. Wow.

Who do you think is the favorite in the AL West?