Texas Rangers:

Chris Carter
September, 22, 2014
9/22/14
9:00
AM CT
The
Texas Rangers
start their final homestand of the 2014 season against a team that's beaten them up all season, the
Houston Astros
.
Here's a preview:
What's up with the Astros?
Jose Altuve
leads the majors with a .345 BA and is fourth in WAR Offense at 6.56.
Jake Marisnick
has 19 RBIs in 45 games for Houston since his trade from Miami.
Dexter Fowler
has five multihit games in the past 10 games.
Chris Carter
has a hit in 15 of the past 19 games. The Astros are 11-5 against the Rangers this season and won their past three in Arlington. The starting pitching has 15 quality starts in the past 21 games.
What's up with the Rangers?
Texas has won eight of the past nine games and improved interim manager Tim Bogar's mark to 9-6 since taking over for Ron Washington. The bullpen has allowed one run in the past 19 innings of work. If the Rangers lose 100 games, they would have to lose their last seven games. Currently, Arizona (62-94) owns the worst record in the big leagues; Texas (62-93) and Colorado (65-91) follow.
Leonys Martin
is hitting .344 in the past 15 games.
Ryan Rua
hit .429 in the recently completed six-game road trip.
The return of Neftali Feliz:
When the Rangers traded
Joakim Soria
, it moved Feliz back into the closer's role. Sunday, Feliz hit 97 mph on the gun in picking up his 11th save of the season as he struck out the side in the ninth inning. Feliz had four strikeouts and three saves in his past three appearances.
The pitching matchups:
Monday: LHP
Derek Holland
(1-0, 0.99) versus RHP
Nick Tropeano
(1-1, 2.70). Tuesday: RHP
Nick Martinez
(4-11, 4.85) versus LHP
Brett Oberholtzer
(5-12, 4.39). Wednesday: TBA versus RHP
Scott Feldman
(8-11, 3.82).
August, 28, 2014
8/28/14
10:00
AM CT
The
Texas Rangers
continue their 10-game road trip with a four-game set against the
Houston Astros
.
Here's a preview:
What's up with the Astros?:
Houston fell 5-4 to Oakland on Wednesday, blowing a 3-2 lead when they allowed three in the ninth inning. Houston, however, has won 14 games in the last at-bat this season with DH
Chris Carter
hitting four home runs in those games. Carter (33 home runs and 78 RBIs) leads the majors in HR (12) and RBIs (29) in August. 2B
Jose Altuve
leads the majors with 181 hits. His slash line is .332/.370/.435. C
Jason Castro
is 4-for-8 with two RBI against Friday starter
Nick Tepesch
. The Astros have lost four of five games.
What's up with the Rangers?:
They are a pretty good tear, considering where this team sits in the standings. The Rangers have won three of their last four games and are 2-1 to start this road trip. C
Tomas Telis
is off to a strong start since his promotion from Triple-A Round Rock. He's 3-for-8 with three RBIs and two runs scored in the two games he's played. LF
Michael Choice
is 0-for-7 with a one run in the two games he's been here. SS
Elvis Andrus
has four hits in his last 27 at-bats. 3B
Adrian Beltre
has had multiple-hit games in six of his last eight contests and has 18 hits in the last 10 games. The Rangers are 21-31 against the AL West.
Derek Holland gets going:
Left-handed starter Derek Holland is scheduled to pitch in Round Rock on Thursday night in his final rehab start. If Holland doesn't encounter any problems, expect him to move to the big club when the rosters expand next week. Holland hasn't pitched this season for the Rangers as he recovers from knee surgery.
Pitching matchups:
Thursday: RHP Nick Tepesch (4-8, 4.45) vs. RHP
Collin McHugh
(6-9, 3.02); Friday: TBA vs. LHP
Brett Oberholtzer
(4-9, 4.01); Saturday: RHP
Miles Mikolas
(2-5, 6.44) vs. RHP
Scott Feldman
(7-10, 4.34); Sunday: RHP
Nick Martinez
(3-10, 5.31) vs. LHP
Dallas Keuchel
(10-9, 3.05).
August, 11, 2014
8/11/14
12:30
PM CT
Grantland's Jonah Keri has his weekly baseball
rankings
and the Texas Rangers remain at the bottom at No. 30. There are some interesting things Jonah has to say about the
Houston Astros
, who took two-of-three from the Rangers over the weekend in Houston:
Though it hasn't shown in the wins column, the Astros have started to assemble an intriguing collection of position player talent. Second baseman Jose Altuve, a 24-year-old with two All-Star berths already to his name and a possible batting title in his sights, is a franchise player. Outfielder George Springer and DH Chris Carter have developed into one of the most potent power duos in the league, mashing a combined 45 homers, albeit with injury issues for Springer and far too many whiffs for both players. Carlos Correa is out for the year after fracturing his fibula but remains one of the most highly regarded prospects in the minors. And while Jon Singleton is batting below the Mendoza Line in his rookie season, Houston hopes he'll also become a significant power source and a fixture in the everyday lineup.
Rangers manager Ron Washington was raving about Altuve and his efforts this season.
As for the Rangers, they take on the Tampa Bay Rays in a four-game set at Globe Life Park starting tonight.
August, 9, 2014
8/09/14
12:20
AM CT
HOUSTON --
Texas Rangers
right-hander
Miles Mikolas
got a visit in the second inning from his manager, Ron Washington.
It was just Washington and Mikolas on the mound alone.
No catcher.
No infielders.
[+] Enlarge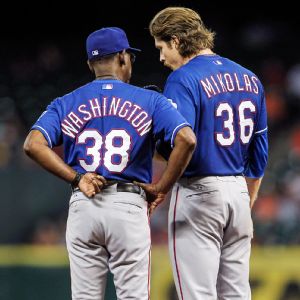 Troy Taormina/USA TODAY SportsRon Washington spent some time with young pitcher Miles Mikolas during Friday's loss to the Astros.
Nobody but the two of them. It was as if they were on an island in the middle of downtown instead of the middle of Minute Maid Park, home of the
Houston Astros
.
Mikolas had walked
Robbie Grossman
and now he was down 2-0 to
Jake Marisnick
.
"Just making him understand he's got good stuff," Washington said of the conversation. "This is the way you hurt yourself, by putting people on the bag without them swinging the bat. If those guys swing the bat and get on base, you live with that. But you don't be giving up free passes when you have a 2-0 lead."
The Rangers lost that 2-0 lead and the game 4-3 to the Astros on Friday night.
So the education continues for another young pitcher, and on this night it was Mikolas, who didn't get the loss but couldn't get to a quality start because he threw 105 pitches in five innings.
At one point, Mikolas threw 61 pitches in Innings 2, 3 and 4.
"It could have been tougher, but he was able to make pitches when he had to," Washington said. "He just didn't have his command as well has he had in the past. Got into a lot of deep counts, on a lot of hitters, and he was in a lot of 0-2 counts and next thing you know, it's 3-2. He just didn't have the pitch to put him away and it cost him. He could have gone into the sixth or seventh inning, but he was gone in the fifth."
Houston's
Chris Carter
homered off Mikolas, cutting a 2-0 deficit to one in the fifth inning. Mikolas' 3-2 pitch was sent deep into left field over the bleachers that sit atop of the out-of-town scoreboard.
August, 8, 2014
8/08/14
9:00
AM CT
HOUSTON -- The battle of the Silver Boot is this weekend.
It really should be renamed: The Battle for Dazmon Cameron. He's the projected No. 1 pick in next year's MLB draft.
Here's a preview between the two of the worst teams in the American League:
What's up with the Astros?
The Astros have lost three in a row but have beaten the Rangers in six of nine games this season. 2B
Jose Altuve
is batting .338/.375/.440. DH
Chris Carter
has 22 HRs and 53 RBIs with a .473 slugging percentage. OF
George Springer
(quadriceps) could get activated from the DL on Friday, but he left a rehab game Wednesday with discomfort. The Astros'
Scott Feldman
is scheduled to make his fifth start against his former team Saturday. Feldman is 1-1 with a 4.07 ERA vs. the Rangers.
What's up with the Rangers?
Something good. The Rangers have won two in a row and are feeling good about themselves despite the 45-69 mark.
Neftali Feliz
displayed some velocity in his fastball in earning the save Wednesday. 1B J.P. Arencibia leads the majors with 20 RBIs in the second half of the season.
Elvis Andrus
has a 13-game hit streak going. The last time he failed to get a hit was July 23, the rain shortened game against the
New York Yankees
that lasted just 5 1/3 innings.
Rangers home run hitters:
The Rangers have hit eight home runs in the last three games and have 10 in the 18 games since the All-Star Break. The bulk of the homers came Tuesday night when they hit five in a 16-0 win over the
Chicago White Sox
. Prior to the White Sox series, the Rangers hadn't hit a homer in four consecutive games. The Rangers are tied with the
New York Mets
for 26th in the big leagues with 84 home runs.
Moves, moves and more moves:
RF
Alex Rios
has cleared waivers allowing the Rangers to trade him to any team they please. The Rangers are open to keeping Rios, but if some quality prospects can be obtained, GM Jon Daniels might do it. Could this be Rios' final series with the Rangers? Catcher
Geovany Soto
has completed his rehab stint from a pulled right groin and should play this weekend.
The matchups:
Friday: RHP
Miles Mikolas
(1-4, 7.29) vs. LHP
Brett Oberholtzer
(4-7, 4.17). Saturday: RHP
Yu Darvish
(10-6, 2.82) vs. RHP Scott Feldman (5-8, 4.13).Sunday: RHP
Nick Martinez
(1-8, 5.31) vs. RHP
Brad Peacock
(3-7, 4.93).
April, 3, 2013
4/03/13
6:31
PM CT
By
Todd Wills
| ESPNDallas.com
HOUSTON -- There wasn't a day-after celebration of
Yu Darvish
's near-miss perfect game Wednesday afternoon. Just more strikeouts -- a lot of them -- for Rangers pitchers.
Five Rangers took the ball against Houston and all of them drew off of Darvish's spectacular effort Tuesday night, adding to a record-breaking strikeout haul in the first three games of the season.
PODCAST
The excitement of Yu Darvish's near-perfect game has Rangers fans brimming with hope. Play-by-play voice Steve Busby talks about Yu's outstanding effort.

Listen

Rangers pitcher had 15 more strikeouts in
Wednesday's 4-0 victory
over the young, aggressive Astros lineup, with
Alexi Ogando
starting the swings and misses with 10 strikeouts.
Four relievers combined for five more strikeouts as the Rangers set the major league record for most strikeouts in the first three games of the season with 43. That was one more than the 1966
Cleveland Indians
.
Darvish came within an out of a perfect game Tuesday night and a trip into the record books. Ogando, back in the rotation after a year in the bullpen, said that gave him a path to follow Wednesday.
"It was a spectacular game," Ogando said. "It really motivated me to pitch strong today."
Ogando gave up a double to the first hitter he faced, so he didn't threaten to have a night like Darvish's. The no-hit bid was out of the way. But it was the first of two crucial innings for Ogando. The Astros, who didn't score in the final 18 innings of the series, had their best opportunity to scratch out a run in the bottom of the first.
Brett Wallace
grounded out to second base, moving
Jose Altuve
to third with one out and setting up a chance to score if veteran
Carlos Pena
could put a ball in play.
Ogando got ahead of the free-swinging Pena with a slider, then reached back for a little extra on a fastball for a key strikeout. He fanned
Chris Carter
on three pitches to end the inning.
Ogando said he wasn't trying to get strikeouts in the inning. They just happened.
"I just focused on throwing quality pitches," Ogando said. "I managed to strike them out. I was able to execute my pitches and I had pretty good results."
Ogando needed a Ron Washington pep talk -- they type Washington has reserved for
Derek Holland
in the past -- to get through the third inning. Washington usually saves trips to the mound for pitching coach Mike Maddux unless he is making a change. But after No. 9 hitter
Ronny Cedeno
had a one-out single, moved to second on a walk and Wallace drew a two-out walk, Ogando had already made the inning worse.
Then when Ogando fell behind Pena with two straight balls, the manager felt like he needed to deliver a special message. Wallace and Pena had combined for 11 strikeouts in 16 at-bats before Ogando walked Wallace. Not tolerable.
"I went out there and let him know he has one of the best defenses in baseball behind him," Washington said. "And if these guys are going to make a charge at him, let them make a charge at him swinging the bats."
Darvish threw one pitch -- a 93-mph fastball located where he wanted it -- and Pena rolled it over to second base for the third out. They say a trip to the mound is only successful if it brings positive results. This one worked.
Washington said he won't do it a lot, but ...
"Only when I feel like there is something that I need to say," Washington said. "I'm no miracle worker. I just felt like there was something I had to say."
Ogando went on to retire nine hitters in a row, holding the Astros at bay as the Rangers held onto a 1-0 lead. He turned the game over to the bullpen in the seventh inning.
With a runner on first base,
Robbie Ross
got a ground ball for the second out, moving Houston's
Justin Maxwell
up to second base. Washington played the matchup game, bringing in right-hander
Tanner Scheppers
to face
Matt Dominguez
. Scheppers threw a sinker and was able to induce a popup to second base.
It was the first big moment for the Rangers' new-look bullpen and the Ross-Scheppers combination. It made an impression on designated hitter
Lance Berkman
.
"Looks good to me," Berkman said. "We knew coming in that we had some guys who have terrific stuff, and you saw that. Even with Tanner coming in and he throws 96-mph sinkers; it was a good start for everybody."
Berkman had a clutch hit in the top of the eighth, ripping a double to the left-center field gap to score
Elvis Andrus
from first base for a 2-0 lead. The Rangers added two more runs in the inning for a 4-0 lead.
That meant
Joe Nathan
time -- after
Michael Kirkman
had two strikeouts in the bottom of the eighth -- and even though it wasn't a save situation, it was important to get the closer into the game after four days without pitching.
Nathan did OK, you might say, fanning all three batters he faced in the ninth inning to set the record and finish off a historic three days of strikeouts.
Not everyone can do what Darvish does, with his array of pitches, Nathan said. But with a tone-setter like the Japanese ace, it can start a trend. And sometimes the strikeouts come with it.
"When you see him do it, it's something he does on a regular basis, so you just don't want to think because he's doing it that everyone can do it," Nathan said. "This series we were able to take advantage of some aggressive (batters). More importantly, like we said, we're trying to get outs. If they're going to be aggressive, try and start them off with something other than a fastball. If we can get out of the zone to get them out, even better."
April, 3, 2013
4/03/13
1:17
AM CT
By
Todd Wills
| ESPNDallas.com
HOUSTON --
Yu Darvish
nearly pitched the perfect game heard round the world Tuesday night.
Darvish just missed the 24th perfect game in major league history, getting within an out of perfection before
Houston Astros
shortstop
Marwin Gonzalez
lined a single through the Ranger pitcher's legs into center field.
PODCAST
The excitement of Yu Darvish's near-perfect game has Rangers fans brimming with hope. Play-by-play voice Steve Busby talks about Yu's outstanding effort.

Listen

Darvish was pulled after facing his 27th batter, and reliever
Michael Kirkman
ended up getting the final out as the Rangers settled for a one-hitter and a 7-0 victory before 22,673 fans at Minute Maid Park.
It's the 11th perfect game spoiled by the 27th hitter in major league history. It would have been the sixth no-hitter in Rangers' history and the second perfect game.
Darvish induced two ground ball outs to start the bottom of the ninth, and a ballpark half-filled with Rangers fans waited with anticipation that he would finish it off. But Darvish hung a cutter -- he threw all cutters in the ninth inning -- and Gonzalez came up with a clean single.
"You get to that point, and you think it's going to happen," Rangers catcher
A.J. Pierzynski
, who caught
Philip Humber
's perfect game with the
Chicago White Sox
last season, said. "It just wasn't meant to be."
As Darvish retired the first 15 batters he faced, Major League Baseball announced on Twitter that the Japanese pitcher was trending worldwide.
Darvish was shaking his head in disappointment in the visitor's clubhouse minutes after the game, but he was proud of himself as he talked in his postgame news conference.
"I went as far as I could go, and that was satisfying," Darvish said.
It had been 19 years since the only time a Rangers pitcher found perfection.
Kenny Rogers
tossed a perfect game on July 28, 1994, in a 4-0 victory over the California Angels. Darvish came oh-so-close to moving into the history books with Rogers.
Darvish befuddled the Astros with his array of pitches. He threw seven different pitches, Pierzynski said, with his slider and fastball the overwhelming pitches of the night.
"He had them all going," Pierzynski said.
Darvish set his career high in strikeouts with 14. He struck out the side twice, in the second inning and fourth. He had struck out 11 in a game four times, all last season as a rookie.
Darvish had an electric fastball, but it was his slider that totally confused Astros hitters. Of his 14 strikeouts, 12 of them were on sliders, 10 swinging and two looking. Darvish went to a full count four times and to a three-ball count five times overall.
Darvish had a tense moment to start the bottom of the eighth inning when Astros left fielder
Chris Carter
worked the count full. Carter fouled off three pitches, then swung through another nasty slider from Darvish.
Then came the dramatic bottom of the ninth.
Elvis Andrus
had to go to his right on a grounder that took a strange hop, then easily threw out
Jason Castro
for the first out of the inning.
Carlos Corporan
then grounded out weakly to second. That brought up Gonzalez, who had struck out and grounded out to first.
Gonzalez was looking for a fastball away, he said after the game. He got one that Pierzynski said sunk down instead of cutting.
"The first two batters, J.C. and Corporan, he threw a fastball away the first pitch to them, and I realized he was going to throw it to me, too, and I was waiting on the pitch," Gonzalez said.
March, 31, 2013
3/31/13
2:29
PM CT
By
Todd Wills
| ESPNDallas.com
HOUSTON -- The Rangers finally get the 2013 season started with left-hander
Matt Harrison
getting the call for the opener against Houston right-hander
Bud Norris
. The game starts at 7:05 p.m. on ESPN and ESPN 103.3 FM.
Harrison (18-11, 3.29 ERA in 2012):
Harrison makes his first Opening Day start … the left-hander won 18 games last season, third most in the American League and with that earned a five-year, $55 million contract … He had a 3.29 ERA in 2012, seventh best in the AL … Harrison threw 93 pitches in his final spring start on Tuesday for Triple-A Round Rock against Seattle's Triple-A team … he also had five shutout innings against the Dodgers this spring … Harrison has won 32 games over his past two seasons … Harrison is 0-1 with a 5.14 ERA lifetime against Houston … Harrison has never started a regular-season game in March, but he is 7-6 with a 4.89 ERA in 17 career starts in April.
Norris (7-13, 4.65 ERA in 2012):
Norris also makes his first Opening Day start … He pitched well at Minute Maid Park last year, going 4-1 with a 1.71 ERA and 82 strikeouts … Norris makes his first start against the Rangers … Norris was 2-0 with a 3.92 ERA in five spring starts.
Hitters:
Carlos Pena
(0-for-8),
Chris Carter
(0-for-7) and
Ronny Cedeno
(0-for-3) are the only Astros who have faced Harrison and none with good results …
Lance Berkman
(1-for-6, HR) and
Geovany Soto
(1-for-6, HR) are the only Rangers who have faced Norris.
June, 30, 2012
6/30/12
9:23
PM CT
By
Clint Foster
| ESPNDallas.com
ARLINGTON, Texas -- After trading solo home runs in the second inning, the
Texas Rangers
put together a scoring streak in the fifth to beat the Oakland A's, 7-2, and take the series.
Martin Perez
made his debut as a major league starter and got the win. A sellout crowd of 46,711 was in attendance, the 24th for sellout of the season to extend the record. Some thoughts on the Rangers' 50th win of the season:


What it means:
The Rangers took the series with the A's, winning the first three in the four-game series with a chance to sweep Sunday. The Rangers improved their lead to 6.5-game over the
Los Angeles Angels
in the AL West, tying their biggest edge of the season. Texas also retains the best record in the majors, at 50-29, and is the first team to reach 50 wins this season.
Perez's first start:
Perez looked good in his debut as a major league starter. He threw 103 pitches in 5 1/3 innings and showed good command of his breaking ball. He allowed six hits, including a home run, two earned runs, and one walk. He struck out five.
Riding the stream:
The Jet Stream was in full effect Saturday night. Each team hit a solo shot to right field in the second inning.
Chris Carter
struck first for the A's and then
Adrian Beltre
followed for the Rangers.
Nelson Cruz
also gave a ball a ride to right field in the second, but it fell short just before the wall for a fly out.
Five in the fifth:
The Rangers engineered another one-inning offensive explosion to go ahead against the A's in the fifth. Down 2-1, the Rangers put two men on base to start the inning.
Yorvit Torrealba
reached on a fielder's choice when Cruz was caught in a rundown between third and home. But Cruz made sure to make the rundown last long enough to get
Mike Napoli
to third and Torrealba to second. With runners in scoring position,
Brandon Hicks
made an impressive leaping grab to keep red-hot
Craig Gentry
from tying in the runners. It looked like the Rangers might leave the runners on base when
Ian Kinsler
stepped up to the plate with two outs. Kinsler, who had back-to-back strikeouts to start the game, came through with a two-RBI single. After
Elvis Andrus
reached base on an error,
Josh Hamilton
blasted a three-run homer to center field. Hamilton's fourth home run of the month capped off a five-run fifth that put the Rangers up 6-2.
Home run Hamilton:
Hamilton's home run in the fifth inning was his 25th homer of the season, which matches his total from last season. He is the fastest player in Rangers history to reach 25 home runs in a season, hitting the mark in 79 games. He is just the fifth player in club history to hit 25 home runs in four or more seasons, joining the likes of
Juan Gonzalez
,
Rafael Palmeiro
,
Hank Blalock
and
Mark Teixeira
. Hamilton finished 2-for-4 with four RBIs.
Error message:
The Rangers took full advantage of three key errors made by the A's, two of which came during the fifth-inning run. Both Andrus and Cruz reached base on errors which sustained the inning and gave the Rangers the chance to score as many runs as they did.
Michael Young
also reached second base on an error in the sixth inning, although he was not driven home.
Napoli's strikeout streak:
Napoli struck out swinging in the sixth inning to extend his streak to 11 games with at least one strikeout. He had struck out 25 times in his previous 10 games, including three strikeouts against the A's on Friday night, two of which ended innings with runners in scoring position. Napoli finished 1-for-4.
Eighth-inning scare:
With
Michael Kirkman
on the mound, the A's put two men on base with an error and a walk to lead off the eighth inning. Kirkman escaped with no runs thanks to two flyouts to center and a pop-up to second base. Kirkman and
Yoshinori Tateyama
saved the bullpen after Perez's exit, combining for the remaining 3 2/3 innings and allowing no runs.
Up next:
The Rangers have a chance to complete the sweep when they close out their four-game home series with the A's on Sunday. RHP
Yu Darvish
will take the mound against LHP
Travis Blackley
at 6:05 p.m. on ESPN Dallas 103.3 FM/1540 AM/FSSW. Some 2,500 reserved seats remain for Sunday's game.
Tue. at CWS:
RHP Roy Oswalt (2-0, 4.26) vs. LHP Chris Sale (9-2, 2.27), 7:10 p.m., ESPN Dallas 103.3 FM/1540 AM/FSSW.
Wed. at CWS:
RHP Scott Feldman (2-6, 6.13) vs. RHP Dylan Axelrod (0-1, 4.50), 6:10 p.m., ESPN Dallas 103.3 FM/1540 AM/FSSW/ESPN.
Thu. at CWS:
LHP Matt Harrison (11-3, 3.16) vs. LHP Jose Quintana (3-1, 2.19), 1:10 p.m., ESPN Dallas 103.3 FM/1540 AM/FSSW.
June, 29, 2012
6/29/12
10:31
PM CT
ARLINGTON, Texas --
Joe Nathan
, the Rangers closer, had pitched three consecutive days, and setup man
Mike Adams
had pitched in four of the last five games.
It left manager Ron Washington and pitching coach Mike Maddux with an issue. Who closes out Friday night's game against Oakland?
After the Rangers rallied from a two-run deficit to score four in the eighth inning, Washington turned to
Tanner Scheppers
, who despite allowing a ninth-inning home run, picked up his first career save in the 4-3 victory.
Scheppers said he was pumped to get an opportunity, with two veteran pitchers sitting out.
"I was just happy we were able to take the lead and get ahead," Scheppers said. "The guys have been working on having good (at-bats) all game long. I'm just real happy I got the opportunity to show what I had."
Scheppers, in his ninth appearance, became the first Rangers pitcher to record a save this early in his career since
Yoshinori Tateyama
earned a three-inning save, in the third game of his career last year.
Washington, meanwhile, had confidence in Scheppers to take care of things in the ninth inning. If things got hazy, Washington said
Michael Kirkman
would have entered the game. Kirkman was warming in the bullpen in the ninth.
Scheppers retired
Brandon Inge
on a ground out to short and got
Derek Norris
to pop out to the catcher. But
Chris Carter
homered to left, silencing the crowd as the A's cut the lead to 4-3.
"I had to make it interesting, I guess," Scheppers said. "I just got to attack back and it's still a one-run game and I got to go back and focus on the next guy."
Pinch hitter
Seth Smith
came on and bounced out to second to end the game.
"My first few pitches I was a little nervous out there," Scheppers said. "I just had to settle down and throw the ball down and trust my stuff."