Texas Rangers:

Cole Hamels
July, 24, 2012
7/24/12
8:00
AM CT
ARLINGTON, Texas --
Colby Lewis
, the soul of the
Texas Rangers
' pitching rotation, is gone for the rest season, felled by something called a torn flexor tendon.
PODCAST
Rangers president Nolan Ryan weighs in on the team's ravaged rotation, potential trade prospects, Josh Hamilton's slump and more.

Listen

It should now be clear to everyone who matters in the Rangers' front office -- from Nolan Ryan to Jon Daniels to Thad Levine -- that the Rangers need a front-of-the-rotation starter.
It's not optional.
The Rangers must add a No.1 starter or they won't win their third consecutive AL West title. And you can forget about a third consecutive trip to the World Series without fortifying the rotation.
Yes, Lewis was that important to the 2012 rotation.
So whether it's Philadelphia's
Cole Hamels
or Milwaukee's
Zack Greinke
or some stud the Rangers have targeted that we haven't heard about -- always a possibility with the Rangers' front office -- this team needs an anchor for its staff.
Lewis wasn't sexy, but he was a dude who took the ball every fifth day and competed as hard as an athlete with slightly above-average stuff can compete. He recorded outs with guile, excellent command and a slider with wicked movement on the days he had his best stuff.
But his most important trait is his mental and physical toughness.
Lewis always took the ball. In the past two seasons, Lewis had made 64 consecutive regular-season starts. He didn't miss a start with Texas until going on the disabled list last month.
And Lewis pitched his best when the games mattered most the past two seasons. Lewis was 4-1 with a 2.34 ERA in the postseason. Only once in eight starts did he yield more than two runs.
Without Lewis, the Rangers' rotation no longer has a lead dog.
Read the rest of the story
here
.
July, 20, 2012
7/20/12
11:00
AM CT
By
Richard Durrett
and
Mark Saxon
| ESPNDallas.com
ESPN Dallas' Richard Durrett and ESPN Los Angeles' Mark Saxon discuss the Rangers-Angels series this weekend in Anaheim.

MS:
It seems like both of these teams suddenly have some issues with their starting rotations. What's the latest on the Texas starting rotation and do you think any concerns are long-term or just blips in the middle of a season?
RD:
For the Rangers, it's more about injuries. They avoided any roster moves for the first five weeks of the season and then the injuries hit all at once. But they are starting to see some reinforcements.
Derek Holland
is back and has pitched well in two starts off the DL.
Colby Lewis
allowed just one run in five innings Wednesday, his first start off the DL.
Roy Oswalt
bounced back with a better showing in his first start after the All-Star break.
Yu Darvish
is still looking for consistency with his command and didn't have it despite 11 days off (that includes the All-Star Game because he didn't pitch). He'll get another shot this weekend.
Matt Harrison
remains the club's most solid performer in 2012.
RD:
What should Rangers fans expect from
Dan Haren
this weekend, assuming he pitches Sunday?
MS:
Tough one, Richard. On the one hand, Haren's stuff hasn't looked as crisp this season, including in a Class A rehab game Monday night. On the other hand, he seems intent on proving to everyone he's still a front-line starting pitcher. One thing they should expect is a relatively short outing, at least by his standards. I imagine he'll be on a 90-pitch limit coming off lower-back inflammation. One thing they can't expect is for him to beat himself. If he walks more than two batters in a game, he's having an off night.
MS:
Did people in Texas expect
Mike Napoli
to do what he did last year again this season? Or, did people realize he's a super-streaky hitter?
RD:
They know he's streaky and didn't expect him to hit .383 for the season like he did for the second half of 2011. But they sure didn't expect a .223 average. Napoli hasn't looked comfortable at the plate except for one week where he really tore the cover off the ball earlier this season. He's missing pitches he crushed last year and is striking out at a much higher rate than he has in his career. It's a surprise to see him in a rough patch for this long. Will a series against his former team help get him going?
RD:
We talk a lot about
Mike Trout
and
Mark Trumbo
, but when the season started
Kendrys Morales
was seen as a key offensive producer to help
Albert Pujols
in that lineup. How has he been?
MS:
I guess mediocre would probably be the word. He's gotten his share of hits, but hasn't really driven the ball as well as he did before he broke his leg. It's all perfectly understandable. What's not as understandable is why it took Mike Scioscia until mid-July to install Trumbo as his cleanup hitter and slide Morales down a spot.
MS:
We've seen some unpredictability from
C.J. Wilson
lately. When he struggled with Texas, did it typically last a while or was he good at making adjustments between starts?
RD:
Wilson put up some stinkers in Texas, too, and bounced back just fine. He makes adjustments and figures it out. He's a big thinker -- maybe even on overthinker at times -- and few in the league work harder between starts. He'll have his rough starts, but rarely do they turn into long patches of struggles. Don't worry about Wilson in the regular season. The question will be if he can get things figured out in the playoffs.
RD:
If
Craig Gentry
and Mike Trout were in a 40-yard dash, who would win and by how much?
MS:
I don't know much about Craig Gentry, but I think the Angels would take Trout over just about anybody who doesn't return kicks in the NFL.
MS:
The Angels and Rangers had big contingents at the All-Star game. I think there were 12 guys between the two teams, about one-third of the AL squad. What did the Texas guys say, if anything, about sharing a clubhouse with Angels players? Do you think this is a tense rivalry, an intense rivalry or just another three games on the schedule?
RD:
I think fans and media make more of the "intense" rivalry than the players. There's mutual respect from both clubs and they've expected a spirited rivalry. But I wouldn't call it intense and there's no dislike that I can see between the teams. They both want to win and they'll play hard.
RD:
Why has
Ervin Santana
struggled so much this season?
MS:
I can't give a detailed answer in terms of his mechanics or anything, but his raw stuff doesn't seem to be the issue. He's the hardest thrower in the Angels rotation and still has a nice slider. I guess you could point to whether he needed to tinker with a new pitch in the last few years. You could wonder about a pattern which tends to see him struggle one season and rebound the next and whether that says something about his focus.
MS:
Do you expect GM Jon Daniels to be active at the deadline? Where does he seem to be focusing?
RD:
GM Jon Daniels is always active at the trade deadline. It's in his nature. But he's in a good spot here. The Rangers don't have to make a deal. If the right one is out there -- like maybe a top of the rotation starter like
Cole Hamels
-- they can decide whether that's worth a top prospect or not (I don't think it is, but it depends on how badly they want a rental like Hamels on top of the rotation come the playoffs). But the club could use a right-handed bat off the bench, too, and could consider a left-handed specialty reliever. So no matter what happens, I expect they'll be active.
RD:
Do the Angels plan on getting aggressive at the trade deadline? Do they have some pieces in the minor leagues that they could deal to get an impact player? What are their biggest needs?
MS:
Yes, and no. I think they would love to be aggressive, but no, they don't have a ton of minor-league depth, particularly in the pitching department, which is what rebuilding teams often want. I'm pretty sure Jerry Dipoto will make a move. I'm not at all sure what it will be.
July, 19, 2012
7/19/12
11:00
PM CT
By
Richard Durrett
| ESPNDallas.com
We're less than two weeks away from the July 31 trade deadline and the
Texas Rangers
are in position to make some moves if they choose. But with any deadline, the club must prioritize, get prepared and decide what kind of value it places on the prospective pieces on the market. With an additional playoff team in the mix, things may go even more down to the wire than normal as certain clubs could decide very late that they are sellers or buyers. And with the changes in compensatory picks, it could alter the value of rental players.
So let's pretend that I'm general manager Jon Daniels (he's way smarter than I am, but I'm taller and better looking) and I'm trying to figure out which deals I should do and which ones I shouldn't. Here are five things to consider at the deadline:
[+] Enlarge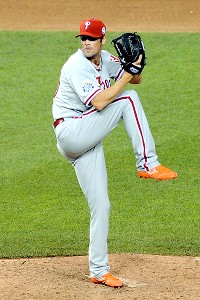 Denny Medley/US PresswireIf the Rangers decide to trade for a starter, it needs to be someone like Cole Hamels who will slot in at the top of the rotation in the postseason.
1. If the Rangers trade for a starting pitcher, make it an impact one.
You'll hear the names of
Ryan Dempster
and
Matt Garza
this time of year. Maybe even
Wandy Rodriguez
. But it doesn't make sense for the Rangers to deal decent prospects for pitchers who aren't going to make the rotation appreciably better.
Should Texas decide to get a starter, it needs to be someone who slots in at the top come the postseason. The two biggest names that could be out there are
Zack Greinke
and
Cole Hamels
. Personally, I like Hamels more than Greinke. And we'll see if he even becomes available now that
the Phillies and Hamels' agents are intensifying talks
. But this is where things get interesting. It's going to take a big package of premium prospects (and maybe even some major league players) to get it done. That would likely mean Mike Olt. I'm normally a guy who advocates dealing prospects for sure things. After all, they are called prospects for a reason. They might pan out, they might not. But with no draft picks coming back to Texas if Hamels (or Greinke) leaves, I think Olt (notice I'm not even mentioning Jurickson Profar, someone I can't imagine the Rangers even considering trading for a rental) is too high a price to pay to be included in the deal. If I'm Texas, I want Hamels. And I'm willing to fork over some solid prospects (
Martin Perez
, Cody Buckel or
Justin Grimm
, maybe even a combination) and even some big league pieces (yes, I'd consider dealing
Neftali Feliz
). But you don't trade the entire farm for someone who is here for a few months.
This is different from the
Cliff Lee
trade of 2010. With Lee, the Rangers not only knew they would get compensation picks if he left, but they knew they had to have someone at the top of that rotation to help them get over the hump of never winning a playoff series. Texas does not beat the
Tampa Bay Rays
without Lee, so the trade was a success (no matter what
Justin Smoak
does in the future). But the Rangers got something in return, too. Hamels is not the Lee of 2010, either. But he's the closest facsimile, if he's available. I'll pay a high price, just not as high as Olt. If that's not good enough to get Hamels, I'm not "settling" for Garza or someone else who doesn't have a big impact. It's just not worth it. So get a pitcher that can win Game 1 in the playoffs or don't get one at all and go with this current rotation, which I still believe is good enough, especially with the Rangers' bullpen, to win a title.
2. Get a right-hander for the bench.
The AL's loss in the All-Star Game only reinforces this need. It means that if the Rangers return to the World Series, they open on the road without a DH and could play the deciding game -- should it go the distance -- in the NL park. St. Louis' bench was a big difference in last year's World Series and manager Ron Washington didn't have enough weapons at his disposal. There are some names that are intriguing, but contract situations may make it unlikely.
Josh Willingham
seems like a good fit, but the contract calls for him to make $7 million next year and the year after. But there are other, cheaper options that could help the bench.
Carlos Quentin
's asking price is likely to be too much. What about
Shane Victorino
? It's the final year of his deal at $12.5 million this season and he's hitting .254 overall. But the 31-year-old switch-hitter is batting .322 against lefties.
There are some bats out there and the Rangers need to try to see if they can find one to help that bench down the stretch and into the postseason.
[+] Enlarge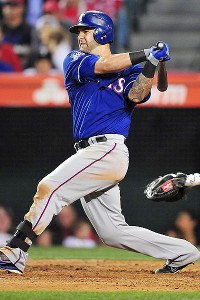 Gary A. Vasquez/US PresswireCatcher Mike Napoli is doing a nice job with the pitching staff but hasn't been producing at the plate.
3. Keep an eye on the catching market.
Honestly, I'm not sure there are reasonable upgrades to the club's catchers on the market, but the club has to at least do some digging.
Mike Napoli
and
Yorvit Torrealba
have done a nice job with the pitching staff and that's the first priority. However, the position is giving the club nothing at the plate.
The Rangers are one of the best teams in the league at checking on everything and leaving no stone unturned. That means at least seeing if there's anything worth pursuing on that front that can increase the offensive production at that spot.
4. See if there's a left-handed specialist for the bullpen.
It might seem odd to do anything with one of the best bullpens in baseball, but let's not forget what
Mike Gonzalez
did for this club in the postseason last year. He got two very big outs -- one in the ALDS and the other in the ALCS -- that helped the Rangers win games in those series. He struck out
Johnny Damon
with two runners on in the eighth inning of Game 3 of the ALDS, a pivotal game in that series. The Rangers won that game by one run. He also came in late in Game 1 of the ALCS with the bases loaded and the Rangers up by a run and got
Alex Avila
to end the threat. Those two outs alone made the trade worth it. Texas has a strong left-handed pitcher in
Robbie Ross
, but he's someone they utilize for a full inning or two and is actually better against righties than lefties (though neither can hit the rookie these days). Still, the idea of having a veteran left-handed pitcher who can get a key out is appealing. It's worth noting that the Rangers picked up Gonzalez at the August trade deadline, so it's not something they have to do right now.
5. Keep an open mind for a trade no one expects.
One thing this team does so well is that it stays prepared for anything and everything. That needs to be the case this year, too. Sure, it's unlikely that the Phillies would make Lee available or that the
Seattle Mariners
would put
Felix Hernandez
on the block (or want to deal him to Texas), but you never know. Maybe there's another impact player out there that Texas could get that no one expects right now. While we talked about not giving up Profar or Olt for a rental player, if there's a big-name pitcher with some years left on his contract, that's when those names might be discussed (still can't see Profar going unless it was something really big). Be ready to pull the trigger if that special opportunity (that Cliff Lee 2010-like chance) comes up.
What am I missing? What other deals would you try to make? What deals should the Rangers make?
July, 9, 2012
7/09/12
4:06
PM CT
By
Richard Durrett
| ESPNDallas.com
KANSAS CITY, Mo. --
Cole Hamels
hears the chatter and knows that it's possible he could be headed out of Philadelphia and shipped to a contender. The
Texas Rangers
have scouted some of Hamels' starts and they certainly have the pieces in the farm system to be in the mix for the 28-year-old lefty, if they choose.
Hamels, though, isn't worried about any specific teams. He knows if he gets dealt, it will be to a winning organization.

"Winning in general, that's all I think about," Hamels said from the All-Star Game on Monday. "I only get to go out every five days and pitch. I pitch to win. When you're on a winning team, that's all the appeal you need."
Hamels, who is 10-4 with a 3.20 ERA on a Phillies team that has not lived up to expectations so far this season, said he hears about teams that might be interested and admits that in a clubhouse where the team isn't winning, that stuff is talked about. Does he hope he gets dealt to a contender by the July 31 deadline?
"I don't really hope for anything but just going out and playing well," Hamels said. "It's really hard to think outside in this sort of realm because everybody is focused on playing baseball well and trying to help this baseball team get over a hump or start something. It's something you have to wait and see."
Hamels said he honestly hasn't given much thought to where he could end up if he's traded.
"I know it's not fair to where I am and what I'm doing now," Hamels said. "Living in the past, living in the future is not going to help out what I'm doing in the present. I think I've been able to succeed by focusing on the present."