Texas Rangers:

Craig Sager
October, 14, 2010
10/14/10
5:05
PM CT
By
Jeff Caplan
| ESPNDallas.com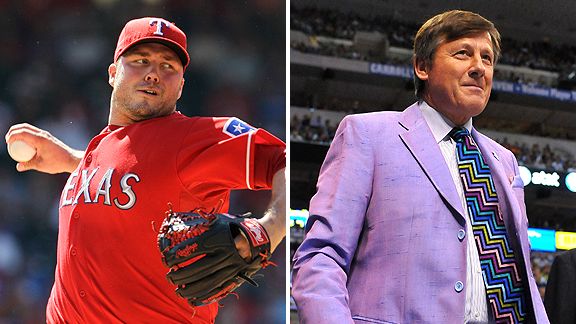 AP Photo, US presswireTommy Hunter received a proper introduction Thursday -- and perhaps a dry-cleaning bill -- from TBS' Craig Sager.
ARLINGTON, Texas -- For Thursday's team interview session, each
Texas Rangers
player was seated at an individual table in the posh Diamond Club at Rangers Ballpark, a setup designed to allow reporters greater access to players prior to Friday night's start of the American League Championship Series.
Rangers pitcher
Tommy Hunter
was at his table in full home-white uniform and blue cap. He was talking to a single reporter about his days as a 280-pound high school defensive end in Indiana when, out of nowhere, a white-cloth napkin came flying in and landed smack on the "TEXAS" across Hunter's broad chest.
Hunter looked up:
Sager!
"If you want a 44-long Versace jacket, it's at the Intercontinental Hotel right now in Tampa if you'd like to pick it up," Craig Sager said to Hunter. "My pants are there. Everything's there."
(
The backstory
: During batting practice prior to Game 5 against the Rays, Sager -- the TBS postseason sideline reporter who is known better for the flamboyant, peacockish suits he wears on NBA on TNT telecasts -- walked by Hunter, who looked at Sager in disbelief and asked who the heck that is. After the game, Sager arrived late to the jubilant champagne-and-beer soaked Rangers clubhouse. Hunter saw Sager in his brightly colored and perfectly dry garb and grabbed eight Bud Light tall boys -- by Hunter's count -- and relentlessly doused Sager from head to toe. Sager was stunned. He looked at Hunter, didn't say a word, turned and left the clubhouse.)
On the off-day, Sager strikingly dressed down in a pair of blue jeans and a ho-hum polo shirt as he approached Hunter's table. Hunter, the brawny, 6-foot-3, 280-pound right-hander, pushed his chair back and stood up. Then, former
Atlanta Braves
great and now TBS and MLB Network analyst
John Smoltz
suddenly joined the mix and spoke out.
"It wasn't funny, man. This is one my workers, man," Smoltz lectured Hunter. "Why do you do that? You don't know he's famous for his suits?"
And then at once, all three doubled over in laughter.
Hunter really had no idea who Sager was when he first spotted him during BP prior to Game 5, and after giving Sager the full-frontal beer bath, Hunter shouted, "I don't even know who you are!"
Any remorse, Mr. Hunter?
"A little bit of remorse," Hunter said, looking at Sager. "But, where was your poncho? I was just bitter. There were so many people in there that were not wet."
Sager had TV duty in the losing clubhouse Tuesday night and when he finished up there he headed over to the Rangers clubhouse to visit former Atlanta Braves outfielder
Jeff Francoeur
. Only Sager never made it that far.
"I got him," Hunter said. "I got him good."
If the Rangers get another opportunity to celebrate, at least this time Tommy Hunter and Craig Sager will have been properly introduced.
October, 13, 2010
10/13/10
1:50
PM CT
By
Jeff Caplan
| ESPNDallas.com
To read how Sager gets even
,
click here
.
ST. PETERSBURG, Fla. -- Apparently, baseball types aren't as familiar with Craig Sager as the basketball crowd.
Case in point: As the
Texas Rangers
waited for the
Tampa Bay Rays
to finish batting practice before Game 5, Sager walked out of the dugout and onto the field, and strolled in front of Rangers pitcher
Tommy Hunter
. Sager, the flamboyantly fashion-blind sideline reporter for the NBA on TNT, moonlights on sister-station TBS during the baseball playoffs.
Sager, who stands well over 6-foot, was wearing tan-ish dress slacks and a bright yellow button down with a multi-colored neon-type tie. No matter where Sager goes, he stands out. Hunter was talking to a club personnel member when he spotted Sager. He couldn't take his eyes off him. Hunter picked his jaw up off the artificial turf and asked incredulously, "Who is that?"
"Who is that?" a reporter asked rhetorically. "You don't watch the NBA, huh?"
"No," Hunter said.
"That's Craig Sager," the reporter informed him. "He does NBA sideline work on TNT. He dresses that way all the time. Sometimes worse."
Now, fast forward to the jubilant Rangers clubhouse after they beat the Rays in Game 5 to clinch the ALDS. The players were dancing and singing, hugging, high-fiving, whooping and hollering, spraying champagne on each other and sneaking up on teammates and coaches and front-office staff and dousing them with 16-ounce cans of Bud Light. Basically, they were immersed in their own euphoria.
And then Sager, dressed in the same flashy attire, walked in and Hunter's world must have stopped. The burly right-handed hurler, in particular, was living in the moment, enjoying every second, shaking a leg in ways he might not if not for the circumstance of having just won the franchise's first-ever playoff series. So, he spots Sager, which, again, is not hard to do, and it quickly becomes apparent that Hunter has hatched a plan.
He grabs several cans of Bud Light from the neatly stacked coolers on wheels stationed around the clubhouse for easy access. Then Hunter made his move. He stalked Sager, and once he got within firing range, he shook and fired. Like a firehouse of barley and hops, Hunter doused Sager, spraying him from his neatly brushed hair down to his some-sort-of-animal-skin loafers.
Sager, at a total loss, took the soaking without saying much of anything, seemingly stunned with a look on his face that said, "Hey, what'd I do?"
Then came the kicker. Hunter, his beer barrage finally over and Sager literally drenched, gave a whoop as he turned away from Sager and then shouted: "I don't even know who you are!"
Craig Sager looked at Hunter in what can only be described as disbelief. He sort of shook his head and exited the clubhouse, well aware of who Tommy Hunter is.