November, 13, 2013
11/13/13
5:22
PM CT
Yu Darvish
didn't win the Cy Young on Wednesday. That went to Detroit's
Max Scherzer
, thanks to an impressive season that included 21 wins, a 2.90 ERA and a 0.97 WHIP. But Darvish's runner-up showing did move him one step closer to turning the 2017 year on his contract into a player option.
By finishing second, Darvish can opt out of the final season of his contract if he wins the Cy Young in the next three seasons or finishes second through fourth in two of the next three seasons. Darvish's current contract goes through 2017 with him making $11 million that season (the highest annual value during the life of the contract).
Darvish's solid 2013 season wasn't enough to vault past Scherzer in the Cy Young voting. Not only did Scherzer have more wins than any other pitcher and the top WHIP, he was near the top in just about every other key metric.
Darvish had a strong case, too. He led the league with 277 strikeouts, a whopping 11.89 per nine innings. Opponents hit just .194 off Darvish, the lowest average in the AL. It's worth noting that while Darvish managed just 13 wins, his team scored about two fewer runs per game than the Tigers did for Scherzer.
But Darvish also wasn't able to hold some leads late in key games for the Rangers and his team didn't end up making the postseason, which didn't help his cause. The bottom line: His overall resume just wasn't quite as good as Scherzer's in 2013.
Darvish's second-place finish is the highest by any Japanese pitcher in Cy Young history.
Once again, though, Darvish had a solid season as the Rangers' No. 1 pitcher. If that continues, Texas will need to negotiate a new deal no later than after the 2016 season.
November, 4, 2013
11/04/13
1:30
PM CT
By
Todd Wills
| ESPNDallas.com
The voting for the American League Cy Young Award will be announced Wednesday, Nov. 13.
Detroit's
Max Scherzer
is the runaway favorite to win the award because of his 21 victories. The Rangers'
Yu Darvish
will pick up significant support and likely finish among the top five in the voting.
Darvish is one of the top five pitchers in the American League, and the Baseball Writers' Association of America is expected to back that opinion. He had a major league-leading 277 strikeouts and flirted with a perfect game in April and a no-hitter in August. Yet Darvish's 2013 season will be remembered for what could have been.
Is this fair?
Let's try to decide over the next week, starting with Darvish's win total. We'll look at his major league-leading strikeout total -- and what that means -- and then his tough-luck losses before the voting is released next week.
The case against Darvish on whether 2013 was a successful season begins with his win total. I know, I know, many of you believe a pitcher's win total is overrated. It will be the case made against Scherzer and for his teammate
Anibal Sanchez
, who had a league-leading 2.57 ERA to go with 14 wins.
But this is about Darvish.
He won 13 games and lost nine in 32 starts for a Rangers team that finished one victory from making it to the postseason and five games behind the Oakland A's in the AL West. The Rangers were 17-15 in Darvish's starts. If that total had been 18 or 19…
Fourteen American League pitchers won more games than Darvish. Oakland's
Bartolo Colon
had 18 wins. Ex-Ranger
C.J. Wilson
had 17 wins for the Angels. Baltimore's
Chris Tillman
had 16.
R.A. Dickey
, who played on a bad Toronto team, and Darvish's countryman
Hisashi Iwakuma
, who played for a mediocre Seattle club, each won 14 games. That's just a glance at a handful of pitchers.
Say what you want about the value of wins as an important stat for pitchers. Those who say it's an overvalued statistic can point to only one starter on the World Series champion
Boston Red Sox
who won more games than Darvish:
Jon Lester
, with 15 wins. The Red Sox were 19-14 in Lester's starts. That's not that far off from what Darvish produced in one fewer start.
Still, 13 wins is a total that falls under expectations for a pitcher of Darvish's caliber. Most of us penciled in 18 wins or more for him before the season started.
Yes, Darvish lost a record four games by 1-0 scores. And give him some credit. In the 10 starts in which he recorded a no-decision, he had a 2.98 ERA.
Rangers manager Ron Washington asks one thing of his pitchers -- keep his team in games. Darvish did that. The Rangers were 5-1 in his six September starts. As Darvish pitched with a back injury, his team won games, even though he went past six innings in just two of those starts.
Does Darvish's win total diminish his season? Sound off and let's hear your opinion.
May, 16, 2013
5/16/13
1:00
PM CT
By
Eric Gilmore, Special to ESPNDallas.com
The Rangers'
Yu Darvish
and
Detroit Tigers
'
Justin Verlander
will meet in a duel between two of baseball's premier pitchers Thursday night in the first game of a four-game series at Rangers Ballpark in Arlington. First pitch is 7:05 p.m. on FSSW, MLBN and ESPN Dallas 103.3 FM and ESPN Dallas Deportes 1540 AM.
PODCAST
Randy Galloway, Matt Mosley and Glenn "Stretch" Smith discuss the latest Rangers news, including the Yu Darvish-Justin Verlander matchup.

Listen

Darvish (6-1, 2.73 ERA):
Darvish has won four straight decisions and has 22 victories since the start of the 2012 season, the most in the major leagues. ... With 80 strikeouts, Darvish leads the major leagues. He's had 14 strikeouts twice and hit double-digits in four of his eight starts. He's averaging 13.67 strikeouts per nine innings, baseball's best mark. ... Darvish has allowed at least one home run in each of his past three starts, including two Saturday against Houston and two on May 5 against Boston. In his first five starts, he didn't allow a home run. ... Since the start of 2012, Darvish has 301 strikeouts, which leads the major leagues. ... Darvish went 3-0 with a 3.60 ERA against the Tigers last season. ... He is 3-0 with a 3.60 ERA and 39 strikeouts over four starts at Rangers Ballpark this season. He has won six straight starts at home, a streak that began Aug. 12, 2012, against the Tigers.
Verlander (4-3, 1.93 ERA):
The hard-throwing right-hander has a 7-2 career record against the Rangers with a 2.02 ERA over 51.1 innings. He's struck out 57 and walked only 18. ... Verlander is a perfect 3-0 at Rangers Ballpark with a 1.29 ERA over 28.0 innings. He's struck out 34 and walked only four in those three wins. ... Verlander took the loss against Cleveland in his last outing, allowing six hits and three earned runs over just five innings, matching his shortest stint of the season. He struck out seven but struggled with his command and walked five. ... Before losing to Cleveland, Verlander had a two-game winning streak with victories over Minnesota and Cleveland. ... Verlander had double-digit strikeouts just once this season, fanning 12 at Seattle on April 18. ... Verlander has pitched at least seven innings in five of his eight starts but never more than 7.1 innings.
Hitters:
Tigers outfielder
Torii Hunter
, a former Angel, has a career .333 batting average against Darvish, going 6-for-18 with two doubles, a home run and five RBIs. Detroit 1B
Prince Fielder
is 2-for-6 with a double, a home run and three RBIs vs. Darvish. Third baseman
Miguel Cabrera
has just two hits in eight at-bats. ... Rangers third baseman
Adrian Beltre
has a career batting average of .314 (11-for-35) against Verlander with two doubles, one home run and three RBIs. He's the only Ranger on the active roster who has homered off Verlander. Outfidler
David Murphy
is 5-for-17 with five singles. Second baseman
Ian Kinsler
(.120), right fielder
Nelson Cruz
(.133) and shortstop
Elvis Andrus
have all struggled against him.
November, 28, 2012
11/28/12
7:30
AM CT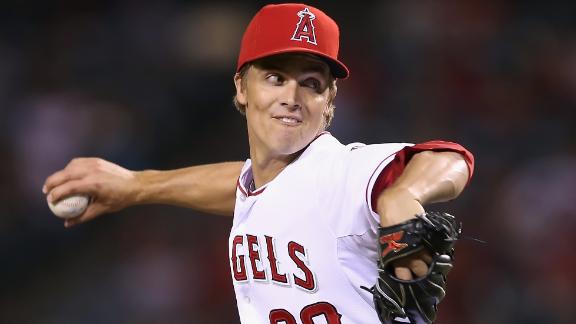 What if the
Texas Rangers
' big-ticket offseason choices came down to
Zack Greinke
or
Josh Hamilton
?

We know the Rangers need another starter, preferably one who can pitch in the top tier of the rotation. But the Rangers also have had the luxury of Hamilton hitting in the 3-hole for five years, bashing homers and producing runs at an impressive rate despite going through ups and downs at the plate.
This is hypothetical at this point, but the Rangers have interest in Greinke and Hamilton. And they won't wait for Hamilton to decide before pursuing offseason needs. Starting pitching is a big offseason need.
There was a bit of Greinke news Tuesday to heat the Hot Stove ovens. Buster Olney tweeted that one person involved in the talks thinks Greinke could get a deal north of
CC Sabathia
's seven-year, $161 million contract. Wow. CBSSports.com reported that the
Los Angeles Angels
won't be involved in Greinke with the price apparently so high.
PODCAST
Richard Durrett joins Ben and Skin for Rangers hot stove chatter and to take a shot at what the team could look like next season.

Listen

There's something familiar about the Angels "backing off" on Greinke. We read those stories last winter,
such as this one in the Los Angeles Times
with the headline: "Angels don't look like big-ticket spenders." Of course, a month later they signed
Albert Pujols
to a 10-year, $254 million deal after quietly making it appear they weren't involved. The Angels need pitching and Greinke is the best available free agent out there. I just can't believe they'd give up completely on him with that rotation in need of top-end help.
But let's say the price is getting high enough that potential bidders are having second thoughts. What if the
Los Angeles Dodgers
, considered by many to be the favorites to land Greinke, decide that they can't go too high for fear that they'd be paying even more for
Clayton Kershaw
in a few years when it's his turn for the big money? That leaves Texas in an interesting position.
We've talked this offseason about the club's need for a starting pitcher to go with the current four-man rotation led by
Yu Darvish
. That staff also includes (at this point):
Matt Harrison
,
Derek Holland
and
Alexi Ogando
. The Rangers could use a starting pitcher who has impact -- someone who can go near the top of the rotation with Darvish, not just someone to fill out the fifth spot.
Greinke fits that bill. He was 6-2 with a 3.53 ERA in 13 starts for the Angels after the trade deadline deal. He was 9-3 with a 3.44 ERA in 21 starts (123 innings) for the
Milwaukee Brewers
before that. If you drill down to his final eight starts of 2012, he heads to the open market on a roll, going 5-0 with a 2.04 ERA with seven quality starts in that string (the only start that wasn't a quality one was against the Rangers on Sept. 30, but the Angels got the come-from-behind win).
The 29-year-old has pitched at least 200 innings in four of his past five seasons, which included a Cy Young season in 2009. He has pitched well at Rangers Ballpark in Arlington in his career, putting up a 2.84 ERA in 79 1/3 innings (14 games, 12 of them starts) and has a 2.91 ERA against the AL West, his best mark against any division. Off the field, he has dealt with social anxiety issues and depression, but it has been six years since that was a problem.
He's got the track record to be a solid starter and he's at an age where you'd consider investing more years than normal. He turned 29 in October and is durable. What is it going to take to sign him? There has been talk about that six-year, $144 million deal that
Cole Hamels
received, but as Olney indicated in his tweet, the price might be even higher.
If the Rangers decide to break the bank for Greinke, it probably means the end of the Hamilton era in Texas, assuming the market goes up for Hamilton (I still think somebody out there is going to give Hamilton five guaranteed years ... after all,
Prince Fielder
got nine years and that deal didn't go down until the end of January last year).
If I had to choose, I'd take Greinke. And that really doesn't have much to do with Hamilton's final few weeks. I know the offense as a whole struggled as the season ended. It was a tired team and they didn't have the kind of production expected of them. It's difficult to take Hamilton's bat out of that equation. But I do think
Dave Magadan
will help this club and it remains a potent lineup, even without Hamilton in it. The Rangers' front office has shown an ability to make key trades to bolster parts of the club. If much of the free-agent money is spent on Greinke, perhaps the Rangers can use prospects as currency and find workable deals to at least help fill part of the offensive void left by Hamilton's departure.
But this club needs another starting pitcher. In crunch time and in the postseason, that's how you win. Imagine how much stronger this team would be as a whole with Greinke and Darvish at the top of the rotation and an emerging pitcher such as Harrison at the No. 3 spot. Plus, the Rangers would be taking a critical rotation piece away from one of the club's chief division and league rivals.
So whom would you choose: Greinke or Hamilton? How many years and how much money are you willing to shell out to Greinke or Hamilton, depending on your choice?