Texas Rangers:

Dan Johnson
October, 12, 2010
10/12/10
2:54
PM CT
October, 12, 2010
10/12/10
11:15
AM CT
By
Jeff Caplan
| ESPNDallas.com
ST. PETERSBURG, Fla. -- The
Texas Rangers
have
Cliff Lee
on the mound for tonight's decisive Game 5 and that means
Tampa Bay Rays
manager Joe Maddon has decisions to make regarding his lineup and batting order.
Does he go back to the right-handed-heavy lineup that produced one run and eight hits combined in Games 1 and 2 against Lee and
C.J. Wilson
? Or does he stick with some of his lefty bats that heated up in Arlington and racked up 11 runs and 23 hits against Rangers righties
Colby Lewis
and
Tommy Hunter
?
Maddon used six left-handed hitters in Game 3 and seven in Game 4.
"I'm debating a couple little things quite frankly, but more than likely you're going to see a very similar lineup for us vs. a left-handed pitcher," Maddon said Monday afternoon. "I do have a lot of confidence in this group. Our record against left-handed pitching has actually been very good this year."
Just not of late, losing five in a row against southpaws. Although, the Rays take stock in having beaten Lee in all three regular-season matchups as well as having ace
David Price
throwing in an redemption effort against a Rangers lineup that has hit the skids.
Maddon has changed his batting order in each of the first four games. He practically made wholesale flip-flops against the Rangers' lefties and righties, strategies he's employed throughout the year, such as inserting lefties in rookie left-handed catcher
John Jaso
, right fielder
Matt Joyce
and designated hitter
Dan Johnson
, and even going with shortstop
Reid Brignac
in Game 4.
Maddon has also made key changes in the order. He dropped the struggling duo of
B.J. Upton
and
Carlos Pena
to the bottom in Game 3 to sort of create two hearts of the lineup with
Carl Crawford
and
Evan Longoria
at the top of the lineup. Pena returned to the five-hole in Game 4, while Upton stayed down. The moves paid off. Upton got key hits in Game 3 and 4 and Pena heated up.
Now the question is where will Maddon go now? We know
Rocco Baldelli
won't be in the lineup as the DH as he surprisingly was in Game 1. He is no longer on the playoff roster. Switch-hitter
Willy Aybar
will likely (1-for-5 in series) get the nod. Maddon also assured that the lefty slugger Pena will play. The usual five-hole hitter sat in Game 2 against Wilson after going 0-for-3 with three strikeouts against Lee in the opener.
Catcher and Fort Worth-product
Kelly Shoppach
(0-for-6 in series) could be back in the lineup as well as second baseman
Sean Rodriguez
(1-for-7).
"Joe has a ton of versatility over there and he's used his lineup the way he's used it against us all year, so I don't see anything different in what he's doing," Rangers manager Ron Washington said. "It's just that his left-handers have been giving him some very good at-bats, and those guys do that. But he has a ton of versatility over there. He can mix and match and it doesn't really matter, and he can set that lineup where it doesn't matter what you do, they can handle it, even if they leave a lefty on our lefty."
October, 10, 2010
10/10/10
5:42
PM CT
By
Jeff Caplan
| ESPNDallas.com
ARLINGTON, Texas – The line between success and failure proved razor-thin Sunday for two young starting pitchers who made their postseason debuts in the teeth of the ALDS.
Tampa Bay right-hander
Wade Davis
had his team's American-League-best 96-win season in his hands.
Tommy Hunter
was picked by Rangers manager Ron Washington over ace
Cliff Lee
on short rest to pitch the Rangers into their first AL Championship Series and avoid a do-or-die trip back to Tampa.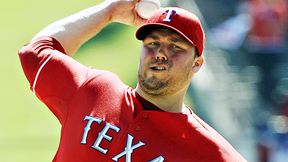 AP Photo/Tony GutierrezTommy Hunter said he had "real good stuff" in Game 4 but couldn't prevent the Rays from delivering timely hits.
Neither pitcher lasted as long as he hoped despite each striking out seven. But, the long-legged, 6-foot-5 Davis made the big pitch more often to earn the win. Hunter, a stocky, 280-pounder who didn't lose at home in the regular season, was undone by a strange fourth inning in which he struck out the side but also surrendered three doubles for two runs that gave the Rays a 3-0 lead.
With the Rangers' big bats mostly and mysteriously in hibernation mode, three runs proved too many. Hunter's day was done after four innings, and the Rays went on to celebrate a 5-2 Game 4 victory to tie the series.
Afterward, Hunter made no apologies for his 73-pitch outing.
"I did what I wanted to with the ball today," Hunter said. "I put it where I wanted it and they just got a couple timely hits. That's it."
The Rays scored first for the first time in the series on an unearned run in the second inning.
Carlos Pena
launched a triple to left-center and
Matt Joyce
followed with a pop into shallow right field. Second baseman
Ian Kinsler
backpedaled as right fielder
Nelson Cruz
charged. Kinsler took control, but the ball drifted on him and it hit his glove and fell to the ground. Hunter recovered from that misfortune to get the next two batters and get out of the inning.
"That kind of stuff doesn't really set people back," Hunter said. "It's one run in the second inning. You're talking about seven more innings of a baseball game."
The inning that made the difference was the last for each pitcher. Through three innings, Hunter already had four strikeouts and had allowed just three hits. To start the fourth,
Evan Longoria
drove Hunter's first pitch for a double and Pena followed by slicing one into left for a double to make it 2-0.
Then Hunter got Joyce and
Dan Johnson
to fan, bringing up
B.J. Upton
. Upton, hitting just .077 coming into this one, came through as he did in Game 3, taking a 3-0 pitch to left for the third double off Hunter in the inning.
"I had pretty good stuff, real good stuff I felt. Breaking ball was good," Hunter said. "They hit my pitch the majority of the time today, I can tell you that. There's a couple of balls I can think of right now, Pena in the second and Longoria swinging at the first pitch. Other than that, they hit my pitch."
And the Rangers' didn't hit Davis when opportunity knocked. No inning was more frustrating for Texas than the fifth with the Rays leading 5-0.
The Rangers loaded the bases -- on a lead-off single by
Bengie Molina
, an infield hit by
Michael Young
and a
Josh Hamilton
walk -- for cleanup hitter
Vladimir Guerrero
with two out.
"He is one of the most dangerous hitters in baseball. If you make a couple of mistakes, it can change the game," Davis said. "At that point in the game for me it was the game. If he gets a hit or hits a homer, it is a different ballgame."
Guerrero struck out, flailing at a slider low and out of the zone.
Each time Davis allowed a base runner he came back to get the next batter. With runners at first and second in the first, he got Guerrero to bang into a 5-4-3 double play. He retired Young on a lazy fly and Hamilton on a weak grounder in the third after a one-out
Elvis Andrus
double. And, after a lead-off single from Guerrero in the fourth, Davis struck out Cruz, got Kinsler to fly out and struck out
David Murphy
.
Finally in the sixth, the Rangers got to Wade, who was charged with two runs in five innings, but the Rays had already put up two more against Texas reliever Derek Holland. The Rays relievers made the 5-2 lead stand.
Hunter was just imperfect enough to get beat.
"He threw the ball really well. We just couldn't get anything going offensively," said Kinsler, who was 1-for-3 with a walk. "We had some chances, just couldn't really get a hit to break it open and they scored more than us."
October, 5, 2010
10/05/10
11:27
AM CT
We've got a closer look at the key players for the Texas Rangers and the Tampa Bay Rays with our
old school player cards
. Get a quick look at each player and what to expect in the ALDS.
June, 4, 2010
6/04/10
2:00
PM CT
The Rangers begin a three-game set with the
Tampa Bay Rays
, the club with the best record in the majors. LHP
C.J. Wilson
goes up against RHP
Wade Davis
. Here's a look at the matchup:
Wilson (3-3, 3.48 ERA): He's looking to rebound after two straight losses, including last Saturday in Minnesota against the Twins. Wilson allowed five earned runs on four hits with two walks and three strikeouts in six innings. He held the Twins scoreless and had a 2-0 lead in the sixth when the Twins scored two. He came out for the seventh and loaded the bases (two of them walks) before leaving the game. All three runners scored after Wilson exited. He's 0-2 with a 9.56 ERA in his last three starts after starting the season 3-1 with a 1.48 ERA (in his first seven outings). The good news for Wilson: He's had six days' rest. He is 0-1 with a 2.08 ERA in his two prevoius starts with that much rest. Wilson hasn't had much support at 3.06 runs per start, the fifth-lowest in the AL. Lefties don't do very well against him as they are batting just .102 this season. Wilson is 1-0 with a 1.35 ERA and one save in 13 career relief appearances against the Rays.
Davis (5-4, 4.04 ERA): The 24-year-old allowed three runs on six hits in 6 1/3 innings in an 8-5 win over the White Sox in his last start. Of his 10 starts this season, four have been quality starts. Davis has pitched past the sixth inning just twice this season and has walked at least two batters in every start. He has pitched much better on the road than at home. Davis is 2-1 with a 2.49 ERA on the road and 3-3 with a 5.03 ERA at home. He has never faced the Rangers.
Hitters: Davis has never faced any of the current Rangers' hitters. Only two Rays have faced Wilson more than three times:
Carl Crawford
and
Dan Johnson
are a combined 2-for-16.