Texas Rangers:

Dayan Viciedo
July, 27, 2012
7/27/12
10:44
PM CT
By
David Collier
| ESPNDallas.com
ARLINGTON, Texas -- The
Texas Rangers
played about as sloppy as they could in Friday night's series opener with the
Chicago White Sox
and
Yu Darvish
didn't have his best stuff as Chicago came out on top 9-5. Some thoughts on the game:


What it means:
The Rangers drop Game 1 of this three-game set with Chicago. Texas is now 2-5 against the White Sox. The Rangers have a 4 1/2 game lead on the
Oakland Athletics
, who won 14-9 against Baltimore, and the
Los Angeles Angels
, pending the outcome of their contest with Tampa Bay.
Not Yu's night:
Yu Darvish had his worst start at home. Darvish gave up six runs -- five earned -- on eight hits with three walks and six strikeouts in 6 1/3 innings. The six runs are the most runs he's given up at home this year, and the five earned runs tied the most at home this year. He also gave up five earned runs in his major league debut against the
Seattle Mariners
on April 9.
Rough from the start:
Darvish didn't start Friday's game like he had hoped, but it could've been much worse. He allowed a walk and three singles in the first inning, but the White Sox were only able to scratch across a run.
Alex Rios
came through with a sacrifice fly with the bases loaded to score the run, but Darvish used a strikeout of
Dayan Viciedo
to leave the bases full.
Nice response:
The Rangers responded to the Chicago first-inning run in a big way.
Ian Kinsler
started things off by reaching on a hit by pitch. On the first pitch to
Elvis Andrus
, Kinsler stole second and moved to third on a grounder from the Rangers shortstop. Texas tied the game with some more small ball as
Josh Hamilton
hit a sacrifice fly to center to bring home Kinsler. The inning looked like it was over, but back-to-back singles from
Adrian Beltre
and
Michael Young
set up a three-run home run for
Nelson Cruz
to give the Rangers a 4-1 advantage. It was Cruz's second consecutive at-bat with a home run. He hit one in the eighth inning of Wednesday's series finale against the
Boston Red Sox
.
Unlucky break:
In the second, Darvish looked to be getting into a groove as he got a strikeout of
Tyler Flowers
before getting the White Sox No. 9 hitter
Gordon Beckham
in a 1-2 count. Beckham worked himself into a full count before getting a base hit to left field. Darvish got a line out to Andrus for the second out, but it was almost a double play. Andrus caught the ball just inches off the ground. If he had let it hit the ground, Texas would've had an easy double play to end the inning. Instead, Darvish had to pitch to
Kevin Youkilis
, who made the Rangers pay. Youkilis launched a two-run home run to cut the lead to 4-3.
Aggressive base running:
After moving from station to station didn't work in the first inning, the White Sox got aggressive on the basepaths in the fourth, and it paid off. Flowers got a one-out single on a dribbler to third. Beckham followed that up with what looked to be a single. However, Beckham kept the wheels turning as he legged it into a double to put two guys in scoring position with one down.
Alejandro De Aza
capitalized on the opportunity with a two-run single to put Chicago in front 5-4.
Stealing on Ogando:
Last year, it wasn't easy to steal on
Alexi Ogando
and not too many teams tried. On Friday, however, the White Sox stole twice on Ogando, who came in with one out in the seventh to replace Darvish.
Adam Dunn
recorded his second stolen base of the season and advanced to third on a throwing error by catcher
Yorvit Torrealba
. That mistake proved costly when a fielder's choice brought in the run, giving Chicago a two-run lead. With two outs, Rios got a steal of his own but was left stranded.
Boos for Hamilton:
It's hard to believe, but Hamilton was actually booed by some in attendance Friday night. Hamilton struck out on three consecutive pitches in both the third and fifth innings. After the first strikeout, there were a few boos present in the crowd, but those boos grew stronger following the second three-pitch punch out.
Missed opportunity:
Chicago starter
Chris Sale
did his best to let the Rangers tie the game with the White Sox leading 5-4 in the fifth, but Texas missed out on the opportunity. Sale hit
Craig Gentry
to start the frame and followed that up with a walk to Kinsler to put two on with no outs. Andrus was unable to get a sacrifice bunt down and took a called third strike for the first out. Hamilton then struck out on three pitches before Beltre was called out on strikes.
Left them loaded:
Texas cut into the deficit with a run in the seventh inning, but they had a chance to do a lot more. The Rangers had the bases loaded with one out for Hamilton. He drove in his second run of the night by grounding into a fielder's choice. Beltre, then, took a walk to load the bases once again. Young hit the ball hard on a line drive to the outfield, but it was right at the Chicago right fielder to end the frame and waste another golden opportunity.
Stretching out?:
With
Colby Lewis
out for the rest of the season, there are some question marks at the end of the Rangers' starting rotation. Ogando could be a candidate to fill the final spot on the rotation, and the Rangers have mentioned that they would like stretch his outings out whenever possible. And Texas did just that Friday. Ogando pitched the final 2 2/3 innings of the game, giving up three earned runs on two hits with two walks, two strikeouts and a home run.
Ouch:
Kinsler was hit by a pitch twice in Friday's contest, but the most painful one came in the seventh.
Nate Jones
came in for Sale and drilled Kinsler on his left hand. The trainer came out to take a look at the Rangers second baseman, but he stayed in the game.
Struggles continue:
Mike Napoli
's year at the plate has been one filled with struggles, but the way he's been hitting against left-handed pitchers has been even worse. Napoli was 0-for-4 on the night, including 0-for-3 off Sale. He is 14-for-96 (.146) against lefties with 37 strikeouts and four double plays.
Web gem:
As he seems to do every night, Beltre made a spectacular play at third base. It came in the seventh inning when Beltre dove to his left to make a stop, popped up and made the throw to first that was capped off by a nice pick by Young.
Another sellout:
It was a cooler 95 degrees when first pitch was thrown at 7:08 p.m. and the fans responded. The announced attendance Friday was 47,638. It is the 28th sellout of the year, extending the record for most in a season.
Up Next:
Sat. vs. CWS:
LHP
Matt Harrison
(12-5, 3.02) vs. RHP
Philip Humber
(4-5, 6.25), 7:05 p.m., ESPN Dallas 103.3 FM/1540 AM/FSSW.
July, 4, 2012
7/04/12
10:16
PM CT
By
Bryan Dolgin
| ESPNDallas.com
Kevin Youkilis
drove in
Alejandro De Aza
with the game-winning run in the bottom of the 10th Wednesday to lift the
Chicago White Sox
to their second straight win over the
Texas Rangers
.


The Rangers, losers of three straight overall, came out swinging to start the game. With two outs in the first inning, they collected four consecutive hits, including a two-run double to left-center from
Michael Young
and an RBI single to right by
Nelson Cruz
to take an early 3-0 lead.
That lead would be short-lived, however, as the the White Sox had five consecutive batters reach base in the second off Rangers starter
Scott Feldman
. After
Alex Rios
hit a one-out double to right,
A.J. Pierzynski
was hit on the right elbow by an 0-2 pitch.
Dayan Viciedo
and
Alexei Ramirez
followed with RBI singles, and
Gordon Beckham
(who was batting in the ninth spot and came in hitting .239) gave the White Sox a 4-3 lead with a two-run double to right.
Josh Hamilton
evened the score at 4 when he led off the third inning with his 26th home run and major league leading 74th RBI. The game remained tied until Youklis drove in the game winner off
Mike Adams
.
For starters:
After the Beckham double in the second inning, Feldman retired 10 consecutive batters until Youkilis singled with two outs in the fifth. Feldman gave up four runs on four hits in the second inning. In his five others innings, he allowed just one walk and two hits. After Michael Young's one-out single in the third, White Sox starter
Dylan Axelrod
retired the final 10 batters he faced.
Elvis-a-thon ends:
Elvis Andrus
had his 10-game hitting streak end with a 0-for-4 night. Andrus was 16-for-40 with five doubles, five walks, six RBIs and eight runs scored during the streak.
White Sox masher:
Hamilton is now a .374 (37-for-99) career hitter versus the White Sox, his highest average against any American League team. He was 2-for-4 on Wednesday night.
Deep thoughts:
Hamilton's third-inning home run gave him 26 this season, one more than he hit all of last season. Hamilton played in just 121 games last season because of injuries.
More like Mike:
Young ended an 0-for-13 stretch with his two-run double in the first.
All-Star struck:
When Alexei Ramirez delivered an RBI single to right field in the second inning,
David Murphy
delivered a one-hop throw to catcher
Mike Napoli
who was met in a collision with Pierzynski. Napoli could not hold onto the ball.
What a relief:
Robbie Ross
extended his scoreless innings stretch to 21 innings (14 appearances) and hasn't allowed an earned run in 28 1/3 innings. He struck out
Adam Dunn
looking with two on to end the seventh and retired all three batters he faced in the eighth. Ross now has a 0.99 ERA on the season. Adams worked more than one inning for the first time this season, but did not record an out in the 10th and took the loss.
Extras:
The last time the Rangers played extra innings was May 26 when they beat Toronto 8-7 in 13 innings. The Rangers are 3-2 in extra innings this season.
Weekend rotation:
Yu Darvish
will
not make his final scheduled start
before the All-Star break so he can get some extra rest. The
Minnesota Twins
visit Arlington this weekend for a three-game series and LHP
Martin Perez
will start Friday, followed by LHP
Derek Holland
on Saturday and RHP
Roy Oswalt
on Sunday.
March, 8, 2012
3/08/12
5:44
PM CT
By
Richard Durrett
| ESPNDallas.com
SURPRISE, Ariz. --
Neftali Feliz
's focus this spring is his off-speed stuff. To be a successful starter, the 23-year-old can't rely on that very fast fastball.
PODCAST
Rangers skipper Ron Washington comments on Neftali Feliz's first Cactus League start, as well as his impressions of the rest of the pitching staff. He also explains why he needs Josh Hamilton to stay healthy.

Listen

"What I wanted to do today was work on locating my off-speed stuff," Feliz said through an interpreter. "That's my goal."
The White Sox beat the Rangers, 6-3.
In his first Cactus League inning of the spring, Feliz's command wasn't there. He wasn't able to get his slider or changeup over for strikes consistently, and hitters waited on the fastball.
White Sox third baseman
Brent Morel
fell behind 0-2 after watching some fastballs, but then worked the count even before belting a single.
Dayan Viciedo
hit an off-speed pitch for a double before
Adam Dunn
crushed a 1-2 fastball (93 mph) over the right-center field wall to give Chicago a 3-0 lead. Feliz did bear down, elevating a fastball at 94 mph to get
Tyler Flowers
(after getting a swing and miss on a slider earlier in the at-bat) and then striking out
Kosuke Fukudome
with a slider (85) to end the inning.
But the second inning was a different story. Feliz came back to the mound and looked committed to throwing down in the zone. The command was there and he needed just eight pitches to get three outs (he needed 28 to get through the first).
"I got the ball down and it was better," Feliz said. "I wasn't worried about results."
He threw two sliders to
Gordon Beckham
that resulted in one swing and miss and a fly out to left field. Feliz started left-handed hitting Dan Johnson off with off-speed stuff before throwing some heat at 92 mph to get a ground ball to second. And
Eduardo Escobar
grounded out to second on the second pitch he saw, a 91 mph fastball.
[+] Enlarge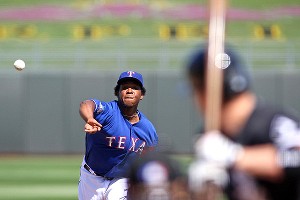 Jake Roth/US PresswireNeftali Feliz needed just eight pitches to get through the second inning after throwing 28 in the first.
Feliz isn't trying to dial up the fastball right now, a good sign. He's building up arm strength, but working on his command and the off-speed stuff. His changeup looked better in the intrasquad game (it was slower by a few mph then, too), but he continues to try to develop the off-speed stuff and will do so all spring.
"I know there's more in there when I need it," Feliz said.
Feliz figures he can throw the fastball 95 to 97 mph, but isn't doing that now because his focus remains the off-speed stuff.
Dunn dominates:
Dunn had a homer off Feliz in the first and then a double off
Michael Kirkman
in the second. Both hits were on fastballs over the plate. Kirkman's was at 94 mph.
Last year, Dunn hit .159 and had 177 strikeouts. He was particularly ineffective against left-handed pitchers, hitting .064 (94 at-bats) with no homers and 39 strikeouts. In fact, he had just one extra-base hit against lefties in 2011.
Kirkman struggles:
The left-hander, a candidate for a bullpen job this spring, gave up three runs on four hits in two innings, including a two-run homer by Beckham. Of the 11 batters Kirkman faced, five were left-handed hitters. They were 2-for-4 with a walk off him, including Dunn's double and a double by Fukudome.
Quick feet:
Ian Kinsler
went to cover the bag as
Alejandro De Aza
was on the move from first in the fourth. A ground ball was then hit toward where Kinsler had just vacated. The second baseman quickly scampered back to his left, scooped up the grounder and threw to first to end the fourth inning.
Red-hot SS:
Elvis Andrus
started his day with yet another hit and then added to it with a double in his final at-bat. He's having a ridiculous first week of spring training and is now 7-for-10 with two doubles and a triple.
Walk in the park:
Chicago pitcher
Gregory Infante
walked three Ranger batters in the fourth before he was lifted.
Josh Hamilton
led off the inning with a walk and scored on
Nelson Cruz
's single.
Mike Napoli
and Mike Olt also walked.
Quick reaction
: Olt got his glove up in a hurry to get to a liner hit by Beckham to end the fifth.
Utility infield:
Luis Hernandez
, one of the utility infield candidates, was 2-for-2 with an RBI and a run scored as he replaced Andrus late in the game.