February, 24, 2012
2/24/12
3:07
PM CT
By
Richard Durrett
| ESPNDallas.com
SURPRISE, Ariz. – Rangers manager Ron Washington watched intently onThursday and Friday as his pitchers took fielding practice. Washington, as is his custom, grabbed a bat and was hitting choppers as part of the drills, getting a close-up view of how his pitchers worked.
Washington stressed defense when he met with the pitchers and catchers prior to Thursday's first workout. It was clearly something that was on his mind this offseason.
"When the manager stands up and makes it a big point, it sets in," pitching coach Mike Maddux said. "We put ourselves in predicaments that we shouldn't have been in. If you throw it away, you throw it away. But if you throw it away because your footwork is not sufficient, then we have an issue. That's the big thing -- fundamentals."
Rangers pitchers had 16 errors last season -- only three AL staffs had more. But it wasn't just the errors that bothered the coaching staff. There were balls that the pitchers couldn't quite get to or did get to, but couldn't quite make a play. Spring training is the time to try to clean some of that up and that's what the Rangers are focused on so far.
It doesn't hurt to have
Greg Maddux
on the staff. He has 18 Gold Gloves and is on the field with the pitchers as they work on defense.
"He's in camp, and we're certainly not going to stop him from being a part of it," Washington said.
"He's going to be a big part of it, but also Ron Washington is going to be a big part of it. I just want to make sure that we get this right."
July, 6, 2011
7/06/11
8:00
AM CT
By
Richard Durrett
| ESPNDallas.com
ARLINGTON, Texas -- The Rangers know they have to do a better job on defense. They don't need the traditional numbers -- or even the sabermetric ones -- to tell them they could shore things up with the gloves.
[+] Enlarge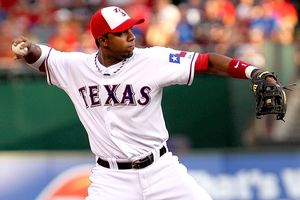 Kevin Jairaj/US PresswireElvis Andrus didn't commit an error Monday but had a mental mishap Tuesday against the Orioles.
"We have a lot of talented guys all over the field," designated hitter
Michael Young
said. "It's just a matter of getting into a bit of a groove, getting into a rhythm. Sometimes defensively you can get into a bit of a rut just like on offense. Once we kind of settle in, we'll be a great defensive team."
After an error-free game Monday, a mental mistake popped up for
Elvis Andrus
on Tuesday. The Rangers' shortstop fielded a routine ground ball by
Nolan Reimold
and took his time to make the throw in the fourth inning. Because of that, it was late and Reimold got an infield hit when it should have been an out. To Andrus' credit, he bounced back in an impressive way with two great plays in the seventh inning, including turning a tough double play, leaping over a runner at second base. He also drew a big walk in the bottom half to help the Rangers make a comeback.
You can read about Andrus' game here.
The skipper addressed the club's defense in a team meeting prior to Monday's game. He stressed focus and taking care of the fundamental things to improve fielding. The Rangers have an American League-high 72 errors through the first 87 games of the season. They have allowed 48 unearned runs. This time last year, the Rangers had 55 errors and gave up 30 unearned runs.
"The amount of errors you make doesn't always tell the story," second baseman
Ian Kinsler
said. "There are definitely errors that we made that we should have made the play. But there's also errors that we made that are balls that we get to that a lot of people don't get to. We're a very athletic team and we make plays on a lot of balls that normally there wouldn't be a play.
"I do think we definitely need to tighten up defensively. We can have a big advantage if we can make the plays we can get to because some teams won't get to those plays. So we have to do better. We have to continue to play our game and find our groove."
Kinsler's point is a good one. Before Tuesday's game, the Rangers fielders accounted for 24 defensive runs saved as a team, according to ESPN Stats & Information. That's second best in all of baseball behind only the
Tampa Bay Rays
. Last year, the Rangers had a zero for total defensive runs saved, tied for 18th best in the majors. So they've improved in that category. The DRS stat is useful in that it takes into account range, arm, defending bunts and converting double plays (among other things). So the Rangers aren't making all the plays they could, but they are getting to more balls and giving themselves a chance to make up for the errors. It shows that if they could limit the errors, they'd add to their advantage.
But the bottom line: The defense hasn't been as consistent as it was overall last year. And Washington knows it.
"We have to do better," Washington said. "I wish there was a perfect message, but there isn't. We just have to get it done. They know. We're going to keep working and we feel like pretty soon it will get there. It's no secret. We've just got to catch the ball."
Washington said some of it is focus and some of it is players physically not getting to certain plays.
"You don't play this game without making mistakes, it's just that we're too good to make as many of them as we've made," Washington said.
Some of it happens on the ball getting to the glove, other times it's on errant throws. Washington was upset enough on Sunday to call out Andrus about an error he had on a tough play late that helped the Marlins tie the score. Florida eventually won the game.
Andrus said before Tuesday's game that he knows he has to get better.
"I take pride in my defense and I know I have to make more plays," Andrus said. "Sometimes you get too worried about making a mistake and you don't get that aggressive. I don't want to do that. I want to keep pushing and keep working hard. I'm taking my ground balls early and I'll do that. Errors are a part of the game. I have to learn from them, forget about them and go on."
Andrus has 16 errors in 2011, the same number he had all of 2010. But Tuesday's "infield hit" is an example that the error totals don't tell the whole story. So is the fact that Andrus has accounted for eight defensive runs saved, tops on the team and seventh among all major league shortstops. BTW, the worst DRS position on the Rangers is first base, which is minus-8 and 24th in MLB.
Several players noted that it's a very similar team in the field to 2010, so they know what they are capable of. It's a matter of playing to that level.
"Every season is different and there are different challenges that you have to overcome," Kinsler said. "Right now, we have to play better defensively. And we will."