Texas Rangers:

Delmon Young
August, 11, 2012
8/11/12
12:00
PM CT
ARLINGTON, Texas -- The second game of this three-game set features a celebration of the
Texas Rangers
' all-time team as part of the 40th anniversary and the induction of Eric Nadel into the club's Hall of Fame. After that, though, 2011 Cy Young and MVP
Justin Verlander
takes the mound against the Rangers.
Derek Holland
will pitch for Texas. Because of the ceremony, the game will start at 7:30 p.m. on ESPN Dallas 103.3 FM and FSSW. A look at the matchup:
Holland (7-6, 5.18 ERA):
He'll be making his 18th start (19th appearance) of the season and hopes to see some improvement after going 1-2 with a 7.00 ERA in his past four starts to see his ERA go from 4.84 to 5.18. ... He has had an extra day of rest, thanks to Thursday's off day. ... He gave up six runs on eight hits in six innings with seven strikeouts and two walks in a no-decision Sunday in Kansas City (the Rangers lost 7-6 in 10 innings). ... He has allowed multiple home runs in four straight starts (nine total) and his 21 home runs allowed in 107 2/3 innings are five shy of his career-high of 26 during his 2009 rookie season. ... He has a 2.25 ERA in one start versus Detroit (one earned run in four innings). ... Holland is 3-4 with a 6.19 ERA in 10 games (nine starts) in Arlington this season.
Verlander (12-7, 2.51 ERA):
The 29-year-old is once again proving to be a workhorse, having thrown 168 2/3 innings, tops in the majors. He has thrown at least 102 pitches in every outing, and only Mother Nature (rain) on July 31 at Boston prevented Verlander from pitching at least six innings in every outing. ... His last outing was a good one. He worked eight innings and allowed two runs (both unearned) on eight hits with 14 strikeouts and a walk in a win over the
New York Yankees
. ... He threw a season-high 132 pitches in the victory. ... Verlander is 7-2 with a 2.10 ERA in 10 regular-season starts in his career versus Texas with 66 strikeouts and 18 walks. ... In last year's American League Championship Series, Verlander was 1-1 with a 5.56 ERA in 11 1/3 innings.
Hitters:
Josh Hamilton
(4-for-14, 2 RBIs) and
Adrian Beltre
(9-for-32, HR, 3 RBIs) have had success off Verlander. ...
Ian Kinsler
(3-for-21) and
Nelson Cruz
(1-for-12, 3 K's) have struggled against him. ... Only
Delmon Young
has more than three at-bats off Holland and he's 6-for-12 with two homers and two RBIs. ...
Miguel Cabrera
and
Austin Jackson
are a combined 0-for-6 with four strikeouts.
Up next:
Sun vs. Det: RHP
Yu Darvish
(11-8, 4.57) vs. RHP
Rick Porcello
(8-6, 4.65), 2:05 p.m., ESPN Dallas 103.3 FM/1540 AM/FSSW
June, 27, 2012
6/27/12
8:00
AM CT
By
Clint Foster
| ESPNDallas.com
ARLINGTON, Texas --
Mike Adams
avoided disaster in the eighth inning and helped preserve the
Texas Rangers
' 7-5 win against the
Detroit Tigers
on Tuesday night at Rangers Balklpark.
Adams found himself in a jam after allowing a leadoff single to
Austin Jackson
and a walk to
Quintin Berry
. With runners on first and second and no outs in a 7-4 ballgame, the dangerous
Miguel Cabrera
represented the tying run at the plate.
"With Cabrera coming up, obviously I've got to make some pitches," Adams said. "This is a big situation."
Cabrera sent a rocket to center field that
Josh Hamilton
managed to grab just in front of the wall. It was the first of two outs in the inning that sent outfielders to the warning track.
Adams said that having athletes like Hamilton behind him on defense gives him added peace of mind.
"It's really good to know that you have a defense behind you that's going to go out and get the ball, in the infield or the outfield," Adams said. "Those guys will do whatever they have to to catch that ball, and it's always a good feeling."
After getting Cabrera, Adams and the defense got the final two outs of the inning from equally dangerous Tiger hitters in
Prince Fielder
and
Delmon Young
. Fielder's groundout scored the Tigers' only run of the inning.
"It was a wild one," Adams said. "I couldn't find the strike zone right off the bat. I used basically the whole field on two outs, and luckily I got out of that inning with one run."
Whether it was luck or not, Adams and the Rangers held off Detroit to preserve
Yu Darvish
's 10th win and allow
Joe Nathan
to post his 15th straight save and 17th of the season.
June, 26, 2012
6/26/12
10:23
PM CT
By
Clint Foster
| ESPNDallas.com
ARLINGTON, Texas -- The
Texas Rangers
evened their three-game series with the
Detroit Tigers
with a 7-5 win Tuesday night. The Rangers came back from a 3-1 deficit to force a rubber match with the Tigers and give
Yu Darvish
his 10th win (the most by any American League rookie). Some thoughts on the game:


What it means:
With the win, the Rangers even their current series with the Tigers and improve to 4-2 against Detroit this season. The Rangers also retain a 4 1/2-game lead over the
Los Angeles Angels
in the AL West, which is the largest lead of any major league division leader.
PODCAST
Rangers GM Jon Daniels shares his thoughts on the injuries that have plagued the pitching rotation this season, calling up top prospect Martin Perez and much more.

Listen

Don't Yu worry:
Darvish struggled to find the strike zone early against the Tigers, walking
Austin Jackson
to lead off the first inning and hitting
Miguel Cabrera
in the head with a 92 mph fastball. That opened the door for a two-RBI double off the bat of
Prince Fielder
. Darvish was tied for the league lead in walks going into Tuesday's game with 49. But he rebounded and found the strike zone in the second inning, throwing first-pitch strikes to each batter. He didn't struggle much from then on, pitching seven innings, and allowing four hits, four earned runs and one walk.
Easy as 1-2-3:
Darvish had back-to-back 1-2-3 innings twice, in the second and third, and in the sixth and seventh. He also had 10 strikeouts (one short of his career high). He has struck out 10 or more four times this year, which is the most in the AL and tied with
R.A. Dickey
for the most in the majors.
Make way for Prince:
Prince Fielder gave the Rangers fits, fueling the Detroit offense essentially on his own. He was the only Tiger to have a hit through the first four innings, supplying a two-run double in the first and a solo home run in the fourth. Fielder finished 2-for-4 with four RBIs.
Leadoff HR:
Ian Kinsler
hit a leadoff home run in the Rangers' half of the first to cut the deficit to 2-1. Kinsler had not hit a home run since June 8 against the
San Francisco Giants
(15 games). It was Kinsler's third leadoff homer this season and the 23rd of his career, which is a club record. Kinsler finished 2-for-4 with two strikeouts.
4-ever Young:
Michael Young
started a scoring run in the fourth inning when he hit a triple to drive in
Adrian Beltre
.
Nelson Cruz
added an RBI single to bring Young home, and
Yorvit Torrealba
and
Brandon Snyder
followed with RBI singles to put the Rangers up 5-3. The four-run fourth ended on an 8-2-6 putout at second when Snyder tried to take the extra base on his single. Going into Tuesday's game, Young was hitting .167 (7-for-42) with runners in scoring position over the previous 40 games, despite starting the year 15-for-38 (.395) with RISP. Young finished 2-for-4 with one strikeout.
Home run Hamilton:
Josh Hamilton
hit a home run for the second straight night, blasting a 422-foot solo shot in the seventh. Hamilton has struggled lately, by his standards. Going into Tuesday's game, he had a .197 average for June. But he still has 24 home runs on the season (tied for most in MLB) and 67 RBIs (eight more than any other major leaguer). Hamilton is just the eighth Ranger to have 23 home runs and 66 RBIs before the All-Star break. Hamilton finished 1-for-4 with one strikeout.
Flirting with danger:
Mike Adams
found himself in a jam in the eighth after allowing a leadoff single and a walk. With runners on first and second and no outs, Cabrera had a chance to tie the game at 7. It looked like Cabrera had done just that when he sent Hamilton to the warning track in center field, but Hamilton came up with the out against the wall. Fielder then had an RBI groundout. Adams was able to escape the inning with minimal damage when
David Murphy
caught the final out of the inning on
Delmon Young
's drive to the warning track in left field to keep the score at 7-5.
Gentry back:
Craig Gentry
saw action in center field in the ninth inning. He had rolled his ankle in consecutive games against the
Colorado Rockies
. He caught a flyout to help close out the game.
If you can't stand the heat:
The temperature at first pitch for Tuesday's game was 103 degrees. Temperatures are expected to stay in triple digits for the next two days.
Up next:
The Rangers get one more shot at the Tigers in a rubber match Wednesday. RHP
Roy Oswalt
will make his second start for the Rangers against RHP
Doug Fister
at 7 p.m. CT on ESPN Dallas 103.3 FM/1540 AM/FSSW/ESPN.
June, 26, 2012
6/26/12
4:13
PM CT
By
David Collier
| ESPNDallas.com
June, 26, 2012
6/26/12
11:00
AM CT
By
Clint Foster
| ESPNDallas.com
ARLINGTON, Texas -- The second game of this three-game series between the
Texas Rangers
and
Detroit Tigers
features RHP
Yu Darvish
vs. LHP
Drew Smyly
. The two rookies will face off at 7:05 p.m. on ESPN Dallas 103.3 FM/FSSW/MLBN. A quick look at the matchup:
Darvish (9-4, 3.45):
The 25-year-old ranks among the AL leaders in strikeouts per nine innings (second, 9.7), wins (tied for third, 9), strikeouts (fifth, 96) and opponent's average (10th, .234). ... His 96 strikeouts lead the Rangers and all AL rookies, and he has set the club record for wins by a rookie before the All-Star Break. ... He is tied for the most walks in the league with 49. ... He has been at his best in night games, posting a 2.91 ERA, 66 strikeouts and a 7-2 record through 58 2/3 innings pitched in nine starts. ... He won his last start in San Diego, striking out eight and tossing a career-high 122 pitches, giving him two consecutive wins and two consecutive eight-inning starts. ... He has quality starts in three of four outings in June. ... He won his previous start against Detroit (10-3) in April, going 6 1/3 innings and allowing two hits, one earned run and five walks while striking out five.
Smyly (2-2, 3.96):
The 23-year-old will be making his first start since going on the 15-day disabled list with a finger injury June 14. ... He has regressed since starting the season with a 1.23 ERA in April, posting ERAs of 4.96 in May and 7.00 in June. ... He has a 3.89 ERA and 2-0 record in road games this season. ... He has a 3.38 ERA and 1.20 WHIP through 56 IP in 10 starts against the AL. ...He picked up a no decision in his previous start against Texas on April 22, allowing five hits, one earned run, two walks and seven strikeouts through six innings in a 3-2 Rangers win.
Hitters:
Detroit hitters went 2-for-21 in their previous meeting with Darvish. ...
Don Kelly
went 1-for-3 with an RBI. ...
Delmon Young
went 1-for-2 with a double and a walk. ... Smyly was slightly less dominant than Darvish, allowing five hits in 22 at-bats in his previous meeting with the Rangers. ...
Josh Hamilton
went 3-for-3 with a home run. ...
Michael Young
went 1-for-3. ...
Alberto Gonzalez
went 1-for-2 with a double and a strikeout. ...
Nelson Cruz
went 0-for-2 with a walk and two strikeouts. ...
Mike Napoli
went 0-for-3 with two strikeouts.
Up next:
Wed. vs. Det.: RHP
Roy Oswalt
(1-0, 1.35) vs. RHP
Doug Fister
(1-4, 2.72), 7:05 p.m., ESPN Dallas 103.3 FM/1540 AM/FSSW/ESPN.
June, 25, 2012
6/25/12
5:03
PM CT
By
David Collier
| ESPNDallas.com
April, 19, 2012
4/19/12
11:01
PM CT
DETROIT -- Perhaps the best indication that
Texas Rangers
pitcher
Yu Darvish
is getting more comfortable with each start was that his humor was in full force as he spoke with the media in an interview room just outside the visiting clubhouse at Comerica Park.
The 25-year-old, who allowed one run on two hits with five walks and five strikeouts in 6 1/3 innings, joked that he could have pitched another full game despite throwing 121 pitches. He was asked what Detroit slugger
Miguel Cabrera
said to him after he flied out in the sixth.
"He was asking me about a Japanese restaurant," Darvish said.
When Darvish's interpreter, Joe Furukawa, couldn't remember part of Darvish's answer, the pitcher laughed. Then, after the conference, he went straight into the manager's office and joked with GM Jon Daniels and skipper Ron Washington that he might need a new interpreter.
It was a relaxed Darvish, who has steadily improved since the season began. He went deeper into Thursday's game than he has all season -- 6 1/3 innings -- and produced his first quality start of 2012. He threw a season-high 121 pitches, the most for any Rangers starter this season. He kept a quality Tigers' lineup from doing much damage against him and he pitched out of what could have been a major jam in the fourth inning.
Darvish wiggled out of big trouble in the fourth after walking
Prince Fielder
and giving up a double off the bat of
Delmon Young
. With runners at second and third and no outs, Darvish struck out
Alex Avila
on a nasty curve.
Don Kelly
hit a ground ball to second that scored a run and
Jhonny Peralta
hit a fly ball to right field to end the inning.
"I thought about the worst-case scenarios," Darvish said. "I thought about things I can't do there, like a three-run homer. I can't walk anybody. I made sure that wasn't going to happen."
Fielder and Miguel Cabrera ended up 0-for-5 with a walk off Darvish.
Catcher
Yorvit Torrealba
, Darvish's battery mate for the first time since spring training, said the plan was to establish Darvish's fastball early and then mix things up with the off-speed and breaking stuff the second and third time through the order. That's what Darvish did.
"He's still a power pitcher, even though he throws that secondary stuff," Torrealba said. "We wanted to get that fastball over for strikes and work off it."
Darvish said he was pleased with his fastball Thursday, but felt his cutter needed improvement, especially to left-handed hitters. Lefties were 1-for-10 off Darvish, who had struggled against them this season coming into the start (they were 14-for-38).
But he had four walks to left-handed batters and five overall. That's one area that he knows needs work. Darvish has 13 walks in 17 2/3 innings this season and has at least four per start.
After the stressful fourth, Darvish went to the stretch to start the fifth inning and stayed in it, even without men on base. He felt comfortable pitching that way and when asked about it, said it wasn't a big deal, comparing it to a ballpoint pen that he can click and just simply change colors.
Washington said he saw improvement once again and is pleased that Darvish keeps getting better and better.
"If we had turned that double play, he would have gone seven," Washington said. "He kept his fastball down and his breaking ball was effective on any count. I'm very pleased."
Darvish got his second win of the season and now every Rangers starter has at least one quality start. Darvish also continues to get good run support. He watched as Texas added to his lead as the game progressed.
"I know if I battle out there that this offense will score," Darvish said.
November, 17, 2011
11/17/11
12:00
AM CT
Memorable plays during a season aren't always tremendous blasts or impressive pitching performances. Sometimes they are great defensive plays.
No. 7:
Nelson Cruz
nails
Miguel Cabrera
at home plate in Game 4 of the AL Championship Series
[+] Enlarge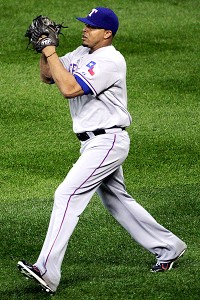 AP Photo/Duane BurlesonNelson Cruz threw out Miguel Cabrera at home plate in the eighth inning to keep the game tied.
Cruz had one of the greatest single series by a player in history in the ALCS. He ended up with six homers and 13 RBIs, the first player to ever have that many homers and runs driven in during one postseason series. But he also made some key plays with his glove and arm. And the throw he made against the Tigers in Comerica Park in Game 4 was one of the biggest.
The Rangers and Tigers were tied at 3 in eighth inning of Game 4. Texas held a 2-1 lead in the series and was desperately trying to prevent the Tigers from winning a second straight game and evening the best-of-7 affair. With Miguel Cabrera at third base representing the go-ahead run,
Delmon Young
hit a fly ball that wasn't particularly deep to right.
Cruz caught the ball close to the right-field line. Cabrera headed home as soon as it was caught. Cruz rifled a one-hop throw to catcher
Mike Napoli
, who had time to catch it and turn to get ready for the collision at the plate. Napoli absorbed the hit and held onto the ball, keeping the game tied.
"You've got to go, you've got to take a shot to win right there," said
Michael Young
, who was playing first base and watched Cruz's throw sail over his head. "If Nellie's throw is off by four feet he sneaks in there."
It was a momentum-building double play, too. The Rangers got another big throw in the 10th when Napoli gunned down
Austin Jackson
trying to steal second base.
What it meant:
The game stayed tied on the road, allowing the Rangers to get some more chances to win it. It took 11 innings, but Napoli's single in the top of the 11th scored
Josh Hamilton
(who had doubled) with the go-ahead run. And Cruz then put it out of reach with a three-run homer for a 7-3 win.
The aftermath:
Texas took a 3-1 lead in the series and despite losing Game 5, the team headed back home with a 3-2 lead. They finished things off by pounding the Tigers in Game 6 at Rangers Ballpark in Arlington with 15 runs in a 10-run victory.
October, 12, 2011
10/12/11
11:45
AM CT
By
Jeff Caplan
| ESPNDallas.com
DETROIT -- Tigers manager Jim Leyland said designated hitter
Victor Martinez
and outfielder
Delmon Young
are receiving treatment and their status for this afternoon's Game 4 is uncertain.
"That's on hold," Leyland said.
Martinez injured his oblique on his home run swing in the fourth inning of Game 3 Tuesday night, gingerly jogging around the bases. Once in the duguot he slammed his helmet and immediately headed tot the trainer's room. He stayed in the game, drawing a walk in the fifth and flew out in the seventh.
Martinez hit cleanup in Game 3 with usual three-hole hitter Delmon Young out again with his own oblique injury suffered in Game 5 of the ALDS. Initially left off the ALCS roster, Young was added when
Magglio Ordonez
fractured his ankle and was removed from the roster after Game 2. Young played in Game 2, but was not effective at the plate and was held out of Game 3.
Other Tigers notes:
* Leyland acknowledged that ace
Justin Verlander
is "a little tired," and that's why the manager chose not to use the 24-game winner in Game 4 on short rest. Verlander will pitch Game 5 at Comerica Park on normal rest. Leyland said Verlander wanted to pitch today, and while he respects that, Leyland said the right decision for Verlander and the team is to give him another day.
"I think he's going to pitch great," Leyland said.
Rick Porcello
will start today's game. He pitched to effective innings in relief in Game 1.
* As if the Tigers don't have enough injury woes, workhorse catcher
Alex Avila
has been struggling and Leyland said, "he's pretty well banged up." But, that won't keep Avila out of the lineup it appears for today's critical Game 4.
October, 10, 2011
10/10/11
11:57
AM CT
By
Jeff Caplan
| ESPNDallas.com
ARLINGTON, Texas --
Detroit Tigers
left-field and No. 3-hitter
Delmon Young
, left off the ALCS roster due to a strained left oblique, has replaced the injured
Magglio Ordonez
and will try to play in today's Game 2 against the
Texas Rangers
, who hold a 1-0 lead.
The Tigers announced this bit of surprising news Monday morning. ESPN.com's Jerry Crasnick reports that Young, who suffered his injury in Game 5 of the ALDS and had to leave the game,
is being pressed into action
because of the team'slack of alternatives in the minor leagues.
Leyland said that as it turns out, the injury is not actually the oblique, but rather soreness close to it. He said Young did not take any swings on Sunday, but that he feels OK to play.
The Tigers were down to bare bones. With
Brennan Boesch
already out for the season with a thumb injury, Detroit was down to
Austin Jackson
in center field,
Ryan Raburn
in left field, and lefty hitters
Don Kelly
and Dirks in right.
Clete Thomas
had been mentioned as a possibility to replace Ordonez, who re-injured his ankle in Game 1 and was removed after reaching first base on an intentional walk in the fifth inning. But, Thomas is a left-handed hitter and batted .251 with a .715 OPS in Triple-A.
Young worked out in Arlington on Friday and took some swings. Leyland said Young felt pretty good until he stiffened up. It prompted the Tigers to leave him off the ALCS roster hoping the Tigers could survive without him and then add Young to the World Series roster.