January, 16, 2013
1/16/13
11:30
PM CT
By
Richard Durrett
| ESPNDallas.com
Editor's Note: Our spring training preview series continues as we move from the infield and outfield to the DH spot, bench and the pitching staff.
Today's position:
Designated hitter
Once
Josh Hamilton
signed his five-year, $125 million deal, the
Texas Rangers
knew they needed to find some more power. Combine Hamilton's exit with
Mike Napoli
's departure and the lineup had a power decrease.
[+] Enlarge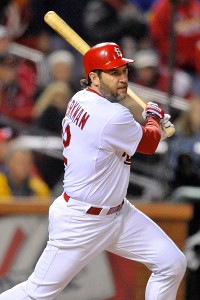 Jeff Curry/Getty ImagesLance Berkman will take over as the Rangers' primary DH and could also see some time at first base.
Trading
Michael Young
opened up the DH spot, which was initially planned to be a spot that manager Ron Washington could rotate when players needed rest. That was until
Lance Berkman
entered the picture.
After striking out on some early offseason targets, the Rangers decided that Berkman was a logical choice to help fill the void in the lineup. They signed him to a one-year, $10 million deal ($1 million buyout on option year makes it $11 million guaranteed) with a club option for a second year. That option vests if Berkman reaches 550 plate appearances. He surpassed that mark easily in 2011, when he had 31 homers and 94 RBIs and helped the Cardinals beat the Rangers in the World Series.
Berkman went through a complete physical and the club is satisfied that the two knee surgeries last year have him ready to go for 2013. Berkman says the key now is strengthening the area around the knee, but that he feels good. He'll be the primary DH in 2013, though he could see some time at first base if needed.
Last week, manager Ron Washington announced that he was penciling in Berkman as the No. 3 hitter in the lineup, a spot he's held many times in his career. Berkman has more at-bats in the 3-hole than anywhere else in the lineup (though only 67 more at-bats than at cleanup). He has a career .286 average batting third.
"It's an interesting spot in the lineup because it's the spot that makes the world go around in the lineup," Berkman said Saturday. "You need contributions up and down the lineup, I'm just saying that of all the lineup spots it's the most critical. You've got to have someone hitting third that can get on base, drive guys in."
The Rangers hope that the 2011 Berkman is the one they see in 2013, not the guy that played just 32 games last season and couldn't stay healthy.
"If he's in the lineup he's going to produce for you," general manager Jon Daniels said.
With Young and Napoli getting most of the DH at-bats last season, the Rangers hit .265 (sixth in the AL) and had a .754 OPS (ninth).
December, 18, 2010
12/18/10
8:16
AM CT
By
Richard Durrett
| ESPNDallas.com
As the offseason continues and you glance at the big names still available,
Adrian Beltre
is certainly high on the list. But is that the type of player the Rangers should spend top dollar on?
ESPN.com's Dave Cameron thinks so.
His proposal, one we've discussed on this blog before, is for the Rangers to throw money at Beltre and move
Michael Young
to designated hitter. Here is part of Cameron's thinking:
Young is certainly not a prototypical DH. As a hitter, he's just slightly above average, and his .335 weighted on base average (wOBA) would have ranked 12th among American League designated hitters in 2010, just behind Johnny Damon and ahead of Jason Kubel. Just over two years ago, he was the reigning gold glove winner at shortstop in the AL, and while that was one of the worst decisions the voters have made in recent history, it is still unusual to see a player regress from shortstop to DH in such a short period of time.

However, the upgrade for the Rangers by replacing Young at third base with Beltre is substantial enough to justify the unusual maneuver of forgoing a classic slugger at DH. For all the talk of Vladimir Guerrero's impact on the Rangers' offense a year ago, Beltre actually outhit him in every area. His batting average was 21 points higher, he drew five more walks, and while Guerrero launched one additional home run, Beltre's 22 additional doubles more than offset that difference.

That isn't to say that Beltre's 2010 represents what he'll do going forward, but looking at data from the last three years suggests that Beltre and Guerrero are similar offensive talents. Guerrero's bat has been worth just over 15 runs above an average hitter per year since 2008, while Beltre's has been worth 11 runs per year over the same time frame. Given that Beltre is four years younger -- and his body is in significantly better shape -- we should actually expect him to outhit Guerrero in 2011.
Cameron goes on to analyze what Beltre can do on the field, noting his UZR is 125 runs better than the average since 2002, about 15 runs per season. That's a better mark than Young, so Cameron feels Beltre's upgrade in the field means the club should make the switch.
I certainly think it's something that should be considered, though I still think starting pitching is the top priority for this team. Do you ask Young to make yet another position change? He moved from second to shortstop and then shortstop to third base. And that move was only two years ago. Young remains the face of the franchise and the clear clubhouse leader. Would playing Beltre at third and moving Young to DH make the club better? The numbers say yes.
But there are other, cheaper options. That would include signing Guerrero to a one-year deal and using the money elsewhere (Guerrero has been trying to get a two-year deal on the market but hasn't found one. It's likely the club and Guerrero can come together on a deal). Of course, the club could address its pitching needs via trade and have some money left over to make the deal. One thing about not getting Cliff Lee: The Rangers have some money to play with.
Should they spend it on Beltre?