March, 13, 2013
3/13/13
10:37
AM CT
By
Ron Matejko
| ESPNDallas.com
SURPRISE, Ariz. -- The
Texas Rangers
were scouting
New York Yankees
reliever
Joba Chamberlain
earlier this week, according to a story in Wednesday's New York Post.
The Post's report said that Don Welke, a senior special assistant to president of baseball operations/general manager Jon Daniels, was at Steinbrenner Field in Tampa, Fla., specifically to watch the Yankees' enigmatic right-hander against St. Louis on Monday. Chamberlain threw a scoreless inning.
Chamberlain has started and come out of the bullpen during his inconsistent six-year MLB career. He has also battled injury problems, including Tommy John surgery in 2011 and famously severely injuring his right leg while bouncing on a trampoline last March.
A baseball official with knowledge of the Rangers' thinking told Andrew Marchand of ESPNNewYork.com that the Rangers have had "mild interest" in Chamberlain and still think that he's got a good arm.
As a starter, the 27-year-old owns a 12-7 record with a 4.18 ERA. In 221 2/3 innings, he struck out 206 and walked 101. Chamberlain has enjoyed more success as a reliever, where in 172 career appearances in various roles he has a 3.18 ERA while striking out 202 batters in 181 innings.
Chamberlain was a heralded prospect when he was coming up in the Yankees organization and was pegged for stardom. He hasn't fulfilled those expectations but still teases with flashes of the talent that gives hope he can still enjoy consistent success in the major leagues.
The Yankees lost
Rafael Soriano
and his 42 saves to free agency during the offseason but expect full seasons from
Mariano Rivera
, who is returning from knee surgery, and
David Aardsma
, who played in just one game in 2012 because of injury.
July, 3, 2012
7/03/12
11:09
AM CT
By
Bryan Dolgin
| ESPNDallas.com
It's no wonder the
Texas Rangers
have been to consecutive World Series and have a club record seven All-Stars when you put Don Welke's words into perspective.
"We are never satisfied with where we are because we always want to be better. We always want our players to feel that way. That's a big part of our emphasis," Welke said during a conversation on Rangers Magazine (ESPN Dallas 103.3 FM).
PODCAST
Don Welke discusses when he first scouted Rangers All-Star pitcher Matt Harrison for the Mark Teixeira trade.

Listen

Welke is the senior special assistant to Rangers general manager Jon Daniels, and it's a role he's held since 2006. He previously has worked for Pat Gillick, a baseball executive who last summer was inducted into the Baseball Hall of Fame. Welke scouted for Gillick, who put together the back-to-back World Series winners in Toronto (1992/1993).
Welke plays a significant role for Daniels in scouting amateur talent for the June draft as well as this time of year when it comes to scouting possible trade pieces.
"We talk about different possibilities, different players. Try to be thorough in all regards ... regarding scouting pro: major league, minor league. I will be out seeing some guys that we might pinpoint as possibilities," Welke said. "The trade type thing to me is we've got to have the player they want. We had
Edinson Volquez
, [the
Cincinnati Reds
] wanted him bad. We wanted Josh [Hamilton] bad of course, but we had the player they wanted. We had
Justin Smoak
, and [the
Seattle Mariners
] wanted him, so we got
Cliff Lee
. Those trade things are interesting the way they shake down, and we just try to be thorough."
It is interesting. The Lee deal was made knowing that he would be a free agent after that 2010 season, but the Rangers would get draft picks when he didn't sign and they would have reliever
Mark Lowe
beyond that season. Last year, the Rangers made trades for relievers
Mike Adams
and
Koji Uehara
knowing they would have them beyond 2011.
Welke also discussed when he first scouted All-Star
Matt Harrison
for the
Mark Teixeira
trade, what led him to recommend the Rangers sign
Martin Perez
, honoring area scouts, his theory on free agents, the definition of "special," Josh Hamilton's talent, his involvement in the June draft, and the shared qualities of Gillick and Daniels. Listen to the podcast for part one of this two-part interview with Welke.
February, 22, 2012
2/22/12
12:45
PM CT
By
Richard Durrett
| ESPNDallas.com
SURPRISE, Ariz. --
Yu Darvish
's second day at the Surprise Recreation Campus was certainly well-documented. Between 50 to 60 media members were watching Darvish throw off flat ground and run sprints on the half-football field Wednesday morning.
[+] Enlarge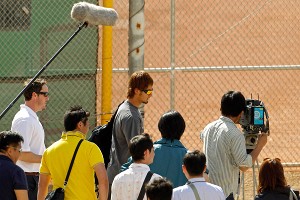 AP Photo/Charlie RiedelThe media has been documenting Yu Darvish's every move at the Rangers' training camp in Surprise.
Darvish threw right-handed and left-handed, something he's done for a long time to help his balance. He ran some sprints and jogged around the field as part of his conditioning program. But after throwing his first bullpen session Tuesday, he didn't throw off a mound Wednesday.
Darvish will be back up on the hill Thursday with the rest of the Rangers' pitchers. Most of the pitchers in camp will go through a five-minute bullpen session and then throw to live hitters for five minutes. The only healthy pitchers who aren't scheduled to take part are
Scott Feldman
and
Colby Lewis
, who are on a slightly different program because they are listed to pitch in the first spring game. So they threw Wednesday and will throw again Friday.
Darvish's parents were walking around the back fields Wednesday as well, watching their son work out. They are eager to see him on the mound Thursday just like everyone else.
Just before Darvish began his conditioning drills, Don Welke, senior special assistant to the GM and one of the club's top scouts, chatted briefly with him.
"I told him to have fun," Welke said. "He just needs to relax and go about being himself and he'll be fine. He looked good out there and in shape."
January, 10, 2012
1/10/12
3:37
PM CT
By
Richard Durrett
| ESPNDallas.com
The Rangers announced the club's 2011 minor league award winners:
Tom Grieve Minor League Player of the Year: SS Jurickson Profar
Nolan Ryan Minor League Pitcher of the Year: LHP Robbie Ross
Rangers Minor League Reliever of the Year: Justin Miller
Defender of the Year: OF Ryan Strausborger
All four players will be honored at the 2012
Texas Rangers
Dr Pepper Awards Show on Thursday at the Arlington Convention Center. You can listen to our Hot Stove Show on 103.3 FM ESPN from 7 p.m. to 9 p.m. as well on Thursday as we talk to many Rangers players about the upcoming season.
Other honorees include:
Michael Young: 2011 Rangers Player of the Year, 2011 Marvin Miller Man of the Year Award
C.J. Wilson: 2011 Rangers Pitcher of the Year
Craig Gentry: 2011 Rangers Rookie of the Year
David Murphy: 2011 Harold McKinney Good Guy Award
Darren Oliver: 2011 Jim Sundberg Community Achievement Award
Frank Howard: 2012 Mark Holtz Texas Rangers Alumni Award
Clayton Kershaw: 2011 Texas Professional Baseball Player of the Year
Adrian Beltre: 2011 Rawlings Gold Glove and Silver Slugger Awards
Bobby Jones: 2011 Bobby Jones Player Development Man of the Year Award
Don Welke: 2011 Don Welke Scout of the Year Award
The show is a theater-style seating event. The doors open at 6:30 p.m. and the show begins at 7:30. Tickets are still available for $75 (reserved) or $50 (general admission) and can be purchased at
texasrangers.com
or by calling 972-726-4377.
January, 3, 2012
1/03/12
2:24
PM CT
By
Richard Durrett
| ESPNDallas.com
The Rangers announced today that Bobby Jones and Don Welke will be the first recipients of annual awards given in their names.
The Bobby Jones Player Development Man of the Year Award and the Don Welke Scout of the Year Award will be presented for the first time at the 2012 Dr Pepper Texas Awards Show next Thursday (Jan. 12) at the Arlington Convention Center. The awards will then be given out each year.
Some brief background items on Jones and Welke from the club's release:
Jones enters his 25th season as a manager or coach in the Rangers organization in 2012. He was selected as the Pacific Coast League's Manager of the Year in 2011, when he guided Triple-A Round Rock to an 87-57 record and a first place division finish. Jones has won over 1500 games and guided teams to 12 postseason berths in a managerial career that began with the Class A Charlotte Rangers in 1988. His connection to the franchise dates back to 1967, when he was drafted by the Washington Senators. He later played with the Rangers and owns the club record with 42 career pinch hits.
Welke, the Rangers Senior Special Assistant to the General Manager, Scouting, is a veteran of 47 years as a professional scout with the Reds, Royals, Blue Jays, Orioles, Dodgers, Phillies, and Rangers. He originally joined the Rangers organization in 2005 and returned to the Texas in 2007 after a year with Philadelphia. He has been involved in the scouting and acquisition of countless All-Stars over the years, helping to assemble World Championship clubs in Toronto in 1992 and 1993 as well as the back-to-back A.L. Champion Rangers teams in 2010 and 2011.
BTW, here's an ESPNDallas.com story on Welke from last season
. He's been in the game a long time and is a vital part of the front office.
For those of you wanting to attend the Dr Pepper Awards Show, you can still do so.
Visit the club's website here
or call 972-RANGERS. Tickets are $75 for reserved and $50 for general admission. BTW, here's a list of the Rangers receiving awards (many of them are the BBWAA local chapter awards):
Michael Young
: 2011 Rangers Player of the Year, 2011 Marvin Miller Man of the Year Award
C.J. Wilson
: 2011 Rangers Pitcher of the Year
Craig Gentry
: 2011 Rangers Rookie of the Year
David Murphy
: 2011 Harold McKinney Good Guy Award
Darren Oliver
: 2011 Jim Sundberg Community Achievement Award
Frank Howard: 2012 Mark Holtz
Texas Rangers
Alumni Award
Clayton Kershaw
: 2011 Texas Professional Baseball Player of the Year
Adrian Beltre
: 2011 Rawlings Gold Glove and Silver Slugger Awards
The Dr Pepper Awards Show will be a theater-style seating event. Doors to the Arlington Convention Center will open at 6:30 p.m. and fans attending will be able to get a sneak peak of FanFest. Refreshments will also be served and are including in the ticket price. The Awards Show is scheduled to begin at 7:30 p.m.
March, 23, 2011
3/23/11
8:00
AM CT