Texas Rangers:

Edgar Renteria
June, 8, 2012
6/08/12
9:00
AM CT
By
Jeff Fletcher
| ESPNDallas.com
OAKLAND, Calif. — The
Texas Rangers
will be playing in one of baseball's most scenic ballparks in one of America's most popular tourist destinations this weekend, but it's certain to bring back some bad memories.
The last time the Rangers played in San Francisco's AT&T Park they were losing the first two games of the 2010 World Series, on the way to losing the series in five games.
Before Thursday's game in Oakland, Texas manager Ron Washington described the lingering memories of his last visit to San Francisco's ballpark.
"What I remember about it is the Giants played as good of baseball in those as they could. They were supposed to be slow on defense and they made all the plays. They weren't supposed to be very good hitters and they got a lot of clutch hits. They were hot at the right time and it showed in the way they performed against us.
"They did everything you could possibly do to win a World Series. They did it and did it well. (Edgar) Renteria wasn't supposed to have range and he was roaming all over the place. His bat was supposed to be slow and he got some huge hits. They just played an almost a perfect World Series against us."
The Rangers have never won a game at AT&T Park. Besides the two World Series losses, they are 0-9, having been swept in three regular-season series at the park, in 2000, 2006 and 2009.
November, 1, 2010
11/01/10
11:21
PM CT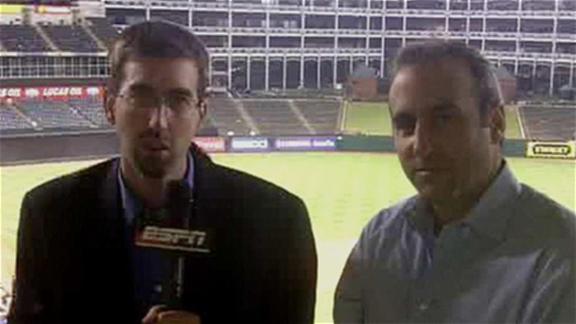 ARLINGTON, Texas --
Cliff Lee
claims he never considered pitching around
Edgar Renteria
.
Not when Renteria, the No. 8 hitter, dug into the batter's box with two outs and men on second and third base in the seventh inning. Not when Lee missed on his first couple of pitches, giving the 15-year veteran and 1997 World Series hero a 2-0 count.
Renteria hit the next pitch, a cutter that stayed up in the zone and in the middle out the plate, out of the park for a three-run homer. That provided all the offense the Giants needed in a 3-1 win to clinch San Francisco's first World Series title.
"I was trying to throw him a strike the first and second pitch," said Lee, who allowed three runs on six hits and no walks in seven innings. "I don't want to walk anyone. He put a good swing on it. That's that. You don't want to walk anyone."
Catcher
Bengie Molina
wouldn't have minded walking Renteria in that situation. He said he called for a cutter away.
"Hopefully, closer to a ball then a strike," Molina said. "I knew first base was open and Renteria had been having a good series. [No. 9 hitter Aaron] Rowand hadn't been playing. I was trying to get to Rowand, but he didn't let us."
Renteria, the World Series MVP, was willing to take a walk. He said that once he got a 2-0 count, he was looking for one pitch to hit and working the count if he didn't get it. He got it, hitting a cutter 397 feet, just over the fence in left-center field.
"I got lucky," Renteria said. "He throw cutter inside, the ball no cut. So the ball stayed in the middle."
Lee wasn't pleased with the pitch he made. He did not, however, regret his decision to be aggressive against Renteria.
"That's the way I pitched all year," said Lee, who lost twice in the World Series after winning his first seven postseason decisions. "I don't want to walk a single batter. He put a good swing on it and hit a home run. There's nothing I can do about it right now."
November, 1, 2010
11/01/10
8:50
PM CT
By
Jeff Caplan
| ESPNDallas.com
ARLINGTON, Texas -- The San Francisco Giants just moved closer to capturing the franchise's first World Series in 56 years.

Edgar Renteria, with two out and runners on second and third drove Cliff Lee's bread-and-butter pitch, his cutter, into the left-center field bleachers, giving the Giants Tim Lincecum a 3-0 lead.

The inning started badly for Lee, who gave up a lead-off single to Cody Ross and then another to Juan Uribe. Aubrey Huff nailed his first career sacrifice bunt to move the runners to second and third. But, Pat Burrell couldn't get the job done, striking out on the seventh pitch of the at-bat.

That brought up Renteria, who was batting .429 in the World Series entering Game 5. The blast was his second home run of the series.
October, 31, 2010
10/31/10
4:07
PM CT
By
Richard Durrett
| ESPNDallas.com
October, 29, 2010
10/29/10
4:47
PM CT
By
Jeff Caplan
| ESPNDallas.com
ARLINGTON, Texas -- Apparently
Ian Kinsler
was not as surprised that his Game 2 blast to deep center wasn't gone, but had actually bounced off the top of the wall and into center fielder
Andres Torres
' glove for a double.
"I saw a couple balls in batting practice do that," Kinsler said. "It seemed like whenever a ball hit the top of the wall it came back into the park. So when I saw it hit the top of the wall I figured it was going to come back in."
Kinsler's double led-off the fifth inning with the score tied, 0-0. Kinsler would be stranded at second and in the bottom of the inning
Edgar Renteria
homered to left field for a 1-0 lead.
San Francisco Giants
pither
Matt Cain
said he thought Kinsler's shot was long gone.
"I thought it was a home run," Cain said. 'I saw it hit and I thought it hit something behind the wall and I thought it was a home run, so I cashed it in as one run. Then I saw that Torres had thrown it in and he was standing on second. From there I just said, 'Hey, I've got to try to keep that guy there and we'll just get the next guy, see if we can get the next guy out and see how it works out.'"
David Murphy
and then
Matt Treanor
failed to move Kinsler over. Cain then intentionally walked
Mitch Moreland
to get to
C.J. Wilson
, who bounced out to first to end the inning.
"It would have been 1-0 at the time," said Kinsler when asked if an extra inch could have changed the course of the game. "Could have. We'll never know. We didn't score any runs. One run obviously wouldn't have won the game at the end of it, but who knows if that would have changed the game."
All three of Kinsler's postseason home runs came in the ALDS.
October, 29, 2010
10/29/10
12:37
AM CT
By
Jeff Caplan
| ESPNDallas.com
SAN FRANCISCO --
C.J. Wilson
deserved better. On a night when the lefty came to deal on the heels of
Cliff Lee
's surprising Game 1 tumble, a ruptured blister on his middle finger, an impotent offense and an imploding
Texas Rangers
bullpen turned a Game 2 pitchers' duel into a 9-0 San Francisco romp.
Wilson pitched superbly, matching the Giants' stellar starter,
Matt Cain
, for all but one pitch. San Francisco shortstop
Edgar Renteria
launched a fifth-inning Wilson fastball high into the left-field bleachers for a 1-0 lead. In the top half of the fifth, Rangers second baseman
Ian Kinsler
missed giving Texas the lead first with a blast that smacked off the top of the center-field wall, just inches from going over, and somehow stayed in play.
Kinsler settled for a leadoff double, but another round of failed hitting with runners in scoring position left him standing on second.
[+] Enlarge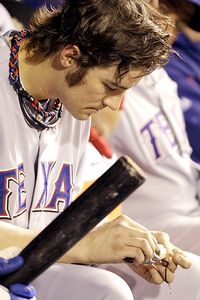 AP Photo/David J. PhillipRangers starter C.J. Wilson went toe-to-toe with the Giants' Matt Cain, but his solid outing was ruined by a blister and his bullpen.
The rapidly moving game remained 1-0 in the bottom of the seventh when the blister on Wilson's left middle finger ruptured during a 10-pitch at-bat to
Cody Ross
, resulting in a walk, and the beginning of the end. The bloody blister left Wilson incapable of gripping the seams of the baseball, and he removed himself from a game that would put the Rangers in a 2-0 hole as the World Series shifts to Texas.
"Cain and I had a good pitching battle all the way through," said Wilson, who allowed three hits. "I made that one mistake to Renteria and other than that I was in complete control the whole way. ... You never want to come out of the game, but I did what I thought was right for the team at that point. It didn't work out as well as anybody drew it up."
Spinning out of control is the Rangers' bullpen.
Darren Oliver
couldn't finish off the Giants in the seventh, allowing one run. But, it was a mind-numbing eighth that ended any hope of a comeback. After Darren O'Day struck out the first two batters,
Buster Posey
singled.
Rangers manager Ron Washington pulled the righty O'Day in favor of young lefty
Derek Holland
, a success story against the Yankees in the ALCS, to pitch to the left-hand-hitting
Nate Schierholtz
.
O'Day, a spot pitcher whom Washington tends to pull rather than face a left-handed hitter, was upset he couldn't punch out Posey to end the inning.
"Obviously, yeah, it's tough to watch for sure. You want your teammates to succeed. You want your team to succeed. We just didn't get the job done, including myself. Schierholtz was coming up. Derek Holland was warming up and if you look at what he did last series against the Yankees, he's obviously a pretty damned good pitcher."
Unfortunately for Holland, he'll need a short memory to soon forget what happened next.
"I was in the bullpen hitting my spots," Holland said. "And then I come out of the bullpen and couldn't hit the broad side of a barn."
Holland threw 13 pitches to three batters; one for a strike. Schierholtz walked on four pitches. Then Ross watched four go by to load the bases.
Aubrey Huff
ran the count to 3-0 before Holland finally landed one in the strike zone. The fifth pitch, a fifth consecutive fastball, missed and a run came home.
As the balls kept coming, Rangers manager Ron Washington and pitching coach Mike Maddux never got the bullpen warming. Washington said he thought Holland would correct his fastball, but he never could.
"Very frustrating. I'm happy with what he did," Holland said of Washington sticking with him. "He had confidence in me. It's my fault. I let him down. I let the team down in that situation. This is a very serious time."
Finally,
Mark Lowe
got up. He came in and promptly walked a fourth consecutive batter,
Juan Uribe
, on five pitches. Suddenly, Wilson's hard-fought battle against the near-perfect Cain was a 4-0 deficit. The Giants would make it 9-0 by the end of the inning.
Wilson helplessly watched his work unravel.
"No, I'm not surprised at all," said Wilson, who got a no-decision in Game 1 against the Yankees after a strong start followed by an epic bullpen failure. "When you walk a metric-ton of people, they're going to score."
The Rangers obviously miss the services of injured eighth-inning set-up man Frankie Francisco, who remains with the club. He was almost teary-eyed when asked how badly it hurts to be out of commission and watch the bullpen spiral.
Francisco had been a valuable bridge to get to rookie closer
Neftali Feliz
, who has still not pitched in a save situation. Feliz hasn't pitched since the ALCS clincher last Friday night and could have been an option to stop the bleeding in the eighth, but Washington said he never considered going to his 22-year-old fireballer.
"No, I didn't," Washington said. "I didn't at all."
Now the Rangers head home for a possible three games and needing to win four of the final five to capture the franchise's first World Series. Nothing is predictable, as the first two games at AT&T Park have shown. Lee proved mortal and when Wilson gave everything he had, a tiny, but debilitating injury, a dead-bat offense and a bungling bullpen did him in.
"Trust me," Holland said sternly. "The bullpen is going to be fine come Friday [for Game 3]. It's a new day. We're not going to sit and dwell on it. This game's over and we're going to come back and help this team win."
October, 28, 2010
10/28/10
10:16
PM CT
By
Richard Durrett
| ESPNDallas.com
SAN FRANCISCO -- The Rangers head back to Arlington down 0-2 in the World Series after the Giants pitched well and got more than enough offense to win, 9-0, in Game 2 courtesy of a late bullpen meltdown. Some quick thoughts on the game (more to come on the blog from the clubhouse):
*
Matt Cain
put on a pitching clinic. He worked quickly and found a nice rhythm from the start. He had excellent fastball command and was able to get nice movement on his breaking pitches. He seemed to pitch ahead of nearly every hitter and when he got into trouble, he got out of it. His slider and changeup were particularly effective. He didn't lose his cool out there and went deep into the game.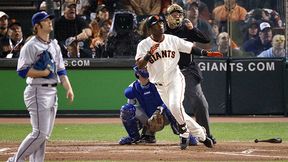 Elsa/Getty ImagesC.J. Wilson's only mistake of the night, to Edgar Renteria, was enough for the Giants to control the Rangers and win Game 2.
*
C.J. Wilson
nearly matched Cain pitch for pitch. His breaking stuff was also effective and he moved his fastball around. He left one pitch up to
Edgar Renteria
in the fifth, but was solid otherwise. He started the seventh inning, his last with his spot due up in the bottom half, with a walk to
Cody Ross
. Pitching coach Mike Maddux went to the mound and then called out athletic trainer Jamie Reed. If I read Maddux's lips correctly: "We've got a blister here." The official word was a blister on his left middle finger. Wilson mentioned a blister after his last start against the Yankees, saying it bugged him some.
* Wasted chances. The Rangers had two golden opportunities to score and didn't.
Ian Kinsler
hit a long fly ball to center that went off the top of the wall -- and I mean the top -- and came back into play for a double to start the fifth. It was inches from a homer. Instead, Kinsler was at second with a leadoff double and never moved.
David Murphy
hit a soft liner to short and
Matt Treanor
grounded to short for the second out. That's when the fact that Game 2 was in a National League park helped the Giants in the fifth. With Kinsler still at second base and two outs, the Giants smartly walked
Mitch Moreland
to pitch to Wilson, who chopped out to first.
* Texas had an even better chance to score an inning later.
Michael Young
and
Josh Hamilton
hit singles to right (Cody Ross was fortunate on a diving attempt at Hamilton's ball that the ball bounced up and hit him in the chest and didn't roll far away, forcing Young to stay at second). Cain then threw a wild pitch that allowed Young and Hamilton to move up as the Rangers showed off their ability to get aggressive on balls in the dirt.
With
Nelson Cruz
up, the Giants played the infield back conceding a run. But Cruz popped up to first baseman
Aubrey Huff
in foul territory. Ian Kinsler then flied out to shallow right field to end the inning. The escape certainly fired up the Giants fans.
* In the eighth inning,
Elvis Andrus
walked and stole second base with one out. Michael Young then flied out to right and Andrus couldn't advance. The Giants changed pitchers as Cain exited and lefty
Javier Lopez
came in to face Josh Hamilton and got him to fly out, ending yet another threat with runners in scoring position.
* The Rangers bullpen again had trouble. With one on and two out in the eighth, Washington turned to
Derek Holland
against the left-handed hitting Schierholtz. But Holland walked him on four pitches. He then walked Ross on four pitches to load the bases. He stayed in to pitch to the left-handed hitting Aubrey Huff, but walked him on five pitches to give the Giants a 3-0 lead. So Holland's day: 13 pitches, 12 balls, three walks.
*
Mark Lowe
, who warmed up at warp speed after Holland's second walk, came in and walked Uribe on a 3-2 pitch to plate another run. Then, with a 3-2 count that had the runners moving, Renteria hit a two-RBI single to make it 6-0.
*
Michael Kirkman
then came in and gave up a triple to right off the bat of
Aaron Rowand
to score two more runs. Then Torres hit a double to left to score the ninth run of the game and the seventh off the inning. All of them with two outs.
* Matt Treanor made a nice block on a breaking ball in the dirt with Ross at third base and Uribe up in the second inning. Treanor kept the ball in front of him, preventing any chance of Ross advancing to home with the game's first run.
* Cruz was in right field for Game 2 with
Vladimir Guerrero
on the bench. And he made a play in the third that Guerrero might not make, racing to the gap in right-center and catching a fly ball hit by
Andres Torres
(with a runner at first and one out). Cruz certainly seemed more comfortable out there than Guerrero did. He made a nice adjustment on Aubrey Huff's liner to right with one on and two outs in the fourth to end the inning.
* While Kinsler's fly ball was close to a homer in the top of the fifth, there was no doubt about Edgar Renteria's blast in the bottom half. Wilson hung a 91 mph fastball and Renteria turned on it, hitting it 20 rows up in left field. Renteria has had big World Series hits before, winning Game 7 for the Marlins against the Indians with a single up the middle in 1997.
* Give Bruce Bochy credit. Before the seventh inning, he moved Ross to left and inserted
Nate Schierholtz
in right field, putting
Pat Burrell
on the bench to get a better defensive setup for the final three innings. The move paid immediate dividends. Schierholtz caught Murphy's fly ball to left and Schierholtz made a nice running catch to get to Treanor's deep fly ball to right. He also brought in Lopez to face Hamilton and got the out.
* Celebrity watch: Joe Montana was in attendance at the game, getting huge cheers from the San Francisco crowd when he was shown on the big screen before the seventh inning. So were Wayne Gretzky and Rob Schneider.
October, 28, 2010
10/28/10
8:24
PM CT
By
Jeff Caplan
| ESPNDallas.com
SAN FRANCISCO -- Ian Kinsler came within inches of a home run in the top of the fifth. In the bottom of the fifth, Edger Renteria left no doubt.

He tattooed a C.J. Wilson fastball that came up and quickly left the yard for a 1-0 San Francisco Giants lead in Game 2 of the World Series. Wilson was sailing up until that mistake. The homer to left was just the Giants' third hit of the game.

In the top of the inning, Matt Cain, who has allowed just two hits, stranded Kinsler at second base after his lead-off double. Kinsler hit it about as far as he could without it going over the fence. The ball hit the top of the center-field wall and bounced back into play.
October, 28, 2010
10/28/10
12:00
PM CT
By
Richard Durrett
| ESPNDallas.com
SAN FRANCISCO, Calif. -- As they do after each postseason game, the number crunching czars at ESPN Stats & Information took a look at how each pitcher performed. Here's how the Giants jumped on
Cliff Lee
in Wednesday's Game 1:
* His cutter was not on the level of his first three postseason starts. Opponents entered Wednesday 3-for-28 against Lee's cutter in the postseason; the Giants were 3-for-10 on Wednesday, with all of the hits going for doubles. The difference was Lee threw more cutters than usual in the strike zone, especially on outside pitches. Fifteen of Lee's 18 (83.3 percent) outside cutters were in the strike zone, and the Giants doubled off two of them. In the first three games of the postseason, 60 percent of Lee's outside cutters were in the strike zone, and opponents had just one hit on them.
* The Giants did damage against all of Lee's outside pitches. Lee had made a living on the outside corner in the postseason, but the Giants made him pay in Game 1. Lee had allowed five hits on outside pitches in the ALDS and ALCS; the Giants had six hits on outside pitches in Game 1. Four of the six hits were on line drives or fly balls, as the Giants were able to elevate Lee's outside pitches.
* Lee also suffered from a bit of bad luck, perhaps aided by the spacious outfield of AT&T Park. Giants hitters were 8-for-22 against him, striking out seven times and hitting zero home runs, meaning the Giants were 8-for5 (.533) against him on balls in play, including
Edgar Renteria
reaching on a
Michael Young
error. For the season, opponents hit .290 against Lee on balls in play.
October, 27, 2010
10/27/10
10:35
PM CT
By
Richard Durrett
| ESPNDallas.com
SAN FRANCISCO -- The Rangers fell 11-7 to the Giants in Game 1 of the World Series on Wednesday. Some thoughts on the game:
*
Cliff Lee
was due for a struggling postseason start, and unfortunately for the Rangers, it came in Game 1 of the World Series. Lee's fastball didn't stay down, and the Giants took advantage. Lee seemed out of sorts. He hit a batter on an 0-2 count, something he hadn't done since Aug. 19, 2009. He gave up five doubles, something he hadn't done since becoming a Ranger. And he left the game with two runners on and the score 5-2.
Darren O'Day
came in and gave up a three-run homer to
Juan Uribe
to give the Giants a comfortable 8-2 lead.
*
Tim Lincecum
wasn't great, but after surviving some early runs (and the Rangers didn't put together bigger innings), he settled down and got the job done. The Giants were up 8-2 before he began to show signs of tiring and gave up two more runs. Still, it's strange that in a game featuring Lee and Lincecum that the starters would give up a combined 11 runs.
[+] Enlarge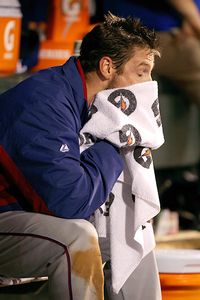 Jed Jacobsohn/Getty ImagesCliff Lee didn't make it through the fifth inning in Game 1, as the Giants handed him his first career postseason loss.
* The
Vladimir Guerrero
experiment in right field failed. It's a big right field at AT&T Park, and Guerrero didn't approach balls with confidence. He bobbled a few down the line, allowing runners to advance. He had two errors in the eighth inning alone. I would think the Rangers will make a lineup change in right field for Game 2.
* The Rangers had four errors total, very unlike them. They looked nervous and unsure of themselves, which is not how they've played all postseason.
* Once again, the first inning was a productive one for the Rangers. Texas now has scored first in nine of the 12 postseason games it has played this year. The Rangers have scored in the first inning in six of those 12 games. Texas got a run when Guerrero's line drive hit Lincecum just below the left knee and bounced toward second, allowing
Elvis Andrus
to score. But the Rangers could have had more.
* Andrus setting the table has been critical for this team. He's managed to get on base in the first inning seven of the past nine games, and when he does, he has a tendency to make things happen. He scored on a ground ball to give Texas the lead.
*
Michael Young
has had some good at-bats in the postseason, and he had another in the first inning. Lincecum was ahead in the count 1-2 with a runner at first, and Young fouled some pitches off, watched others fall out of the strike zone and took a walk. That put runners at first and second with no outs as the Rangers eventually scored.
* Lee got his first hit of 2010 in the second inning, and it helped score a run. He was squaring to bunt but, on a 1-1 count, brought the bat back and hit a ball to left-center that rolled toward the gap for a double. It was his first extra-base hit since 2009. That put runners at second and third, and
Bengie Molina
scored on Andrus' sacrifice fly. Lee talked the other day about enjoying hitting, and he sure had to enjoy that one. It was the first extra-base hit by an American League pitcher since Cleveland's Chad Ogea doubled in the 1997 World Series Game 6 at Florida. It was just the fourth extra-base hit by an AL pitcher in a span of 36 years (1975-2010).
* The Giants hurt themselves with some mistakes early. Lincecum got to
Nelson Cruz
's ground ball up the middle and had Young in a rundown in the first, but he didn't throw the ball to third base. So everyone was safe and the bases were loaded with one out for
Ian Kinsler
. Fortunately for Lincecum, he got a double play to keep the score 1-0, but it was a strange play. In the bottom of the first,
Freddy Sanchez
hit a one-out double. But he was too far off the bag when Kinsler caught
Buster Posey
's bloop to right and was easily doubled off at second to end the inning. In the third, Lincecum tried to bunt
Edgar Renteria
to second and instead popped it straight up to Molina.
* Mistakes hurt the Rangers in the third. Young tried to field a ball to his left but bobbled it, putting the leadoff batter (Renteria) on. Lincecum couldn't bunt him over, but Lee then hit
Andres Torres
on an 0-2 pitch, a big no-no. A double and a single later, both of those runners scored to tie the game.
* The Giants sure did show off their defensive skills as the game progressed. Renteria gloved all three outs in the fourth, including a nice play behind second base complete with a spin around and throw to first to get Kinsler. In the fifth, third baseman Uribe made a nice play to his left to get Young.
* Kinsler led off the eighth inning in an 8-4 game with an infield single. Kinsler thought the wide throw had gone into the dugout and turned toward second. First baseman
Aubrey Huff
made a nice diving stop to get to it and simply tagged Kinsler. That ended any chance at a good start to the inning and an effort to claw back into it.
*
Alexi Ogando
pitched well in his World Series debut. He gave up one hit in two innings and had four strikeouts. The outing might give Washington confidence to use him more.
*
Mark Lowe
, making his postseason debut, had trouble. He gave up three runs on three hits in two-thirds of an inning. He was added to the playoff roster Wednesday morning, but we'll see how often Washington uses him now.
* Bengie Molina, in his return to San Francisco, had a double and a single, scoring two of the Rangers' runs. He also threw out Huff trying to steal second in the seventh. Molina got some
nice cheers during the player introductions
as the crowd saluted him for what he did while in San Francisco. He saluted them as he warmed up Lee in the bullpen.
* I was surprised that San Francisco manager Bruce Bochy decided to go with closer Brian Wilson with a seven-run lead in the ninth. The bases were loaded for Guerrero and Cruz, certainly a dangerous proposition. Wilson got Guerrero to fly out to right for the second out. But with two outs, Cruz hit a double to right to score two more runs and make the score 11-7. It might not seem like a big deal, but getting some runs off Wilson could help the Rangers get some confidence against him later in the series.
* It's not often that you hear Tony Bennett sing "I Left My Heart In San Francisco" in the middle of a baseball game. But there he was, singing after the first inning on the field. He also sang "God Bless America" during the seventh-inning stretch.