Texas Rangers:

Free agency
November, 28, 2012
11/28/12
7:30
AM CT
By
Richard Durrett
| ESPNDallas.com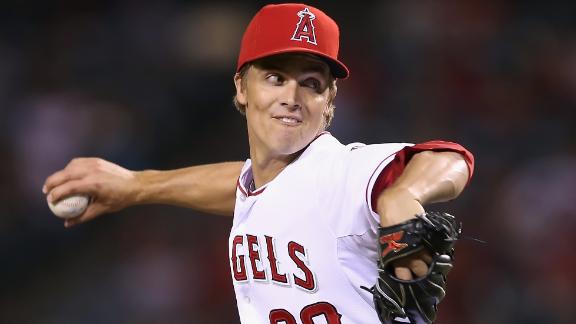 What if the
Texas Rangers
' big-ticket offseason choices came down to
Zack Greinke
or
Josh Hamilton
?

We know the Rangers need another starter, preferably one who can pitch in the top tier of the rotation. But the Rangers also have had the luxury of Hamilton hitting in the 3-hole for five years, bashing homers and producing runs at an impressive rate despite going through ups and downs at the plate.
This is hypothetical at this point, but the Rangers have interest in Greinke and Hamilton. And they won't wait for Hamilton to decide before pursuing offseason needs. Starting pitching is a big offseason need.
There was a bit of Greinke news Tuesday to heat the Hot Stove ovens. Buster Olney tweeted that one person involved in the talks thinks Greinke could get a deal north of
CC Sabathia
's seven-year, $161 million contract. Wow. CBSSports.com reported that the
Los Angeles Angels
won't be involved in Greinke with the price apparently so high.
PODCAST
Richard Durrett joins Ben and Skin for Rangers hot stove chatter and to take a shot at what the team could look like next season.

Listen

There's something familiar about the Angels "backing off" on Greinke. We read those stories last winter,
such as this one in the Los Angeles Times
with the headline: "Angels don't look like big-ticket spenders." Of course, a month later they signed
Albert Pujols
to a 10-year, $254 million deal after quietly making it appear they weren't involved. The Angels need pitching and Greinke is the best available free agent out there. I just can't believe they'd give up completely on him with that rotation in need of top-end help.
But let's say the price is getting high enough that potential bidders are having second thoughts. What if the
Los Angeles Dodgers
, considered by many to be the favorites to land Greinke, decide that they can't go too high for fear that they'd be paying even more for
Clayton Kershaw
in a few years when it's his turn for the big money? That leaves Texas in an interesting position.
We've talked this offseason about the club's need for a starting pitcher to go with the current four-man rotation led by
Yu Darvish
. That staff also includes (at this point):
Matt Harrison
,
Derek Holland
and
Alexi Ogando
. The Rangers could use a starting pitcher who has impact -- someone who can go near the top of the rotation with Darvish, not just someone to fill out the fifth spot.
Greinke fits that bill. He was 6-2 with a 3.53 ERA in 13 starts for the Angels after the trade deadline deal. He was 9-3 with a 3.44 ERA in 21 starts (123 innings) for the
Milwaukee Brewers
before that. If you drill down to his final eight starts of 2012, he heads to the open market on a roll, going 5-0 with a 2.04 ERA with seven quality starts in that string (the only start that wasn't a quality one was against the Rangers on Sept. 30, but the Angels got the come-from-behind win).
The 29-year-old has pitched at least 200 innings in four of his past five seasons, which included a Cy Young season in 2009. He has pitched well at Rangers Ballpark in Arlington in his career, putting up a 2.84 ERA in 79 1/3 innings (14 games, 12 of them starts) and has a 2.91 ERA against the AL West, his best mark against any division. Off the field, he has dealt with social anxiety issues and depression, but it has been six years since that was a problem.
He's got the track record to be a solid starter and he's at an age where you'd consider investing more years than normal. He turned 29 in October and is durable. What is it going to take to sign him? There has been talk about that six-year, $144 million deal that
Cole Hamels
received, but as Olney indicated in his tweet, the price might be even higher.
If the Rangers decide to break the bank for Greinke, it probably means the end of the Hamilton era in Texas, assuming the market goes up for Hamilton (I still think somebody out there is going to give Hamilton five guaranteed years ... after all,
Prince Fielder
got nine years and that deal didn't go down until the end of January last year).
If I had to choose, I'd take Greinke. And that really doesn't have much to do with Hamilton's final few weeks. I know the offense as a whole struggled as the season ended. It was a tired team and they didn't have the kind of production expected of them. It's difficult to take Hamilton's bat out of that equation. But I do think
Dave Magadan
will help this club and it remains a potent lineup, even without Hamilton in it. The Rangers' front office has shown an ability to make key trades to bolster parts of the club. If much of the free-agent money is spent on Greinke, perhaps the Rangers can use prospects as currency and find workable deals to at least help fill part of the offensive void left by Hamilton's departure.
But this club needs another starting pitcher. In crunch time and in the postseason, that's how you win. Imagine how much stronger this team would be as a whole with Greinke and Darvish at the top of the rotation and an emerging pitcher such as Harrison at the No. 3 spot. Plus, the Rangers would be taking a critical rotation piece away from one of the club's chief division and league rivals.
So whom would you choose: Greinke or Hamilton? How many years and how much money are you willing to shell out to Greinke or Hamilton, depending on your choice?
October, 6, 2012
10/06/12
12:04
PM CT
ARLINGTON, Texas --
Texas Rangers
fans showered
Josh Hamilton
with boos during his 0-for-4 performance in what might have been the five-time All-Star's last game with the franchise.

"You hate to have it happen possibly the last game ever here, but at the same time, it's one of those things," Hamilton said after Texas' 5-1 loss to the
Baltimore Orioles
in Friday night's one-game American League wild-card round. "I gave it my all every time I went out there. Hopefully, (fans) appreciated it more than they didn't. I think they do. It's one of those things, hey, we didn't get a win, but you can't win them all."
Hamilton gave mixed messages about his upcoming decision as a free agent, saying he'd "absolutely" give the Rangers the right to match any offer but would choose his next team solely on the word he receives from God.
"I always would love to stay here," said Hamilton, the 2010 AL MVP and a key cog for the Rangers' two World Series teams. "They understand that. They know that. When we talked earlier in the year, we didn't get things worked out, so we said we'd wait until the year was over. They obviously get first shot. I told them they'd get first shot at the end of the year. We'll see what happens."
Asked later what would factor into his decision, the devoutly religious Hamilton said, "With prayer, where God says so. With prayer, where God says so. And with prayer, where God says so. Period. He's always led me to the right places."
If this was the conclusion of Hamilton's tenure with Texas, it ended with a thud.
You can read the rest of the story
here
.
To read Jean-Jacques Taylor's take on what the Rangers should do with Hamilton, click
here
.
May, 9, 2012
5/09/12
10:09
AM CT
By
Richard Durrett
| ESPNDallas.com
BALTIMORE -- Now that
Josh Hamilton
has managed to add to his impressive resume with his historic performance on Tuesday, his stock price has to be entering Apple territory.
The
Texas Rangers
want Hamilton to be with the club long-term, and the two sides continue to discuss that. But it's actually not easy to quantify exactly what Hamilton is worth. When healthy, he's, well, ridiculous. He's already got one AL MVP Award and as we sit here in May, he's on his way to another (with plenty of season left). You name an offensive category in the AL and he likely leads it. In fact, if the season ended today, Hamilton would be the Triple Crown winner. He's got a league-high 14 homers, 36 RBIs and .406 batting average.

So will he join
Prince Fielder
and
Albert Pujols
with huge free-agent deals? Not likely. Fielder got nine years and $214 million from the Tigers, while Pujols got 10 years and $240 million. Both of those players were not only two of the top hitters in the game (like Hamilton), but had a history of staying healthy and a longer track record. Fielder turns 29 years old today. Pujols is 32.
Hamilton has been healthy for one full season in his career, in 2008. He played 156 games that season and hit .304 with 32 homers and 130 RBIs. He turns 31 later this month.
But when healthy, is there a better player in the game right now? Pujols is making an average of $24 million a year and Fielder is at $23.7. But both of those are based on extremely long terms. Hamilton is certainly worth at least $24 million a year right now. And since it's highly unlikely he'll get a nine-year deal, teams may have to pay even more per year to get him at a shorter term.
So what's his worth? If he gets a four- or five-year deal, is $28 million out of the question? Is he worth $30 million? Perhaps there's a way to negotiate a club option or even a vesting option based on games played.
You get to be the Rangers' front office and Hamilton's agent. What's a fair deal for Hamilton? What is he worth? (Fire away in the comment section).
November, 28, 2011
11/28/11
10:32
AM CT
By
Richard Durrett
| ESPNDallas.com
Free agent left-handed pitcher C.J. Wilson is currently in Florida meeting with officials of the Miami Marlins, a source confirmed.
Wilson, 31, and his representatives have already met with the Los Angeles Angels of Anaheim this offseason as he explores the market for a long-term contract. The Rangers have said they remain interested in the starter with the Winter Meetings slated to begin in Dallas in a week.
"It may be a deal where he comes back and says, 'I want to be in Texas' and it makes sense and we're able to work something out, and it may not," Rangers general manager Jon Daniels said last week. "C.J. is looking for what the market will bring. He deserves to be well compensated."
Wilson was offered arbitration by the Rangers, but is expected to decline it in pursuit of a bigger deal as a free agent. Should Wilson sign with another club, the Rangers would get two draft picks as compensation. Wilson has until next Wednesday night at 11 p.m. central time to decide.
For more,
click here.
August, 25, 2011
8/25/11
2:00
PM CT
By
Ben Rogers
| ESPNDallas.com
Rabid Reaction: Our series of knee-jerk-styled, emotional overreactions from Ben Rogers of 103.3 FM ESPN's Ben and Skin Show. He's known to get way too excited over even the slightest of developments with the teams he grew up with in the DFW. Proceed with caution ...
C.J. Wilson
is about to get paid. Stupid paid. Sport a fur coat just to walk the pet alligator paid. Private helicopter paid. Personal omelet chef in the private helicopter paid. How much do you want for that Bigfoot skeleton paid. Insanely paid.
Of course, there's this little matter of helping his team win the AL West, followed by a full compliment of postseason trimmings. But after that, C.J. Wilson, who will turn 31 in November, will likely be in need of a quality armored car fleet as he'll be the most highly coveted free agent starting pitcher on the market.
If you think the Angels' recent five-year, $85 million contract extension for
Jered Weaver
imposes some sort of a ceiling for the looming C.J. sweepstakes, think again. Weaver wasn't due to hit free agency until after the 2012 season. He essentially decided to grab the security of the here and now, as opposed to waiting another year and a half before trying his luck with baseball's fattest and most eager wallets. He likes L.A. So what if he left $40 or $50 million on the table. He's good with $85 million.
As crazy as it might sound, $85 million might not be enough to win the C.J. Wilson auction.
Unlike Weaver's one-team renegotiation marketplace, Wilson will be entering a prison-rules style free-for-all where anything goes and the only rule is that the highest bidder wins. Killer whales like the Yankees and Red Sox will have giant placemats at the table, and they're licking their chops.
The best part of the equation for the Wilson camp unquestionably is that their prizefighter will be the most attractive option for teams desperate to wildly overspend for front-of-the-rotation wares.
His agent, Bob Garber, is somewhere right now twisting a symbolic air mustache while staring into an expensive fireplace, confidently boasting, "It's all falling into place," followed by an evil, bellowing laugh. Wilson's been phenomenal on the mound, but the timing of his free agency relative to an otherwise inferior free agent starting pitching pool will seriously increase his bankroll.
The term of his next deal will most likely be five years. The bottom of his market will likely be somewhere in the range of $16 million per year. If the Rangers reach the postseason and Wilson dominates, one baseball executive speculated that he could see as much as $20 million annually.
Although he won't quite reach
Cliff Lee
- or C.C. Sabathia-type money, he will likely pocket between $80 million to $100 million, depending on how the rest of his season goes and which teams decide they can't live without him.
When asked if the C.J. Sweepstakes could exceed $100 million, one executive smiled and told me: "It only takes one team."
Pet alligator stores be advised. You're about to have an extremely rich lefty browsing your inventory.
The Ben and Skin Show airs weekdays from 9 a.m.-noon on 103.3 FM, ESPN in Dallas-Fort Worth. Follow Ben on Twitter: @BenRogers