Texas Rangers:

Free agent talk
November, 30, 2011
11/30/11
11:00
PM CT
We continue our look at possible free-agent and trade options for the Rangers as we inch closer to the Winter Meetings in Dallas next week.
Today's free agent:
Roy Oswalt
[+] Enlarge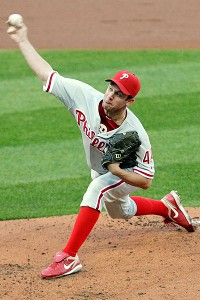 AP Photo/Tom GannamRoy Oswalt struck out 93 with 33 walks in 139 innings for the Phillies in 2011.
The 34-year-old from Mississippi was the No. 4 starter in the Phillies' impressive rotation. But back trouble limited him to 139 innings in 2011. He had a 3.69 ERA (in 23 starts) and a 9-10 record to go along with 93 strikeouts and 33 walks.
Oswalt threw 211 2/3 innings for the Astros and Phillies and won 13 games with a 2.76 ERA in 2010. In the 2010 postseason, Oswalt had a 1.84 ERA in the NLCS and started Games 2 and 6 and got the final two outs of Game 4. Philadelphia lost the NLCS to eventual World Champion San Francisco.
Oswalt has won 20 games twice (2004 and 2005) and won 17 or more four times total in his 11 full seasons. He's a three-time All-Star and was the MVP of the NLCS in 2005 with Houston, going 2-0 with a 1.29 ERA in 14 innings. He's pitched in 13 postseason games (11 starts) and is 5-2 with a 3.73 ERA in 72 1/3 innings.
But the injury last year caused the Phillies to decline his option, paying him a $2 million buyout instead of paying him $16 million for 2012. The next team that signs him does so with some risk involved because of the injury. Texas has a history of trying its luck with guys coming off injuries. Sometimes it works out and sometimes it doesn't. They paid
Brandon Webb
$3 million in 2010 and he never pitched at the major league level. But I'll argue that you have to take some of those chances, especially on players with a proven track record.
Does that mean Oswalt makes sense? I don't know. How serious are his back problems? In the past, the Rangers prefer to deal with one-year contracts on players with injury issues. Maybe there's a way to structure things where if Oswalt pitches a certain number of innings, he can vest another year as part of the deal. Oswalt's agent is Bob Garber, who also represents
C.J. Wilson
, so there is an open line of communication between the club and Garber already.
This is when front offices around the league get tested. How many years is smart for a pitcher coming off injury? Is Oswalt worth the gamble? We'll see.
But the Rangers will check into anything and everything to make the club better. If they feel like Oswalt can stay healthy and there's good value there, don't be surprised if they show interest. But if the price is too high or the medical reports not favorable enough, they'll look elsewhere.
November, 29, 2011
11/29/11
11:15
PM CT
Free agency isn't the only route the Rangers will attempt to take this offseason. They'll look at trades too. So as the Winter Meetings approach, let's take a look at another possibility:
Matt Garza
.
Garza could be on the market for the right deal,
as noted by Bruce Levine of ESPNChicago.com
.
[+] Enlarge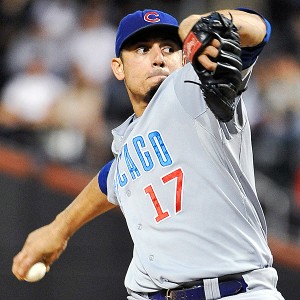 AP Photo/Kathy KmonicekMatt Garza had 197 strikeouts and 63 walks in 198 innings for the Cubs in 2011.
The Rangers had strong interest in Garza last offseason, but lost out to the Cubs, who sent five minor leaguers to the Rays as part of the deal. Levine says the Cubs would want a package of four or five players and lists
Mitch Moreland
as a potential possibility for inclusion. But you can bet the Cubs would want a solid pitching prospect or two as well.
Why? Because Garza is under team control for two more seasons (as arbitration eligible) before becoming a free agent after the 2013 season. He was 10-10 with a 3.32 ERA for a team that finished 20 games below .500. He had 197 strikeouts and 63 walks in 198 innings. Six times Garza left with a late lead only to see the bullpen blow it.
The right-hander from Selma, Calif., has the equivalent of about four full seasons in the AL under his belt. He is 2-3 with a 6.04 ERA in just 28 1/3 career innings at Rangers Ballpark in Arlington (five starts).
Garza has the ability to miss bats and give a club innings. Texas was interested in him a year ago and there's no reason to think they won't be this time. But because of his contract -- he made $5.9 million in 2011 and could get around $8 million or so in 2012 -- and the two-years of team control, he won't come cheap. Still, if the Rangers want to look at pitchers who have the stuff to be a No. 1 or No. 2, Garza fits the bill.
Are you interested in Garza? What would you be willing to give up to get him?
November, 29, 2011
11/29/11
8:00
AM CT
With the Winter Meetings less than a week away, let's take a look this week on the blog at some of the potential free agents that might make sense for Texas.
Today's free agent: LHP
Mark Buehrle
Buehlre, 32, is one of the top starters on the market. The question is what he'll command once offers start flying and whether the Rangers are willing to commit those kinds of dollars (some speculation has him as possibly a guy that gets at least four years and around $50 million). But the club is always looking to get better and Buehrle would give them someone that can eat innings, induce ground balls and help front the rotation.
Buehrle has compiled a 5-2 record and a 3.86 ERA in 51 1/3 innings in eight games (seven starts) in his career at Rangers Ballpark in Arlington. That includes a complete game. He threw a no-hitter against the Rangers in Chicago on April 18, 2007.
Buehrle was 13-9 with a 3.59 ERA in 2011, pitching 205 1/3 innings in 31 starts. It was his third consecutive season with 13 wins and he's had at least that many in nine of his 11 full seasons. What's perhaps most impressive about Buehrle is his durability. He has thrown at least 201 innings and made at least 30 starts in all 11 of his full seasons (all with the White Sox). He threw a career-high 245 1/3 innings in 2004, winning 16 games. He's won at least 15 games five times.
Buehrle is a ground ball pitcher that fields his position well, as evidenced by three Gold Gloves. He has a strong understanding of the batters in the American League and isn't intimidated by anything. He has induced 274 double plays and 230 quality starts since 2001, the most of any pitcher in the league in that span. He also leads the league in starts and innings pitched since 2001.
Interestingly, he was involved in one of the more strange stories at the ballpark in recent years. In August 2005, Buehrle accused the Rangers of cheating by using a light system in center field to let batters know what pitches were coming.
The Rangers laughed it off
and Buehrle didn't really talk about it after that. (It came after he allowed seven runs (four earned) on nine hits.)
Lights aside, Buehrle would certainly strengthen the Rangers' rotation and give them a proven innings eater, a guy with no injury history and another veteran in a young starting rotation. He is a team player and a leader. The question will be his price.