Texas Rangers:

Futures Game
July, 8, 2012
7/08/12
8:11
PM CT


KANSAS CITY, Mo. -- Jurickson Profar has pitched in the Little League World Series and was even in the All-Star Futures Game last year. But he admitted that Sunday's Futures Game, which included a solo home run in the first, was one of the highlights of his baseball career.

"It was fun," Profar said. "It was about what I expected and to hit a home run was nice. To play with some great players and against great players was fun."

Profar hit a 1-2 change-up down the right-field line for a 314-foot home run to give the World Team a 1-0 lead. It wouldn't end up holding the lead, falling 17-5 to the U.S. team.

Profar hit the home run from the left side and then singled from the right. The switch-hitter was 2-for-3, and if you include his pinch-hit triple from last year, he is a double shy of a Futures Game career cycle.

"I tried, but I hit it right to the right fielder," Profar said of his final at-bat.

Profar was lifted midway through the game to give other players a chance. But Olt, the starting third baseman for the U.S., played the entire game, including the final half at first base. Olt was 1-for-5 with a run scored and an RBI double in the nine-run sixth for the U.S.

"My first at-bat, I just was too amped up and finally my second at-bat, I felt back to being myself and to get the double in my third at-bat was great. I was happy," Olt said.

Olt said he was glad to get some time at first base in the game.

"I've still only played (first base) six times so I still have some work to do but definitely feel a lot more comfortable over there as time goes on," Olt said.

Olt had some fans and media members wondering why he chose "Call Me Maybe" as his walk-up song.

"I picked it one time to get me out of a slump in Frisco," Olt said. "I got the haircut that got me out of it and the 'Call Me Maybe,' and the next thing you know, that's coming on with 40,000 fans. I didn't see that happening."

Olt said he might have to keep the song now.
July, 8, 2012
7/08/12
2:44
PM CT
KANSAS CITY, Mo. -- The 2012 All-Star Futures Game between a team of prospects from the U.S. vs. those from the World team starts at 4 p.m. at Kauffman Stadium. Both Rangers in the game are starters with Jurickson Profar on the World Team at shortstop and Mike Olt on the U.S. team at third base. The lineups:

WORLD TEAM
2B Jean Segura (LAA)
SS Jurickson Profar (TEX)
RF Oscar Taveras (STL)
LF Alfredo Marte (ARI)
DH Xander Bogaerts (BOS)
3B Wilmer Flores (NYM)
1B Jesus Aguilar (CLE)
CF Jae-Hoon Ha (CHI)
C Christian Bethancourt (ATL)

RHP Yordano Ventura (KC)

U.S. TEAM
SS Billy Hamilton (CIN)
2B Kolten Wong (STL)
RF Wil Myers (KC)
3B Mike Olt (TEX)
1B Jonathan Singleton (HOU)
LF Michael Choice (OAK, out of UT-Arlington)
DH Nick Castellanos (DET)
C Tommy Joseph (SF)
CF Anthony Gose (TOR)

RHP Jake Odorizzi (KC)
July, 8, 2012
7/08/12
2:39
PM CT
KANSAS CITY, Mo. -- This time last year,
Martin Perez
was on the mound for one inning in the Futures Game and put three runners on base and allowed a run. Now, he's in the
Texas Rangers
clubhouse while minor leaguers Jurickson Profar and Mike Olt get their shot at playing in this showcase game for top prospects.
"You have to try to stay calm and remember it's the same thing as pitching in Double-A or Triple-A except for the stadium," Perez said on Saturday in Arlington. "It was the first time I got a chance to pitch in a big league stadium and that was different for me."
Profar was also in the game last year and hit a pinch-hit triple in the sixth inning to give the World Team the lead.
"It was a good experience and a lot of players from that game end up in the big leagues," Perez said. "I had to figure some things out and I'm still doing that. I'm happy to be here."
July, 7, 2012
7/07/12
12:10
AM CT
By
David Collier
| ESPNDallas.com
Just two years after entering the
Texas Rangers
minor league system, Mike Olt has progressed into one of the Rangers' top prospects, but it's been a process. The slugging third baseman has polished his skills on the diamond and, most importantly, grown a characteristic that may be the difference between making the major leagues or not: patience.
[+] Enlarge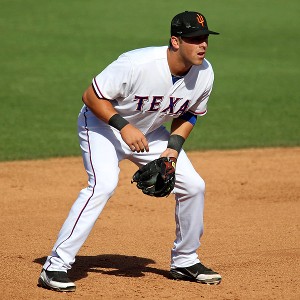 Mike Janes/Four Seam Images/AP ImagesFrisco RoughRiders third baseman Mike Olt will play for the U.S. team in the Futures Game on Sunday.
The Rangers drafted Olt with the 49th pick in the supplemental first round of 2010 First-Year Player Draft after a successful three-year career at the University of Connecticut. With the Huskies, Olt became a prospect who teams were taking a serious look at, and when Texas came calling, he couldn't pass it up.
"I was really excited to get drafted by Texas," Olt said. "I've heard a lot of great things about Texas. I heard they had a great minor league system, and I was going to learn a lot and be able to push myself to move up the ladder. It's been a great experience so far."
Olt, who will play for the U.S. team in the 2012 Futures Game on Sunday as part of the MLB's All-Star Game festivities, has spent the entire 2012 campaign with the Rangers' Double-A affiliate, the Frisco RoughRiders. The talented third baseman has put up impressive numbers, hitting .297 this season with 22 home runs and 62 RBIs.
"He's got awesome power," RoughRiders manager Steve Buechele said. "He's been a real good breaking ball hitter. He's hitting mistakes and taking advantage of it. I think if there's one thing he'll get better at it will be jumping on fastballs in hitter's counts. If he starts doing that, I think you may see some even better power numbers."
A lot of his power at the plate has come this season. Olt hit a combined 24 home runs in his first two seasons in the Rangers' minor league system, but those numbers are steadily climbing year by year. What has been the difference? Olt says it's all about patience.
"I just think it's just a matter of getting yourself in good counts," Olt said. "Early in my pro career, I was really aggressive at the plate, and I found myself getting myself out a lot because I was swinging at tough pitches and putting myself in pitcher's counts. This year, I've improved my approach at the plate, and I'm seeing myself get into better counts because of it. Then, the pitcher has to come to me a little bit more, and I've been able to take advantage of it."
Senior director of player development Tim Purpura is in his first season with the Rangers, but he has already seen extensive improvement at the plate from Olt.
PODCAST
Rangers play-by-play voice Eric Nadel talks all things baseball with Ian Fitzsimmons and Matt Mosley. Are the Rangers really going after Cole Hamels?

Listen

"What I've seen so far this year is that his patience at the plate has grown," Purpura said. "He is much more plate aware than he was even in spring training. I think he learned the lesson in spring training about being selective on pitches and getting a good pitch to hit and being able to drive the ball. What I've seen is the patience at the plate grow and just the confidence that he knows he belongs. He knows he can play at the big league level. He knows he's got to wait on his opportunity to do so, but his confidence level is at an all-time high.
"The great thing about Mike is it's all positive. He's not worried about when he gets to the big leagues. He's not chomping at the bit to get there as far as checking the box scores everyday. He's quietly confident. When he gets to the major league level, I think he knows he has a great chance to be successful."
The question is when will he get that chance and where will it be? The Rangers are fortunate enough to have an All-Star third baseman in
Adrian Beltre
and
Mitch Moreland
-- when healthy -- is a solid first baseman.
"They want to make me more versatile and expand into some other positions, which I'm all for," Olt said. "It helps me out, and it helps Texas out. It gives me more of an opportunity."
Purpura said the Rangers had a discussion about Olt a few weeks ago. He hopes Olt gets to test the waters at the major league level this season, but he knows becoming a more versatile player is vital to make him more of an asset.
"When it came down to third base, Mike Olt was the unanimous choice that he would be the guy that would be ready to go to the big leagues right now and play third base," Purpura said. "When the subject of first base came up, he was the choice again. He's the guy people look to. Although he hasn't had a lot of time at first, they look at him if it's going to be a long-term deal that he would be the guy that could go there.
"The other thing we've talked about with him is that in the second half (of the season), do we get his feet wet a little bit in the outfield? That just opens up a lot of possibilities. At first and third, I think he would be everyone's choice for the fill in guy."
There are a wide variety of options available for Olt, and it's not without warrant. Buechele sees him more than anyone, and he thinks Olt can play a number of positions.
"He's going to play a lot of positions, and the more that he can play, the better for him and for the Rangers," Buechele said. "He's a baseball player and wherever you put him, he'll be successful."
There's little doubt that Olt will make it to the major leagues at some point in the near future, but it's impossible to guess when it will be. As he's done all year long at the plate, Olt has to be patient.
"They just say to keep doing what I'm doing and things will work out," Olt said. "It's something that I'm not really worried about. It's going to work out in the long run and there's no need to rush it now."
Olt has emerged as a top prospect with patience. So far, I think it's safe to say that patience is paying off.
July, 10, 2011
7/10/11
5:06
PM CT

PHOENIX, Ariz. -- Last year was not the kind of season Rangers pitching prospect Martin Perez envisioned. He was 5-8 with a 5.96 ERA in 99 2/3 innings, spending the whole season at Double-A Frisco. Perez was inconsistent, didn't have the same solid command he showed at the lower levels of the minors and dealt with nagging lower back pain.

But he got healthy toward the end of the 2010 season, went to winter ball in Venezuela and pitched better. That helped his confidence and he vowed before the 2011 season started that he'd have better control and become a better all-around pitcher.

He has. Perez is 4-2 with a 3.16 ERA in 17 games (16 starts) for Frisco this season. He has pitched 88 1/3 innings already and has 83 strikeouts and 36 walks. Opponents are batting .245 against him. Perez has pitched well enough that he was selected for today's Futures Game.

"He's night and day from last year," said Frisco manager Steve Buechele, who is a coach on the World Team for the Futures Game. "He's grown up a lot. I think what he's done the best this year that's made him successful this year is that he's controlled innings better than he did last year. In innings last year where a team would have scored three or four runs, he holds them to zero or one. That's by far the biggest adjustment he's made."

Perez said that comes from throwing strikes earlier in the count and the game, letting him relax and pitch.

"If do it in the first inning, you can do it through the sixth and it gets easier," Perez said.

Perez is pitching well enough that he could get a chance to move up Triple-A before the season is over. Perez, though, isn't worried about any of that. His mission is to stay consistent and keep developing his off-speed and breaking pitches -- sinker, curve, changeup.